The global medical imaging software market was valued at USD 2.46 billion in 2017, and is expected to reach a value of USD 4.1 billion by 2023, witnessing a CAGR of 8.9% over the forecast period, 2018-2023. The emergence of diagnostic imaging technologies, over the past few decades, has made strides in the history of applied sciences and medicine to a major extent. This progress in medical imaging is visualizing the functioning of the human body and anatomy, thus empowering the medical experts to detect, exclude, and characterize in treating diseases. This has revolutionized the medicine healthcare industry over the past decade.
The medical sector has become entirely dependent on techniques, such as magnetic resonance imaging (MRI), computed ultrasound, tomography, and more recently, Positron Emission Tomography (PET scan), as well as combined hybrid technologies, such as PET-CT and PET-MRI. The data from these medical imaging systems need to be analyzed to provide diagnosis. Globally, the increase in incidence of diseases made it difficult for the hospitals to store and generate diagnosed reports. The growing need for a consistent software solution is driving the medical imaging software market.
Emerging Cloud-based Imaging Software Solutions is Driving the Market
Several companies have started offering medical image analysis as a service through their cloud-based platforms. Zebra Medical Vision is one company that is pioneering this shift to cloud with its medical image analytics platform. This trend is also recently observed in the case of Fujifilm's recent partnership with Teramedica, to bring the medical image analysis abilities to its cloud clinical archive. This proves how prominent the cloud-based services are going to be in the future, as Teramedica Clinical Archive is currently the world's largest medical image archive. Many companies are following the aforementioned trend, as cloud-based and centralized image analysis services have tremendous potential to replace the conventional medical image analysis software in the future.
X-Ray Radiographic Imaging is expected to Dominate the Market Landscape
X-ray radiographic imaging has its applications in the examination of bone or tissues samples, and X-ray imaging data can be deduced from using imaging software for later analysis of reports. Currently, the medical imaging software has become an integral part of the diagnostic machines to provide the better-quality images in shorter times. With the development of medical X-ray image analysis software, treatment and data management have become easy for the medical personnel. The data generated from the device can be shared between the healthcare providers or researchers at remote sites, which is expected to drive the medical imaging software market over the forecast period. . The X-ray, analysis, and documentation can be readily exported to Electronic Medical Records (EMR) as PDF files or JPG images. The increasing demand for imaging modalities, because of the emerging advancements in medical technologies, is driving the global market.
North America expected to Dominate the Market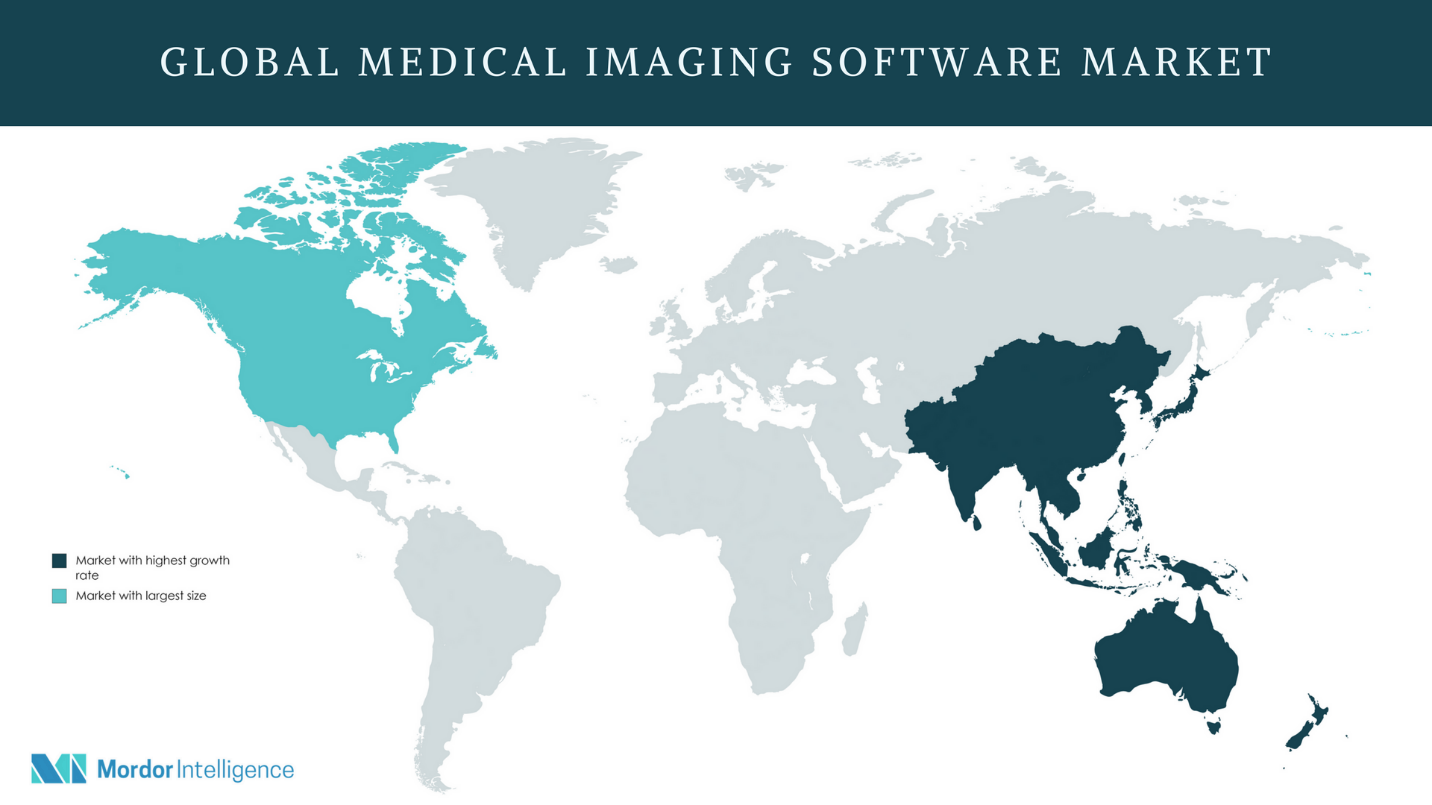 The market in the North American region is mainly driven by the growing R&D activities in medical science. Particularly in the US Health and Human Services (HHS), which is governed by the cabinet-level department of the US federal government, and is very liberal in funding and maintaining the technological research in medical sciences. The rapid technological developments growing in the medical field, like medical imaging software solutions, are boosting the market growth in the region. There is a strong focus on improving public health conditions, as well as tackling the adverse effects of the rising health issues and infections. For this, there is a need for constant diagnostic and monitoring services, which are driving the US medical imaging software market. The United States has the largest market share in the North American medical imaging software market. The healthcare facilities in the country are of the highest standards and are accessible to the population, because of favorable policies making healthcare affordable to all. The rise in reliance of physicians on imaging in everyday practice and prominence of imaging in physician-developed practice guidelines across a range of medical conditions have boosted the medical imaging software demand.
Major key players: General Healthcare Company, Philips Healthcare, Siemens Healthcare, Toshiba Medical Systems Corporation, IBM Corporation, Agfa–Gevaert HealthCare, Novorad Corporation, Carestream Health Inc., Esaote SpA., MIM Software Inc., Acuo Technologies, and Fujifilm Holding Company
Key Developments in the Market
Reasons to Purchase this Report
To examine the increased usage of medical imaging software in dental application that affect the global market scenario
Analyze various perspectives of the market with the help of Porter's five forces analysis
To know the modality and application that are expected to dominate the market
To know the regions that are expected to witness fastest growth during the forecast period
Identify the latest developments, market shares, and strategies employed by major market players
3 months analyst support, along with the Market Estimate sheet in excel.
Customization of the Report
This report can be customized to meet your requirements. Please connect with our analyst, who will ensure you get a report that suits your needs.
1. Introduction
1.1 Key Deliverables of the Study
1.2 Study Assumptions
1.3 Market Definition
1.4 Key Findings of the Study
2. Research Approach and Methodology
3. Executive Summary
4. Market Dynamics
4.1 Market Overview
4.2 Factors Driving the Market
4.3 Factors Restraining the Market
4.4 Industry Value-Chain Analysis
4.5 Industry Attractiveness – Porter's Five Forces Analysis
4.5.1 Bargaining Power of Suppliers
4.5.2 Bargaining Power of Consumers
4.5.3 Threat of New Entrants
4.5.4 Threat of Substitute Products or Services
4.5.5 Competitive Rivalry among Existing Competitors
5. Technology Overview
6. Global Medical Imaging Software Segmentation
6.1 By Imaging Type
6.1.1 2D Imaging
6.1.2 3D Imaging
6.1.3 4D Imaging
6.2 By Modality
6.2.1 Tomography (CT, MRI, PET, SPECT)
6.2.2 Ultrasound Imaging
6.2.3 X-ray Radiographic Imaging
6.2.4 Others
6.3 By Application
6.3.1 Dental Applications
6.3.2 Orthopedic Applications
6.3.3 Cardiology Applications
6.3.4 Obstetrics and Gynecology Applications
6.3.5 Mammography Applications
6.3.6 Urology and Nephrology Applications
6.3.7 Others
6.4 By End User
6.4.1 Hospitals
6.4.2 Mobile Healthcare Center
6.4.3 Diagnostic Centers
6.4.4 Research Centers
6.5 By Geography
6.5.1 North America
6.5.2 Europe
6.5.3 Asia-Pacific
6.5.4 Rest of the World (ROW)
7. Competitive Intelligence – Company Profiles
7.1 General Healthcare Company (GE)
7.2 Philips Healthcare (Royal Philips Electronics)
7.3 Siemens Healthcare (Siemens AG)
7.4 Toshiba Medical Systems Corporation
7.5 IBM Corporation
7.6 Agfa–Gevaert HealthCare
7.7 Novorad Corporation
7.8 Carestream Health Inc. (Onex Corporation)
7.9 Esaote SpA.
7.10 MIM Software Inc.
7.11 Acuo Technologies
7.12 Fujifilm Holding Company
8. Investment Analysis
9. Future of the Market