The global industrial packaging market was valued at USD 57.46 billion in 2017, and is expected to reach USD 71.98 billion by the end of 2023, registering a CAGR of 4.61% during the forecast period (2018-2023). The scope of the report is limited to type of packaging used in industrial packaging, such as intermediate bulk containers (IBCs), sacks, drums, and pails, among others, and end-user vertical such as automotive, manufacturing, food & beverages, chemicals, oil & lubricants, construction, retail, pharmaceutical, and personal care, among others. The regions considered in the scope of the report include - North America, Europe, Asia-Pacific, and Rest of the World.
Packaging materials are required to contain and preserve materials, enable safe transportation, and serve as a means of informing end customers of the material characteristics its contents. The supply chain for industrial packaging comprises raw material suppliers, transport providers, end-product manufacturers, packaging waste contractors, and recycling service providers.
Asia-Pacific to Dominate the Market Demand in Industrial Packaging
Asia-Pacific has been projected to be the largest market for industrial packaging solutions as of 2015, closely followed by Europe and North America. The industrial packaging sector remains susceptible to socio-economic changes. Demand remains strongly dependent on major end-user applications such as chemicals, food & beverages, pharmaceutical, and construction sectors.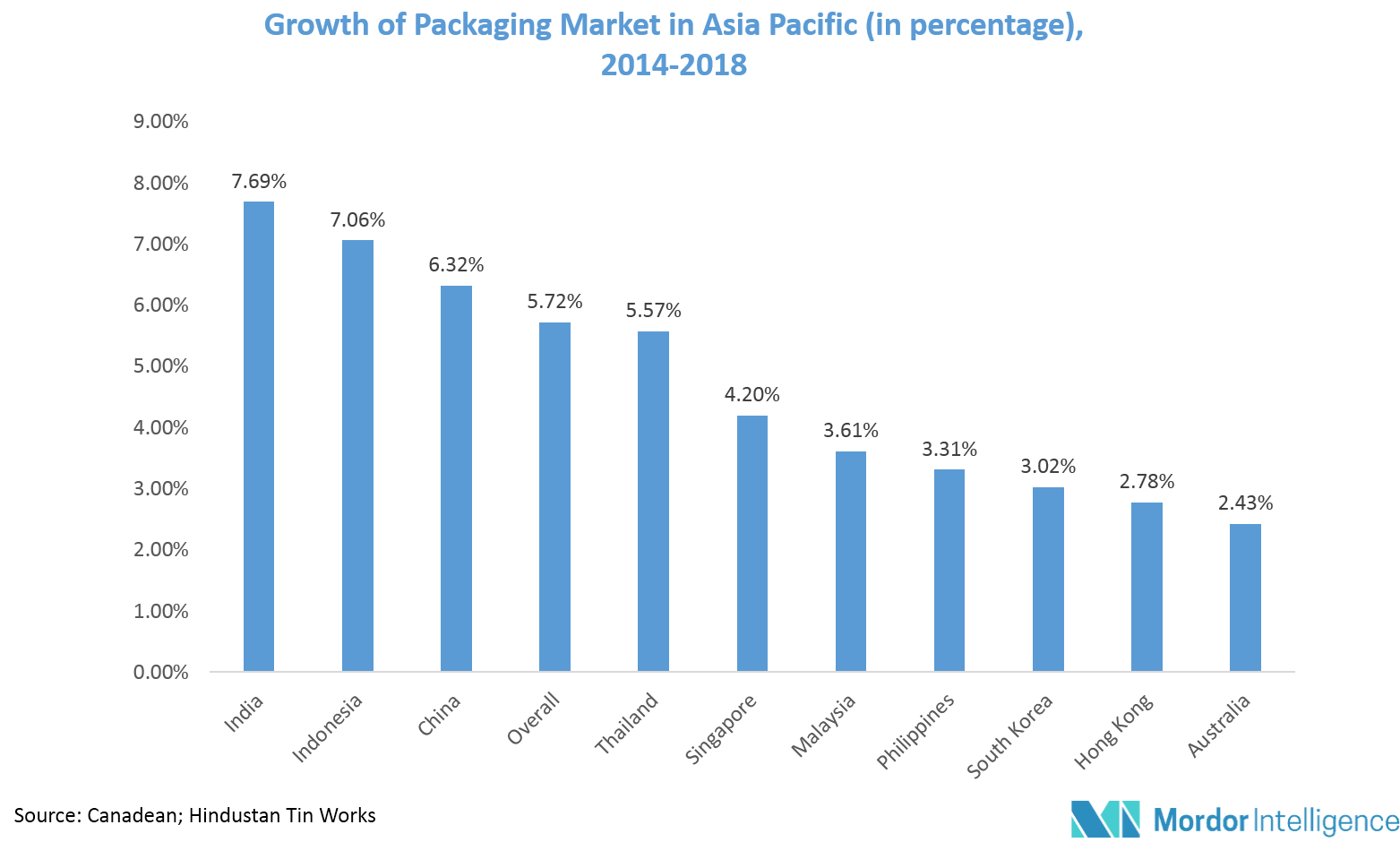 Asia-Pacific is expected to retain its leading position over and beyond the reporting period, aided by strong growth in construction, pharmaceutical, and food & beverages sector, while Europe and North America are expected to record marginally similar market shares. Latin America and Middle East are likely to emerge as viable markets, however, the Asia-Pacific region is expected to record the highest growth rate over the reporting period.
Emergence of Sustainable and Recyclable Packaging Materials to Drive Growth of Industrial Packaging Market
Environmental concerns over safe disposal and recycling of packaging materials have led to the introduction of new policies and regulations, mandating companies to recover their packaging materials. Initially, consumer packaging materials were targeted, owing to the scale of packaging wastes generated. However, government and packaging organizations have started addressing the environmental effects involved in the use of industrial packaging. A steady rise in the demand for food & beverages and pharmaceuticals has contributed to a drastic increase in the use of industrial packaging materials. However, the environmental impact of disposed waste materials has become a grave concern. A recent study on using reconditioned industrial packaging materials has revealed that savings to the tune of millions of pounds of greenhouse gases can be accrued. These savings can be realized both for single and multi-trip solutions. For example, the use of recycled materials packaging can reduce greenhouse emissions by anywhere between 26-50%, depending on the material used.
Key Developments in the Market
November 2017 - Constantia Flexibles introduced an interactive packaging solution for the food and pharmaceutical industries.
August 2017 - Sealed Air Corporation introduced OptiDure™ packaging technology, which combines two critical features- high abuse resistance and abrasion protection. This will impact the fresh red meat as well as smoked and processed meats segments.
April 2017 - Orora Visual launched specialized horticultural packaging division to reduce shipping time and significantly improve speed to market.
Major Players: Sealed Air Corporation, Constantin Flexibles, Greif, Inc., and Mondi Plc, among others.
Reasons to Purchase the Report
Current and future industrial packaging market scenario in the developed and emerging markets
Analyzing various perspectives of the market with the help of Porter's five forces analysis
The segment that is expected to dominate the market
Regions that are expected to witness fastest growth during the forecast period
Latest developments, market shares, and strategies employed by the major market players
3 month analyst support, along with the Market Estimate sheet (in excel)
Customization of the Report
This report can be customized to meet your requirements. Please connect with our representative, who will ensure you to get a report that suits your needs.
1. Introduction
1.1 Scope of the Study
1.2 Executive Summary
2. Research Approach and Methodology
2.1 Key Deliverables of the Study
2.2 Study Assumptions
2.3 Analysis Methodology
2.4 Research Phases
3. Market Insights
3.1 Market Overview
3.2 Industry Attractiveness - Porter's Five Force Analysis
3.2.1 Bargaining Power of Suppliers
3.2.2 Bargaining Power of Consumers
3.2.3 Threat of New Entrants
3.2.4 Threat of Substitutes
3.2.5 Intensity of Competitive Rivalry
3.3 Industry Value Chain Analysis
4. Market Dynamics
4.1 Market Drivers
4.1.1 Growth of Chemical and Construction Industry
4.1.2 Emergence of Sustainable and Recyclable Packaging Material
4.1.3 Increased Demand for Food and Packaging Transport Materials
4.2 Market Restraints
4.2.1 Environmental Concerns
4.2.2 Dynamic Changes in Regulatory Standards
5. Global Industrial Packaging Market Segmentation
5.1 By Type of Packaging
5.1.1 Intermediate Bulk Containers (IBCs)
5.1.2 Sacks
5.1.3 Drums
5.1.4 Pails
5.1.5 Others
5.2 By End-user Vertical
5.2.1 Agriculture
5.2.2 Automotive
5.2.3 Manufacturing
5.2.4 Food & Beverages
5.2.5 Chemicals
5.2.6 Oil & Lubricants
5.2.7 Construction
5.2.8 Retail
5.2.9 Pharmaceutical & Personal Care
5.2.10 Others
5.3 By Region
5.3.1 North America
5.3.1.1 US
5.3.1.2 Canada
5.3.2 Europe
5.3.2.1 UK
5.3.2.2 Germany
5.3.2.3 France
5.3.2.4 Russia
5.3.2.5 Italy
5.3.2.6 Rest of Europe
5.3.3 Asia-Pacific
5.3.3.1 China
5.3.3.2 Japan
5.3.3.3 India
5.3.3.4 Rest of Asia-Pacific
5.3.4 Rest of the World
6. Competitive Intelligence - Company Profiles
6.1 Sealed Air Corporation
6.2 Constantia Flexibles
6.3 Greif, Inc.
6.4 Beacon Converters, Inc.
6.5 Tekni-Films, Inc.
6.6 Industrial Packaging Supplies, Inc.
6.7 Balmer Lawrie
6.8 Veritiv Corporation
6.9 Colarado Industrial Packaging
6.10 IPS Packaging
6.11 Mondi Plc
6.12 Orora Limited
*List is not Exhaustive
7. Investment Analysis
8. Outlook Of Industrial Packaging Market