Sensor Market Size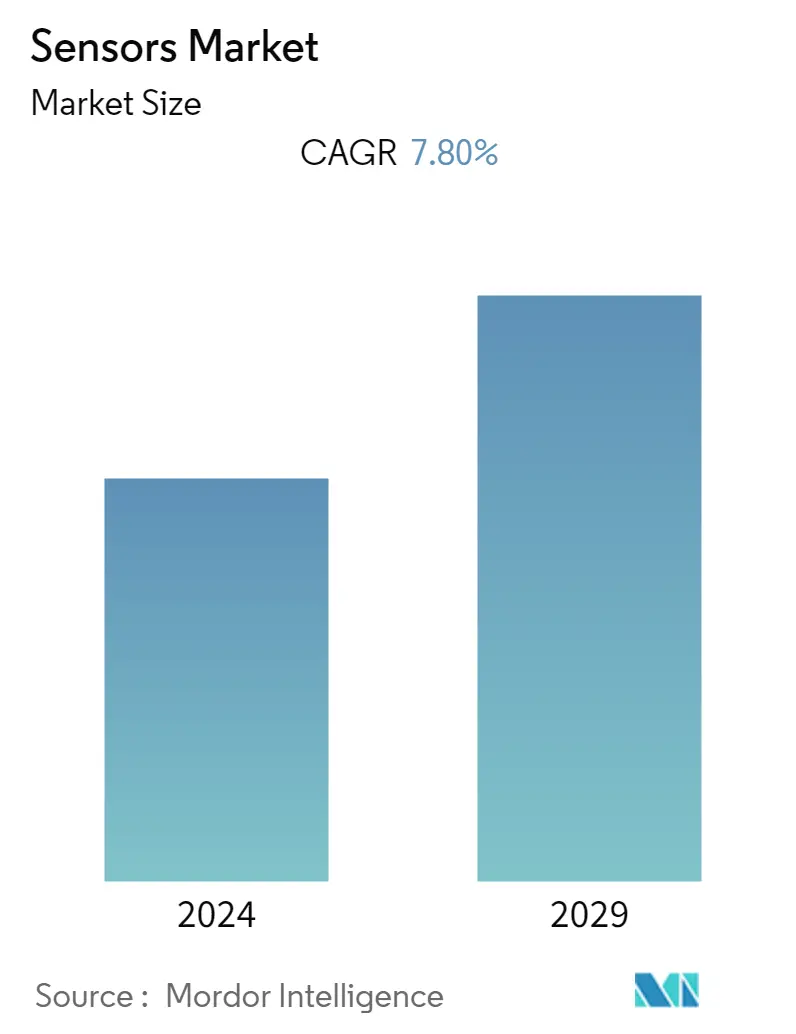 Study Period
2018 - 2028
Base Year For Estimation
2022
CAGR
7.80 %
Fastest Growing Market
Asia Pacific
Largest Market
North America
Market Concentration
Low

Major Players

*Disclaimer: Major Players sorted in no particular order
Need a report that reflects how COVID-19 has impacted this market and its growth?
Sensor Market Analysis
The global sensors market was valued at USD 105.89 billion in the previous year and is anticipated to reach USD 166.2 billion by the end of the forecast period, registering a CAGR of 7.8% during the forecast period. A sensor detects and responds to the inputs from the physical environment. A typical input can be pressure, heat, light, motion, and moisture, among many others. The output is a signal that is transformed into a human-readable display at the sensor's location or is electronically transmitted over a network for reading or further processing.​ The rising sensor compatibility with the Internet of Things (IoT) platform is slowly becoming a prerequisite for enabling remote monitoring and control.
The IoT-connected devices have unfurled enormous opportunities for sensors in numerous applications like medical, industrial, consumer electronics, automotive, etc. According to Cisco's Annual Internet Report, by the end of 2023, there will be approximately 30 billion network-connected devices and connections, up from about 18.4 billion in 2018. In 2023, IoT devices are estimated to make up 50 percent (14.7 billion) of all networked devices, up from 33 percent (6.1 billion) in 2018. Such an increase in IoT devices would drive the growth of the studied market​.
The emergence of automation would augment the demand for sensors as they play an important part in detecting, measuring, analyzing, and processing numerous transformations like alteration in length, position, exterior, height, and dislocation that occur in industrial manufacturing sites. Further, the Industry 4.0 revolution, in which machines are becoming more intuitive and intelligent, is increasing the necessity for the industrial applications of sensors. The new machines are designed to be safer, flexible, and efficient, with the ability to autonomously monitor their performance, usage, and failure. These applications, therefore, spur the demand for highly sensitive sensors.
Also, according to the IFR forecasts, the global adoption is anticipated to increase significantly to approximately 518,000 industrial robots operational across factories all around the globe by 2024. Such a positive growth trajectory of the industrial robots market is likely to drive the demand for sensors during the same period.​
Moreover, sensors embedded with AI (artificial intelligence) have enabled them to think and interact like humans. AI allows real-time control and auto-course correction to maintain high precision, system integrity, and robustness. It facilitates machines to control any deviations proactively. AI also delivers intelligent solutions in automation systems, predictive controls, CRM systems, high-resolution imaging applications, etc.
Several researches regarding biosensors focusing on increasing efficiency, accuracy, and tackling limitations are anticipated to spearhead the adoption of biosensors. For instance, in August 2022, new research conducted by the University of Chicago's Pritzker School of Molecular Engineering showed that a flexible, stretchable computer chip worn directly on the skin can use artificial intelligence to collect and analyze health data in real-time. The device is a neuromorphic computer chip that uses semiconductors and electrochemical transistors to collect data from biosensors in contact with the skin. Unlike other wearable products, such as smartwatches that leave a small gap between the device and the user's skin, this chip is designed to be worn directly on the skin, improving sensor accuracy and data collection.
Although integrating sensors boosts the industrial automation level, it incurs an additional cost, limiting the use in cost-sensitive applications. Additionally, high development costs involved in the research and development activities to manufacture new products act as a critical challenge, mainly for the cash-deficient small and medium-sized sensor manufacturers.​
Also, the Russia-Ukraine war is impacting the supply chain of semiconductors and electronic components, thereby severely impacting the global sensors market. The dispute has disrupted the supply chain, causing shortages and price increases for these materials, impacting industry 4.0 manufacturers and potentially leading to higher costs for end-users. Such factors might restrain the growth of the studied market.
Sensor Market Trends
The Consumer Electronics Segment is Anticipated to Drive the Growth of the Studied Market
The global demand for smartphones has been witnessing an uptick due to several factors, like the advent of 5G, increasing disposable income, and the development of telecom infrastructure. As per the Ericsson report, the number of smartphone subscriptions globally amounted to 6,259 million in 2021 and is expected to reach 7,690 million in 2027.​
Sensors in smartphones are employed to detect various aspects of the environment. Several types of sensors include motion sensors, environmental sensors, position sensors, ambient light sensors, proximity sensors, accelerometer sensors, gyroscope sensors, and barometer sensors. etc., are utilized in smartphones. As a result, the increasing penetration of smartphones would offer robust opportunities for boosting the studied market. The use of image sensors for smartphones has increased, and companies such as Sony and Samsung are the front runners in these markets. In July 2022, Sony announced the development of a new 100 MP CMOS sensor that will be seen on upcoming mid-range smartphones.​
Biometric sensors have been an integral factor contributing to the market's growth. There is a solid positive growth trend in demand for biometric authentication in PCs, which various launches and agreements can illustrate. For example, in March 2022, Fingerprint Cards AB announced that the company's biometric PC solution would be integrated into the power button of the Lenovo ThinkBook 14 and ThinkBook 15 G4 laptops. Considering Lenovo is one of the prominent players in PC making, such agreements would hugely aid in the growth of the studied market.
Further, Smart wearable devices like fitness trackers, smartwatches, smart wristbands, VR headsets, sports watches, and activity trackers are integrated with advanced technologies such as artificial intelligence (AR) and IoT (IoT), which employ a huge number of sensors. For example, fit bits, smartwatches, and pulse oximeters are among the wearable systems incorporated with optical sensors to provide real-time patient health tracking solutions. Therefore, with increased use of these devices, the overall sensors market is impacted positively, exhibiting a steady growth.​
To that extent, in April 2023, Samsung's Galaxy launched the Watch5 series, which comes with advanced sensors that can track physical activities (in terms of steps walked and calories burned), monitor heart rate, SpO2 (blood-oxygen saturation), and even menstrual cycle. It also has a unique BioActive Sensor. It can measure the skeleton-muscle ratio and fat mass of the body. This helps in getting a better understanding of the body's fitness level.
Moreover, the use of sensors for health monitoring has been imperative for the rise of the sensors market. Acquisitions and developments in this regard have been an essential factor. In June 2022, AliveCor announced joining the Medidata Sensor Cloud Network to facilitate and expand access to clinical trials for a diverse range of severe conditions. Medidata and AliveCor are democratizing clinical research by offering a reliable way to remotely capture and share important heart health data through the intelligent use of Sensor Cloud Network.
In June 2022, embedded systems company SolidRun announced a partnership with Renesas and launched the first system-on-module (SoM) based on Renesas' RZ/G2LC system-on-a-chip. The SoMs are aimed at AI-enhanced human-machine interface (HMI) applications, industrial and building automation, smart video surveillance, and IoT solutions. Targeted devices include intercoms, video doorbells, network cameras, handheld POS systems, and more. Such developments are crucial for the growth of the overall sensor market globally.
To understand key trends, Download Sample Report
Asia-Pacific is Expected to Drive the Growth of the Market Studied
Due to significant consumer electronics manufacturers in this region, analysts predict that Asia-Pacific will dominate the sensors market. The market is anticipated to be driven by increasing smartphone penetration, 5G penetration, and advancements across numerous end-user industries. China, South Korea, Japan, and India, among others, are major Asia-Pacific countries. ​
Moreover, the promise of smart cities has captivated the APAC region's technology industry. As per the recent report by Equinix, "Smart Cities: Shifting Asia," UBS projects that APAC is likely to account for about 40 percent of the global addressable market evolution for smart city projects, or USD 800 billion, by 2025. This prompt urbanization drives IT buildout and interconnection bandwidth growth to sustain APAC's expanding digital market. As a result, smart city applications like smart buildings and grids, air and water monitoring, smart waste collection, smart transportation, and disaster response are likely to expand the opportunity areas for the sensor market.
With the growing advancements of Advanced Driver Assistance Systems in the automotive market, automotive sensor demand has been growing similarly with an aim to offer precise and accurate detection of vehicles' surroundings by combining data from several sensors like radar, cameras, and LiDAR. In line with the growing demand for ADAS systems in vehicles, it is expected to promote the adoption of sensors. ​
In August 2022, Renesas Electronics, a premier supplier of advanced semiconductor solutions, acquired Steradian Semiconductors Private Limited, a fabless semiconductor company that offers 4D imaging radar solutions based in Bengaluru, India. The acquisition would enable Renesas to expand its market presence in the radar market and augment its industrial and automotive sensing solution portfolio. Moreover, the company also aims to expand its leadership in the automotive segments. Renesas would also leverage Steradian's technology for industrial applications to support its mid-term and long-term business growth in the automotive sensing and industrial segments.​
Furthermore, the increasing applications of a wide range of sensors in the smartphone market are expected further to increase the demand for sensors in the market. ​In June 2022, Sony Group announced its plan to enhance its image sensor technology with an aim to expand its product portfolio along with strengthening its market position. The company has been investing in its R&D capabilities to provide its customers with a solution for focusing on multiple targets when taking a picture via a smartphone. Such initiatives by the companies in the market are expected to increase the demand for sensors in the smartphone, thereby fueling the demand growth of sensors in the Asia-Pacific region.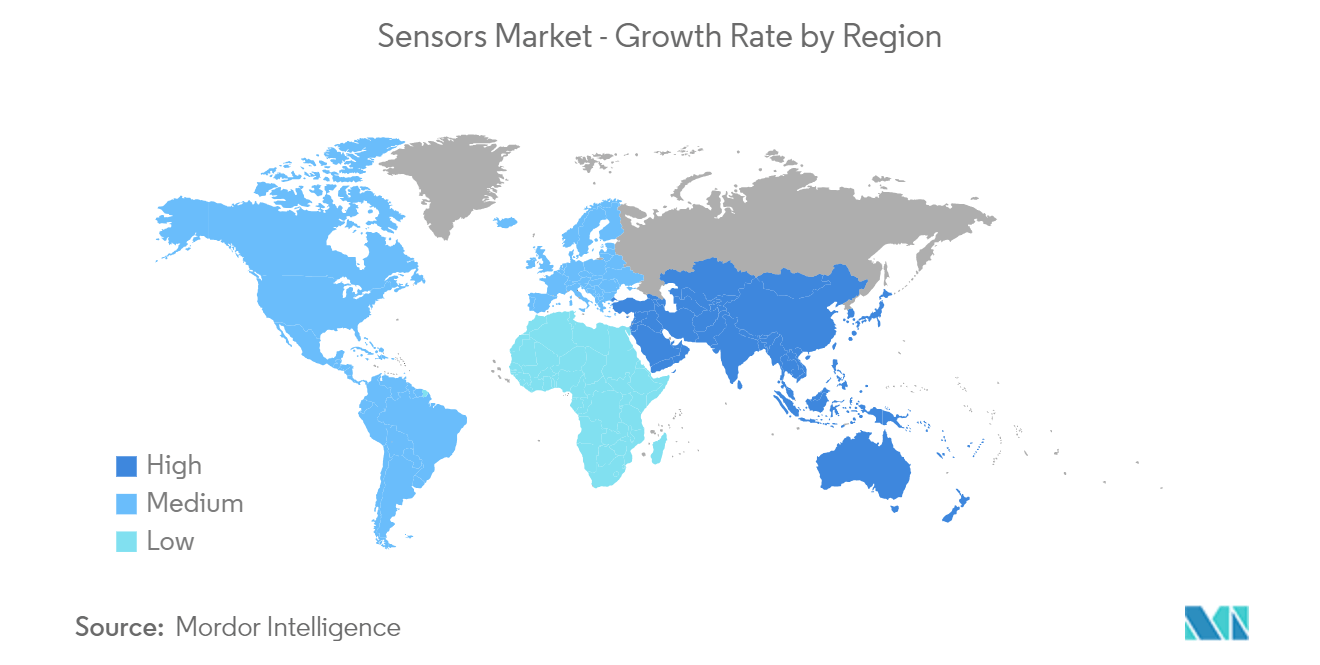 To understand geography trends, Download Sample Report
Sensor Industry Overview
The increasing presence of prominent manufacturers in the sensor industry is expected to intensify competitive rivalry during the forecast period. Market incumbents, such as Texas Instruments Incorporated, TE Connectivity Inc., Omega Engineering Inc., etc., considerably influence the overall market. These firms have continuously expanded their operations by focusing on market expansions and acquisitions. Continuous product launches and technological upgrades effectively set the ball rolling regarding overall market growth in the sensor sector. ​
In January 2023, NXP Semiconductors launched a new industry-first 28 nm RF CMOS radar one-chip IC family for next-generation ADAS and autonomous driving systems. The new single-chip SAF85xx family integrates NXP's powerful radar detection and processing technology into a single device, giving Tier 1s and OEMs new flexibility to address short-, medium-, and long-range radar applications.
In April 2022, Kistler released its latest 4017-A piezoresistive absolute pressure sensor for usage in engine development and hydraulic and pneumatic applications in hot and cold environments. The PR pressure sensors can also be employed for dynamic pressure measurements due to their ability to capture rapidly changing pressures, even in low-pressure ranges.​
Sensor Market Leaders
Texas Instruments Incorporated

TE Connectivity Ltd

Omega Engineering Inc.

Honeywell International Inc.

Rockwell Automation Inc.
*Disclaimer: Major Players sorted in no particular order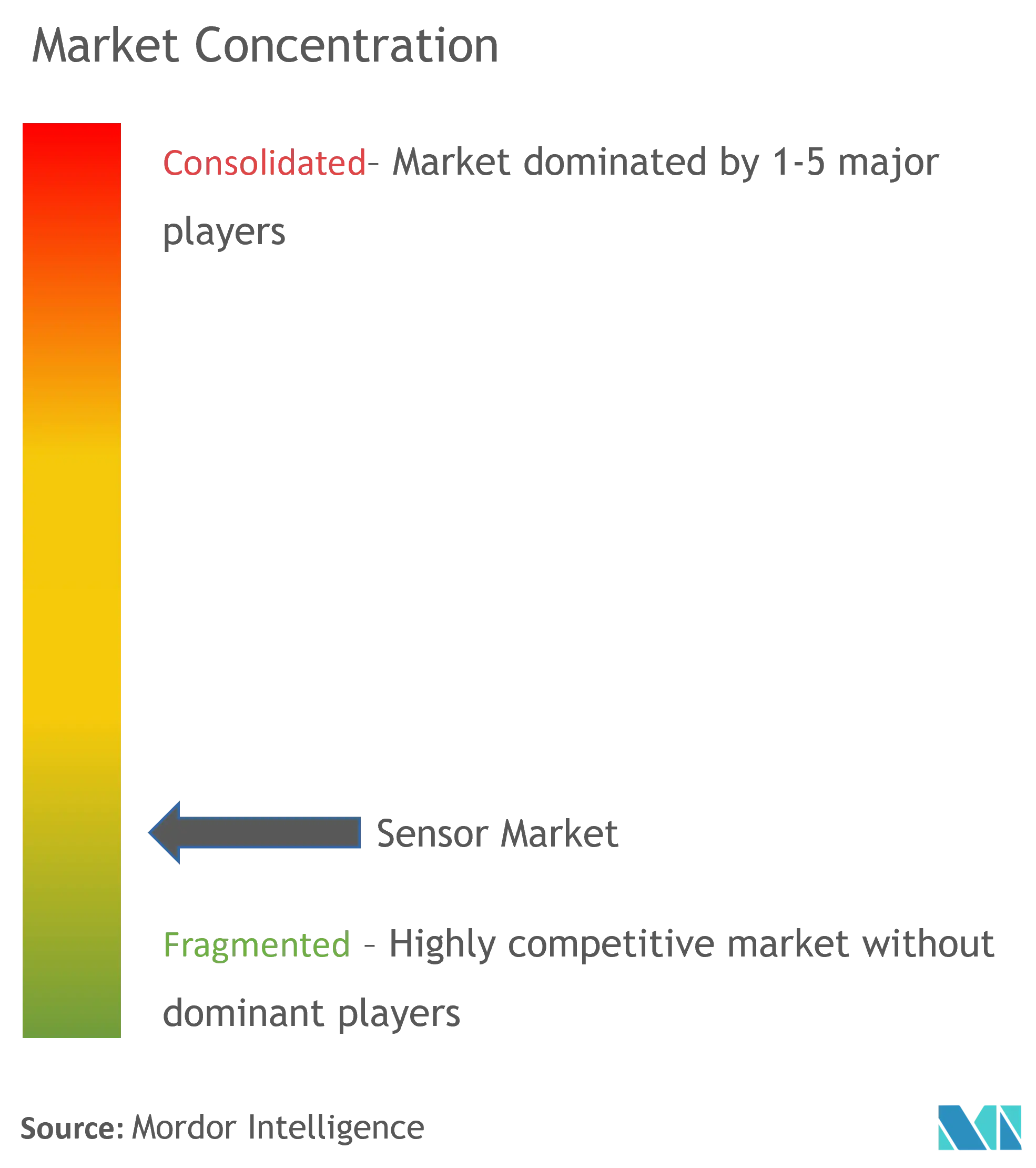 Sensor Market News
January 2023: Texas Instruments (TI) collaborated with D3 to launch their DesignCore RS-1843AOPC and RS-6843AOPC mm-wave radar sensors. These new versions facilitated the implementation of many different mm-wave radar algorithms to measure, detect, and track. Moreover, the production-intent sensors feature a 1-inch cube form factor, a heat-spreading metal body, and mounting tabs. They may be utilized with a PC or embedded platform to provide field testing, algorithm development, sensing evaluation, and application demonstrations. Automotive applications supported by these sensors comprise parking assist and collision avoidance, followed by industrial applications supported by these sensors, including robotics, industrial vehicle systems, autonomous machines, and facility monitoring. The sensors can also be employed in many other use cases with a tethered host processor or stand-alone.
January 2023: Ams OSRAM launched its new product, the Mira 050, a 2.3 x 2.8 mm, 0.5 Mpixel pipelined, high-sensitivity, global shutter CMOS image sensor. Due to the Mira050's high sensitivity to visible and near-infrared (NIR) light, wearable and mobile devices' size and power consumption can be decreased. Mira 050 can be used for facial recognition in smart door locks, eye tracking, gesture tracking, and 3D depth sensing for context recognition in AR, VR, and MR headsets.
Sensor Market Report - Table of Contents
1. INTRODUCTION

1.1 Study Assumptions and Market Definition

1.2 Scope of the Study

2. RESEARCH METHODOLOGY

3. EXECUTIVE SUMMARY

4. MARKET INSIGHTS

4.1 Market Overview

4.2 Technological Trends/Advancements

4.3 Industry Attractiveness - Porter's Five Forces Analysis

4.3.1 Bargaining Power of Suppliers

4.3.2 Bargaining Power of Buyers

4.3.3 Threat of New Entrants

4.3.4 Threat of Substitutes

4.3.5 Degree of Competition

4.4 Assessment of the Impact of the COVID-19 and Macroeconomic Trends on the Industry

4.5 Industry Value Chain/supply Chain Analysis

4.6 Flexible and Printed Sensors Industry Dynamics (Current Scenario, Market Estimates, Projections, Developments, and Dynamics)

5. MARKET DYNAMICS

5.1 Market Drivers

5.1.1 Technological Advancement and Decreasing Cost of Sensors

5.1.2 Emergence of Automation and Industry 4.0

5.2 Market Restraints

5.2.1 High Initial Cost Involved

6. MARKET SEGMENTATION

6.1 By Parameters Measured

6.1.1 Temperature

6.1.2 Pressure

6.1.3 Level

6.1.4 Flow

6.1.5 Proximity

6.1.6 Environmental

6.1.7 Chemical

6.1.8 Inertial

6.1.9 Magnetic

6.1.10 Vibration

6.1.11 Other Parameters Measured

6.2 By Mode of Operation

6.2.1 Optical

6.2.2 Electrical Resistance

6.2.3 Biosensors

6.2.4 Piezoresistive

6.2.5 Image

6.2.6 Capacitive

6.2.7 Piezoelectric

6.2.8 LiDAR

6.2.9 Radar

6.2.10 Other Modes of Operation

6.3 By End user Industry

6.3.1 Automotive

6.3.2 Consumer Electronics

6.3.2.1 Smartphones

6.3.2.2 Tablets, Laptops, and Computers

6.3.2.3 Wearable Devices

6.3.2.4 Smart Appliances or Devices

6.3.2.5 Other Consumer Electronics

6.3.3 Energy

6.3.4 Industrial and Other

6.3.5 Medical and Wellness

6.3.6 Construction, Agriculture, and Mining

6.3.7 Aerospace

6.3.8 Defense

6.4 By Geography

6.4.1 North America

6.4.2 Europe

6.4.3 Asia-Pacific

6.4.4 Latin America

6.4.5 Middle East and Africa

7. COMPETITIVE LANDSCAPE

7.1 Company Profiles

7.1.1 Texas Instruments Incorporated

7.1.2 TE Connectivity Ltd

7.1.3 Omega Engineering Inc.

7.1.4 Honeywell International Inc.

7.1.5 Rockwell Automation Inc.

7.1.6 Siemens AG

7.1.7 STMicroelectronics NV

7.1.8 ams OSRAM AG

7.1.9 NXP Semiconductors NV

7.1.10 Infineon Technologies AG

7.1.11 Bosch Sensortec Gmbh (Robert Bosch Stiftung GMBH)

7.1.12 Sick AG

7.1.13 ABB Limited

7.1.14 Omron Corporation

*List Not Exhaustive

8. INVESTMENT ANALYSIS

9. FUTURE OF THE MARKET
**Subject to Availability
Sensor Industry Segmentation
A sensor detects and responds to inputs from the physical environment. A typical input could be pressure, light, heat, motion, or moisture, among many others. There is a significant increase in the trend toward automation. As sensors play the most important role in every aspect of automation, the global sensor market is expected to witness high growth during the forecast period.
The global sensor market report is segmented by parameters measured (temperature, pressure, level, flow, proximity, environmental, chemical, inertial, magnetic, vibration, and other parameters measured), by mode of operation (optical, electrical resistance, biosensor, piezoresistive, image, capacitive, piezoelectric, liDAR, radar, and other modes of operation), by end-user industry (automotive, consumer electronics (smartphones, tablets, laptops, and computers, wearable devices, smart appliances or devices, and other consumer electronics)), by energy, industrial, medical and wellness, construction, agriculture, and mining, aerospace, and defense), and geography( North America, Europe, Asia-Pacific, Latin America and Middle East and Africa). The market sizes and forecasts are provided in terms of value (USD) for all the above segments.
By Parameters Measured
Temperature
Pressure
Level
Flow
Proximity
Environmental
Chemical
Inertial
Magnetic
Vibration
Other Parameters Measured
By Mode of Operation
Optical
Electrical Resistance
Biosensors
Piezoresistive
Image
Capacitive
Piezoelectric
LiDAR
Radar
Other Modes of Operation
By End user Industry
Automotive

Consumer Electronics
Smartphones
Tablets, Laptops, and Computers
Wearable Devices
Smart Appliances or Devices
Other Consumer Electronics

Energy
Industrial and Other
Medical and Wellness
Construction, Agriculture, and Mining
Aerospace
Defense
By Geography
North America
Europe
Asia-Pacific
Latin America
Middle East and Africa
Sensor Market Research FAQs
What is the study period of this market?
The Sensors Market is studied from 2018 - 2028.
What is the growth rate of Sensors Market?
The Sensors Market is growing at a CAGR of 7.8% over the next 5 years.
What is Sensors Market size in 2018?
The Sensors Market is valued at 111 Billion USD in 2018.
What is Sensors Market size in 2028?
The Sensors Market is valued at 165 Billion USD in 2028.
Which region has highest growth rate in Sensors Market?
Asia Pacific is growing at the highest CAGR over 2018 - 2028.
Which region has largest share in Sensors Market?
North America holds highest share in 2022.
Who are the key players in Sensors Market?
Texas Instruments Incorporated, TE Connectivity Ltd, Omega Engineering Inc., Honeywell International Inc., Rockwell Automation Inc. are the major companies operating in Sensors Market.
Sensor Industry Report
Statistics for the 2023 Sensors market share, size and revenue growth rate, created by Mordor Intelligence™ Industry Reports. Sensors analysis includes a market forecast outlook to for 2023 to 2028 and historical overview. Get a sample of this industry analysis as a free report PDF download.
Sensors Market Report Snapshots
80%

of our clients seek made-to-order reports. How do you want us to tailor yours?