Market Snapshot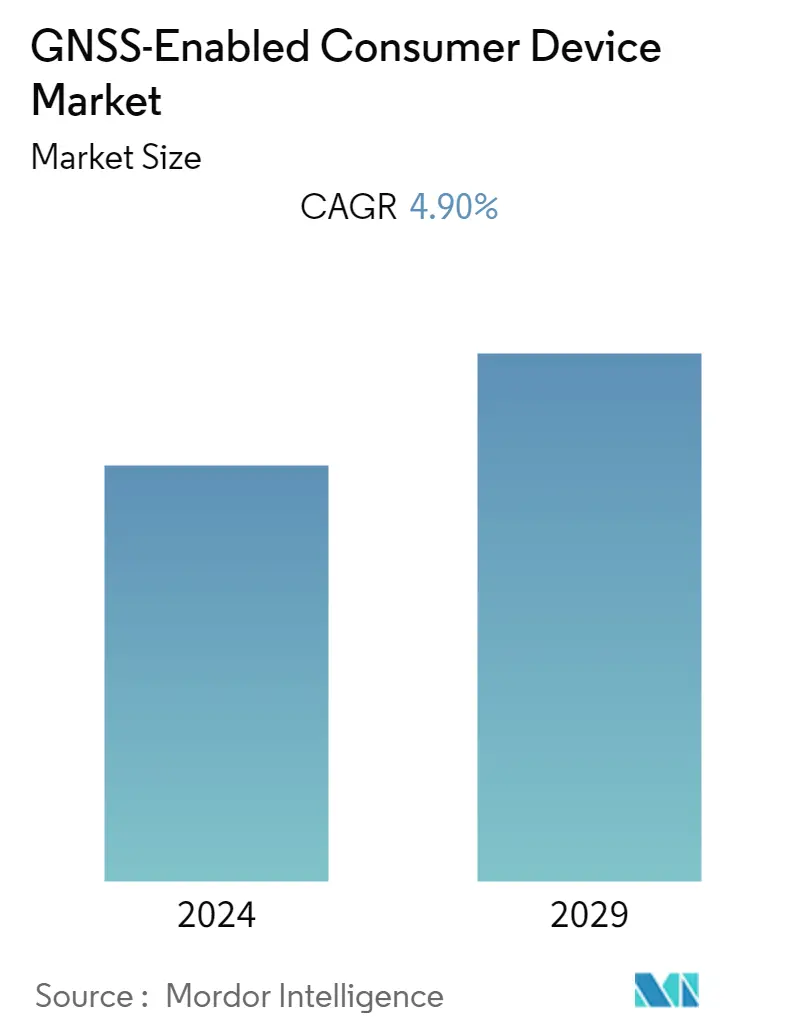 Study Period:
2020-2027
Base Year:
2021
Fastest Growing Market:
Asia-Pacific
Largest Market:
North America
CAGR:
4.9 %
Need a report that reflects how COVID-19 has impacted this market and its growth?
Market Overview
The GNSS-Enabled Consumer Device Market is expected to register a CAGR of 4.9% during the forecast period (2022-2027). The increasing volume of consumer electronics equipped with navigation and positioning features is expected to create a considerable demand for GNSS. For instance, Cisco reported that Wearables used in North America and the Asia Pacific are together forecast to account for around 70% of the wearable 5G connections worldwide in 2022. According to Cisco, in 2021, 258.2 million connected wearable devices are expected to get a connection in the Asia-Pacific region. Over the forecast period, such growth in demand for consumer electronics is expected to retain it as the largest consumer of GNSS chips.
· Escalating the Internet of Things (IoT) usage and wearable devices that use location information has increased the demand for GNSS receiver LSIs. Precise positioning and reliable communications must be ensured for the proper operation of IoT and wearable devices, which are used even in challenging communication environments and unstable conditions. Further, device size constraints necessitate a compact battery, whereas satellite signal reception and positioning when using GNSS functionality consume a lot of power, resulting in poor battery life. Therefore, various technology companies are developing and launching new products that augment the capabilities of wearable devices.
· Further, the new generation of Android smartphones is equipped with high-performance Global Navigation Satellite System (GNSS) chips capable of tracking dual-frequency multi-constellation data. Moreover, starting from Android version 9, users can disable the duty cycle power saving option; thus, better quality pseudo-range and carrier phase raw data are available. Also, applying the Precise Point Positioning (PPP) algorithm has become more interesting. This work aims to assess the PPP performance of the first dual-frequency GNSS smartphone produced by Xiaomi equipped with a Broadcom BCM47755. The advantage of acquiring dual-frequency data is highlighted by comparing the performance obtained by Xiaomi with that of a single-frequency smartphone, the Samsung S8. The vertical and horizontal accuracy achieved by Xiaomi is 0.51 m and 6 m, respectively, while those achieved by Samsung are 5.64 m for 15 m for horizontal and vertical.
· Small industrial asset trackers used in industrial asset tracking applications are designed for managing a large fleet of GPS-enabled asset tags to keep checks on parcels, boxes, roll cages, livestock, and across vast supply chains. These may only become viable in heavy applications if maintenance efforts, primarily focused on keeping trackers powered up, are kept to a minimum. The battery longevity can be extended considerably by using a series of hardware and firmware-based tweaks to optimize the proportion between tracking performance and power consumption. But meeting ambitious power consumption targets in low-power asset tracking and related applications can be challenging. There are many ways to integrate GNSS receivers into an end-product, some of which are more power-efficient than others.
· In February 2022, Colorado-based Dronee announced that it is preparing to launch an open-source asset tracker, Loko, designed to combine GNSS support with a long-range low-power LoRa radio uplink, with up to a year of tracking per charge. A USP of the device is a long battery life, which can work for over 30 days to a year per charge of its internal battery, depending on how frequently it transmits its position.
· Multiple new applications sprang up due to COVID-19, increasing the usage of GNSS chips. For instance, COVID-19 has increased the need for supply-chain assets to be transported and tracked with precision. The effective use of GNSS has been for quarantine monitoring and enforcement, where it is used to set up a virtual perimeter for those who are in self-quarantine through a process known as geofencing. In general, the location data is gathered from a smartphone or other supporting device and is utilized to inform local authorities when the self-quarantine is breached.
Scope of the Report
Global Navigation Satellite System (GNSS) is defined as the infrastructure that allows users with a compatible device to determine their position, velocity, and time by processing signals from satellites. GNSS signals are provided by a variety of satellite positioning systems, including global and regional constellations, and Satellite-Based Augmentation Systems: including Global constellations such as GPS (USA), GLONASS (Russian Federation), Galileo (EU), BeiDou (PRC); Regional constellations: QZSS (Japan), IRNSS (India), and BeiDou regional component (PRC); and Satellite-Based Augmentation Systems (SBAS).
GNSS-enabled devices find applications across consumer markets, Automotive, Aerospace & Defense, Maritime, Rail, and Agriculture, among others. For the purpose of the study, only GNSS-enabled consumer devices are considered.
The GNSS-Enabled Consumer Device Market is segmented by device type (smartphones, tablets & wearables, personal tracking devices, Low-Power asset trackers) and geography.
By Device Type
Smartphones
Tablets & Wearables
Personal Tracking Devices
Low-Power Asset Trackers
Other Device Types
By Geography
North America
Europe
Asia-Pacific
Latin America
Middle-East and Africa
Key Market Trends
The Smartphones Segment is Expected to Considerably Drive the Market's Growth
· Despite considerable saturation of mature markets, such as EU28, North America, and China, for smartphones, the shipments of smartphones still outnumber devices using GNSS chips. Smartphones have been using GNSS chips for a considerable time. In most cases, these chips support all publicly available satellite networks, such as GPS, GLONASS, Galileo, etc. However, when compared to dedicated navigation devices, these solutions were less accurate.
· Additionally, a degree of monopoly in the smartphone hardware market limited the scope for GNSS chip installations. Qualcomm hardware usually does not include Broadcom GNSS chips and vice versa, as they are prime competitors. But in recent years, this scenario has been changing. Moreover, the European Commission has approved a regulation mandating that new smartphones launched in the market will have to include satellite and Wi-fi location services. According to the regulation, chipsets enabled with the Global Navigation Satellite System (GNSS) capabilities will likely have access to the EU's satellite system Galileo, which provides accurate positioning and timing information. Eight EU countries have been following this regulation and are using Galileo-compatible chipsets.
· According to the European GNSS Agency, over 95% of the satellite navigation chipset supply market supports Galileo in new products, including various manufacturers of smartphone chipsets like Broadcom, Qualcomm, and Mediatek. With leading GNSS chipset providers producing Galileoreadychipsets and global smartphone brands already integrating these chipsets in their latest smartphone models, the market is expected to have further growth opportunities in the forecasted period.
· Further, according to Google, more than 1 billion fixes per day from pedestrians' smartphones in cities are on the wrong side of the street or the wrong city block. In 2021, Broadcom launched a new solution that significantly improves accurate walking navigation by combining the Broadcom dual-frequency GNSS BCM47765 chip and a new Android service that provides GNSS assistance through complex GNSS reflection ray modeling using their 3D building models.
· Since the release of Android 7.0, raw GNSS measurements tracked by smartphones operating with Android can be accessed. These GNSS observations can be used directly to estimate the user position with specialized self-developed algorithms and correction data. Since smartphones are equipped with simple, cost-effective GNSS chips and antennas, so they provide challenging, low-quality measurements. Furthermore, most smartphones offer GNSS measurements on just one frequency.
· Precise Point Positioning (PPP) is one of the most promising processing techniques for Global Navigation Satellite System (GNSS) data. The technique is characterized by using precise satellite products (orbits, clocks, and biases) and applying sophisticated algorithms to estimate the user's position. In contrast to relative positioning methods, PPP does not rely on nearby reference stations or a regional reference network. Furthermore, PPP is very flexible, which is another advantage considering smartphones' challenging nature of (single frequency) GNSS measurements.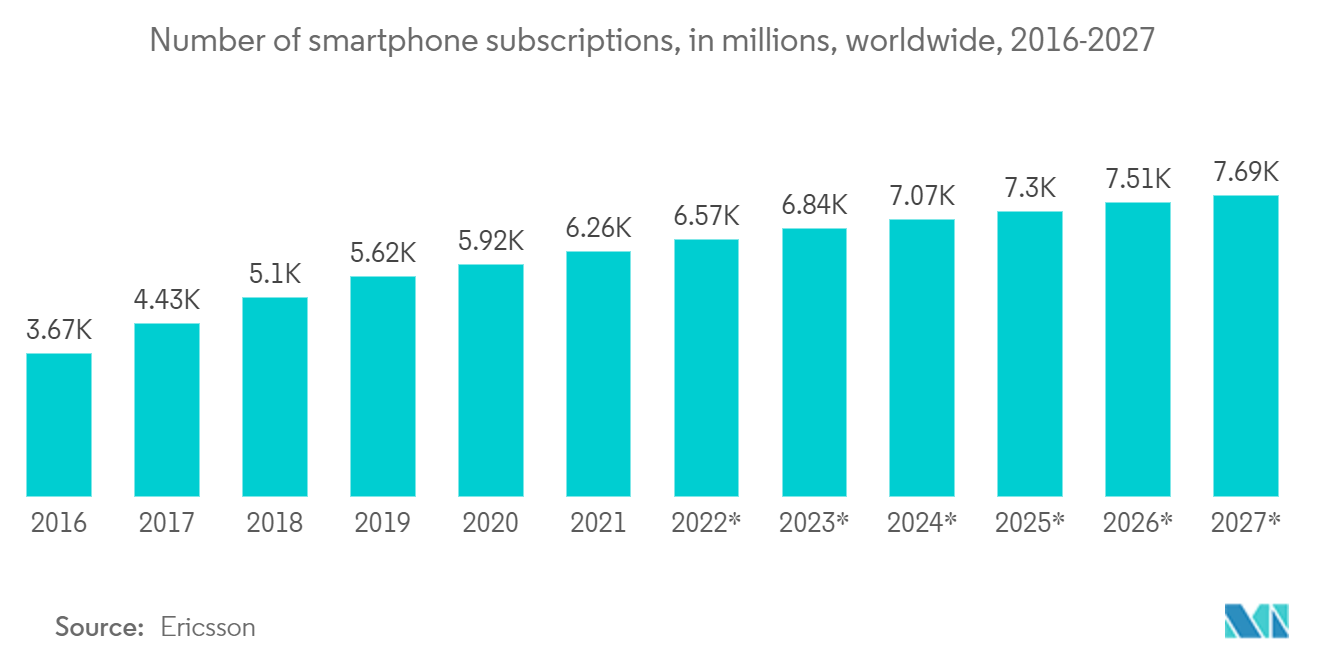 To understand key trends, Download Sample Report
The Asia-Pacific Region is Expected to Witness a High Market Growth
· In March 2021, China rolled out its 14th five-year plan; it is a plan touching on all aspects of development over the next five years and presenting China's 2035 vision. The 14th Five-Year Plan's persistent emphasis on R&D and innovation substantially impacts China's GNSS industry. "Deepen the promotion and use of BeiDousystems; Promote the industry's high-quality growth" is advocated as a policy guideline in the plan as an important national strategic project. The strategy is expected to signify a boost in GNSS industry research and development, the promotion of BeiDou'sindustrial application, and the acceleration of important core technology advancements.
· The GNSS & LBS Association of China (GLAC) presented a White Paper on the Development of China's Satellite Navigation and Location Services Industry (2021) on May 18, 2021, in Beijing, summarising the GNSS industry's development in 2020. According to the White Paper, the overall output value of China's satellite navigation and location services business reached CNY 403.3 billion (about USD 62.75 billion) in 2020, up 16.9% from 2019.
· The firms in the region are incorporating new features in the existing products or developing new products to meet the wide needs of the customer. For instance, in April 2022, The P300 Series GNSS Tablet was offered to the global market by ComNavTechnology. The high-precision GNSS in-cab Android rugged tablet, based on the K8 platform, delivers extreme, industry-leading performance and ease of use to precision agriculture, autonomous driving, machine control, and other industries. The P300 series GNSS tablet, which is equipped with a new generation K8 OEM module, can track all current and planned constellations (including GPS, BeiDou, BeiDouGlobal, GLONASS, Galileo, and QZSS) and achieve centimeter-level precision. The P300 series GNSS tablet uses advanced QUANTUMTM III technology in conjunction with an upgraded SinoGNSSASIC chip and advanced Microprocessor unit to provide improved heading and positioning performance for everyday field use.
· Furthermore, in December 2021, MediaTek announced device maker acceptance and endorsements from some of the world's leading smartphone brands, including OPPO, Vivo, Xiaomi, and Honor, for its Dimensity9000 5G smartphone chip for next-generation flagship smartphones. The first flagship smartphones powered by the Dimensity9000 will hit the market in the first quarter of 2022. Because the processor supports the newest Wi-Fi, Bluetooth, and GNSS standards, smartphone users can experience seamless communication.
· Since introducing information and mobile phone technologies, various countries have relied heavily on PVT-based applications. Currently, four GNSS systems are available worldwide: GPS from the United States, GLONASS from Russia, Galileo from the European Union, and BeiDoufrom China. Also, NavICfrom India and QZSS from Japan are two regional navigation satellite systems that provide navigation signals for the stated coverage area.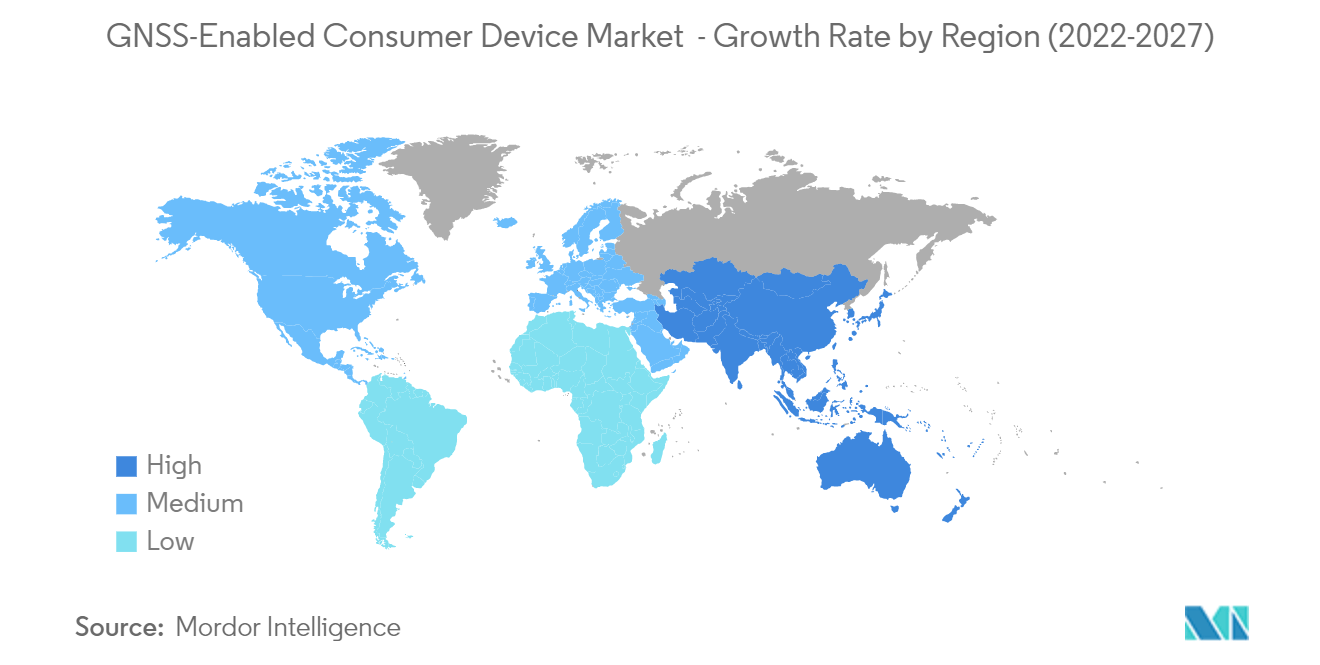 To understand geography trends, Download Sample Report
Competitive Landscape
The GNSS-enabled Consumer Device market is moderately consolidated. The market players tend to invest in innovating new and advanced product offerings to cater to the needs of various industries. Moreover, the market players adopt strategic activities like partnerships, mergers, and acquisitions to expand their presence. Some of the recent developments in the market are:
· March 2022 - Trimble and Qualcomm Technologies, Inc. announced the availability of Trimble RTX GNSS technology for Snapdragon 8 Gen 1 and Snapdragon 888 Mobile Platforms. This technology facilitates superior location capabilities in premium Android smartphones worldwide. The integration of Trimble RTX GNSS technology, a correction services platform with Snapdragon, contributes to higher quality, more accurate location-based user experiences like car navigation with lane-level guidance.
· August 2021 - Samsung Electronics introduced a new processor for wearables, the ExynosW920. The new processor integrates an LTE modem and is built with an advanced 5-nanometer (nm) extreme ultraviolet process node, offering powerful and efficient performance demanded by next-generation wearable devices. The ExynosW920 is embedded with a GNSS L1 receiver (GPS, GLONASS, Beidou, Galileo) for tracking speed, distance, and elevation during outdoor activities. It also has a 4G LTE Cat. 4 modem.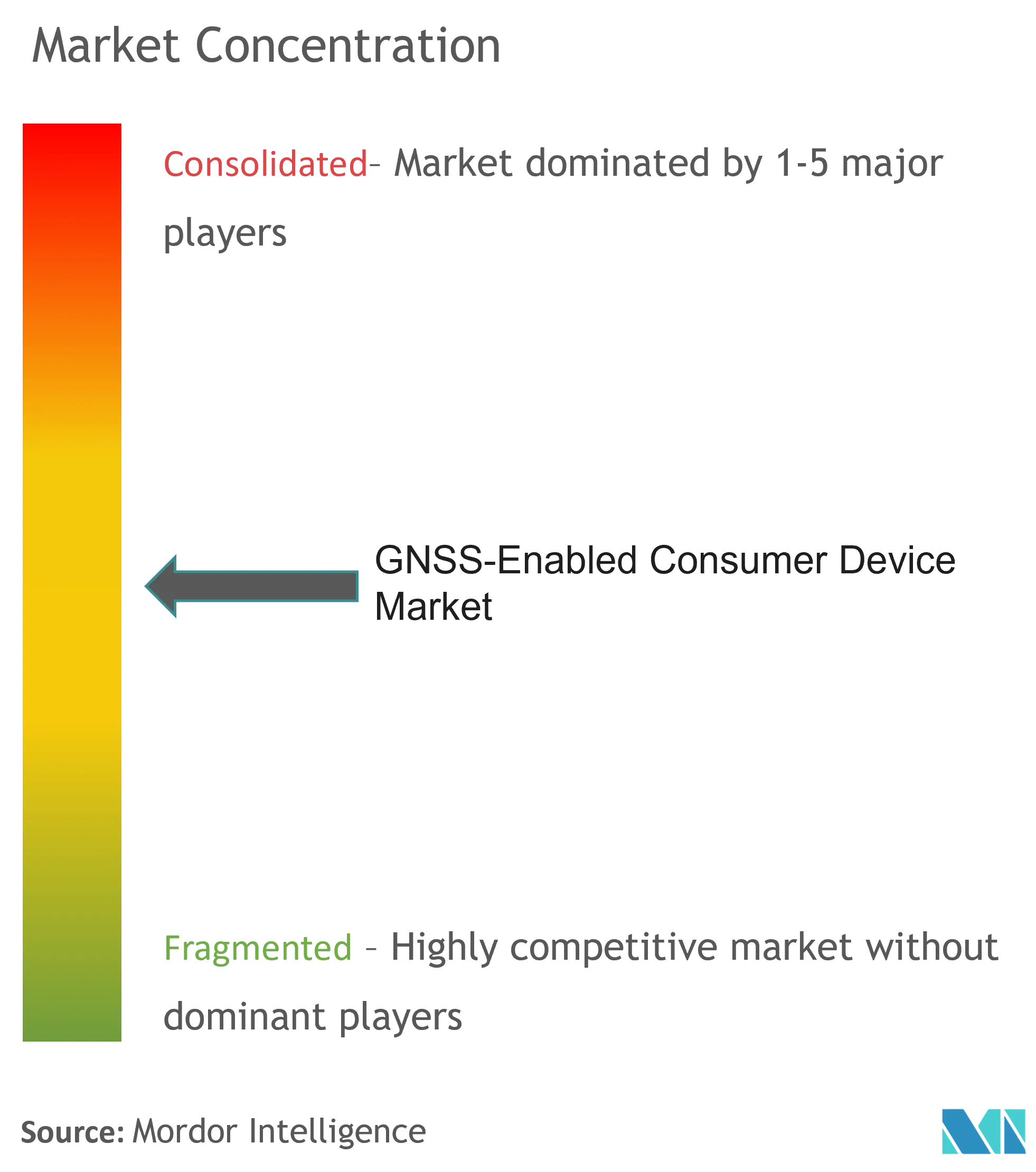 Recent Developments
· March 2022 - Camaliot, a project funded by the European Space Agency (ESA) and is led by ETH Zurich in collaboration with a team at ESA, was commenced. The researchers will combine data from many users' phones with other data sources using machine learning for applications like weather forecasting. The Camaliotapp turns any Android phone into a space monitoring tool. The combination of dual-band smartphone GPS receivers and Android's support for raw GNSS data recording gave researchers the option to use smartphones for this data collection.
· September 2021 - Broadcom launched an L1/L5 dual band GNSS receiver chip built-in 7nm CMOS that reduces power consumption to 6mW. The BCM4778 is optimized for mobile and wearable applications with a footprint 35% smaller than the previous generation. The GNSS power consumption is 4mW for the L1 band and 6mW for both L1 and L5. This lower power increases a smartwatch's GNSS always-on battery life by 30 hours compared to the previous generation chip operating on a 300mAh battery. The extended battery life benefit helps drive new experiences in phones and smartwatches. For instance, smartwatches can keep the GNSS always-on for fitness applications for multiple days on a single battery charge.
Table of Contents
1. INTRODUCTION

1.1 Study Assumptions and Market Definitions

1.2 Scope of the Study

2. RESEARCH METHODOLOGY

3. EXECUTIVE SUMMARY

4. MARKET INSIGHT

4.1 Market Overview

4.2 Industry Stakeholder Analysis

4.3 Industry Attractiveness - Porter's Five Forces Analysis

4.3.1 Threat of New Entrants

4.3.2 Bargaining Power of Buyers

4.3.3 Bargaining Power of Suppliers

4.3.4 Threat of Substitute Products

4.3.5 Intensity of Competitive Rivalry

5. MARKET DYNAMICS

5.1 Market Drivers

5.1.1 Wearables and tracking devices are boosting the GNSS market, whilst smartphone shipments are maturing

5.2 Market Challenges

5.2.1 Complexity regarding power consumption

5.3 Market Opportunities

5.3.1 Emerging Applications of GNSS enabled consumer devices (Augmented Reality, Robotics, mHealth, Geo marketing and advertising, Fraud management and billing, Safety and emergency etc)

5.4 Impact of COVID-19 on the market

6. MARKET SEGMENTATION

6.1 By Device Type

6.1.1 Smartphones

6.1.2 Tablets & Wearables

6.1.3 Personal Tracking Devices

6.1.4 Low-Power Asset Trackers

6.1.5 Other Device Types

6.2 By Geography

6.2.1 North America

6.2.2 Europe

6.2.3 Asia-Pacific

6.2.4 Latin America

6.2.5 Middle-East and Africa

7. COMPETITIVE LANDSCAPE

7.1 Company Profiles

7.1.1 Apple Inc.

7.1.2 Garmin Ltd

7.1.3 Fitbit (Google)

7.1.4 Samsung

7.1.5 Huami Corporation

7.1.6 Fossil Group Inc.

7.1.7 Samsung Electronics Co. Ltd

7.1.8 Huawei Technologies Co. Ltd

7.1.9 Xiaomi

*List Not Exhaustive

8. INVESTMENT ANALYSIS

9. FUTURE OF THE MARKET
You can also purchase parts of this report. Do you want to check out a section wise price list?
Frequently Asked Questions
What is the study period of this market?
The GNSS-Enabled Consumer Device Market market is studied from 2020 - 2027.
What is the growth rate of GNSS-Enabled Consumer Device Market?
The GNSS-Enabled Consumer Device Market is growing at a CAGR of 4.9% over the next 5 years.
Which region has highest growth rate in GNSS-Enabled Consumer Device Market?
Asia-Pacific is growing at the highest CAGR over 2021- 2026.
Which region has largest share in GNSS-Enabled Consumer Device Market?
North America holds highest share in 2021.
Who are the key players in GNSS-Enabled Consumer Device Market?
Apple Inc, Garmin Ltd, Fitbit (Google), Huami Corporation, Xiaomi are the major companies operating in GNSS-Enabled Consumer Device Market.
80%

of our clients seek made-to-order reports. How do you want us to tailor yours?