The next-generation communication devices market is expected a CAGR of 21% over the forecast period (2018 - 2023).
The evolving communication technologies are transforming the traditional telephonic services to more advanced wired and wireless services. The next-generation communication technologies support reliable high data performance and easy access to high-quality videos, uninterrupted calling, and gaming. The rapid globalization has enhanced interaction levels and the next-generation communications are expected to offer great opportunities in terms of connectivity, in the coming years.
Digital platforms play a significant role in driving the economy, and rapid digital infrastructure development is taking place in all the emerging countries. Internet of Things (IoT), Big Data, context-rich systems, eCommerce, 3D printing, and other such entities, which are ruling the current global market with the greatest demand, are further emphasizing the need for more innovative communication technologies. With the initiative of Industry 4.0 and increased availability of LTE technology, it is expected to further drive the growth of the market over the forecast period.
5G Becoming Increasingly Popular
Among the next-generation wireless communication systems, the 5G mobile and wireless communication technology have been widely researched. A global shift towards user-centric mobile applications from traditional carrier-centric applications is a major reason for the growing importance of the 5G technology. Upon implementation, the 5G technology is expected to handle huge mobile data traffic volume and a large number of connected devices, along with long network lifetime, with improved quality of services, such as high-transmission rate with low delay, among others. It is estimated that about USD 6 billion will be invested in R&D initiatives of the 5G technology in next five years. Apart from the future high-speed applications, 5G networks are expected to offer opportunities for innovations in IoT, ultra HD video content, remote health care, autonomous vehicles, and many others.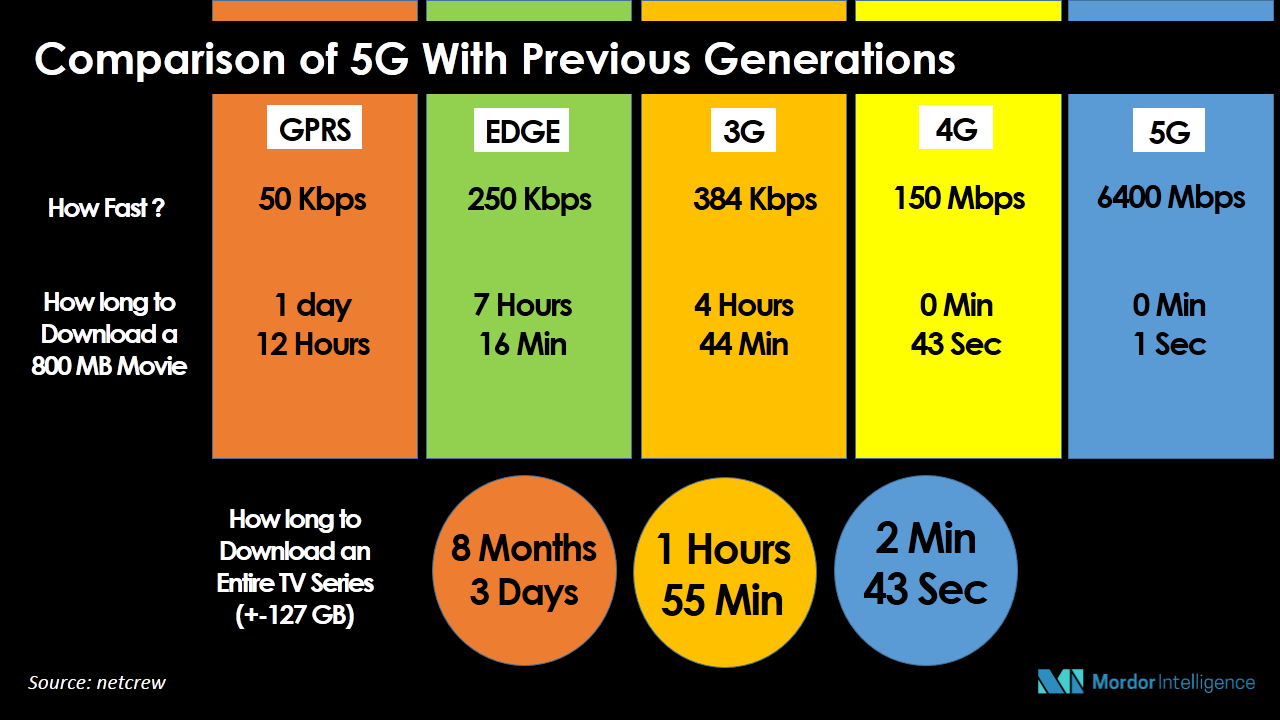 5G networks are expected to use various spectrum bands for various applications, ranging from sub-6 GHz cellular bands to millimeter wave bands. Even though technologies like LTE and corresponding advanced deployments have hit the market, majority of the mobile operators and organizations are investing more in R&D initiatives to develop the 5G technology. The 5G technology is considered to be a revolutionary shift in wireless networking, to achieve great throughput, latency, and other scalability requirements for the future applications, such as augmented reality applications (that are already in the market) that need high bandwidth. Even though 5G is yet to be standardized, investors are looking forward to 5G development efforts, focusing on air interface transmission schemes and advanced antenna technologies. Large-scale commercial deployments of this technology are expected to begin within the forecast period.
Recent Developments
January 2018: AT&T, Inc., announce that it is will be introducing the 5G services in some key cities before the end of 2018. AT&T also stated that this 5G service will be completely based on industry standards. With 3GPP, the international wireless standards body, completing the key elements of 5G new radio (NR) standards in December 2017 hardware makers are expected to start the production of compatible chipsets soon.
The major players include AT&T, Inc., Vodafone GmbH, AOL, Inc., Netgear, Inc., Huawei Technologies Co., Ltd, Verizon Communications, Inc., and Silicon Laboratories, Inc., among others.
Reasons to Purchase the Report
Current and future next-generation communication devices market outlook in the developed and emerging markets.
Analyzing various perspectives of the market with the help of Porter's Five Forces Analysis.
The segment that is expected to dominate the market.
Regions that are expected to witness the fastest growth during the forecast period.
Identify the latest developments, market shares, and strategies employed by the major market players.
3-month analyst support along with the Market Estimate sheet (in Excel).
Customization of the Report
This report can be customized to meet your requirements. Please connect with our representative, who will ensure you get a report that suits your needs.
1. Introduction
1.1 Study Deliverables
1.2 Study Assumptions
1.3 Research Methodology
1.4 Key Findings
2. Executive Summary
3. Market Overview
3.1 Overview
3.2 Value Chain Analysis
3.3 Industry Attractiveness - Porter's Five Forces Analysis
3.3.1 Bargaining Power of Suppliers
3.3.2 Bargaining Power of Consumers
3.3.3 Threat of New Entrants
3.3.4 Threat of Substitute Products and Services
3.3.5 Competitive Rivalry
4. Market Dynamics
4.1 Drivers
4.1.1 Increasing Trend of Wireless Devices
4.1.2 Easier Network Expansion
4.2 Restraints
4.2.1 Spectrum Regulations
4.2.2 High Cost of Innovation
4.3 Opportunities
4.3.1 Rapid Adoption Industry 4.0 Policies
4.3.2 Increasing Number of Smart Cities
5. Market Segmentation
5.1 By Type
5.1.1 Wired
5.1.2 Wireless
5.1.2.1 5G
5.1.2.2 WiMAX 2.1
5.1.2.3 Bluetooth 4.2
5.1.2.4 ZigBee
5.1.2.5 4G
5.1.2.6 Laser Communication
5.1.2.7 Wireless Sensor Networks (WSN)
5.1.2.8 Others
5.2 By Device
5.2.1 Smart Phones
5.2.2 Warning/Security Systems
5.2.3 Entertainment Systems
5.2.4 WiFi Routers
5.2.5 Others
5.3 By Application
5.3.1 Consumer Electronics
5.3.2 Automotive
5.3.3 Military
5.3.4 Healthcare
5.3.5 Security and Surveillance
5.3.6 Telecommunication
5.3.7 Others
5.4 By Region
5.4.1 North America
5.4.1.1 United States
5.4.1.2 Canada
5.4.1.3 Rest of North America
5.4.2 Europe
5.4.2.1 United Kingdom
5.4.2.2 France
5.4.2.3 Germany
5.4.2.4 Russia
5.4.2.5 Italy
5.4.2.6 Spain
5.4.2.7 Rest of Europe
5.4.3 Asia-Pacific
5.4.3.1 China
5.4.3.2 India
5.4.3.3 Japan
5.4.3.4 South Korea
5.4.3.5 Rest of Asia-Pacific
5.4.4 Rest of the World
6. Company Profiles
6.1 AOL, Inc.
6.2 AT&T, Inc.
6.3 Devicescape Software, Inc.
6.4 General Cable Corporation
6.5 Hitachi Cable, Ltd
6.6 Huawei Technologies Co, Ltd
6.7 Netgear, Inc.
6.8 OFS Fitel, LLC
6.9 Platronics, Inc.
6.10 Purple WiFi Holdings Ltd
6.11 Quantum Corporation
6.12 Silicon Laboratories, Inc.
6.13 Verizon Communications, Inc.
6.14 Vodafone GmbH
6.15 Wincor Nixdorf AG
*List not Exhaustive
7. Investment Analysis
8. Future of the Market
9. Disclaimer