The global newborn screening market is expected to register a CAGR of 9.0% during the forecast period, 2018 to 2023. North America dominates the market, due to growing awareness regarding newborn screening in the region.
Technological Advancements
The rapid pace of developments in the field of expanded newborn screening has been made possible through technological advancement in the devices and kits. This enables the detection of multiple compounds in the diagnosis of diverse inborn errors of metabolism in the neonatal dried blood specimens. After the success of newborn screening in phenylketonuria, major competitors in this field have continued to develop and introduce new models with significant performance improvements, which is likely to drive the market. Additionally, growing newborn screening programs worldwide, rising incidences of congenital diseases, and rising funding from government sectors are likely to surge the market growth of newborn screening market globally.
False Positives & False Negatives
Newborn screening tests are only the screening tests and not confirmatory tests. According to a survey, screening tests can have a higher margin of error and be less valid than diagnostic tests, but they should have a very low false negative rate. It is estimated that, on the expanded newborn screening panel, only about one in fifty of every positive new-born screening test detects actual disease. It is also noted that the average rate of false positives can vary widely, and it depends on the conditions tested. One in ten positive tests for cystic fibrosis is a true positive result, while one in 100 or one in 200 positive tests for congenital adrenal hyperplasia is a true positive result. The unreliability of few newborn screening tests and lack of uniformity of newborn screening policies and procedures, across the globe, is likely to impede the growth of the market.
North America to Dominate the Market
North America is expected to hold the largest share of the newborn screening market during the forecast period, due to growing awareness regarding newborn screening tests. For instance, in the United States, over 4,000,000 screenings are performed annually.
In the United States, both federal and state governments make policies governing newborn screening, which is augmenting the demand for newborn screening tests in the region.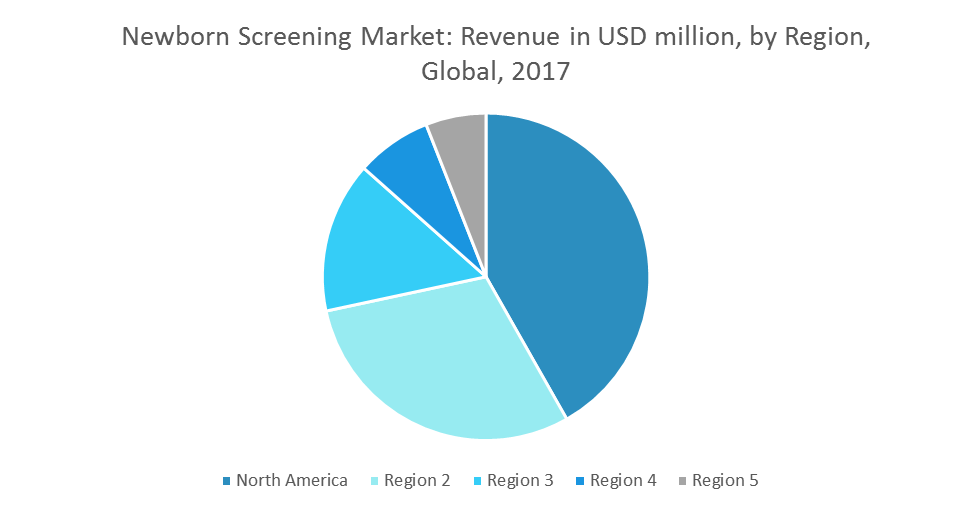 Key Developments in the Market
February 2018: Masimo Corporation received CE marking of Eve™, a Critical Congenital Heart Disease (CCHD) newborn screening application, for the Rad-97™ Pulse CO-Oximeter.
February 2017: The US Food and Drug Administration (FDA) permitted marketing of the Seeker System for the screening of four, rare Lysosomal Storage Disorders (LSDs) in newborns.
Major Players: AB Sciex Pte Ltd, Agilent Technologies, Bio-Rad Laboratories, Inc., GE Healthcare, Masimo Corporation, Medtronic, Natus Medical Incorporated, PerkinElmer, Inc., Trivitron Healthcare, and ZenTech S.A, amongst others.
Reasons to Purchase the Report
Current and future global newborn screening market outlook in the developed and emerging markets
Analysis of various perspectives of the market with the help of Porter's five forces analysis
The segment that is expected to dominate the market
Regions that are expected to witness the fastest growth during the forecast period
Identify the latest developments, market shares, and strategies employed by the major market players
3-month analyst support, along with the Market Estimate sheet (in Excel)
Customization of the Report
This report can be customized to meet your requirements. Please connect with our representative, who will ensure you to get a report that suits your needs.
1. Introduction
1.1 Market Definition
2. Research Methodology
3. Executive Summary
4. Key Inferences
5. Market Overview
5.1 Current Market Scenario
5.2 Porter's Five Forces Analysis
5.2.1 Bargaining Power of Suppliers
5.2.2 Bargaining Power of Consumers
5.2.3 Threat of New Entrants
5.2.4 Threat of Substitute Products and Services
5.2.5 Competitive Rivalry within the Industry
6. Drivers, Restraints, Opportunities and Challenges Analysis (DROC)
6.1 Market Drivers
6.1.1 Growing Newborn Screening Programs
6.1.2 Rising Incidences of Congenital Diseases
6.1.3 Rising Funding from Government Sectors
6.1.4 Technological Advancements
6.2 Market Restraints
6.2.1 Lack of Uniformity of Newborn Screening Policies and Procedures across the Globe
6.2.2 False Positive and False Negative Results
6.3 Opportunities
6.4 Key Challenges
7. Market Segmentation
7.1 By Product Type
7.1.1 Device
7.1.1.1 Pulse Oximeter
7.1.1.2 Mass Spectrometer
7.1.1.3 Hearing Screening Devices
7.1.1.4 Laparoscope
7.1.1.5 Retinoscope
7.1.1.6 Ultrasound Machine
7.1.2 Assay Kits
7.2 By Test Type
7.2.1 Dried Blood Spot
7.2.2 Hearing Screening
7.2.3 Critical Congenital Heart Defect (CCHD)
7.2.4 Urine Test
7.2.5 Others
7.3 By End-user
7.3.1 Hospitals
7.3.2 Maternity & Specialty Clinics
7.3.3 Diagnostic Centers
7.4 By Geography
7.4.1 North America
7.4.1.1 United States
7.4.1.2 Canada
7.4.1.3 Mexico
7.4.2 Europe
7.4.2.1 France
7.4.2.2 Germany
7.4.2.3 United Kingdom
7.4.2.4 Italy
7.4.2.5 Spain
7.4.2.6 Rest Of Europe
7.4.3 Asia-Pacific
7.4.3.1 China
7.4.3.2 Japan
7.4.3.3 India
7.4.3.4 Australia & New Zealand
7.4.3.5 South Korea
7.4.3.6 Rest of Asia-Pacific
7.4.4 Middle East & Africa
7.4.4.1 GCC
7.4.4.2 South Africa
7.4.4.3 Rest of the Middle East & Africa
7.4.5 South America
7.4.5.1 Brazil
7.4.5.2 Argentina
7.4.5.3 Rest of South America
8. Competitive Landscape
8.1 Mergers & Acquisition Analysis
8.2 Agreements, Collaborations, and Partnerships
8.3 New Products Launches
9. Key Players
9.1 AB Sciex
9.2 Agilent Technologies, Inc.
9.3 Bio-Rad Laboratories, Inc.
9.4 GE Healthcare
9.5 Masimo Corporation
9.6 Medtronic, Inc.
9.7 Natus Medical Incorporated
9.8 PerkinElmer, Inc.
9.9 Trivitron Healthcare
9.10 ZenTech S.A
9.11 Others
10. Future of the Market