The global insulated concrete form (ICF) market is expected to witness a healthy CAGR of 14.23% during the forecast period, 2018 to 2023. Insulated concrete form or insulating concrete form (ICF) is a system of formwork for reinforced concrete, which is made with a rigid thermal insulation that stays in place as a permanent interior and exterior substrate for walls, floors, and roofs.
Shifting Trend towards Energy-Efficient Buildings
With rising number of building codes that promote energy-efficient structures, home builders and consumers are gradually moving toward building strategies that deliver performance and energy savings in the long run. One of the primary benefits of ICF is the continuous insulation on both sides of the wall. This mode of insulation greatly aids in eliminating thermal bridging and energy loss, while producing a higher R-value. According to the US Department of Housing and Urban Development report, 'Costs and Benefits of Insulating Concrete Forms for Residential Construction, ICF wall constructions were found to provide around 20-25% savings in annual heating and cooling costs, as compared to similar wood-frame house constructions. Government initiatives by US and Canada are further boosting the demand for ICF.
Polystyrene Foam to Dominate the Market
By material type, polystyrene foam accounted for the largest market share in 2017 at around 90%. The segment is also expected to resister the fastest CAGR through 2023. Among polystyrene foams, expanded polystyrene (EPS) is the most widely used foam in the ICF construction sector. Its superior insulation, lightweight nature, excellent resistance to moisture and pests, ease of handling, and processability make it an ideal ICF material. More than 85% of ICFs worldwide utilize molded EPS foam. The United States and Canada are the largest markets for EPS-based ICF. Major manufacturers include NUDURA, Amvic, Airlite Plastics Company & Fox Blocks, and Logix ICF.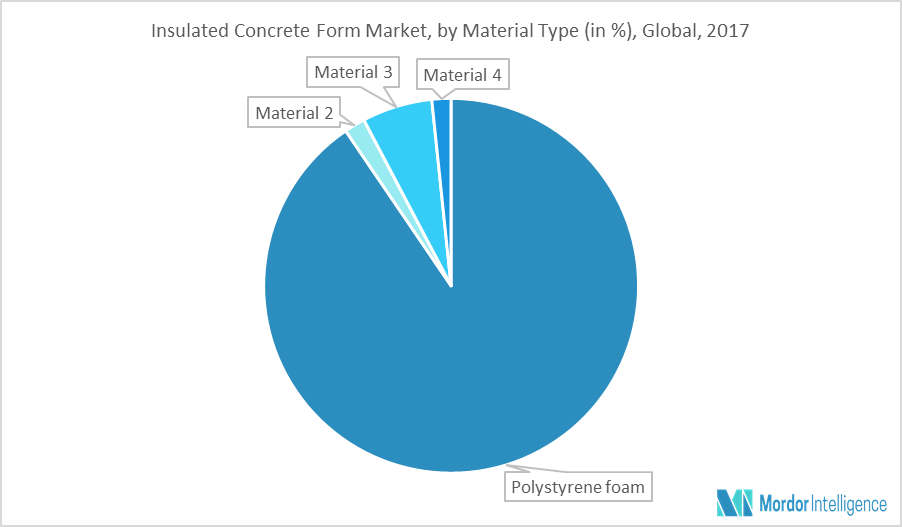 Demand in North America to Expand Fastest Rate
In 2017, North America dominated the global ICF market and is expected to witness the highest CAGR of 15.81% through the forecast period. North America was dominated by Canada in 2017. Brisk changes by the Canadian government in the national and regional building codes, to embrace the international commitments for reduced carbon footprint, are driving the demand for ICF in the region. The new energy code in Canada requires continuous below-grade insulation. Several concrete pump truck companies in Southern Alberta, report that more than 80% of new foundations in the region are built with ICF. In the United States, the municipal and state governments have largely adopted the ICF technology, to abide by the quicker construction timelines and long-term energy savings. Furthermore, there has been a growing demand for ICF from schools.
Key Developments in the Market
May 2017: Schöck Bauteile manufactured Isokorb XT-Comba, which provides high insulation. The product is made up of Neopor and Combar glass fiber
Nov 2016: First Zero energy home completed in Ohio using Buildblock ICFs
Major Players: Nudura Inc, Amvic Inc., Logix Insulated Concrete Forms Ltd., BuildBlock Building Systems, Airlite Plastics Company (FoxBlocks), LiteForm Technologies, IntegraSpec, BuildBlock, among others.
Reasons to Purchase this Report
Current and future global ICF market in the developed and emerging markets
Analyzing various perspectives of the market with the help of Porter's five forces analysis
The segment that is expected to dominate the market
Regions that are expected to witness fast growth during the forecast period
Identify the latest developments, market shares, and strategies employed by the major market players
3-month analyst support, along with the Market Estimate sheet (in excel).
Customization of the Report
This report can be customized to meet your requirements. Please connect with our representative, who will ensure you to get a report that suits your needs
1. Introduction
1.1 Research Phases
1.2 Study Deliverables
1.3 Scope of the Report
2. Executive Summary
3. Market Insights
3.1 Industry Value Chain Analysis
3.2 Industry Attractiveness – Porter's Five Forces Analysis
3.2.1 Bargaining Power of Suppliers
3.2.2 Bargaining Power of Buyers
3.2.3 Threat of New Entrants
3.2.4 Threat of Substitute Products and Services
3.2.5 Degree of Competition
4. Market Dynamics
4.1 Drivers
4.1.1 Demand for Energy-efficient Buildings
4.1.2 Growing Demand from Hi-rise Residential Buildings
4.1.3 Increasing Preparedness toward Disasters
4.1.4 Reduced Construction Time
4.2 Restraints
4.2.1 High Cost Association
4.2.2 Other Restraints
4.3 Opportunities
4.3.1 Increasing Promotion and Awareness of ICF among both Manufacturers and Consumers
4.3.2 Growing Role of EPS in Construction
5. Market Segmentation and Analysis (Market Size, Growth & Forecast)
5.1 By Material Type
5.1.1 Polystyrene foam
5.1.2 Polyurethane Foam
5.1.3 Cement-bonded Wood Fiber
5.1.4 Cement-bonded Polystyrene Beads
5.2 By Application
5.2.1 Residential
5.2.2 Commercial
5.2.3 Institutional
6. Regional Market Analysis (Market size, Growth, and Forecast)
6.1 Asia-Pacific
6.1.1 China
6.1.2 India
6.1.3 Japan
6.1.4 Australia
6.1.5 Rest of Asia-Pacific
6.2 North America
6.2.1 United States
6.2.2 Canada
6.2.3 Mexico
6.2.4 Rest of North America
6.3 Europe
6.3.1 Germany
6.3.2 United Kingdom
6.3.3 Italy
6.3.4 Ireland
6.3.5 Rest of Europe
6.4 South America
6.4.1 Brazil
6.4.2 Argentina
6.4.3 Rest of South America
6.5 Middle-East & Africa
6.5.1 Middle East
6.5.2 Africa
7. Future of the Market
8. Competitive Landscape
8.1 Mergers & Acquisitions, Joint Ventures, Collaborations and Agreements
8.2 Market Share Analysis**
8.3 Strategies Adopted by Leading Players
9. Company Profiles (Overview, Financials**, Products & Services, and Recent Developments)
9.1 Airlite Plastics Company (Fox Blocks)
9.2 Amvic Inc.
9.3 BASF SE
9.4 Beco Products Ltd
9.5 BuildBlock Building Systems
9.6 ConForm Global
9.7 Durisol UK
9.8 ICF Tech
9.9 LiteForm Technologies
9.10 Logix Insulated Concrete Forms Ltd
9.11 Mikey Block Co.
9.12 Quad-Lock
9.13 Nudura Corporation
9.14 PFB Corporation
9.15 Polycrete
9.16 RASTRA
9.17 Sismo
9.18 Standard ICF Corp.
9.19 Sunbloc
9.20 ThermaGreen Blocks
*List Not Exhaustive
10. Disclaimer
**Subject to Availability on Public Domain