Flexible Packaging Market Size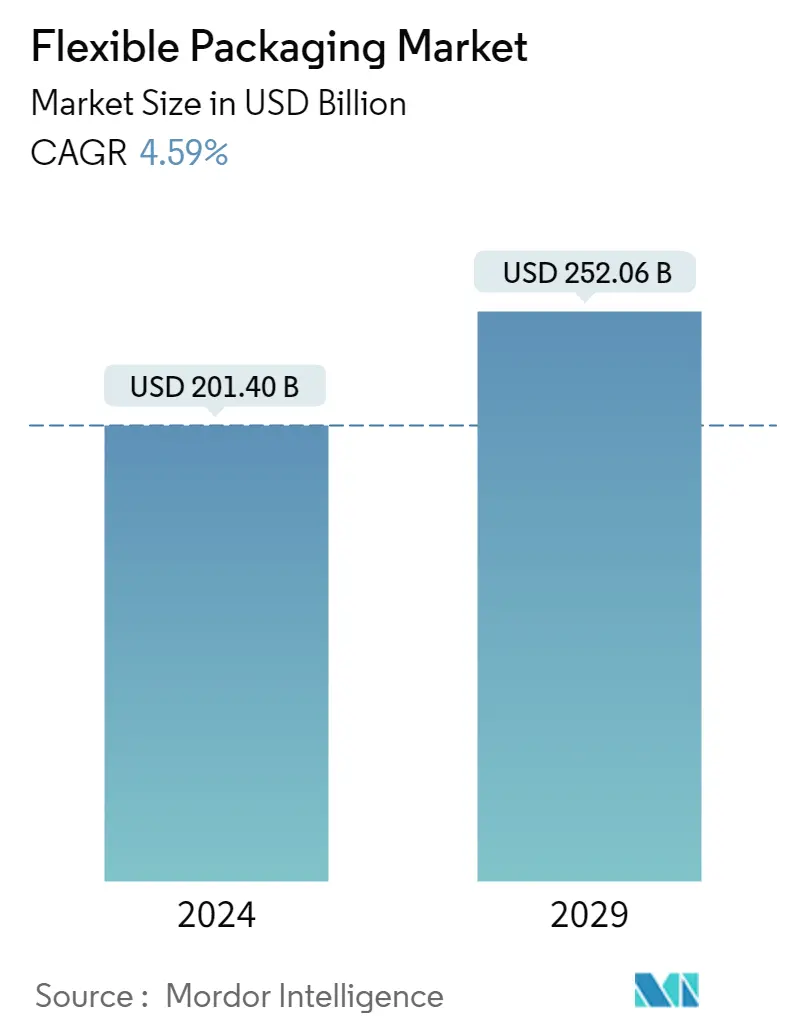 Study Period
2018 - 2028
Market Size (2023)
USD 192.56 Billion
Market Size (2028)
USD 241 Billion
CAGR (2023 - 2028)
4.59 %
Fastest Growing Market
Asia Pacific
Largest Market
Asia Pacific

Major Players

*Disclaimer: Major Players sorted in no particular order
Need a report that reflects how COVID-19 has impacted this market and its growth?
Flexible Packaging Market Analysis
The Flexible Packaging Market size is expected to grow from USD 192.56 billion in 2023 to USD 241 billion by 2028, at a CAGR of 4.59% during the forecast period (2023-2028).
The packaging industry has been shifting toward adopting flexible packaging solutions owing to its considerable energy and environmental benefits.
Additionally, manufacturers have been prompted to provide environmentally friendly packaging choices that are safe and secure, owing to growing worries about the usage of biodegradable polymers for flexible packaging and its effects on the environment. Manufacturers continue to look toward providing sustainable packaging options that use fewer resources and energy during production, fit with the product and brand name of the end-user, need less money for transportation, and provide products with a longer shelf life to ease cost pressure and preserve the integrity of product packages.
The demand for flexible packaging is growing across multiple end-use applications. It includes e-commerce, digital printing, and sustainability trends, which can drive market development and growth. Customers are increasingly eager to pay extra for specific product attributes boosted by flexible packaging. Consumers' willingness to pay more for products with sustainable packaging could help the industry absorb the increased costs of switching to sustainable packaging.
The choice of flexible packaging for meat, poultry, and seafood in the food business is influenced by factors beyond convenience, such as sustainability, transparency, food safety, and a reduction in food waste. Companies are becoming increaslngly interested in flexible packaging solutions that uses recyclable and recycled content for obvious reasons, one of which is sustainability. Solutions, including formable paper, which offers good barrier qualities, is suited for portion packs and lunchmeat, and according to some industry estimates it reduces plastic use by up to 80%, are gaining ground in this regard.
Many companies worldwide are following a trend of building PE-based packages with the help of mono materials. For instance, in August 2022, Mondi and Henkel assisted consumers in more environmentally friendly dishwashing by developing an entirely new reusable packaging idea. The two businesses collaborated on a packaging solution for Henkel's hand dishwashing solutions in allowing the refilling of plastic bottles from flexible pouches. The collaboration helps Henkel achieve its sustainability goals of 100% recyclable or reusable packaging by 2025 and a 50% decrease in virgin plastic made from fossil fuels. When rigid plastic bottles are replaced, the flexible stand-up pouch eliminates plastic by 70% and is simple to recycle in areas with established recycling infrastructure.
Furthermore, in July 2021, Ecoflex, a thermoforming mono polyethylene film that is 100% recyclable and offers a greener option to PA-based materials while completely adhering to OPRL criteria, was launched by the AR Packaging. Retailers now have a sustainable material of choice with the introduction of Ecoflex. Ecoflex provides comparable mechanical and impact strength for its flexible thermoformed applications instead of PA/PE material. For instance, recycling facilities can recycle flexible polyolefin packaging at the front-of-store in the United Kingdom.
Most recycling facilities are inefficient in handling changes in waste streams because they are outdated. The current device, for instance, is inadequate to address such shifts in packaging waste trends, even while the amount of paper trash has declined and the amount of plastic waste has increased.
Manufacturers of flexible packaging are getting increasingly concerned about inflation. Labor, energy and transportation costs have created a competitive industry with high operational expenses. Additional raw material price hikes are influenced by the crisis between Russia and Ukraine, Russian sanctions, and the realignment of western and eastern countries in the geopolitical arena.
The recent COVID-19 outbreak has caused many problems for flexible packaging makers, including demand decline in the sectors that were not relted to pharmaceutical applications, although these are only likely to last for a short while. Supply chain interruptions, a lack of raw materials for manufacture, workforce shortages, pricing fluctuations that could drive up production costs and push them beyond budget, and shipping issues are just a few consequences of a lockdown. The COVID-19 impact has now started to wear-off with market recovering post easing and lifting of lockdown.
Flexible Packaging Market Trends
This section covers the major market trends shaping the Flexible Packaging Market according to our research experts:
Dairy Products are Expected to Hold a Significant Market Share in the Food Segment
The current market scenario indicates an upsurge in demand for dairy products, as the consumption of dairy products is increasing at a healthy rate. For instance, according to the United States Department of Agriculture (USDA), cheese consumption per capita is the highest in Europe. The average cheese consumed in the European Union in 2021 was 20.44 kilos. With around 17.9 and 15 kg of cheese per person, the United States and Canada placed second and third in the year. In 2021, the 27 countries that make up the European Union produced 10.35 million metric tonnes of cheese, nearly twice as much as the second-largest producer.
Among all dairy products, milk is a primary staple food and an essential part of a balanced diet containing a high percentage of calcium and other vital nutrients. According to the FAO (Food and Agriculture Organization of the United Nations) and the US department of agriculture, India consumed roughly 83 million metric tonnes of cow milk in 2021, the world's largest. With 23.9 million metric tons, the European Union utilized the next-highest amount of milk. Flexible pouches, which predominate in total milk packaging, are followed by aseptic packaging, whose use is on the rise. Flexible pouches have established themselves as a rapid, inexpensive, and secure packing option. The packaging type is also simple to package and handle due to the nation's vast distribution network. The positive consumer reaction to milk pouches made the adoption of new technology.
Liquidbox packaging has conventionally been associated with milk, as it protects food and is also good for the environment. Paperboard is a frequently used material for making liquidbox for milk packaging. Also known as gable-top cartons, milk cartons is a common form of poly-coated paper packaging. By weight, milk cartons are 80% paper and 20% polyethylene. Paper milk cartons substituted refillable glass bottles in the 1950s, offering consumers a convenient, lightweight alternative.
Numerous cheese brands and producers have already adopted flexible packaging to provide value and convenience. Flexible packaging delivers strength and protection for the product throughout the demanding supply chain, which can damage other packaging types and lead to poor outcomes.
For instance, GOOD PLANeT Foods redesigned its whole range of plant-based cheeses in April 2022 in anticipation of a significant growth prediction in 2022, with recent distribution gains at supermarkets like Giant Martin, Giant Eagle, and Hy-Vee, as well as increasing distribution nationally in Sprouts. GOOD PLANeT chose Belmark's recyclable flexible pouches for the product to enhance formulation and packaging.
Vacuum pouches with moderate (PA/PE) or high barrier (PA/EVOH/PE) properties have gained widespread acceptance. These film-based vacuum pouches are incorporated in Modified Atmosphere Packaging (MAP) applications and utilized mainly for dairy and protein packaging.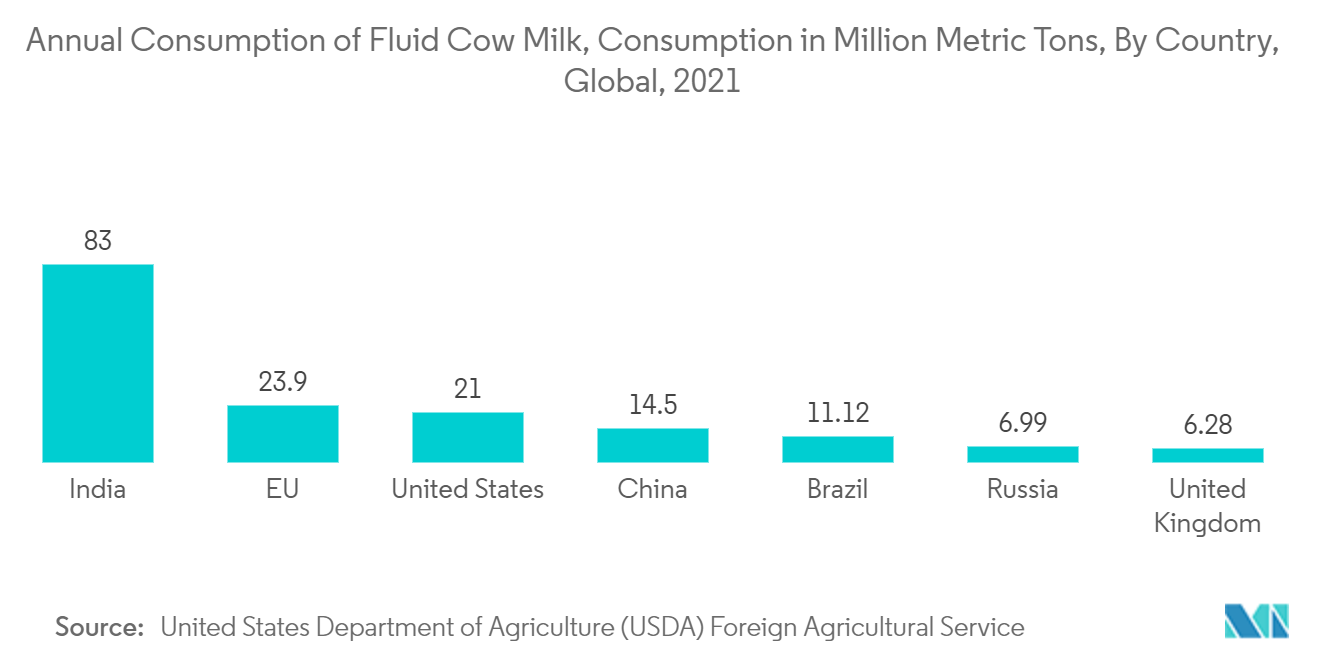 To understand key trends, Download Sample Report
Asia Pacific is Expected to Witness Significant Growth
In the food industry, beyond convenience, other characteristics, such as sustainability, transparency, food safety, and reduction in food waste, influence the flexible packaging choice for meat, poultry, and seafood. According to the Ministry of Industry and Information Technology and the National Bureau of Statistics of China, in 2021, the food industry in the country generated total profits of around CNY 618.7 billion.
According to the Ministry of Health, Labor and Welfare (MHLW Japan), the volume share of generics in the Japanese prescription drugs market stood at around 79% as of September 2021. According to the United Nations COMTRADE database on international trade, Japan imported pharmaceutical products worth USD 37.29 billion in 2021. This demand is anticipated to increase as the country's rapidly aging population demands new medicines for associated conditions. Hence, such trends are expected to positively contribute to the market's growth.
According to the USDA Foreign Agricultural Service, the sales volume of dairy food in the Indian packaged foods market amounted to 23.81 million metric tons in 2021. A significant increase from about 19.74 million metric tons in 2017 was recorded. India's food retail expansion and diversification are expected to act as catalysts for dairy packaged foods, with urban areas accounting for more than 75% of the sales.
The government of India has recently provided the Fast Moving Consumer Goods (FMCG) sector with good investments and support, according to India Brand Equity Foundation reports. From April 2000 to March 2022, the industry saw healthy FDI inflows of USD 20.11 billion. Additionally, the Department of Consumer Affairs has been allocated USD 222.19 million, while the Department of Food and Public Distribution has been allocated USD 27.82 billion under the Union Budget 2022-23. The increased investments in distribution could improve sustainable packaging adoption for imports and exports across the region.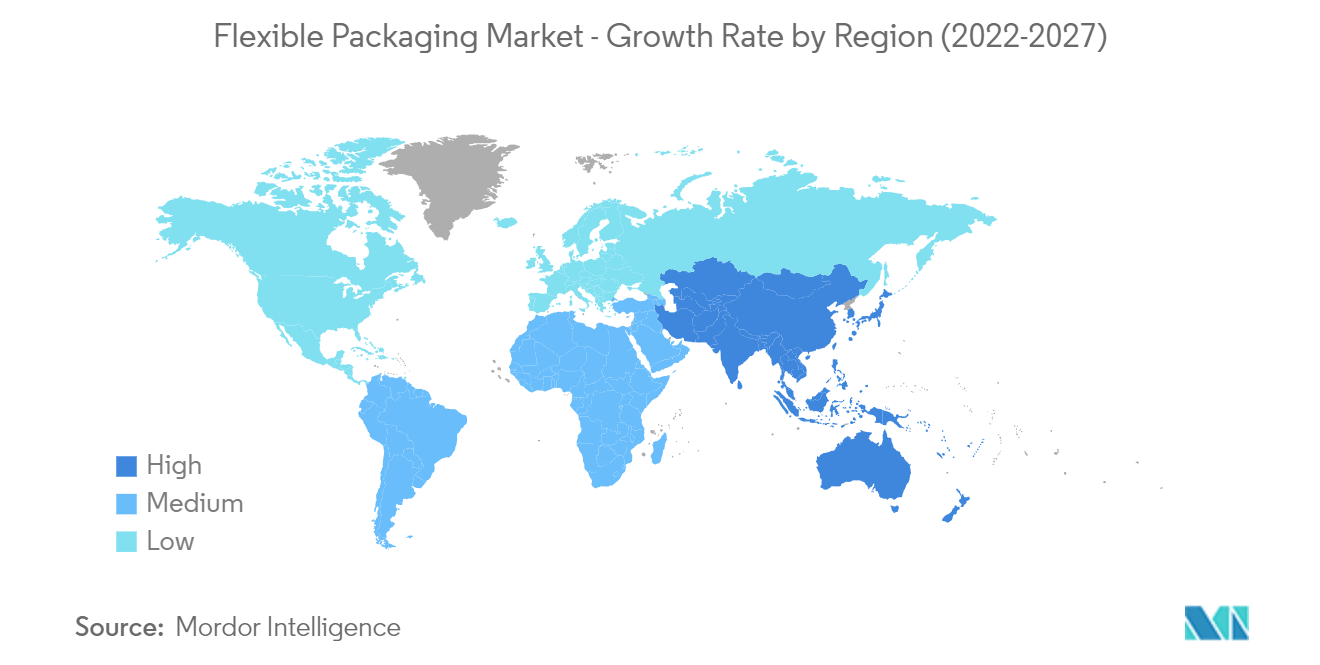 To understand geography trends, Download Sample Report
Flexible Packaging Industry Overview
The Flexible Packaging Market is moderately consolidated owing to the presence of a few vendors in the market with significant market share. The market appears to be slightly concentrated, with the major players adopting strategies such as product innovation, mergers, and acquisitions to stay competitive. Some of the major players in the industry are Amcor PLC, Mondi Group, Berry Global Inc, and Sealed Air Corporation, among others.
April 2022 - Mondi teamed up with French machine producer Thimonnier to create a recyclable package that cuts down on plastic waste. The businesses have developed new liquid refill packaging that can be completely emptied. Coextruded polyethylene, a recyclable mono-material, is used to make the berlingot sachet. Compared to rigid plastic bottles, the product weighs less and employs more than 75% less plastic. The refill solution can replace the multilayer PVC refill containers, which are currently the industry standard but aren't recyclable.
October 2021 - Berry Global and LyondellBasell collaborated to advance the goal of sourcing 100% of its customer-facing packaging sustainably by 2026. The collaboration supports the selection of plastic-lined paper cups with limited recyclability to single-substrate, clear plastic drink cups that more consumers will be able to recycle.
June 2021 -Coveris, with its technical capabilities, developed a new cereal liner solution. The Cereal+ liner has been created to deliver packer performance and improved shelf life. Coveris Cereal+ liner is made from fully recyclable polyethylene and provides product protection, freshness, and shelf life for cereals and dry foods packed in bag-in-box films.
Flexible Packaging Market Leaders
Amcor Plc

Mondi Group

Sealed Air Corporation

Coveris Holdings SA

Berry Global Inc.
*Disclaimer: Major Players sorted in no particular order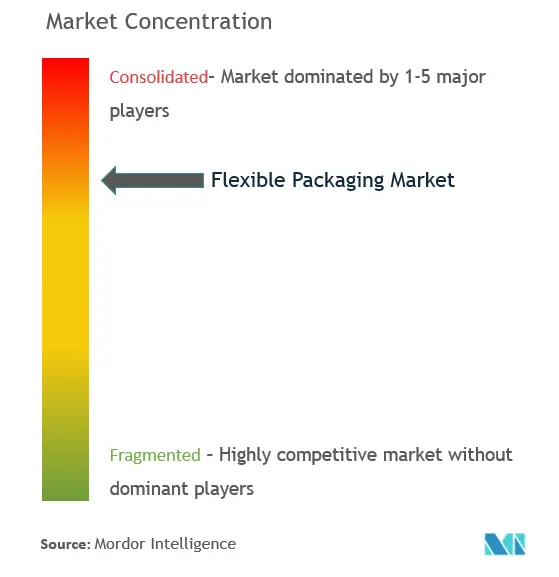 Flexible Packaging Market News
August 2022: Amcor PLC, announced the acquisition of a flexible packaging plant located in the Czech Republic. The strategic location of the site increases Amcor's ability to cater to the strong demand and customer growth across its flexible packaging network in Europe. Further, with this acquisition, the company worked towards its strategy to accelerate the organic growth momentum of its flexibles business in Europe in attractive segments, Moreover, the scalable nature of the acquired site and its strategic location further bolsters Amcor's ability to service strong customer demand and generate strong returns in future. The acquired plant is a greenfield development commissioned by DG Pack in 2019 and features state-of-the-art specialized equipment for attractive segments, including coffee and pet food. The land and buildings acquired also provide the company an option to significantly scale up operations and establish a highly efficient production hub.
July 2022 - California State, United States, implemented legislation to reduce plastic pollution and extend producer responsibility laws. The legislation, SB 54 requires 30% of all plastic packaging to be recycled in California by January 2028, 40% by January 2030, and at least 65% by January 2032. In addition, among other liabilities, SB 54 also requires a 25% source reduction of single-use plastic waste against 2023 levels, meaning that by 2032, the industry needs to have stopped distributing an amount, by unit count and weight, of plastic equal to 25% of the plastic packaging that was distributed in California in 2023.
April 2022 - Amcor announced the expansion of the pharmaceutical packaging line with new, environmentally friendly High Shield laminates. The new low-carbon packaging choices meet industry demands for high barriers and performance while advancing pharmaceutical businesses' recyclability goals. These new High Shield technologies provide solutions for more environmentally friendly pharmaceutical sachet, stick pack, and strip pack packaging made of paper- and polyolefin-based materials. The inventive material structure aids pharmaceutical businesses' efforts to differentiate themselves on the market by enabling recycle-readiness in line with regional expectations.
Flexible Packaging Market Report - Table of Contents
1. INTRODUCTION

1.1 Study Assumptions and Market Definition

1.2 Scope of the Study

2. RESEARCH METHODOLOGY

3. EXECUTIVE SUMMARY

4. MARKET DYNAMICS

4.1 Market Overview

4.2 Industry Attractiveness - Porter's Five Forces Analysis

4.2.1 Bargaining Power of Buyers

4.2.2 Bargaining Power of Suppliers

4.2.3 Threat of Substitutes

4.2.4 Threat of New Entrants

4.2.5 Intensity of Competitive Rivalry

4.3 Industry Value Chain Analysis

4.4 Assessment of Impact of COVID-19 on the Industry

4.5 Market Drivers

4.5.1 Increased Demand for Convenient Packaging

4.5.2 Demand for Longer Shelf Life and Changing Lifestyles

4.6 Market Restraints

4.6.1 Concerns Regarding the Environment and Recycling

5. MARKET SEGMENTATION

5.1 Material Type

5.1.1 Plastic

5.1.1.1 Polyethene (PE)

5.1.1.2 Bi-orientated Polypropylene (BOPP)

5.1.1.3 Cast polypropylene (CPP)

5.1.1.4 Polyvinyl Chloride (PVC)

5.1.1.5 Ethylene Vinyl Alcohol (EVOH)

5.1.2 Paper

5.1.3 Aluminum Foil

5.2 Product Type

5.2.1 Pouches

5.2.2 Bags

5.2.3 Films & Wraps

5.2.4 Other Product Types

5.3 End-User Industry

5.3.1 Food

5.3.1.1 Frozen Food

5.3.1.2 Dairy Products

5.3.1.3 Fruits and Vegetables

5.3.1.4 Meat, Poultry, and Seafood

5.3.1.5 Baked Goods and Snack Foods

5.3.1.6 Candy and Confections

5.3.1.7 Other Food Products

5.3.2 Beverage

5.3.3 Pharmaceutical and Medical

5.3.4 Household and Personal Care

5.3.5 Other End-User Industries

5.4 Geography

5.4.1 North America

5.4.1.1 United States

5.4.1.2 Canada

5.4.2 Europe

5.4.2.1 United Kingdom

5.4.2.2 Germany

5.4.2.3 France

5.4.2.4 Italy

5.4.2.5 Spain

5.4.2.6 Turkey

5.4.2.7 Poland

5.4.2.8 Russia

5.4.2.9 Rest of Europe

5.4.3 Asia Pacific

5.4.3.1 China

5.4.3.2 Japan

5.4.3.3 India

5.4.3.4 Australia

5.4.3.5 Rest of Asia Pacific

5.4.4 Latin America

5.4.4.1 Brazil

5.4.4.2 Argentina

5.4.4.3 Mexico

5.4.4.4 Rest of Latin America

5.4.5 Middle East and Africa

5.4.5.1 Saudi Arabia

5.4.5.2 South Africa

5.4.5.3 Egypt

5.4.5.4 Iran

5.4.5.5 Nigeria

5.4.5.6 Rest of Middle East and Africa

6. COMPETITIVE LANDSCAPE

6.1 Company Profiles

6.1.1 Amcor Plc

6.1.2 Berry Global Inc.

6.1.3 Mondi Group

6.1.4 Sealed Air Corporation

6.1.5 Coveris Holdings SA

6.1.6 UFlex Limited

6.1.7 Huhtamaki Group

6.1.8 Proampac LLC

6.1.9 WIPF Doypak (Wipf AG)

6.1.10 FlexPak Services LLC

6.1.11 Laser Packaging Manufacturing PTE Limited

6.1.12 KM Packaging Services Ltd

6.1.13 Sonoco Products Company

*List Not Exhaustive

7. INVESTMENT ANALYSIS

8. MARKET OPPORTUNITIES AND FUTURE TRENDS
**Subject to Availability
Flexible Packaging Industry Segmentation
The flexible packaging market study tracks the consumption of flexible packaging materials such as plastic, paper, and aluminum used as bags, pouches, foils & Wraps, and films, among others. The scope of the study is limited to the packaging-based application used in either of the primary, secondary, and tertiary packagings that can be modified and are of free shape. The flexible packaging for commodity goods and services is a high volume, low margin segment for a product polymer manufacturer.
Material Type

Plastic
Polyethene (PE)
Bi-orientated Polypropylene (BOPP)
Cast polypropylene (CPP)
Polyvinyl Chloride (PVC)
Ethylene Vinyl Alcohol (EVOH)

Paper
Aluminum Foil
Product Type
Pouches
Bags
Films & Wraps
Other Product Types
End-User Industry

Food
Frozen Food
Dairy Products
Fruits and Vegetables
Meat, Poultry, and Seafood
Baked Goods and Snack Foods
Candy and Confections
Other Food Products

Beverage
Pharmaceutical and Medical
Household and Personal Care
Other End-User Industries
Geography

North America
United States
Canada

Europe
United Kingdom
Germany
France
Italy
Spain
Turkey
Poland
Russia
Rest of Europe

Asia Pacific
China
Japan
India
Australia
Rest of Asia Pacific

Latin America
Brazil
Argentina
Mexico
Rest of Latin America

Middle East and Africa
Saudi Arabia
South Africa
Egypt
Iran
Nigeria
Rest of Middle East and Africa
Flexible Packaging Market Research FAQs
How big is the Flexible Packaging Market?
The Flexible Packaging Market size is expected to reach USD 192.56 billion in 2023 and grow at a CAGR of 4.59% to reach USD 241 billion by 2028.
What is the current Flexible Packaging Market size?
In 2023, the Flexible Packaging Market size is expected to reach USD 192.56 billion.
Who are the key players in Flexible Packaging Market?
Amcor Plc, Mondi Group, Sealed Air Corporation, Coveris Holdings SA and Berry Global Inc. are the major companies operating in the Flexible Packaging Market.
Which is the fastest growing region in Flexible Packaging Market?
Asia Pacific is estimated to grow at the highest CAGR over the forecast period (2023-2028).
Which region has the biggest share in Flexible Packaging Market?
In 2023, the Asia Pacific accounts for the largest market share in Flexible Packaging Market.
Flexible Packaging Industry Report
Statistics for the 2023 Flexible Packaging market share, size and revenue growth rate, created by Mordor Intelligence™ Industry Reports. Flexible Packaging analysis includes a market forecast outlook to 2028 and historical overview. Get a sample of this industry analysis as a free report PDF download.
Flexible Packaging Market Report Snapshots
80%

of our clients seek made-to-order reports. How do you want us to tailor yours?