The global fire-resistant fabrics market is expected to register a CAGR of approximately 6.28% during the forecast period of 2018–2023. The market is primarily driven by stringent industrial regulations to maintain safety at the workplace in oil & gas, mining, and construction industries.
Industrial Regulations Driving the Market
Workers' protection norms and safety at the workplace is given prime importance in oil & gas, mining, pulp & paper, etc., industries around the globe. The increasing demand in home and commercial furnishing industry is further driving the use of fire-resistant fabrics. The Furniture and Furnishing Regulations, 1988 (amended in 1989, 1993, and 2010) set levels for fire regulations in furniture products. European countries, particularly the United Kingdom, have set highest fire safety standards, which is likely to drive the fire-resistant fabrics market.
Transport End-user to Dominate the Market
The global fire-resistant fabrics market, based on end-user application, can be broadly segmented into industrial protective and mining clothing, transport, defense and firefighting services and others. Industrial protective and mining clothing is expected to dominate the fire-resistant fabrics market with a share of more than 45%, owing to increasing demand from oil & gas, construction and manufacturing, mining, and chemical industries. Transport application is expected to have the fastest growing market due to increase in foreign investments for the construction of better railways, metro and rail networks in the Middle-Eastern countries.
Rising Investments in Transportation Sector in Asia-Pacific
The market, based on the geographic area, is segmented into Asia-Pacific, North America, Europe, South America, and the Middle East & Africa. In terms of consumption, Asia-Pacific held a significant market share in 2017. Asia-Pacific is also expected to be an emerging market during the forecast period with rising investments in transportation and industrial sectors, along with strict governmental regulations for employees in China, India, and Japan. Europe accounts for the second highest market share in fire-resistant fabrics.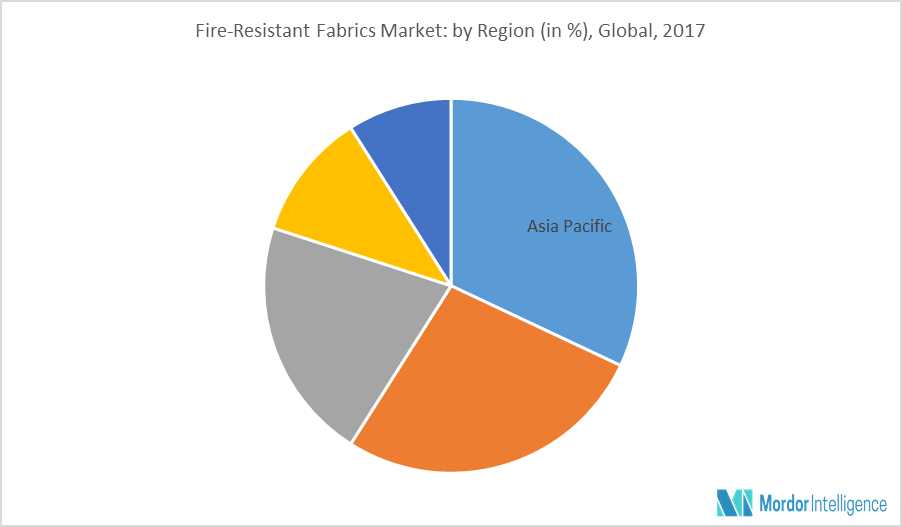 Major players are DowDuPont, Huntsman International LLC, Solvay, and W. L. Gore & Associates, Inc., among others.
Reason to Purchase the Report
To understand the impact of various factors on the market.
Analyzing various perspectives of the market with the help of Porter's Five Forces Analysis.
To understand the dominating type and end-user application in the market.
Identify the countries expected to witness the fastest growth during the forecast period.
Identify the latest developments, market shares, and strategies employed by the major market players.
3-month analyst support along with the Market Estimate sheet (in Excel).
Customization of the Report
This report can be customized to meet your requirements. Please connect with our analyst, who will ensure you get a report that suits your needs.