The Europe cancer biomarkers market is expected to register a CAGR of 12.2%, during the forecast period, 2018 to 2023. Biomarkers are chemical, physical, or biological parameters, which can be used to indicate disease states. Oncology biomarkers offers high speed, non-invasive cancer diagnosis and believe to enhance cancer detection and screening. Major driving factors for the market are streamlined drug delivery process, noninvasive technology, and increased rates of survival.
Paradigm Shift in Healthcare from Disease Diagnosis to Risk Assessment or Early Diagnosis
There has been a paradigm shift in healthcare, from diagnosis after the symptom has appeared to early diagnosis or risk assessment, especially in developed countries, such as the United Kingdom, and others. Cancer biomarker plays a pivotal role in risk assessment and early diagnosis. Biomarkers, particularly those associated with genetic factors, offer a quantitative way to determine when individuals are predisposed to some form of cancer. These biomarkers have been developed for almost all cancers with high prevalence rate. Some of the examples for such biomarkers are mutation on KRAS, p53, EGFR, erbB2 for colorectal, esophageal, liver and pancreatic cancer, and BRCA1 and BRCA2 for breast and ovarian cancer. The biomarker's potential to assess the risk precisely has helped in improving the adoption for the technology, which has led to market expansion.
In cancer, it is widely accepted that the success of the treatment depends on the phase it is being diagnosed. Some even suggest the 80-20 formula, which indicates that if cancer has been diagnosed in stage 1, the success rate of treatment could be as high as 80%. This underlines the importance of early diagnosis. Biomarkers have the potential to improve the early diagnosis process significantly in terms of accuracy and efficiency. This capability of precise early diagnosis is one among the important reasons for the adoption of the technology and going to drive the market. The other factors, such as Increasing Usage in Drug Development are driving the European cancer biomarker market.
Need for Immediate Processing
It is proposed that both tissue and blood should be profiled in parallel within the single cancer-specific platform. Blood is very useful as a starting point due to its ease of acquisition, the diversity of analytes it contains, and its practicality. Moreover, most disease-relevant biomarkers are expected to be at their highest concentration at relevant organs or tissues. The need for immediate processing, storage, and thawing of these specimens is another restraining factor for the cancer biomarker tests, because the viability of the cells is very important while performing different biomarker tests. The other factor, such as high cost of diagnosis and reimbursement issues is also hindering the growth of the market.
Germany Lead the Market in Europe Region
The Germany cancer biomarker market holds the largest market share in 2017 in Europe region followed by UK. Due to the presence of high quality healthcare system and the cancer prevalence rate is high in this country.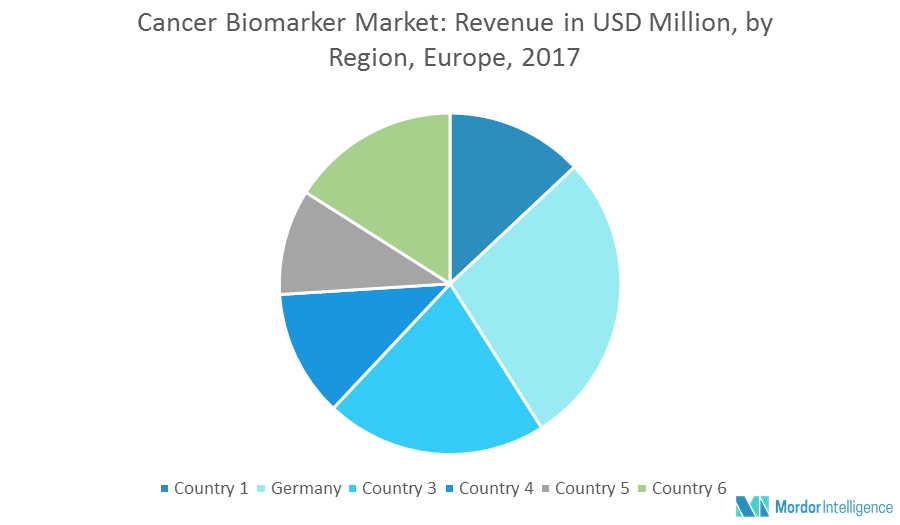 Key Developments in the Market:
January 2018 – Roche and GE has made a partnership to develop the integrated digital diagnostics platform to improve oncology and critical care treatment (This partnership will apply advanced analytics to in-vivo data from GE's medical imaging and monitoring equipment with in-vitro data from Roche's biomarker, tissue pathology, genomics and sequencing portfolio)
January 2018 – New biomarkers found for colorectal cancer (MYO5B)
November 2017 – Researchers found new biomarker for breast cancer (GIRK1)
October 2017 – ABBOTT has acquired ALERE
September 2017 – Roche has announced the progress in biomarker science in cancer immunotherapy at the European Society for Medical Oncology Congress
The major players include - Abbott Laboratories, Affymetrix Inc. (Thermo Fisher Scientific), Agilent Technologies, Hologic Inc., Roche Holding AG, 23andMe, Biomerieux, Celera Corporation (Quest Diagnostics) and Illumina Inc., among others.
Reasons to Purchase this Report
Current and future Europe cancer biomarker market outlook in the developed and emerging markets
Analyzing various perspectives of the market with the help of Porter's five forces analysis
The segment that is expected to dominate the market
Regions that are expected to witness fastest growth during the forecast period
Identifying the latest developments, market shares, and strategies employed by the major market players
3-month analyst support, along with the Market Estimate sheet (in excel)
Customization of the Report
This report can be customized to meet your requirements. Please connect with our representative, who will ensure you to get a report that suits your needs
1. Introduction
1.1 Market Definition
2. Research Methodology
3. Executive Summary
4. Key Inferences
5. Market Overview
5.1 Current Market Scenario
5.2 Porter's Five Forces Analysis
5.2.1 Bargaining Power of Suppliers
5.2.2 Bargaining Power of Consumers
5.2.3 Threat of New Entrants
5.2.4 Threat of Substitute Product and Services
5.2.5 Competitive Rivalry within the Industry
6. Drivers, Restraints, Opportunities, and Challenges Analysis (DROC)
6.1 Market Drivers
6.1.1 Paradigm Shift in Healthcare from Disease Diagnosis to Risk Assessment or Early Diagnosis
6.1.2 Increasing Usage in Drug Development
6.2 Market Restraints
6.2.1 High Cost of Diagnosis
6.2.2 Reimbursement Issues
6.2.3 Need for Immediate Processing
6.3 Opportunities
6.4 Key Challenges
7. Market Segmentation
7.1 By Disease
7.1.1 Prostate Cancer
7.1.2 Breast Cancer
7.1.3 Lung Cancer
7.1.4 Colorectal Cancer
7.1.5 Cervical Cancer
7.1.6 Others
7.2 By Application
7.2.1 Risk Assesment
7.2.2 Prognostics
7.2.3 Disease Diagnosis
7.2.4 Drug Discovery and Development
7.3 By Services
7.3.1 Sample Preparation
7.3.2 Assay Development
7.3.3 Biomarkers and Testing
7.4 By Type
7.4.1 Protein Biomarkers
7.4.2 Genetic Biomarkers
7.4.3 Others
7.5 By Profiling Technologies
7.5.1 OMICS Technologies
7.5.2 Imaging Technologies
7.5.3 Immunoassays
7.5.4 Cytogenetics
7.5.5 Bioinformatics
7.6 By Geography
7.6.1 Europe
7.6.1.1 France
7.6.1.2 Germany
7.6.1.3 United Kingdom
7.6.1.4 Italy
7.6.1.5 Spain
7.6.1.6 Rest Of Europe
8. Competitive Landscape
8.1 Mergers & Acquisition Analysis
8.2 Agreements, Collaborations, and Partnerships
8.3 New Products Launches
9. Key Players
9.1 23andMe
9.2 Abbott Laboratories Inc.
9.3 Affymetrix Inc. (Thermo Fisher Scientific)
9.4 Agilent Technologies
9.5 Biomerieux
9.6 Celera Corporation (Quest Diagnostics)
9.7 Hologic Inc.
9.8 Illumina Inc.
9.9 Roche Holding AG
*List Not Exhaustive
10. Future of the Market