The Europe adhesives & sealants market is expected to grow at a CAGR of 4.65% and 2.84%, respectively, during the forecast period (2018 - 2023). Germany is estimated to lead the market owing to its growth in the end-user industries of adhesive and sealants.
Accelerating Demand from Automotive Industry
Adhesives & sealants have become a prime technology component of automotive applications, as they are continuously replacing traditional bonding or adhesion methods. Moreover, the recent advancements in the adhesive technologies in the region are aiding automobile manufacturers in the production of lightweight and fuel-efficient vehicles. The focus on minimizing carbon emission and enhancing fuel economy, by reducing vehicle weight, has provided an impetus to adhesives, as a bonding material for manufacturing of automobiles. Pressure sensitive adhesives (PSAs) are continuously replacing mechanical fasteners. With the increase in vehicle production over the years in addition to the above-stated factors, the demand for adhesives & sealants in the automotive industry is also expected to increase.
Stringent environmental regulations regarding VOC emissions and the volatility in prices of raw materials are some of the restrains for the growth of the market.
Growing Scope in Healthcare Sector
Healthcare is the fastest growing segment in the adhesives market. Different types of adhesives, such as epoxies, acrylics & urethanes, are used in surgical instruments, hospital equipment, bumpers on the bottom of crutches or walking canes, and plastic soles at the bottom of the cast boots, in order to bond metals, plastics, rubbers, and other bonding material. With the growing population and the increasing numbers of adults over the age of 50 in Europe, the healthcare sector is growing in the region. This is expected to drive the demand for adhesives and sealants in the region.
Germany to Lead the Market
In Europe, Germany represents the largest economy and is also expected to expand at the highest CAGR during the forecast period. The revenue generated from the German automotive industry is nearly 20% of the revenue generated by all the industries in the country. The various applications of adhesives & sealants in the manufacturing of cars are expected to create the demand for adhesives & sealants. The market is expected to grow simultaneously with the growth of the automotive industry in the country. Moreover, the growing electronics & telecommunications sector has witnessed an 11% increase in the revenue from the sales of consumer electronics. Hence, demand for adhesives used for coating and bonding is expected to rise in the country. With the growth of healthcare, construction & building, and other sectors in the country, the demand for adhesives & sealants is expected to witness a rapid growth.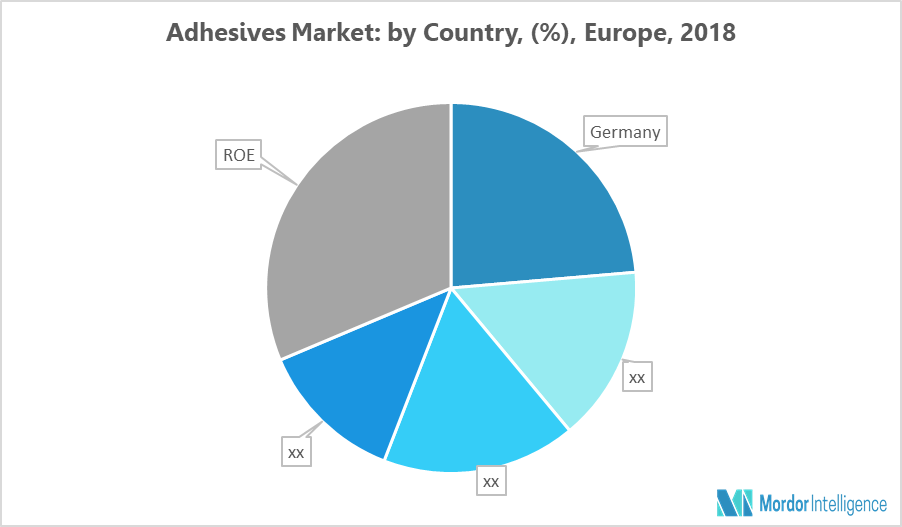 Key Developments in the Market
March 2018: Henkel Adhesive Technologies accelerated the commercialization of tailor-made materials and it offers a comprehensive service for 3D printing solutions.
Major Players: Sika AG, 3M, Arkema Group, DowDuPont, and H.B. Fuller Co., among others.
Reasons to Purchase this Report
To understand the impact of end-user applications on the market
Analyzing various perspectives of the market with the help of Porter's five forces analysis
To understand the dominating technology in the market
Identify the countries that are expected to witness the fastest growth during the forecast period
Identify the latest developments, market shares, and strategies employed by the major market players
3-month analyst support, along with the Market Estimate sheet (in Excel)
Customization of the Report
This report can be customized to meet your requirements. Please connect with our representative, who will ensure you get a report that suits your needs
1. Introduction
1.1 Research Phases
1.2 Study Deliverables
1.3 Scope of the Report
2. Executive Summary
3. Market Insights
3.1 Industry Value Chain Analysis
3.2 Industry Attractiveness - Porter's Five Forces Analysis
3.2.1 Bargaining Power of Suppliers
3.2.2 Bargaining Power of Consumers
3.2.3 Threat of New Entrants
3.2.4 Threat of Substitute Products and Services
3.2.5 Degree of Competition
4. Market Dynamics
4.1 Drivers
4.1.1 Shifting Focus Toward the Usage of Composites
4.1.2 Accelerating Demand from Automotive Industry
4.1.3 Increasing Demand from Packaging Industry
4.2 Restraints
4.2.1 Stringent Environmental Regulations Regarding VOC Emissions
4.3 Opportunities
4.3.1 Recovering Construction Industry in Europe
4.3.2 Escalating Demand for Fuel-Efficient and Lightweight Vehicles
4.3.3 Development of Bio-Based Products
5. Market Segmentation and Analysis (Market Size, Growth, and Forecast)
5.1 By Technology
5.1.1 Water-borne
5.1.1.1 Acrylics
5.1.1.2 Polyvinyl Acetate (PVA) Emulsion
5.1.1.3 Ethylene Vinyl Acetate (EVA) Emulsion
5.1.1.4 Polyurethane Dispersions (PU)
5.1.1.5 CR (Chloroprene Rubber) Latex
5.1.1.6 Others
5.1.2 Solvent-Borne
5.1.2.1 Styrene-Butadiene Rubber
5.1.2.2 Chloroprene Rubber
5.1.2.3 Poly Acrylate (PA)
5.1.2.4 Polyurethane
5.1.2.5 Others
5.1.3 Reactive
5.1.3.1 Epoxy
5.1.3.2 Modified Acrylics & Cyanoacrylates
5.1.3.3 Silicone
5.1.3.4 Polyurethane
5.1.3.5 Anaerobic
5.1.3.6 Others
5.1.4 Hot-Melts
5.1.4.1 Ethylene Vinyl Acetate
5.1.4.2 Synthetic Rubbers
5.1.4.3 Others
5.1.5 Others
5.2 Sealants by Product Type
5.2.1 Silicone
5.2.2 Polyurerthane
5.2.3 Acrylic
5.2.4 Polyvinyl Acetate
5.2.5 Others
5.3 By End-user Industry
5.3.1 Building & Construction
5.3.2 Paper, Board & Packaging
5.3.3 Woodworking & Joinery
5.3.4 Transportation
5.3.5 Footwear & leather
5.3.6 Healthcare
5.3.7 Electronics
5.3.8 Others (Textile, Consumer goods, etc.)
6. Regional Market Analysis (Market Size, Growth, and Forecast)
6.1 Germany
6.2 United Kingdom
6.3 France
6.4 Italy
6.5 Spain
6.6 Russia
6.7 Rest of Europe
7. Competitive Landscape
7.1 Mergers and Acquisitions, Joint Ventures, Collaborations and Agreements
7.2 Market Share Analysis**
7.3 Strategies Adopted by Leading Players
8. Company Profiles (Overview, Financials**, Products & Services and Recent Developments)
8.1 3M
8.2 AdCo(UK) Limited
8.3 Adhesives Research Inc.
8.4 Aerocoll Chemie GmbH
8.5 ArkemaGroup (BostikSA)
8.6 Ashland Inc.
8.7 Beardow& Adams (Adhesives) Ltd
8.8 BÜHNEN
8.9 ArtimeltAG
8.10 DELO Industrial Adhesives
8.11 DowDupont
8.12 Dymax
8.13 H.B. Fuller Co.
8.14 Henkel AG & Co. KGaA
8.15 Hexcel Corp.
8.16 Hexion
8.17 Huntsman Corporation
8.18 ITW Performance Polymers (Illinois Tool Works Inc.)
8.19 JowatAG
8.20 KMS Adhesives
8.21 LORD Corporation
8.22 Master Bond
8.23 ParameltB.V
8.24 PermabondEngineering Adhesives Ltd
8.25 PidiliteIndustries Ltd
8.26 Royal Adhesives and Sealants
8.27 RPM International Inc.
8.28 Sika AG
8.29 TesaSE (A BeiersdorfCompany)
8.30 WackerChemieAG
*List not exhaustive
9. Disclaimer
**Subject to availability on public domain