Concerns over Safety among the Passengers is Increasing the Demand for ADAS
The development of driver assistance systems is governed and regulated by international safety standards, like IEC-61508 and ISO-26262, as these systems depend on electronics for their functionality. In the United States, the FMCSA aims to reduce the number of fatalities and accidents involving passenger vehicles, large trucks, and buses. The key safety goal of the US federal motor carrier safety administration (FMCSA) is to reduce the number and severity of commercial motor vehicle (CMV) crashes. To achieve this goal, the FMCSA has collaborated with the truck industry to test, evaluate, and facilitate the use of various onboard safety systems for commercial vehicles to improve the safety of pedestrians. In addition, initiatives, like the national highway traffic safety administration (NHTSA)'s safecar Project, have helped to significantly drive the adoption of ADAS systems in domestic vehicles of North America, in turn acting as a driver for the market growth in the region.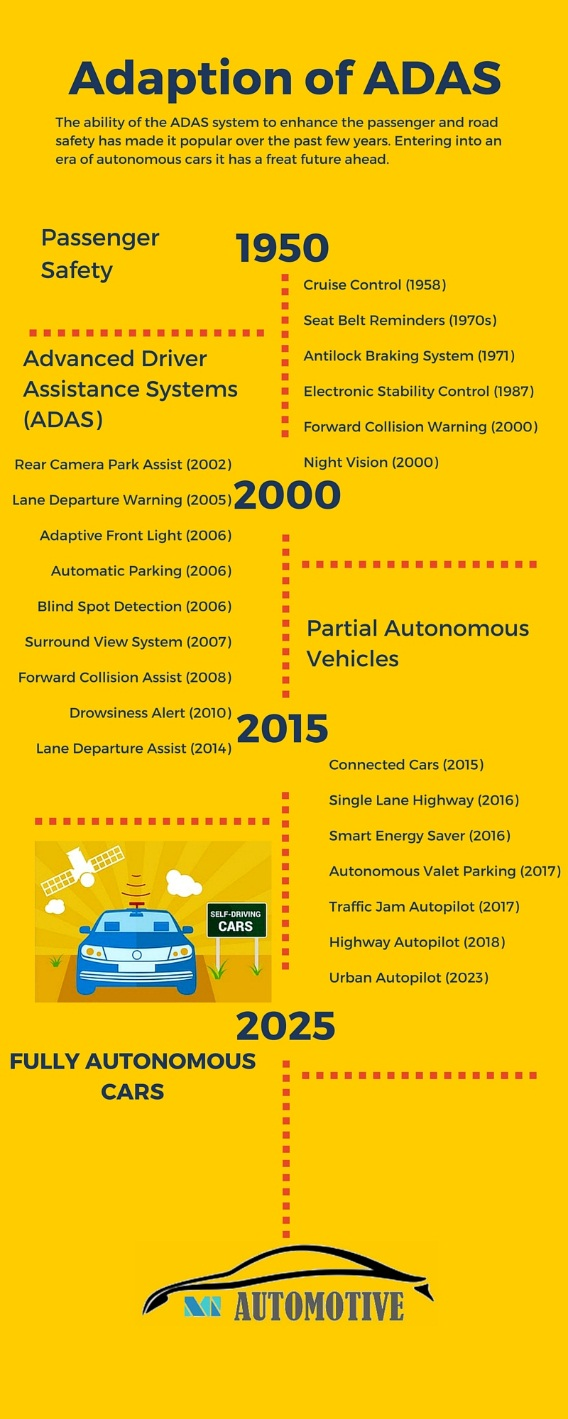 High Costs and Software Failures have Hindered the Growth of the Advanced Driver Assistance Systems Market
The growth of the ADAS market is currently hindered by the growing incidence of software failures in sensors, coupled with the high costs of these systems that have acted as major restraining factors for the wide acceptability of these systems. However, the rapidly expanding hybrid and electric vehicle market, along with the growth of the autonomous vehicles, are expected to help augment the ADAS in these vehicles, thereby, driving the growth of the market significantly, during the forecast period.
European Automotive Industry has one of the Highest Adoption Rate of ADAS
The European automotive industry is one of the most innovative automotive markets in the world. With a massive transformation in the industry post the recession period of 2010, there has been a rapid penetration and mass adoption of ADAS by the OEMs and customers. There are regular upgrades in the ADAS technology that facilitate competitiveness in the market, making it one of the largest markets in the global ADAS industry.
Major Players in Advanced Driver Assistance Systems Market
Audi
BMW
Continental AG
Delphi Automotive
Robert Bosch
Valeo
Recent Developments in ADAS Market
February 2017: Mobileye and BMW group announced partnership to roll out its technology for autonomous driving.
Reasons to Purchase Advanced Driver Assistance Systems Market Report
Identifies the latest developments, market shares, and strategies employed by the major market players
Analyzes the market scenario with the help of Porter's Five Forces Analysis
Analysis on the region that will have the largest market share in ADAS market
Analysis on impact of government regulations on growth in demand for ADAS
Provides insights on types of advanced driver assistance systems that are in high demand
3-month analyst support, along with the Market Estimate Sheet in excel
Advanced Driver Assistance Systems Market Report Customization and Benefits
This report can be customized to meet the desired requirements. Please connect with our analyst, who will ensure you get a report that suits your needs