The global disaster recovery as a service market is expected to register a CAGR of over 12% during the forecast period of 2019-2024.
Disaster recovery services play a vital role in today's businesses, as they are highly dependent on and steered by the IT environment. The system helps in gathering and storing all the data relevant to the company. Thus, it creates a necessity for IT-dependent industries to keep pace with advances in the disaster recovery technology. The cloud-based storage method is expected to attract business firms and increase the outsourcing of recovery service during the forecast period.
Increasing Applications through Cloud-based Disaster Recovery
There are several advantages to cloud-based disaster recovery solutions, of which, the most important are the inherent benefit of flexibility and cost effectiveness. Cloud-based disaster recovery leads to faster data recovery, and hence, attains the recovery goals of the company. With increase in the adoption of hybrid cloud, SMEs have found various benefits to protect them from certain disasters. The adoption of hybrid cloud disaster recovery by businesses will eliminate the need for a secondary disaster recovery site. Moreover, the hybrid cloud will also reduce expenses and complexities of managing and maintaining a system.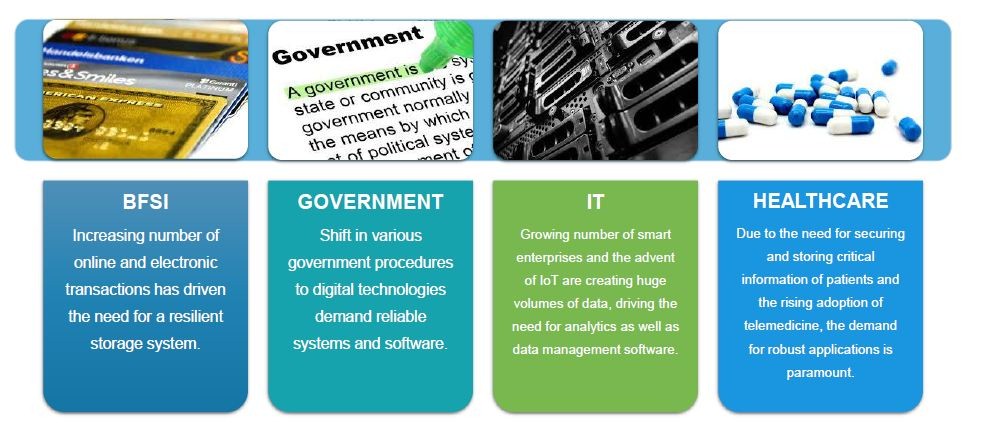 North America Occupied Major Market Share
In North America, disaster recovery services are expected to account for a greater share of the overall IT expenses of organizations over the forecast period. The need to reduce the financial toll that arises from network outages and system downtime is driving an increasing number of SMEs to plan actively for business continuity services. Changing regulatory compliance is also pressurizing organizations, particularly in the United States to adopt disaster recovery services.
Key Market Players: iLandInternet Solutions, Microsoft Corporation, Recovery Point Systems, BluelockLLC, TierPointLLC, IBM Corporation, SungardAS, C&W Business, Expedient Holdings USA LLC and CloudHPT among others
Key Developments in the Market
Oct 2017 – IBM introduced IBM Cloud Private software, designed to enable companies to create on-premise cloud capabilities and accelerating app development. The software also facilitates integration and portability as they adapt to any cloud environment.
Reasons to Purchase this Report
Impact of data loss on the increasing growth of disaster recovery service market.
Analysis of various perspectives of the market with the help of Porter's five forces analysis.
Growth across various end users, such as IT, government, BFSI, and healthcare.
Regional analysis of the market.
Identify the latest developments, market shares, and strategies employed by the major market players.
3 months analyst supports, along with the Market Estimate sheet in excel.
Customization of the Report
This report can be customized to meet your requirements. Please connect with our analyst, who will ensure you get a report that suits your needs.
1. Introduction
1.1 Key Deliverables of the Study
1.2 Study Assumptions
1.3 Scope of the Study
2. Research Approach and Methodology
3. Executive Summary
4. Market Dynamics
4.1 Market Overview
4.2 Factors Driving the Market
4.2.1 Increasing Applications through Cloud-based Disaster Recovery
4.2.2 Reducing Operational Cost and Fast Recovery of Data
4.3 Factors Restraining the Market
4.3.1 Complexity of Deployment and in Setting Terms
4.4 Industry Attractiveness – Porter's Five Forces Analysis
4.4.1 Bargaining Power of Suppliers
4.4.2 Bargaining Power of Consumers
4.4.3 Threat of New Entrants
4.4.4 Threat of Substitute Products or Services
4.4.5 Competitive Rivalry among Existing Competitors
5. Global Disaster Recovery as a Service Market Segmentation
5.1 By End-user Vertical
5.1.1 BFSI
5.1.2 IT
5.1.3 Government
5.1.4 Healthcare
5.1.5 Others End-user Verticals
5.2 By Geography
5.2.1 North America
5.2.2 Europe
5.2.3 Asia-Pacific
5.2.4 Latin America
5.3.5 Middle East & Africa
6. Competitive Intelligence – Company Profiles
6.1 iLandInternet Solutions
6.2 Microsoft Corporation
6.3 Recovery Point Systems
6.4 BluelockLLC
6.5 TierPointLLC
6.6 IBM Corporation
6.7 SungardAS
6.8 C&W Business
6.9 Expedient Holdings USA LLC
6.10 CloudHPT
*List Not Exhaustive
7. Investment Analysis
8. Future of the Disaster Recovery as a Service Market