The global compound chocolate market is projected to register an estimated CAGR of 6.31% during the forecast period of 2018-2023.
Low Cost of Compound Chocolate – Fueling the Market Growth
Increasing demand of low priced cocoa based products has increased the demand of compound chocolates, globally. The major market drivers include increased price of cocoa butter, limited supply of cocoa products in the market, cheaper price of compound chocolates, and increasing demand in industrial and bakery applications. The technical advantage of non-requirement of tempering and easy manufacturing process has increased the industrial demand of compound chocolates. However, the regulation on adding vegetable fats in chocolate, by various regulatory authorities, has restrained the growth of the compound chocolate market. Other than the regulation on vegetable fats, major factors restraining the market growth includes unhealthy nature of cheap vegetable fats, along with consumer preferences for the pure chocolates among others.
Versatile Application of Compound Chocolate in Bakery & Confectionery Segment
The compound chocolates are used in industrial applications of bakery & confectionery products, as direct chocolate end-consumers, and in ice creams. The increased demand of coatings & coverings for the bakery products has raised compound chocolates' popularity among bakery applications. The market is sub-segmented by the product type, as compound chocolate chips, coatings, slabs, and others. The chocolate chips are used in products, such as ice cream, biscuits, and cookies. Chocolate slabs are utilized commercially by manufactures for industrial applications, where it is melted and further processed into final product.
By flavor, the market can be segmented into dark, white, milk, and others. White chocolate has found increasing consumer preference in bakery & confectionary applications, owing to its full cream flavor characteristic.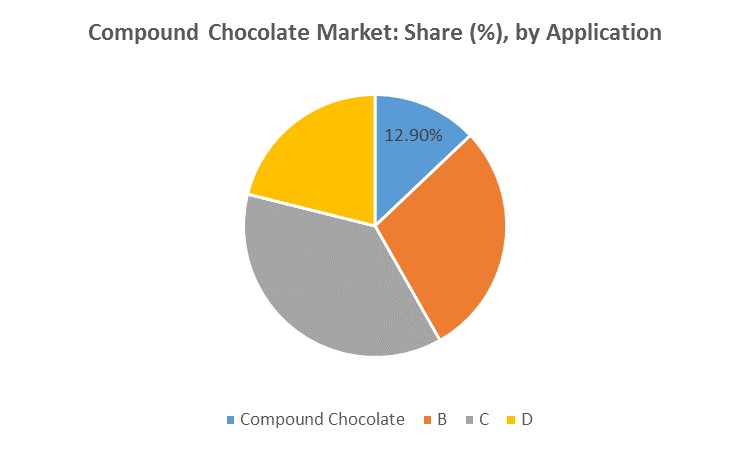 Asia-Pacific Remains a Hub for Compound Chocolate Production
Compound chocolate is mostly produced in developing regions, such as Asia-Pacific, which accounts for the highest production of compound chocolate. The countries in the region extensively export to developed countries, like the United States and Canada, among others. Increased advancement in technology and the chocolate crisis in the market have provided to be a great opportunity to the compound chocolate market. Asia-Pacific region accounts for major share, owing to its affordable cost, while the stringent regulatory barrier is being a big challenge for the market.
Key Developments
Barry Callebaut expanded chocolate manufacturing facility in Singapore in 2016, with a total investment of USD 18 million. The new chocolate chips/drops molding line cater to the production of different product shapes & sizes, to fulfill market demand
Barry Callebaut launched a new range of fillings for confectionery & bakery creations at ISM trade fair in Cologne. The company claims the fillings to contain 40% less calorie, compared to fat-based fillings, as they are made without any added vegetable fats or preservatives
Competitive Landscape
The compound chocolate market is dominated by the small-scale domestic manufacturers and few major companies. The major competitors prefer investment in new product development with more functional properties and marketing strategy for maintaining their market position.
Major Players: Cargill, ADM, Palsgaard, Barry Callebaut, Wilmar International, and Flanders Filings & Compounds (backed by Fuji Oil Europe).
Reasons to Purchase this Report
Analyzing outlook of the market with the recent trends and Porter's five forces analysis
Market dynamics, considering the factors that are impelling the present market scenario, along with growth opportunities of the market in the years to come
Market segmentation analysis, including qualitative & quantitative research incorporating the impact of economic & non-economic aspects
Regional and country level analysis integrating the demand and supply forces that are influencing the growth of the market
Competitive landscape involving the market share of major players, along with the key strategies adopted for development in the past five years
Comprehensive company profiles covering the product offerings, key financial information, recent developments, SWOT analysis and strategies employed by the major market players
3-month analyst support, along with the Market Estimate sheet in excel
Customization of the Report
Value chain analysis
Volume of Compound Chocolate Market
Consumer behavior analysis at country level
1. Introduction
1.1 Key Deliverables of the study
1.2 Study Assumptions
1.3 Market Definitions
2. Research Approach and Methodology
2.1 Introduction
2.2 Research Design
2.3 Study timelines
2.4 Study Phases
2.4.1 Secondary Research
2.4.2 Discussion Guide
2.4.3 Market Engineering & Econometric Modeling
2.4.4 Expert Validation
3. Key Findings
4. Market Dynamics
4.1 Drivers
4.1.1 Economical and Desirable Substitute of Cocoa Butter
4.1.2 Functionalities of Compound Chocolate
4.1.3 Increased Demand from Emerging Markets
4.2 Restraints
4.2.1 Organoleptic Properties and Health Concerns
4.2.2 Regulatory Requirements
4.3 Opportunities
4.3.1 Export Opportunities in Emerging Markets
4.4 Porter's Five Forces Analysis
4.4.1 Bargaining Power of Suppliers
4.4.2 Bargaining Power of Buyers
4.4.3 Threat of New Entrants
4.4.4 Threat of Substitute Products and Services
4.4.5 Degree of Competition
5. Market Segmentation
5.1 By Product Type
5.1.1 Chocolate Chip
5.1.2 Chocolate Slab
5.1.3 Chocolate Coatings
5.1.4 Others
5.2 By Application
5.2.1 Ice Cream & Frozen Desserts
5.2.2 Bakery
5.2.3 Compound Chocolate
5.2.4 Confectionery
5.3 By Flavor
5.3.1 Milk
5.3.2 Dark
5.3.3 White
5.3.4 Others
5.4 By Geography
5.4.1 North America
5.4.1.1 United States
5.4.1.2 Canada
5.4.1.3 Mexico
5.4.1.4 Rest of North America
5.4.2 Europe
5.4.2.1 Spain
5.4.2.2 UK
5.4.2.3 France
5.4.2.4 Germany
5.4.2.5 Russia
5.4.2.6 Italy
5.4.2.7 Rest of Europe
5.4.3 Asia-Pacific
5.4.3.1 China
5.4.3.2 India
5.4.3.3 Japan
5.4.3.4 Australia
5.4.3.5 Rest of Asia-Pacific
5.4.4 South America
5.4.4.1 Brazil
5.4.4.2 Argentina
5.4.4.3 Rest of South America
5.4.5 Africa
5.4.5.1 South Africa
5.4.5.2 Rest of Africa
6. Competitive Landscape
6.1 Strategy adopted by Key players
6.2 Most active companies in the past five years
6.3 Market Share Analysis
7. Company Profiles
7.1 Cargill
7.2 Puratos
7.3 Clasen Quality Chocolate
7.4 Santa Barbara Chocolate
7.5 Blommer Chocolate Company
7.6 The Barry Callebaut Group
7.7 Aalst Chocolate
7.8 Sephra
7.9 Chocoley
7.10 Unigra
7.11 Palsgaard
7.12 AAK
7.13 Wilmar International
7.14 Aalst Chocolate
7.15 KCG Corporation
7.16 Flanders Filings & Compounds (backed by Fuji Oil Europe)
8. Appendix
8.1 Disclaimer
8.2 Sources