Market Insights
The increased awareness about the importance of a healthy breakfast is expected to drive the global breakfast foods and services market, which is anticipated to grow at a CAGR of 4.5% during the forecast period 2018-2023. With the increase in the working population, mainly the women, processed and packaged breakfast products and services are in great demand. It is observed that more than 58% of the consumers in America consume processed cereals for breakfast.
Market Dynamics
Owing to their busy lifestyles, consumers now-a-days prefer on-the-go or away-from-home food consumption. Besides, dietitians are stressing on breakfast as the most important meal of the day. The increasing health consciousness among people due to widespread obesity is a major driving factor for breakfast cereals.
There is a need for protein-rich and high-fiber breakfast, ruling out foods containing high amounts of sugar, sodium, and fat. Owing to these needs of the people, manufactures are now focusing on adding nutritional value to their products. Breakfast service providers such as McDonald's and Subway are also switching to healthy and tasty options like 99% fat-free products.
Market Segmentation
The global breakfast foods and services market is segmented by type, product, and geography. Depending upon the tastes and preferences of a region, the breakfast product choices range from cereal bars, yogurts, parantha, and sandwiches to breakfast cereals. With the ready-to-eat food segment in demand, breakfast is now being delivered by various food delivery chains and tiffin houses. Moreover, demand for processed foods like cereals and oats is also rising, owing to their nutritional benefits.
In terms of breakfast packaged foods and instant food services, the United States and the United Kingdom have been the leading countries. Since 2006, due to the growing urbanization and middle-class population, there have been many changes in the eating habits of people in the Asia-Pacific region. People in these nations are shifting their breakfast preferences from heavy foods to packaged cereals. This is expected to propel the market in Asia-Pacific in the next few years. Furthermore, the increasing number of convenience stores in these regions is considerably improving the brand visibility for manufacturers of breakfast food.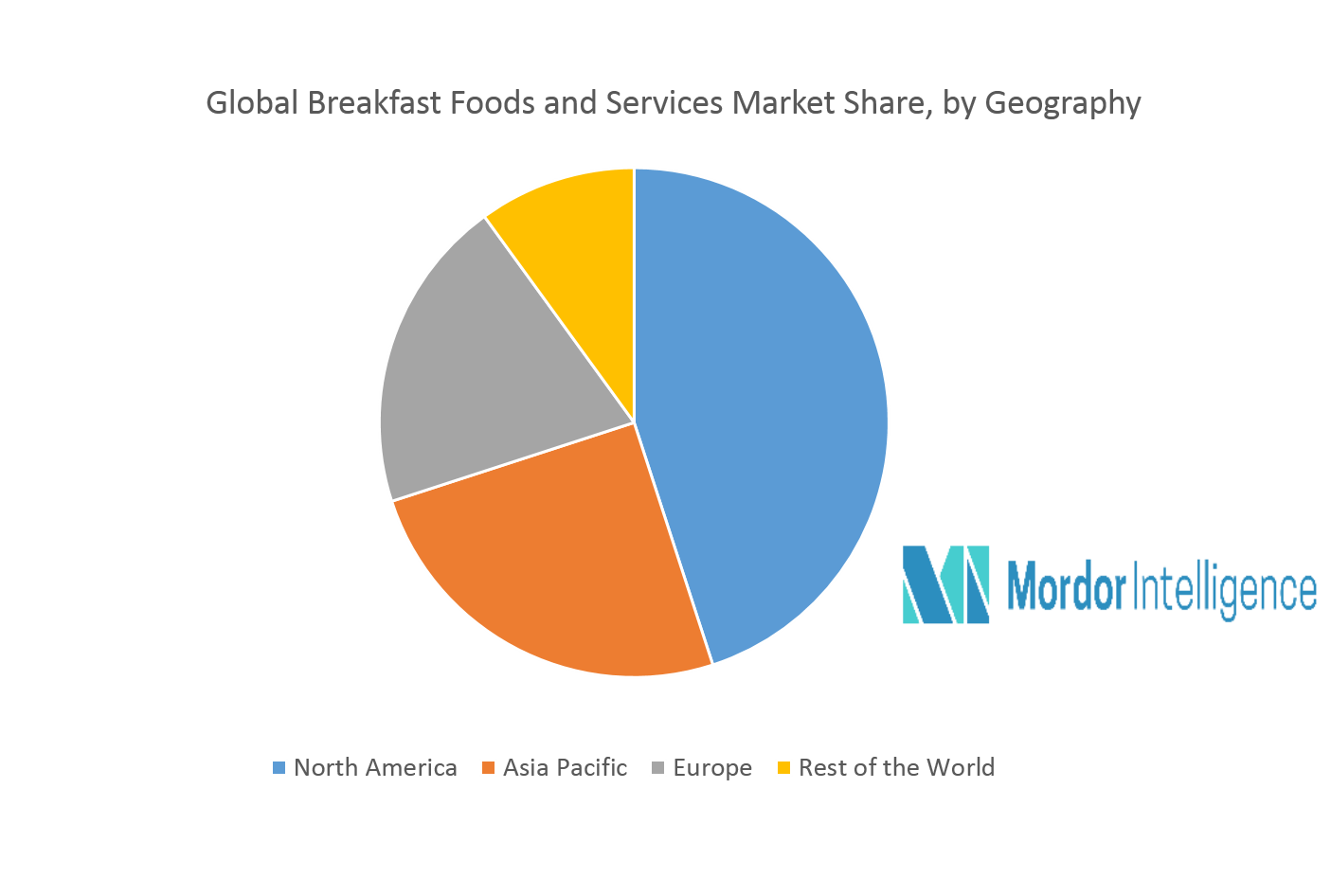 Key Developments
June 2016- Cereal sales had been dropping over the past years, but when cereal giant Kellogg's opened a cereal cafe in New York in 2016, it proved to be more popular than expected. They opened the doors to a bigger, more dynamic Kellogg's NYC Café.
Competitive Landscape
Major Players: Kellogg's, Starbucks, McDonald's, General Mills, Del Monte Foods, Nestle SA, McVitie's, Kraft Foods Inc., Healthy Choice, Unilever, Campbell Soup Company, Dr. Oetker, Britannia Industries Limited, Heritage Foods, ITC Foods Limited, Premier Foods, Post Holdings, PepsiCo, Marico, and others.
Reasons to Purchase the Report
Analyzing outlook of the market with the recent trends and Porter's five forces analysis
Market dynamics, which essentially consider the factors that are impelling the present market scenario, along with growth opportunities of the market in the years to come
Market segmentation analysis including qualitative and quantitative research incorporating the impact of economic and non-economic aspects
Regional and country-level analysis integrating the demand and supply forces that are influencing the growth of the market
Competitive landscape involving the market shares of major players, along with the key strategies adopted for development in the past five years
Comprehensive company profiles covering the product offerings, key financial information, recent developments, SWOT analysis, and strategies employed by the major market players
3 month analyst support, along with the Market Estimate sheet (in Excel)
Customization of the Report
This report can be customized to meet your requirements. Please connect with our analyst, who will ensure you get a report that suits your needs.