Bionics Market Size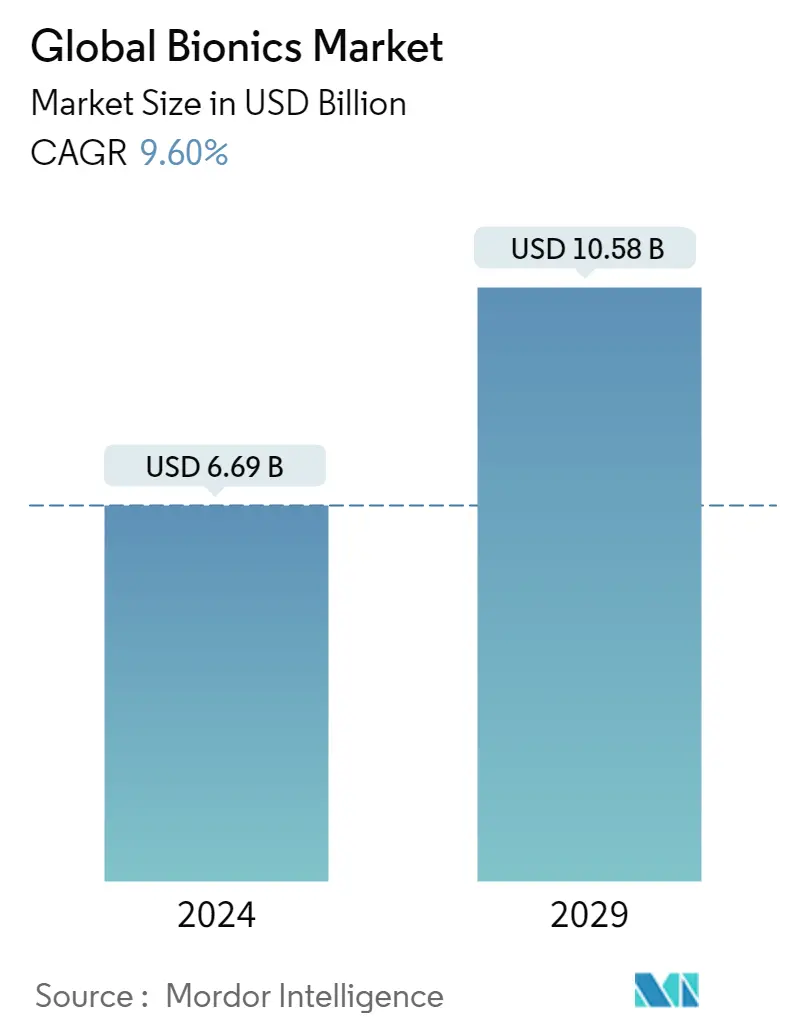 Study Period
2018 - 2028
Market Size (2023)
USD 6.10 Billion
Market Size (2028)
USD 9.65 Billion
CAGR (2023 - 2028)
9.60 %
Fastest Growing Market
Asia-Pacific
Largest Market
North America

Major Players

*Disclaimer: Major Players sorted in no particular order
Need a report that reflects how COVID-19 has impacted this market and its growth?
Bionics Market Analysis
The Global Bionics Market size is expected to grow from USD 6.10 billion in 2023 to USD 9.65 billion by 2028, at a CAGR of 9.60% during the forecast period (2023-2028).
COVID-19 negatively impacted the bionics market. The pandemic caused added challenges for patients who are having some form of disabilities and organ failures. Due to social distancing, many hospitals were restricted to non-elective procedures and surgeries, and they were instead offering patients video conferencing with disabilities to overcome the limitations of the market growth. For instance, according to the research study published in September 2021 by Harper L. Wilson et al., during the COVID-19 pandemic, adult users of cochlear implants and people living in rural areas faced greater difficulties, including pandemic preparedness and access to healthcare, which has a detrimental effect on the market under study. However, the market under study is anticipated to reach its full potential over the forecast period due to ongoing vaccinations and a decline in COVID-19 cases.
Factors that are responsible for the growth of the market include increased incidence of disabilities and organ failures, technological advancements, and high incidence of road accidents leading to amputations. For instance, as per the data published by the World Health Organization in October 2021, approximately 2.2 billion people were affected with blindness or vision impairment, out of which at least 1 billion people had unaddressed or preventable conditions worldwide. Moreover, in 2020, there are 2.6 billion myopic individuals of all ages. Age-related macular degeneration has affected 195.6 million people between the ages of 30 and 97 in 2020. Thus the increasing prevalence of targeted disabilities, the market is likely to grow at a faster pace in upcoming years.
Another primary factor is the scarcity of donor organs. The lack of availability of potential organs to transplant has been a major issue. The demand for organ donors is increasing and is very high compared to the actual supply. Bionics are able to cater to the needs of those in need of organ transplantations and replacements. It can replicate the function of damaged organs. The replication is almost the same. This level of scarcity of organs has turned into a boon for artificial organs and the bionics industry.
Rising product approval and technological advancement in this industry are also likely to fuel the market growth in upcoming years. For instance, in 2020, Edwards Lifesciences Corporation announced that its KONECT RESILIA aortic valved conduit (AVC) received approval from the United States Food and Drug Administration (FDA) as the first ready-to-implant solution for bio-Bentall procedures. Additionally, in March 2020, Widex launched the Moment hearing device. The Widex Moment has the 'classic' Widex signal pathway, which is paired with a second ultra-fast signal pathway that adds extra gearing to the platform.
However, the factors such as the fear of device malfunction and its consequences, high cost of devices, and uncertain reimbursement scenarios, among others, may impact market growth.
Bionics Market Trends
This section covers the major market trends shaping the Bionics Market according to our research experts:
Cochlear implant are Estimated to Hold a Significant Share in the Fixation Type Segment of the Bionics Market
The cochlear implant performs the function of damaged cochlea parts by transmitting the electrical signals to the brain, converting sound into electrical signals, and restoring hearing. People with mild to severe hearing loss use it as hearing bionics.
Due to their affordability, cochlear implants are highly favored. For instance, according to a research study titled "Cost-benefit Analysis of Cochlear Implants: A Societal Perspective" published in PubMed, in March 2021, concluded that the adults and seniors with unilateral cochlear implantation (CI) and progressive severe hearing loss had a net economic benefit of EUR 275,000 and EUR 76,000, respectively. Even without taking health benefits into account, children and those in the workforce, in particular, benefited from the societal impact.
In the upcoming years, market growth is anticipated to be aided by the older population's relatively high burden of hearing impairment. For instance, a research study titled "Association of Age-Related Hearing Impairment With Physical Functioning Among Community-Dwelling Older Adults in the US" published in JAMA Network, in June 2021, a population-based cohort study involving 2,956 older Americans found that 973 (33%) had normal hearing, 1,170 (40%) had mild hearing impairment, 692 (23%) had moderate impairment, and 121 (4%) had a severe impairment. As a result, it is anticipated that the demand for cochlear implants will rise along with the population of elderly people.
The key market players' introduction of technologically advanced products, however, support the market's expansion. For instance, in January 2022, Cochlear Limited, obtained United States Food and Drug Administration (U.S. FDA) approval for Cochlear Nucleus Implants for the treatment of unilateral hearing loss (UHL) or single-sided deafness (SSD).
The segment is therefore anticipated to experience significant growth over the course of the forecast period as a result of the factors listed above.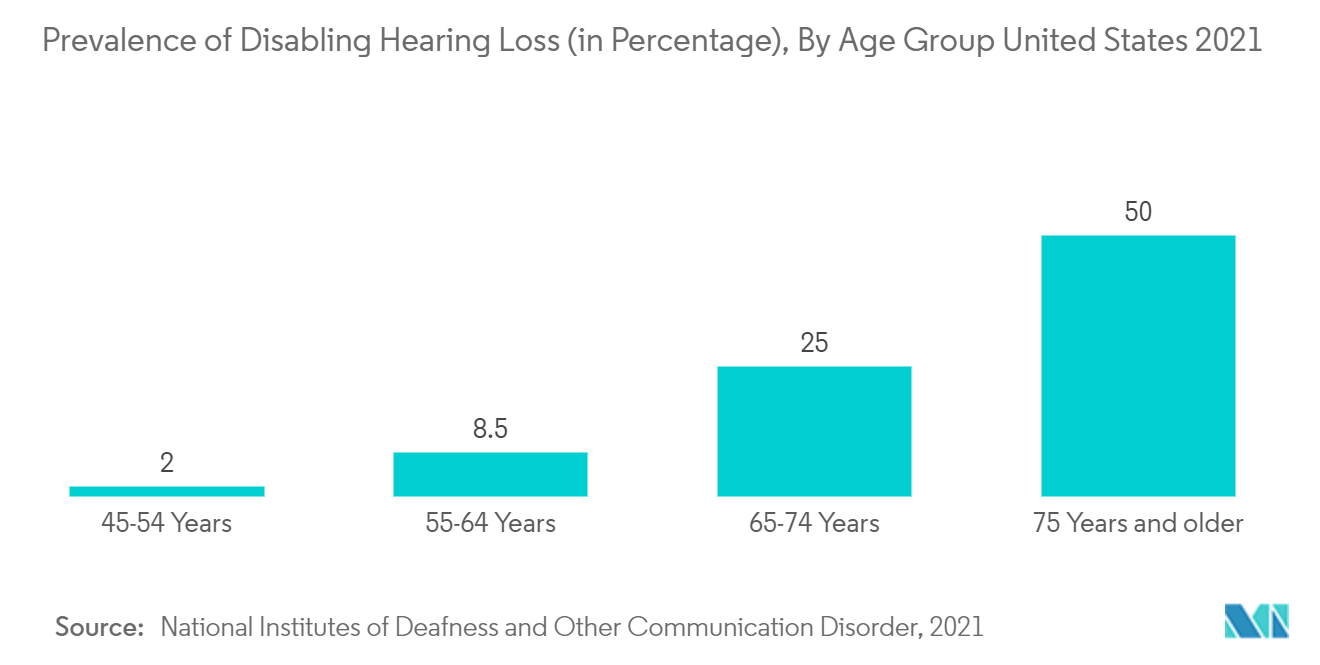 To understand key trends, Download Sample Report
North America Dominates the Market and is Expected to Do Same During the Forecast Period
Currently, North America dominates the market for bionics, and it is expected to continue its stronghold for a few more years. In the North American region, the United States holds the largest market share. The rising prevalence of chronic diseases and increasing demand for non-invasive surgical procedures are helping in the dominance of the North American region in the bionics market.
The disabled community around the region is affected especially hard by the COVID-19 pandemic. Coronavirus lockdown has made life especially tough for the region's disabled population, such as people having the vision, hearing impaired population. Thus, in countries, such as the United States, in 2020, the Disability Inclusion Fund (DIF) announced the launch of a USD 200,000 rapid response fund to support the needs of people with disabilities related to the impact of COVID-19.
According to the report of Statistics Canada published in October 2021, Overall, audiometrically measured hearing loss, tinnitus, or both conditions affected 60% of Canadians between the ages of 19 and 79. Men were more likely than women to experience hearing loss and tinnitus. Furthermore, North America's bionics market is anticipated to be dominated by the United States during the forecast period due to the country's high incidence and prevalence of hearing loss as well as its widespread use of hearing bionics. According to the March 2021 update from the National Institute on Deafness and Other Communication Disorders, in the United States, 2 to 3 out of every 1,000 newborns have a detectable level of hearing loss in one or both ears, and 15% of adults (18 and older) in the country (37.5 million) report having some hearing issues in 2020.
The presence of developed healthcare infrastructure and major market players focussing on various market strategies so as to gain a competitive edge is also expected to propel the market. in November 2021, Advanced Bionics (AB), received Health Canada approval and announces it is bringing Marvel hearing technology to Advanced Bionics cochlear implant wearers. This includes: New Naída CI Marvel sound processor for adults, New Advanced Bionics Remote app for easy adjustments via smartphone, and others. The software provides real-time feedback to the surgeon to guide the insertion placement.
Thus, due to the factors mentioned above, the segment is expected to witness significant growth over the forecast period.
To understand geography trends, Download Sample Report
Bionics Industry Overview
The bionics market is moderately competitive and consists of various major players. In terms of market share, some of the major players currently dominate the bionics market. Owing to the rising adoption of medical bionics and an increasing number of people in need of organs, few other smaller players are expected to enter the market. Some of the major players of the market are Medtronic PLC, Edward Lifesciences Corporation, Ekso Bionics, and Ossur (Touch Bionics), among others.
Bionics Market Leaders
Medtronic PLC

Edward Lifesciences Corporation

Advanced Bionics AG

Ekso Bionics

Ossur (Touch Bionics)
*Disclaimer: Major Players sorted in no particular order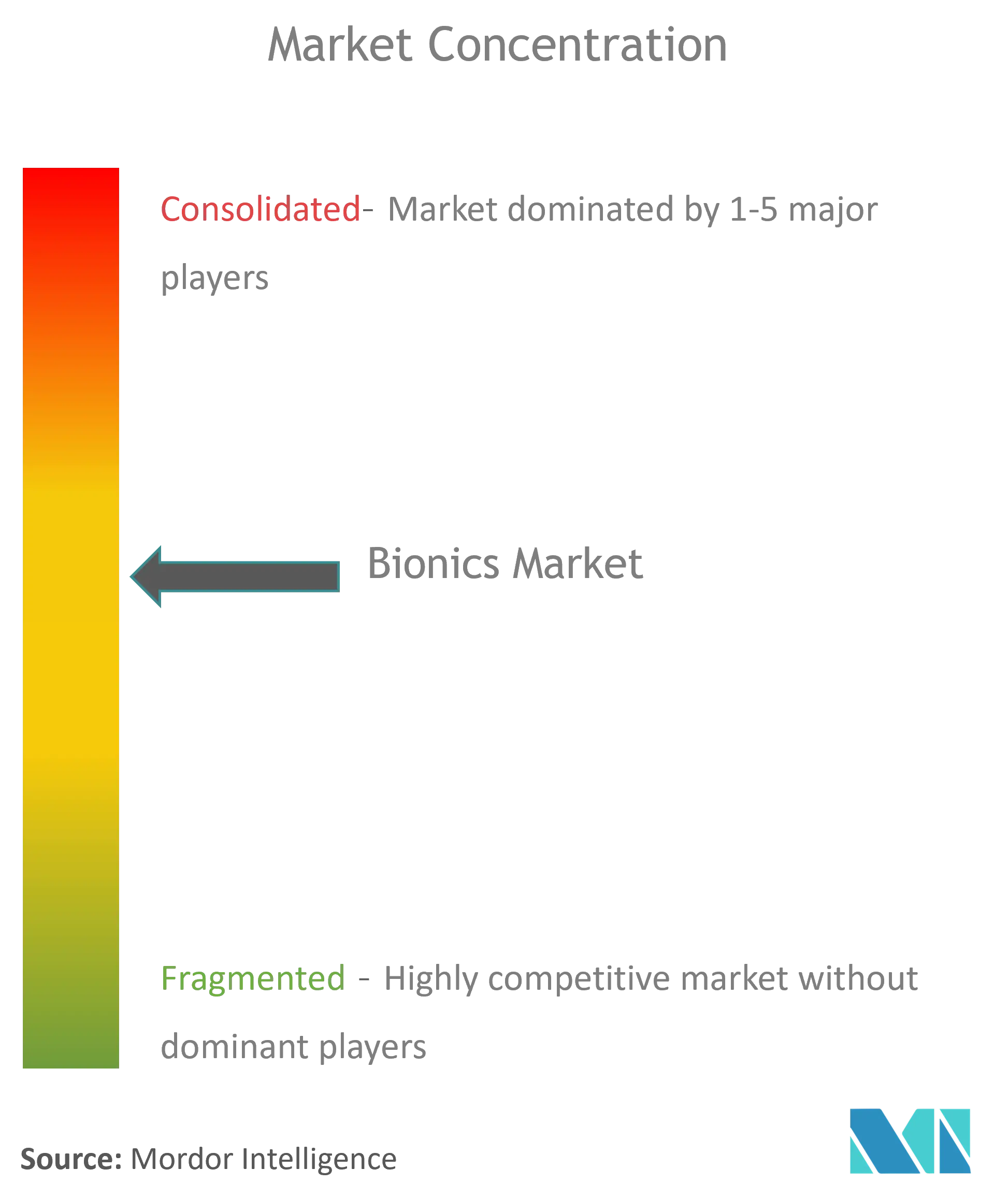 Bionics Market News
In July 2022, Prosthetics startup Unlimited Tomorrow launched TrueLimb, its next-generation bionic arm. The hands have independent finger joints and six adaptive grips, which conform to objects the wearer comes in contact with, and subtle vibrations.
In February 2022, Ceryx Medical launched Cysoni bionic device for respiratory sinus arrhythmia. It is noted that the Cysoni device replicates RSA, triggering heartbeats based on respiratory function.
Bionics Market Report - Table of Contents
1. INTRODUCTION

1.1 Study Assumptions and Market Definition

1.2 Scope of the Study

2. RESEARCH METHODOLOGY

3. EXECUTIVE SUMMARY

4. MARKET DYNAMICS

4.1 Market Overview

4.2 Market Drivers

4.2.1 Increased Incidence of Disabilities and Organ Failures

4.2.2 Technological Advancements

4.2.3 High Incidence of Road Accidents Leading to Amputations

4.3 Market Restraints

4.3.1 High Cost of Devices and Uncertain Reimbursement Scenarios

4.3.2 Fear of Device Malfunction and Its Consequences

4.4 Porter's Five Forces Analysis

4.4.1 Threat of New Entrants

4.4.2 Bargaining Power of Buyers/Consumers

4.4.3 Bargaining Power of Suppliers

4.4.4 Threat of Substitute Products

4.4.5 Intensity of Competitive Rivalry

5. MARKET SEGMENTATION (Market Size by Value - USD million)

5.1 Type of Bionics

5.1.1 Vision Bionics

5.1.2 Ear Bionics

5.1.2.1 Cochlear Implant

5.1.2.2 Bone-anchored Hearing Aid (BAHA)

5.1.3 Orthopedic Bionic

5.1.3.1 Bionic Hand

5.1.3.2 Bionic Leg

5.1.4 Cardiac Bionics

5.1.4.1 Heart Valves

5.1.4.2 Ventricular-assisted Device

5.1.4.3 Pacemaker

5.1.4.4 Other Cardiac Bionics

5.2 Fixation

5.2.1 Implantable Bionics

5.2.2 External Bionics

5.3 Geography

5.3.1 North America

5.3.1.1 United States

5.3.1.2 Canada

5.3.1.3 Mexico

5.3.2 Europe

5.3.2.1 Germany

5.3.2.2 United Kingdom

5.3.2.3 France

5.3.2.4 Italy

5.3.2.5 Spain

5.3.2.6 Rest of Europe

5.3.3 Asia-Pacific

5.3.3.1 China

5.3.3.2 Japan

5.3.3.3 India

5.3.3.4 Australia

5.3.3.5 South Korea

5.3.3.6 Rest of Asia-Pacific

5.3.4 Middle-East and Africa

5.3.4.1 GCC

5.3.4.2 South Africa

5.3.4.3 Rest of Middle-East and Africa

5.3.5 South America

5.3.5.1 Brazil

5.3.5.2 Argentina

5.3.5.3 Rest of South America

6. COMPETITIVE LANDSCAPE

6.1 Company Profiles

6.1.1 Pixium Vision

6.1.2 Open Bionics

6.1.3 Bionics Scientific Technologies (P) Ltd

6.1.4 Advanced Bionics AG

6.1.5 Bionic Prosthetics and Orthotics

6.1.6 Cochlear Limited

6.1.7 Edward Lifesciences Corporation

6.1.8 Ekso Bionics

6.1.9 Medtronic PLC

6.1.10 Mobius Bionics

6.1.11 Ottobock

6.1.12 Össur Americas (Touch Bionics Inc.)

*List Not Exhaustive

7. MARKET OPPORTUNITIES AND FUTURE TRENDS
**Subject to Availability
**Competitive Landscape Covers - Business Overview, Financials, Products and Strategies, and Recent Developments
Bionics Industry Segmentation
Bionics are artificial devices that can be implanted or integrated into humans to either replace a natural organ or provide support to restore a specific function, or a group of related functions, helping the patient to return to his normal life. The Bionics Market is segmented by Type of Bionics (Vision Bionics, Ear Bionics, Orthopedic Bionic, and Cardiac Bionics), Fixation (Implantable Bionics and External Bionics), and Geography (North America, Europe, Asia-Pacific, Middle-East and Africa, and South America). The market report also covers the estimated market sizes and trends for 17 different countries across major regions, globally. The report offers the value (in USD million) for the above segments.
Type of Bionics
Vision Bionics

Ear Bionics
Cochlear Implant
Bone-anchored Hearing Aid (BAHA)

Orthopedic Bionic
Bionic Hand
Bionic Leg

Cardiac Bionics
Heart Valves
Ventricular-assisted Device
Pacemaker
Other Cardiac Bionics
Fixation
Implantable Bionics
External Bionics
Geography

North America
United States
Canada
Mexico

Europe
Germany
United Kingdom
France
Italy
Spain
Rest of Europe

Asia-Pacific
China
Japan
India
Australia
South Korea
Rest of Asia-Pacific

Middle-East and Africa
GCC
South Africa
Rest of Middle-East and Africa

South America
Brazil
Argentina
Rest of South America
Bionics Market Research FAQs
How big is the Global Bionics Market?
The Global Bionics Market size is expected to reach USD 6,098.89 million in 2023 and grow at a CAGR of 9.60% to reach USD 9,645.03 million by 2028.
What is the current Global Bionics Market size?
In 2023, the Global Bionics Market size is expected to reach USD 6,098.89 million.
Who are the key players in Global Bionics Market?
Medtronic PLC, Edward Lifesciences Corporation, Advanced Bionics AG, Ekso Bionics and Ossur (Touch Bionics) are the major companies operating in the Global Bionics Market.
Which is the fastest growing region in Global Bionics Market?
Asia-Pacific is estimated to grow at the highest CAGR over the forecast period (2023-2028).
Which region has the biggest share in Global Bionics Market?
In 2023, the North America accounts for the largest market share in the Global Bionics Market.
Global Bionics Industry Report
Statistics for the 2023 Global Bionics market share, size and revenue growth rate, created by Mordor Intelligence™ Industry Reports. Global Bionics analysis includes a market forecast outlook to 2028 and historical overview. Get a sample of this industry analysis as a free report PDF download.
Global Bionics Report Snapshots
80%

of our clients seek made-to-order reports. How do you want us to tailor yours?