The Asia-Pacific flexible packaging market was valued at USD 99.5 billion in 2017, and is expected to reach a value of USD 131.487 billion by 2023, at a CAGR of 4.76% over the forecast period (2018-2023).The scope of the market covers flexible packaging products, including pouches, bags, and wraps.
The market in Asia-Pacific is driven by the increasing demand in developing markets of China and India, coupled with the advances in manufacturing technology and equipment, resulting in numerous end-use applications.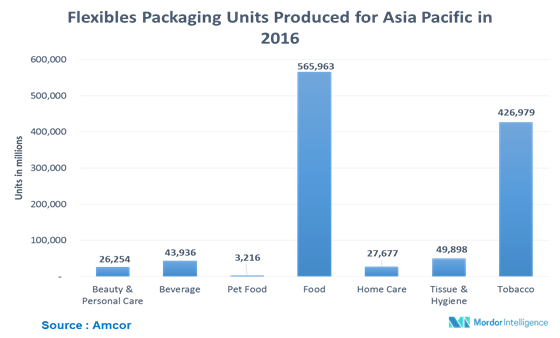 Aluminum to Witness Greater Adoption
Asia–Pacific accounts for one of the largest food & beverage industries, owing to the high population in these countries, which is a major driver for the adoption of aluminum packaging. Also, China, India, and Indonesia, are some of the largest manufacturers and exporters of tea and coffee, which is instrumental in driving aluminum foil packaging. These countries have also shifted to aluminum as it is a more eco-friendly and convenient choice of packaging, and it is also easy to carry out recycling activities, which are particularly beneficial to the environment. These recycling activities also contribute to the decrease in the cost structure for the packaging industry. The recycling rate of aluminum in countries, such as Japan, is significantly high. Many efforts are also being made in countries, such as India, to improve recycling, as the recycling rate is just about 25%. China has only about 20% of its aluminum produce recycled.
India to Witness the Fastest Growth
The primary drivers for the growth of the flexible packaging market in the country are the increasing per capita income, growing heath consciousness, and changing lifestyle patterns. The country also boasts of abundantly available raw materials for manufacturing plastic, metal, and paper packaging. The growing competition and packaging standards set by the government for labelling of quality, quantity, and price, coupled with the demand for easy and convenient packaging, have been instrumental in driving the adoption of flexible packaging in India. Further, the increasing global trade and India's WTO commitment for rationalising tariffs, and lowering trade barriers have enabled the growth of international trade in packaging material and machinery, which, in turn, has equipped manufacturers with the machinery necessary to innovate and offer enhanced packaging.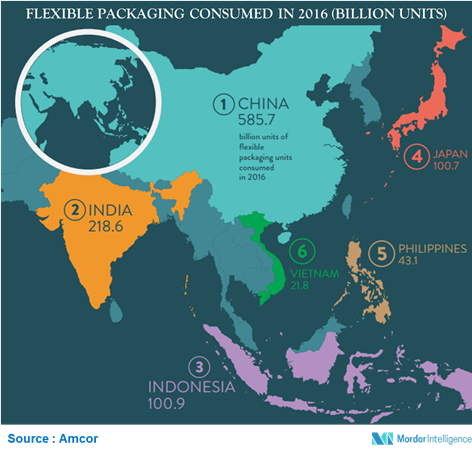 Increased Demand for Convenient Packaging
Flexible packaging is preferred by both consumers and producers, owing to its advantages over rigid packaging. One of the significant benefits for the manufacturer and retailer is the reduced weight of the packaging, which results in reduced shipping and warehousing costs, while simultaneously creating more space on store shelves. Also, the increase in single-person households along with changing consumer preferences and rapidly population aging are further aiding the growth of flexible packaging in the region. Given that single-person households now represent the largest group, a growing demand for single-value pack sizes and convenient packaging is being witnessed. Also, with changing lifestyles, there is an increased demand for on-the go food and snacks. Thus, the industry players are launching small-size packaging, as well as lightweight and flexible packaging to suit this expanding demographic. For instance, Japanese beverage manufacturers have widened their selections of smaller pack sizes, in a bid to attract new consumers, while in food packaging, there has been a rise in the selection of small pack sizes that are easily consumable. "Tabekiri" packs meet the rising needs of single-person households attempting to consume small portions of a variety of products.
Key Market Players: Amcor Ltd, Bemis Company Inc., Berry Plastics Corporation, Sealed Air Corporation, Mondi Group, Sonoco Products Company, Rengo Co. Ltd, Shandong Lipeng Co. Ltd, Novolex Holdings Inc., Tcpl Packaging Ltd And Ester Industries Ltd.
Key Developments in the Market
November 2017 - Berry Global Group acquired Clopay Plastic Products Company, Inc., a subsidiary of Griffon Corporation, for USD 475 million. The company is aimed at expanding Berry's footprint by leveraging Clopay's markets across the globe, with locations in the United States, Germany, Brazil, and China.
January 2018 - Amcor has pledged to develop all of its packaging to be recyclable or reusable by 2025. It has also planned to focus on significantly increasing its use of recycled materials and driving consistently more recycling of packaging around the world. This commitment is aimed at establishing the company as a leader in recyclable packaging.
Reasons to Purchase this Report
Analyze how the growing demand for convenient packaging is driving the global market
Analyze various perspectives of the market with the help of Porter's five forces analysis
The solutions and end-user verticals that are expected to dominate the market
The regions that are expected to witness fastest growth during the forecast period
Identify the latest developments, market shares, and strategies employed by the major market players
3 months analyst support, along with the Market Estimate sheet (in excel)
Customization of the Report
This report can be customized to meet your requirements. Please connect with our analyst, who will ensure you get a report that suits your needs.
1. Introduction
1.1 Study Deliverables
1.2 Study Assumptions
1.3 Market Definition
2. Research Methodology
3. Executive Summary
4. Market Dynamics
4.1 Market Overview
4.2 Factors Driving the Market
4.2.1 Increased Demand for Convenient Packaging
4.3 Factors Restraining the Market
4.3.1 Environmental Concerns
4.4 Value Chain Analysis
4.5 Industry Attractiveness - Porter's Five Force Analysis
4.5.1 Bargaining Power of Suppliers
4.5.2 Bargaining Power of Buyers
4.5.3 Threat of New Entrants
4.5.4 Threat of Substitute Products
4.5.5 Competitive Rivalry
4.6 Technology Snapshot (FLEXOGRAPHY, ROTOGRAVURE, AND DIGITAL)
5. Global Asia-Pacific Flexible Packaging Market Segmentation
5.1 By Material
5.1.1 Plastic
5.1.2 Flexible Foam
5.1.3 Paper
5.1.4 Aluminium Foil
5.1.5 Others
5.2 By Product Type
5.2.1 Pouch
5.2.2 Bag
5.2.3 Wrap
5.2.4 Others
5.3 By End-User Industry
5.3.1 Food
5.3.2 Beverage
5.3.3 Pharmaceutical & Medical
5.3.4 Household & Personal Care
5.3.5 Others
5.4 By Country
5.4.1 China
5.4.2 India
5.4.3 Japan
5.4.4 Australia
5.4.5 South Korea
5.4.6 Others
6. Competitive Intelligence
6.1 Amcor Ltd.
6.2 Bemis Company Inc.
6.3 Berry Plastics Corporation
6.4 Sealed Air Corporation
6.5 Mondi Group
6.6 Sonoco Products Company
6.7 Rengo Co., Ltd.
6.8 TCPL Packaging Ltd
6.9 Ester Industries Ltd
6.10 Huhtamaki Group
7. Investement Analysis
8. Future of Asia-Pacific Flexible Packaging Market