The Asia-Pacific carbon black market is expected to witness a CAGR of approximately 4.23% during the forecasted period (2018 – 2023). The major factor driving the market growth is the rapidly increasing demand from the tire industry in Asia-Pacific. This is due to the increasing demand for lightweight as well as electronic vehicles in the emerging economies.
Growing Tire Industry in Asia-Pacific
Carbon black is required majorly in tires of automotive vehicles. It is used as a filler as well as a strengthening and reinforcing agent in tires. There has been a constant rise in the automotive production in emerging economies, including China, India, and South Korea. With the growing demand for lightweight and electronic vehicles, the automotive production is expected to grow at a fast pace in the region. This, in turn, is expected to drive the demand for carbon black from the tire industry in Asia-Pacific.
Furnace Black is expected to have the Largest Share
In 2017, the furnace black segment accounted for 95% of the total market share, and it is expected to have the fastest growth during the forecast period. It is the most common type in the production of carbon black in Asia-Pacific. Most of the manufacturers in the region use furnace black to manufacture carbon black. Furnace black provides reinforcement & superior resilience, tear-strength, and conductivity, therefore, it is used as a rubber reinforcing agent in tires and other rubber goods. It is widely used in industrial rubber production as a filler, and as a pigment in plastics, inks, and paints & coatings. Furthermore, the growing use of furnace black as a pigment in the coating and polymers industries is expected to further augment the growth of the market.
China Dominates the Market
China is the largest consumer of carbon black in the Asia-Pacific market. This is majorly due to the increasing demand for carbon black from the automotive sector. The tire application accounts for the largest share of carbon black market in China. China is the largest automotive vehicles producer in the world. In 2016, the total automotive production in the country increased by nearly 14.5%, whereas in 2017, the country witnessed an increase of 3.19% in the total production. These positive attributes are expected to drive the market for carbon black in China through the forecast period.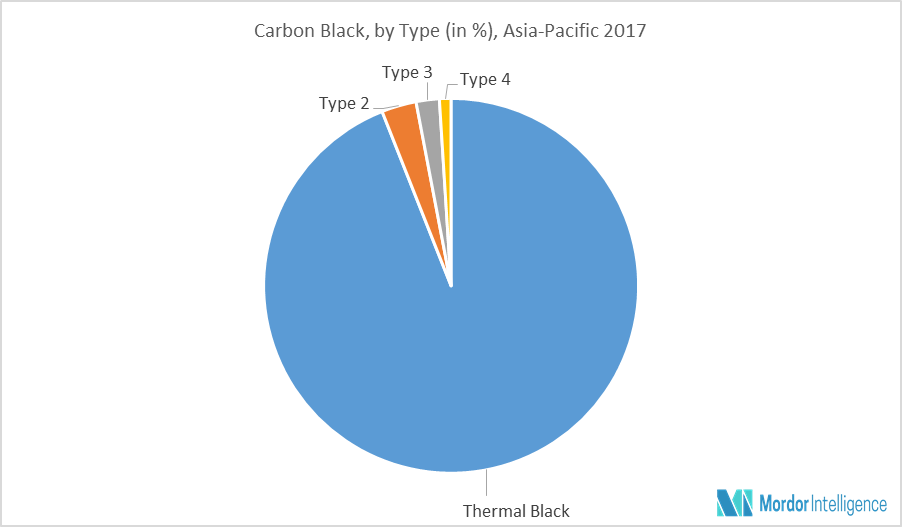 Key Developments in the Market
Oct 2017: Cabot Corporation has decided to purchase Tech Blend for nearly USD 64 million, a leading manufacturers of black masterbatches.
Major Players: Cabot Corporation, Birla Carbon, Orion Engineered Carbon, Sid Richardson Carbon and Energy Ltd, and Tokai Carbon Co., among others.
Reason to Purchase this Report
Analyzing various perspectives of the market with the help of Porter's five forces analysis
To understand the dominating process type and application used in the market
Countries that are expected to witness the fastest growth during the forecast period
Identify the latest developments, market shares, and strategies employed by the major market players
3-month analyst support, along with the Market Estimate sheet (in Excel)
Customization of the Report
This report can be customized to meet your requirements. Please connect with our representative, who will ensure you get a report that suits your needs.
1. Introduction
1.1 Research Phases
1.2 Study Deliverables
1.3 Scope of the Report
2. Executive Summary
3. Market Insights
3.1 Industry Value-Chain Analysis
3.2 Industry Attractiveness – Porter's Five Forces Analysis
3.2.1 Bargaining Power of Suppliers
3.2.2 Bargaining Power of Consumers
3.2.3 Threat of New Entrants
3.2.4 Threat of Substitute Products and Services
3.2.5 Degree of Competition
4. Market Dynamics
4.1 Drivers
4.1.1 Increasing Demand for Light Weight and Electronic Vehicles
4.1.2 Growth in Contruction Sector
4.1.3 Growth in Emerging Economies
4.2 Restraints
4.2.1 Volatility of Raw Material Prices
4.2.2 Environmental Concerns
4.2.3 Other Restraints
4.3 Opportunity
4.3.1 Increasing Research on Active fibers
4.3.2 Increasing Investments in Construction Sector
5. Market Segmentation and Analysis (Market Size, Growth and Forecast)
5.1 By Type
5.1.1 Furnace Black
5.1.2 Gas Black
5.1.3 Lamp Black
5.1.4 Thermal Black
5.2 By Application
5.2.1 Tires and Industrial Rubber Products
5.2.2 Plastics
5.2.2.1 Pressure Pipe
5.2.2.2 Film and Sheet
5.2.2.3 Molded Parts
5.2.3 Tonners and Printing Inks
5.2.4 Paints and Coatings
5.2.5 Textile Fibers
5.2.5.1 Nylon
5.2.5.2 Polyester
5.2.5.3 Acrylic
5.2.6 Others
6. Regional Market Analysis (Market Size, Growth and Forecast)
6.1 China
6.2 India
6.3 Japan
6.4 South Korea
6.5 Thailand
6.6 Indonesia
6.7 Malaysia
6.8 Australia & New Zealand
6.9 Rest of Asia-Pacific
7. Future of the Market
8. Competitive Landscape
8.1 Mergers & Acquisitions, Joint Ventures, Collaborations, and Agreements
8.2 Market Share Analysis**
8.3 Strategies Adopted by Leading Players
9. Company Profiles (Overview, Financials**, Products & Services, and Recent Developments)
9.1 Birla Carbon
9.2 Bridgestone Corporation
9.3 Cabot Corporation
9.4 Cancarb
9.5 Continental Carbon Company
9.6 Himadri Chemicals and Industries Limited
9.7 Imerys Graphite & Carbon
9.8 Jiangxi Black Cat Carbon Black Inc.,
9.9 Longxing Chemical Stock Co. Ltd
9.10 Mitsubishi Chemical Holdings Corpora
9.11 OCI Company Ltd
9.12 Orion Engineered Carbons
9.13 Phillips Carbon Black Ltd
9.14 Sid Richardson Carbon & Energy Co.
9.15 Shandong Huadong Rubber Materials
9.16 Tokai Carbon Co. Ltd
*List not exhaustive
10. Disclaimer
**Subject to availability on public domain