Market Snapshot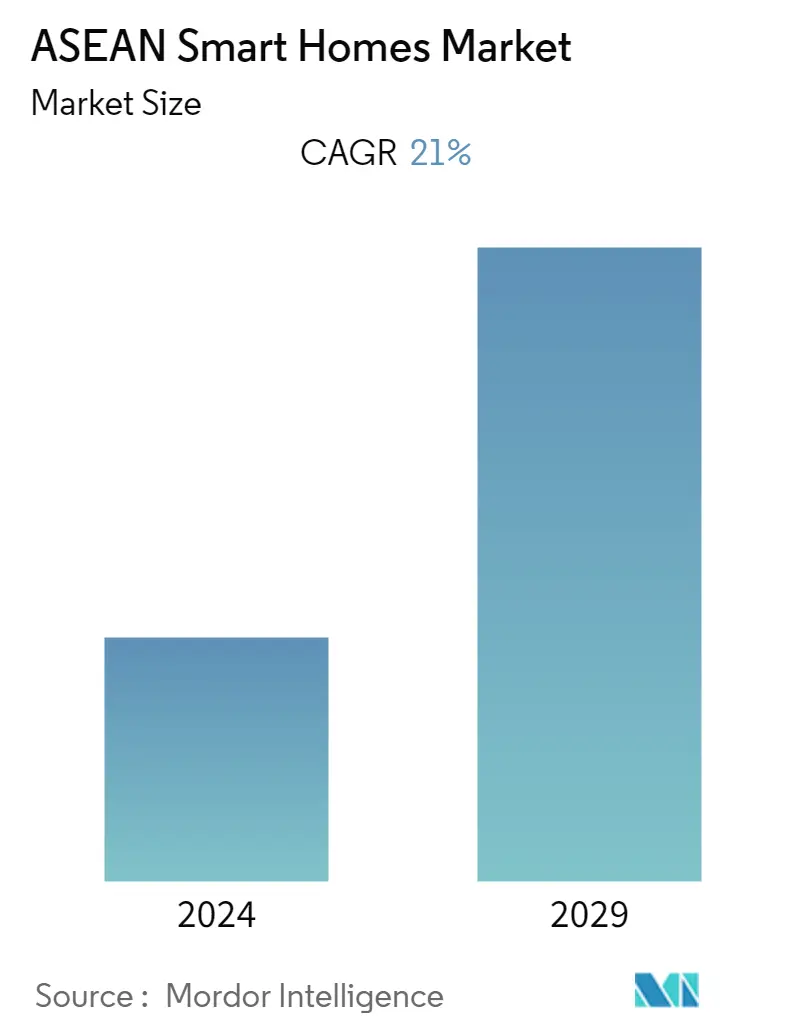 Study Period:
2018-2026
Base Year:
2020
CAGR:
21 %
Need a report that reflects how COVID-19 has impacted this market and its growth?
Market Overview
The ASEAN Smart Homes market is expected to register a CAGR of approximately 21% over the forecast period (2021 - 2026). The smart home landscape is witnessing growth, led by the new generation of smart home gadgets such as smart speakers, connected light bulbs, smart locks, etc.
Covid-19 has further enhanced the demand for home automation due to the growing remote working and work from home scenarios. Several cities in South East Asia witnessed effective implementation channels of nationwide economic relief packages. As large-scale social assistance programs take time to design and deliver, cities equipped with better digital infrastructure were found to be relatively efficient in the targeted delivery of relief to intended beneficiaries.
Further, several solution providers viewed an increase in revenues owing to the growing demand for smart home products triggered by the pandemic. In May 2020, MMX Malaysia, a local kitchen appliance brand, reported that its sales quadrupled during the COVID-19. The major demand was coming from Cookware and Cooktops products.
Also, expansion activities of several market incumbents is another major factor driving the growth of the smart homes market. The smart home ecosystem is experiencing rapid expansion, represented by Amazon's acquisition of Ring, a maker of internet-connected doorbells and cameras, for an estimated USD 1 billion.
The emergence of smart homes has increased the prominence of video surveillance systems in the residential segment in the past few years. The surveillance systems implemented in this sector have varied applications, such as monitoring and access control. These systems are also equipped with features, such as motion detection and night vision.
Scope of the Report
A smart home is one that automates the processes that control its infrastructure, lighting, security systems, heating, ventilation, air conditioning systems, and energy management systems.
Smart home devices are suitable for a home setup where devices can be automatically controlled distantly from any internet-connected place in the world, using a mobile or other networked device. A smart home has its devices connected through the Internet, and the customer can regulate functions, such as security access to the house, temperature, lighting, and home theater.
A smart home uses technology to make buildings more efficient, sustainable, safer, and reduce costs. Smart home solutions are part of an IoT and connected sensor ecosystem. The study characterizes the smart home market, segmenting it into the five primary ASEAN countries, Malaysia, Thailand, Vietnam, Singapore, and Indonesia which are further segmented by product type.
As part of the product type, the study has considered Lighting Solutions, Energy Management Solutions and systems, Security Systems, Connectivity enhancement solutions, and Home Entertainment Systems & Smart Appliances.
Key Market Trends
Increasing Digital Education of Consumers in the Region
Digital awareness is currently developing rapidly in line with the increase of internet users in the Southeast Asian region. The internet connectivity network that continues to improve and the existence of trending digital markets affect internet users' growth in the region.
Consumers in the region are unfamiliar with smart homes and have little knowledge about how to incorporate them in the smart home sense seeing as smart homes were a totally novel paradigm. One of the possible obstacles to smart home service implementation has been discovered to be insufficient familiarity with smart home technology.
Research on energy conservation through smart homes in countries like Singapore in an Energy Policy report reflected that people's investments in smart technology were primarily motivated by energy savings and comfort, followed by security concerns. The integration of sensors into common goods such as lamps and speakers has been slowly becoming the norm, in lieu of an increasing tendency for appliances that anticipate a loss of interaction with their operations and work towards simplifying use cases for their consumers.
According to data from the Indonesian Internet of Things Forum, approximately 400 million sensor devices are embedded, of which 16% are employed in retail, 15% in healthcare, and 11% in insurance, 10% in banking and securities, as well as someof the retail, beauty and computer maintenance industries which around 8%. Also, about 7% in government, 6% in transportation, 5% in public utilities, 4% in real estate and commercial and agricultural services, and the remaining 3% is used for housing. Increasingly digital workspaces are expected to encourage consumers to similarly digitize their homes.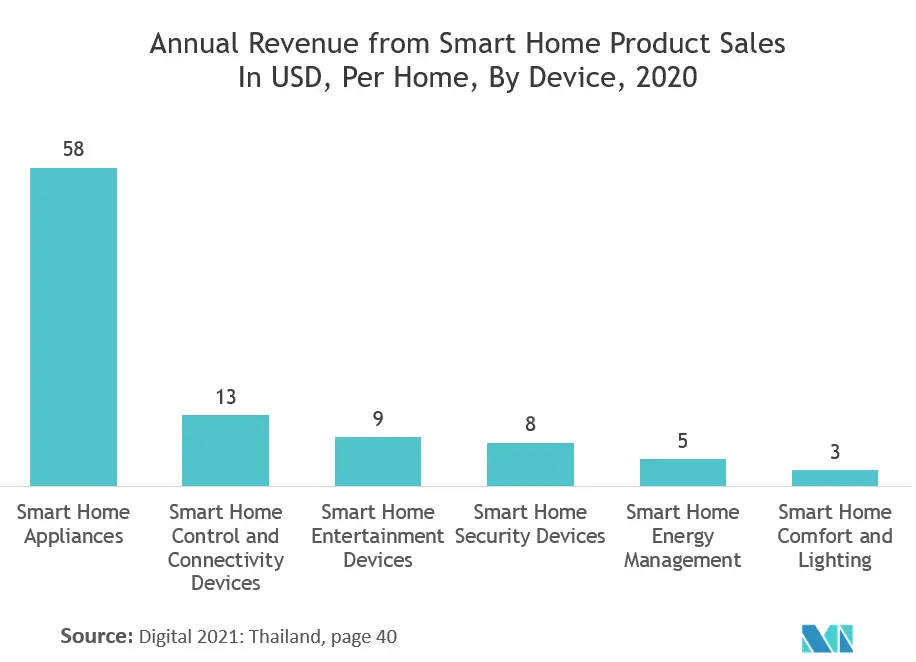 To understand key trends, Download Sample Report
Increasing Internet Penetration Rates, Encouraging Government Interest in the integration of Smart Technology
The initiatives taken by the government in line with the adoption of smart home technologies are one of the major key trends driving the growth of the market over the forecast period. ASEAN countries have seen a surge in Chinese capital flows through massive infrastructure projects that have significant smart city elements, including Forest City Johor Bahru, New Clark City, New Manila Bay City of Pearl, and Thailand's Eastern Economic Corridor. China has also shown a great interest in the region's newly planned township projects, including Indonesia's new capital city in East Kalimantan and New Yangon City.
According to the Malaysian Investment Development Authority (MIDA), the Malaysian government initiated mandatory compliance to use Industrialised Building Systems (IBS) by 2020 as the first step to encourage the adoption of smart homes technologies. Investors are encouraged to leverage the incentives related to smart homes technology, such as investment tax allowance, incentives for electrical and electronic products and components.
On similar lines, in July 2021, the Singapore government reiterated its commitment to continuously invest on projects and initiatives that will unlock the full potential of the digital revolution, injecting about USD 70 million into R&D to support the city's technological capabilities.
The smart city initiatives by the government is also augmenting the growth of the smart home market. Ho Chi Minh, City is focusing on new technologies to become a smart city by 2025. In big cities of Vietnam as Hanoi, Ho Chi Minh City, and Da Nang, smart apartments are becoming a new trend of modern residents who have welcomed the new technologies. Companies have also invested in developing the studied market in the region, Schneider Electric runs a smart factory in Batam, Indonesia for manufacturing power and IA products and opened a USD 45 million manufacturing plant in Viet Nam for the production of electronic products and wiring for smart homes in 2017.
Similarly, Thailand is poised to be the first country among the Association of Southeast Asia Nations (ASEAN) ten members states, to roll out the fifth generation of broadband internet (5G) for full commercial use in late 2020. The arrival of 5G will further accelerate the adoption of IoT.
Furthermore, In December 2020, The Japanese government announced plans to provide JPY 250 billion in funding to Japanese companies to develop smart city projects in the Southeast Asian region. The cities include Hanoi, Ho Chi Minh, Jakarta, Bangkok, Singapore and Kuala Lumpur.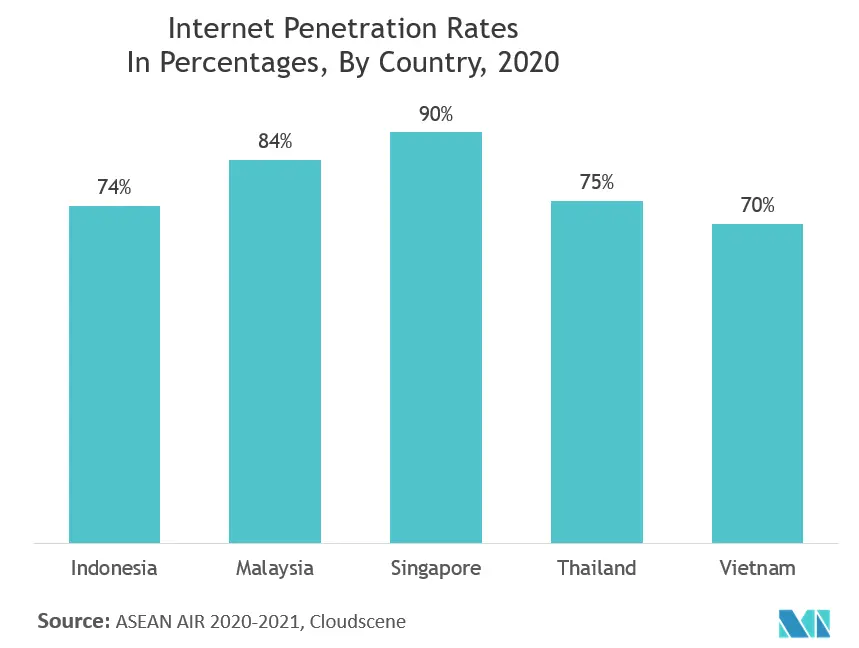 To understand geography trends, Download Sample Report
Competitive Landscape
The ASEAN smart homes market is currently fragmented but highly competitive, with the presence of established global and domestic players across the globe vying for a piece of the business in the region. Some major vendors include Siemens, Schneider, Eaton, LG, Sony, Samsung, and Google, among others.
The market is mainly driven by the addition of modern technologies and customizations to attract end-users. Vendors are concentrating primarily on offering innovative products and solutions that can optimize energy consumption and serve a high degree of automation in buildings. Partnerships and collaborations are common in the marketplace, generally to enhance offerings. A few include;
December 2020 - Tuya Smart and Near strengthened their partnership to enhance the capitalization of the Singapore IoT Market. Near has been working with Tuya Smart since late 2018 and is the first official Singaporean smart lighting brand to be Powered by Tuya, Tuya has been involved in all aspects of Near's product creation cycle from PCB design to UI customization making it an integral component.
November 2020 - Daikin Singapore signed an MOU with the L3 Business Group in November 2020 to provide Daikin Smart Solution for all residential project developments. The partnership will allow Daikin Singapore to implement Home Automation Solutions for Local Residential Projects in both Private Condominium and Prominent Public Housing Development such as the Singapore's HDB first Smart and Sustainable town, with green features and smart technologies, Tengah Township. The collaboration also ensues the use of FIbaro solutions in Daikin projects.
Recent Developments
October 2021 - ByteDance released its first consumer hardware product, a smart light lamp with a display, as a part of its education technology portfolio in its expansion into categories beyond social video. The Dali smart lamp is aimed at school-going children who can use the device to study with the facility for parents to monitor the session through a camera.
May 2021 - Signify launched the latest generation of its multi-protocol WiZ smart lighting system in Malaysia. WiZ offers a comprehensive range of affordable smart lights and accessories that are easy to set up with Bluetooth and your existing Wi-Fi network. WiZ has also been awarded the Best Product Design at the 11th Designer of The Year (DOTY) Awards 2020.
December 2020 - VIO launched a subscription-based model in the business of smart home lighting. The subscription model includes pre-and-post after-sales support for customers along with a lifetime guarantee for the lights with pricing starting from SGD 1.50 per month. VIO offers a range of architectural smart lights that feature non-stroboscopic lights with a low Unified Glare Rating (UGR) that reduces eye strain and fatigue.
Table of Contents
1. INTRODUCTION

1.1 Study Assumptions and Market Definition

1.2 Scope of the Study

2. RESEARCH METHODOLOGY

3. EXECUTIVE SUMMARY

4. MARKET INSIGHTS

4.1 Market Overview

4.2 Industry Attractiveness - Porter's Five Forces Analysis

4.2.1 Threat of New Entrants

4.2.2 Bargaining Power of Buyers/Consumers

4.2.3 Bargaining Power of Suppliers

4.2.4 Threat of Substitute Products

4.2.5 Intensity of Competitive Rivalry

4.3 Impact of COVID-19 on the Market

5. MARKET DYNAMICS

5.1 Market Drivers

5.1.1 High Emphasis on Energy Efficiency Among Households

5.1.2 High demand in the Security and Lighting Sector

5.1.3 Emergence of the Concept of Integrated Smart Homes

5.2 Market Restraints

5.2.1 Due to the Nature of The Market, Smart Home-based Products Being Perceived to be Convenience-driven as Opposed to Need Driven

5.2.2 Large Replacement Cycles and Growing Competition Pose a Challenge for Manufacturers

5.3 Comparative Analysis - ASEAN vs Rest of the World

5.4 Key Stakeholder Analysis

6. Malaysia Smart Home Market

6.1 Current Market Scenario

6.2 Key Market Influencers

6.3 Market Segmentation

6.3.1 Product Type

6.3.1.1 Lighting Products

6.3.1.2 Energy Management

6.3.1.3 Security

6.3.1.4 Connectivity

6.3.1.5 Energy Management systems

6.3.1.6 Home Entertainment & Smart Appliances

6.4 Key Base Indicators

6.5 Analysis of the Key Product Vendors and System Integrators Operating in Malaysia

7. Thailand Smart Home Market

7.1 Current Market Scenario

7.2 Key Market Influencers

7.3 Market Segmentation

7.3.1 Product Type

7.3.1.1 Lighting Products

7.3.1.2 Energy Management

7.3.1.3 Security

7.3.1.4 Connectivity

7.3.1.5 Energy Management systems

7.3.1.6 Home Entertainment & Smart Appliances

7.4 Key Base Indicators

7.5 Analysis of the Key Product Vendors and System Integrators Operating in Thailand

8. Singapore Smart Home Market

8.1 Current Market Scenario

8.2 Key Market Influencers

8.3 Market Segmentation

8.3.1 Product Type

8.3.1.1 Lighting Products

8.3.1.2 Energy Management

8.3.1.3 Security

8.3.1.4 Connectivity

8.3.1.5 Energy Management systems

8.3.1.6 Home Entertainment & Smart Appliances

8.4 Key Base Indicators

8.5 Analysis of the Key Product Vendors and System Integrators Operating in Singapore

9. Indonesia Smart Home Market

9.1 Current Market Scenario

9.2 Key Market Influencers

9.3 Market Segmentation

9.3.1 Product Type

9.3.1.1 Lighting Products

9.3.1.2 Energy Management

9.3.1.3 Security

9.3.1.4 Connectivity

9.3.1.5 Energy Management systems

9.3.1.6 Home Entertainment & Smart Appliances

9.4 Key Base Indicators

9.5 Analysis of the Key Product Vendors and System Integrators Operating in Indonesia

10. Vietnam Smart Home Market

10.1 Current Market Scenario

10.2 Key Market Influencers

10.3 Market Segmentation

10.3.1 Product Type

10.3.1.1 Lighting Products

10.3.1.2 Energy Management

10.3.1.3 Security

10.3.1.4 Connectivity

10.3.1.5 Energy Management systems

10.3.1.6 Home Entertainment & Smart Appliances

10.4 Key Base Indicators

10.5 Analysis of the Key Product Vendors and System Integrators Operating in Vietnam

11. KEY VENDOR PROFILES

11.1 IBM Corporation

11.2 Cisco Systems Inc.

11.3 Siemens AG

11.4 Emerson Electric Co.

11.5 Honeywell International Inc.

11.6 Schneider Electric SE

11.7 Google Inc.

11.8 Samsung Electronics Co. Ltd

11.9 LG Electronics Inc.

11.10 Sony Corporation

11.11 Xiaomi Corporation

11.12 Smart home Indonesia

11.13 Karsyte

11.14 Koble

11.15 Fibaro

11.16 Doorbird

12. Market Outlook

12.1 INVESTMENT ANALYSIS

12.2 MARKET OPPORTUNITIES AND FUTURE TRENDS
You can also purchase parts of this report. Do you want to check out a section wise price list?
Frequently Asked Questions
What is the study period of this market?
The ASEAN Smart Homes Market market is studied from 2018 - 2026.
What is the growth rate of ASEAN Smart Homes Market?
The ASEAN Smart Homes Market is growing at a CAGR of 21% over the next 5 years.
Who are the key players in ASEAN Smart Homes Market?
Siemens AG, Honeywell International Inc, Schneider Electric AG, ABB Ltd, Emerson Electric Co. are the major companies operating in ASEAN Smart Homes Market.
80%

of our clients seek made-to-order reports. How do you want us to tailor yours?