The global aroma chemicals market is expected to register moderate growth during the forecast period of 2018 - 2023. Asia-Pacific is expected to experience the highest growth rate due to the projected economic growth in the region, during the forecast period.
Booming Use in the Fragrance Industry
Formulations of fragrance from aroma chemicals are used worldwide, to impart attractive aroma and pleasing scents to perfumes, toiletries, and detergents. The growth of the fragrance industry is primarily driven by the increasing demand for natural fragrances from developing nations and significant technological advancements to meet the changing consumer demands. Additionally, the increasing consumer preference toward signature scents is boosting the demand for personalized fragrances. Further, the rising importance of organic and natural fragrances in aromatherapy is expected to drive the market during the forecast period.
Benzenoids Poised to Record the Fastest Growth
Benzenoids contain benzene as an aromatic ring, with additional functional groups, such as ketones, alcohols, acetates, aldehydes, and esters. It is generally used in hairsprays, perfumes, detergents, laundry bleaches, and personal care products, such as shaving creams, shampoos, body lotions, and other products. They have a sweet and balsamic odor, which makes them suitable for use in floral fragrances, such as carnation, wallflower, lilac, and others. Such applications of benzenoids are expected to boost the demand for aroma chemicals during the forecast period.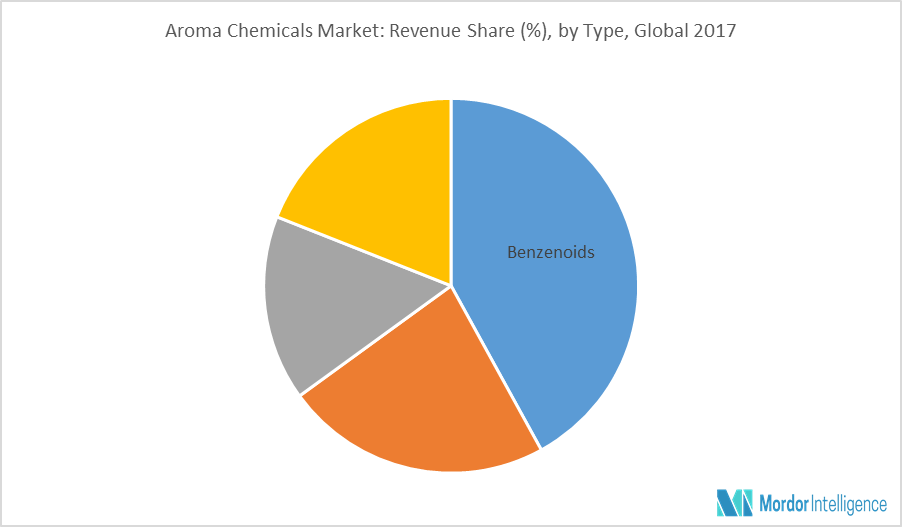 Asia-Pacific to Dominate the Market
Owing to the growing applications in various applications, such as cosmetics, personal care, soaps & detergents etc., Asia-Pacific is expected to experience the fastest growth in the aroma chemicals market in 2017. Additionally, the increasing demand for fragrances from the developing countries in the region, such as China, India, and Japan, among others, has also been boosting the demand in the recent years. China has the largest personal care market in Asia-Pacific. Further, the growing population of the age group between 20 and 30 years is one of the major factors contributing the rising demand for cosmetics in the region, thus augmenting the aroma chemicals market during the forecast period.
Major Players: Kao Corporation, Solvay, Aromatech, and Bell Flavors & Fragrances, among others.
Reason to purchase this Report
Analyzing various perspectives of the market, with the help of Porter's five forces analysis
The application that is expected to dominate the market.
The regions that are expected to witness the fastest growth during the forecast period.
Identify the latest developments, market shares, and strategies employed by the major market players.
3 months analyst support along with the Market Estimate sheet (In excel).
Customization of the Report
This report can be customized to meet your requirements. Please connect with our representative, who will ensure you to get a report that suits your needs.
1. Introduction
1.1 Research Phases
1.2 Scope of the Report
1.3 Study Deliverables
2. Executive Summary
3. Market Insights
3.1 Industry Value Chain Analysis
3.2 Industry Attractiveness - Porter's Five Forces Analysis
3.2.1 Bargaining Power of Suppliers
3.2.2 Bargaining Power of Consumers
3.2.3 Threat of New Entrants
3.2.4 Threat of Substitute Products and Services
3.2.5 Degree of Competition
4. Market Dynamics
4.1 Drivers
4.1.1 Blooming Use in the Fragrance Industry
4.1.2 Growing demand from Asia-Pacific and South America
4.2 Constraints
4.2.1 High Research and Development Costs
4.2.2 Other Constraints
4.3 Opportunities
4.3.1 Advancements in Technology
4.3.2 Other Opportunities
5. Market Segmentation and Analysis (Market Size, Growth, and Forecast)
5.1 By Type
5.1.1 Terpenes
5.1.2 Benzenoids
5.1.3 Musk Chemicals
5.1.4 Others
5.2 By Application
5.2.1 Soap & Detergents
5.2.2 Cosmetics & Toiletries
5.2.3 Fine Fragrances
5.2.4 Household Products
5.2.5 Food & Beverage
6. Regional Market Analysis (Market Size, Growth and Forecast)
6.1 Asia-Pacific
6.1.1 China
6.1.2 India
6.1.3 Japan
6.1.4 South Korea
6.1.5 Australia & New Zealand
6.1.6 Rest of Asia-Pacific
6.2 Europe
6.2.1 Germany
6.2.2 France
6.2.3 Italy
6.2.4 United Kingdom
6.2.5 Rest of Europe
6.3 North America
6.3.1 United States
6.3.2 Mexico
6.3.3 Canada
6.3.4 Rest of North America
6.4 South America
6.4.1 Brazil
6.4.2 Argentina
6.4.3 Rest of South America
6.5 Middle East & Africa
6.5.1 Saudi Arabia
6.5.2 South Africa
6.5.3 Rest of Middle East & Africa
7. Future of the Market
8. Competitive Landscape
8.1 Mergers & Acquisitions, Joint Ventures, Collaborations, and Agreements
8.2 Market Share Analysis**
8.3 Strategies Adopted by Leading Players
9. Company Profiles (Overview, Financials**, Products & Services, Recent Developments)
9.1 Aromatech
9.2 Bedoukian Research
9.3 Bell Flavors & Fragrances
9.4 Fairchem Speciality Ltd
9.5 Firmenich
9.6 Givaudan
9.7 Hindustan Mint & Agro Products Pvt Ltd
9.8 Kao Corporation
9.9 PFW Aroma Chemicals (Kelkar Group)
9.10 Robertet SA
9.11 Sensient Technologies
9.12 Solvay
9.13 Symrise Inc.
9.14 T Hasegawa
9.15 Takasago International
9.16 Treatt
9.17 Ungerer
9.18 Wanxiang International
9.19 Wild Flavors
9.20 Zhejiang Newfine Industry Co. Ltd
*List not exhaustive
10. Disclaimer
** Subject to availability on the public domain