The global ambulatory healthcare service market has been estimated at USD 2,581.7 billion in 2017. The market is expected to register a CAGR of 6% during the forecast period (2018 – 2023). North America was the largest regional market, with revenue share estimated at over 40%, owing to increasing population with chronic diseases and favorable reimbursement for ambulatory services in the United States. On the other hand, Asia-Pacific is estimated to register the fastest CAGR throughout the forecast period.
Global ambulatory healthcare service market is expected to witness great profit in the coming years, because of increasing demand for home healthcare service by patients, as it is more convenient and less stressful, with the outpatient care being provided efficiently and economically. Ambulatory care includes diagnosis, observation, consultation, treatment, intervention, and rehabilitation services with advanced medical technologies, due to which the need for in-patient care is reduced. Ambulatory care service is one of the major contributors to hospital revenue and to the performance of the healthcare system. In addition, telephone consultations, rehabilitation visits, and emergency visits to the patients, along with the normal visits, are expected to attract more patients toward these services, which greatly contributes financially.
Rising Geriatric Population
The key factor that drives the market is growing incidences of various chronic diseases. According to the WHO, chronic diseases were responsible for 38 million (68%) of the world's 56 million deaths in 2012. Along with the advances in technology and rising geriatric population, this factor is boosting the market. As per the data from World Population Prospects, between 2015 and 2030, the number of people of 60 years of age and above is estimated to grow by 56%, from 901 million to 1.4 billion, globally. The high demand for minimally invasive surgeries also contributes to the growth of ambulatory service market, as patients recover faster in shorter duration of time, with less charges in comparison to in-patient centers. Thereby, the cost-efficiency of well-equipped ambulatory service centers is a key driver for its market growth. And other factors, such as new reimbursement rules set by governments, rising chronic diseases, and technology advancements are also driving the market.
Frequent Missed/Delayed Diagnosis
The constraints for this service include missed/delayed diagnosis and the incidence of adverse drug events (ADE). The adverse drug events are increasing every year. According to the United States Department of Health and Human Services, these ADEs result in more than 770,000 injuries and deaths each year and may cost up to USD 5.6 million per hospital. Along with other factors, adverse drug events and ineffective communication are the major restraints for the growth of the market studied.
North America to Dominate the Market
North America was the largest regional market, with a revenue share estimated at over 40%, which is owing to the increasing population with chronic diseases and favorable reimbursement for ambulatory services in the United States. On the other hand, Asia-Pacific is estimated to register the fastest CAGR throughout the forecast period.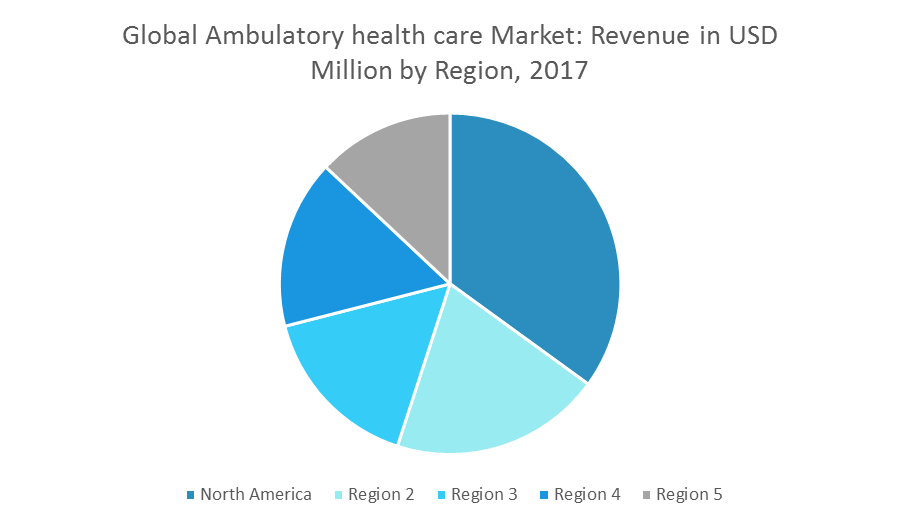 Key Developments in the Market
December 2017: Surgery Center of Long Beach (SCLB) was the first in the United States to receive AAAHC's new orthopedic certification.
December 2017: UnitedHealth Group's Optum announced that it was buying DaVita Medical Group.
Major Key Players: Amsurg, Apria Healthcare, Davita Healthcare, LVL Medical Group, Fresenius Kabi, Sonic Healthcare, Hospital Corporation of America (HCA) Holding, Intergramed America Inc., and Symbion Inc., among others.
Reasons to Purchase this Report
To know more about:
Current and future market outlook for ambulatory healthcare service in developed and emerging markets
Analyzing various perspectives of the market with the help of Porter's five forces analysis
The segment that is expected to dominate the market
Regions that are expected to witness the fastest growth during the forecast period
Identify the latest developments, market shares, and strategies employed by the major market players
Three-month analyst support, along with the Market Estimate sheet in Excel
Customization of the Report
This report can be customized to meet your requirements. Please connect with our analyst, who will ensure you get a report that suits your needs.
1. Introduction
1.1 Market Definition
2. Research Methodology
3. Executive Summary
4. Key Inferences
5. Market Overview
5.1 Current Market Scenario
5.2 Porter's Five Forces
5.2.1 Bargaining Power of Suppliers
5.2.2 Bargaining Power of Consumers
5.2.3 Threats of New Entrants
5.2.4 Threat of Substitute Product and Services
5.2.5 Competitive Rivalry within the industry
6. Drivers, Restraints, Opportunities, and Challenges Analysis (DROC)
6.1 Drivers
6.1.1 Incidence of Chronic Diseases
6.1.2 Advances in Technology
6.1.3 Demand for Minimally invasive Surgeries
6.1.4 Rising Geriatric Population
6.1.5 Reimbursement Rules
6.2 Restraints
6.2.1 Missed/Delayed Diagnosis
6.2.2 Incidence of Adverse Drug Events
6.2.3 Ineffective Communication
6.3 Opportunities
6.4 Key Challenges
7. Market Segmentation
7.1 By Surgery Type
7.1.1 Ophthalmology
7.1.2 Orthopedics
7.1.3 Gastroenterology
7.1.4 Pain Management
7.1.5 Other End-use Sectors
7.2 By Application
7.2.1 Laceration Treatment
7.2.2 Bone Fracture Treatment
7.2.3 Emergency Care Service
7.2.4 Trauma or Accident Treatment
7.3 By Product Type
7.3.1 Outpatient Department
7.3.2 Primary Care Office
7.3.3 Surgical Specialty Office
7.3.4 Emergency Department
7.3.5 Medical Specialty Office
7.4 By Geography
7.4.1 North America
7.4.1.1 United States
7.4.1.2 Canada
7.4.1.3 Mexico
7.4.2 Europe
7.4.2.1 France
7.4.2.2 United Kingdom
7.4.2.3 Germany
7.4.2.4 Italy
7.4.2.5 Spain
7.4.2.6 Rest of Europe
7.4.3 Asia-Pacific
7.4.3.1 India
7.4.3.2 China
7.4.3.3 Japan
7.4.3.4 Australia
7.4.3.5 South Korea
7.4.3.6 Rest of APAC
7.4.4 Middle East & Africa
7.4.4.1 GCC
7.4.4.2 South Africa
7.4.4.3 Rest of Middle East & Africa
7.4.5 South America
7.4.5.1 Brazil
7.4.5.2 Argentina
7.4.5.3 Rest of South America
8. Competitive Landscape
8.1 Mergers and Acquisitions
8.2 Agreements, Collaborations, and Partnerships
8.3 New Product Launches
9. Key Players
9.1 Amsurg
9.2 Apria Healthcare
9.3 Davita Healthcare
9.4 LVL Medical Group
9.5 Fresenius Kabi
9.6 Sonic Healthcare
9.7 Hospital Corporation of America (HCA) Holding
9.8 Intergramed America Inc.
9.9 Symbion Inc.
9.10 Others
10. Future of the Market