Instantánea del mercado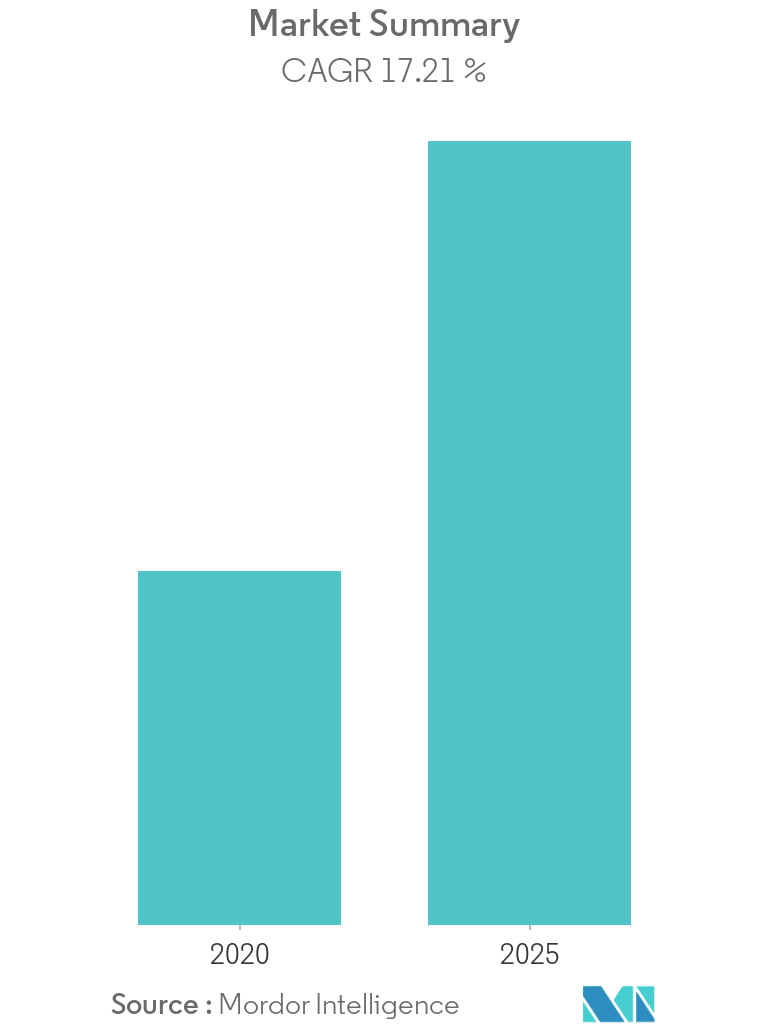 Study Period:
2018 - 2026
Base Year:
2021
Fastest Growing Market:
Asia Pacific
Largest Market:
North America
CAGR:
17.21 %
Need a report that reflects how COVID-19 has impacted this market and its growth?
Visión general del mercado
El mercado de dispositivos semiconductores de GaN se valoró en USD 977,21 millones en 2019 y se espera que alcance los USD 2534,61 millones para 2025, registrando una CAGR del 17,21 % durante el período de pronóstico de 2020-2025. La creciente demanda de radiofrecuencia en el mercado de semiconductores y una próspera industria de electrónica de consumo, particularmente en iluminación y pantallas basadas en LED y el aumento de vehículos eléctricos, suministro de energía e inversores fotovoltaicos son algunos de los principales factores impulsores del mercado para los dispositivos semiconductores de GaN. mercado.
Los diversos beneficios de GaN, como su naturaleza rentable y la eliminación de los requisitos de enfriamiento, han impulsado su alcance en comparación con sus contemporáneos, como el silicio y el arseniuro de galio. La creciente adopción también se ve reforzada por el aumento de la demanda de dispositivos semiconductores energéticamente eficientes en los últimos años.
Se espera que la creciente demanda de teléfonos inteligentes, dispositivos de juegos, computadoras portátiles y televisores impulse el mercado de dispositivos semiconductores de GaN en el sector de la electrónica de consumo.
Con la introducción del estándar 5G, hay un aumento en la demanda de transistores de alta potencia y estaciones base, lo que aumenta la demanda de semiconductores de potencia de GaN en el segmento de las TIC.
Alcance del Informe
GaN es una tecnología emergente que promete reemplazar los MOSFET de silicio. Los diversos dispositivos considerados en el mercado estudiado son transistores, diodos, rectificadores y diodos. Las diversas industrias de usuarios finales cubiertas en el informe son la automotriz, la electrónica de consumo, la aeroespacial y de defensa, la médica y la tecnología de la información y la comunicación.
Type
Power Semiconductor
Opto-Semiconductor
RF Semiconductor
Devices
Transistors
Diodes
Rectifier
Power ICs
End-user Industry
Automotive
Consumer Electronics
Aerospace & Defense
Medical
Information Communication & Technology
Other End-user Industries
Geography

North America
United States
Canada

Europe
United Kingdom
Germany
France
Rest of Europe

Asia-Pacific
China
Japan
South Korea
Rest of Asia-Pacific

Rest of the World
Latin America
Middle-East & Africa
Tendencias clave del mercado
Se espera que el segmento de electrónica de consumo tenga la mayor cuota de mercado
Con la disminución del precio de las tecnologías de semiconductores de GaN debido a las crecientes innovaciones, se espera que la tasa de adopción de GaN aumente a lo largo de los años.
La tasa de consumo de datos, la cantidad de aplicaciones instaladas en un dispositivo, los procesadores más rápidos, la RAM/ROM mejorada y las pantallas robustas consumen más batería de lo que usarían las especificaciones anteriores. Con tales avances tecnológicos, la capacidad de las baterías debe aumentar. Los semiconductores GaN están revolucionando las tecnologías de carga en los dispositivos electrónicos existentes. Los semiconductores se están empleando en carga inalámbrica, carga rápida, etc.
Las aplicaciones más amplias del dispositivo semiconductor de GaN también abarcan otras partes de la computadora, por ejemplo, fuente de alimentación de modo de conmutación, un convertidor de energía eficiente.
Con la comunicación inalámbrica 5G en camino, el uso de dispositivos electrónicos se multiplicaría, aumentando así la demanda de semiconductores de GaN.
To understand key trends, Download Sample Report
Se espera que la región de Asia y el Pacífico experimente la tasa de crecimiento más rápida
El aumento de la producción y exportación de productos electrónicos de consumo y automóviles de China, Japón e India están impulsando el mercado de GaN en Asia-Pacífico.
Los bajos costos de mano de obra y producción en la región son factores esenciales que impulsan el crecimiento del mercado.
China tiene 330.000 puntos de recarga públicos, frente a los 67.500 de Estados Unidos, según el estudio del MIT. La ciudad de Shenzhen tiene una flota 100 % eléctrica de 16 000 autobuses y está cambiando sus 22 000 taxis a vehículos eléctricos. La isla turística de Hainan planea adoptar el 100 % de los vehículos eléctricos para 2030.
El 7 de marzo de 2019, el gobierno indio anunció oficialmente un subsidio del 15 % a la importación de litio. Esto indica la facilidad de producción de vehículos eléctricos en el país. Las negociaciones de políticas entre la Oficina del Primer Ministro y el Departamento de Industria Pesada (DHI), el esquema de Adopción y Fabricación Más Rápida de Vehículos (Híbridos y) Eléctricos, se aprobaron para hacer que India se encamine por el camino de la movilidad eléctrica.
Varios gobiernos estatales en India están presionando para la adopción masiva de autobuses eléctricos. Por ejemplo, Mahindra y Tata están firmando licitaciones con organismos gubernamentales como Energy Efficiency Services Limited para proporcionar vehículos eléctricos para uso gubernamental.
To understand geography trends, Download Sample Report
Panorama competitivo
Esta industria está dominada por los gigantes de la industria de los semiconductores. La rivalidad competitiva es alta con la presencia de empresas como Panasonic Corporation, NXP Semiconductors NV y Toshiba Corporation, entre otras.
En 2019, Panasonic utilizó su tecnología patentada X-GaN para producir transistores basados ​​en GaN en una serie de aplicaciones, incluidos convertidores de potencia con una eficiencia de hasta el 99 % y reemplazos de transistores en configuraciones de motor.
En el segmento de productos electrónicos de consumo, RAVPower presentó una nueva línea de cargadores de pared PD GaN de 45 W en 2018 para una carga más rápida.
En IMS 2018, NXP Semiconductors NV presentó nuevos transistores de potencia de banda ancha RF GaN y también amplió su cartera Airfast de tercera generación Si-LDMOS de soluciones macro y de células pequeñas para exteriores para 5G.
Table of Contents
1. INTRODUCTION

1.1 Study Deliverables

1.2 Study Assumptions

1.3 Scope of the Study

2. RESEARCH METHODOLOGY

3. EXECUTIVE SUMMARY

4. MARKET DYNAMICS

4.1 Market Overview

4.2 Introduction to Market Drivers and Restraints

4.3 Market Drivers

4.3.1 Growth of New Industries (Virtual Reality, Wireless Charging etc.)

4.3.2 Increasing Push towards Renewable Energy Forms

4.4 Market Restraints

4.4.1 Competition from Silicon Carbide Technology

4.5 Industry Attractiveness - Porter's Five Force Analysis

4.5.1 Threat of New Entrants

4.5.2 Bargaining Power of Buyers/Consumers

4.5.3 Bargaining Power of Suppliers

4.5.4 Threat of Substitute Products

4.5.5 Intensity of Competitive Rivalry

5. MARKET SEGMENTATION

5.1 Type

5.1.1 Power Semiconductor

5.1.2 Opto-Semiconductor

5.1.3 RF Semiconductor

5.2 Devices

5.2.1 Transistors

5.2.2 Diodes

5.2.3 Rectifier

5.2.4 Power ICs

5.3 End-user Industry

5.3.1 Automotive

5.3.2 Consumer Electronics

5.3.3 Aerospace & Defense

5.3.4 Medical

5.3.5 Information Communication & Technology

5.3.6 Other End-user Industries

5.4 Geography

5.4.1 North America

5.4.1.1 United States

5.4.1.2 Canada

5.4.2 Europe

5.4.2.1 United Kingdom

5.4.2.2 Germany

5.4.2.3 France

5.4.2.4 Rest of Europe

5.4.3 Asia-Pacific

5.4.3.1 China

5.4.3.2 Japan

5.4.3.3 South Korea

5.4.3.4 Rest of Asia-Pacific

5.4.4 Rest of the World

5.4.4.1 Latin America

5.4.4.2 Middle-East & Africa

6. COMPETITIVE LANDSCAPE

6.1 Company Profiles

6.1.1 Toshiba Corporation

6.1.2 Panasonic Corporation

6.1.3 Cree Inc.

6.1.4 GaN Systems Inc.

6.1.5 Infineon Technologies AG

6.1.6 OSRAM GmbH

6.1.7 Efficient Power Conversion Corporation

6.1.8 NXP Semiconductors NV

6.1.9 Texas Instruments

6.1.10 NTT Advanced Technology Corporation

*List Not Exhaustive

7. MARKET OPPORTUNITIES AND FUTURE TRENDS
**Subject to Availability
You can also purchase parts of this report. Do you want to check out a section wise price list?
Frequently Asked Questions
¿Cuál es el período de estudio de este mercado?
El mercado de GaN Semiconductor Devices Market se estudia desde 2018 hasta 2026.
¿Cuál es la tasa de crecimiento del mercado Dispositivos de semiconductores de GaN?
El mercado de dispositivos semiconductores de GaN está creciendo a una CAGR del 17,21 % en los próximos 5 años.
– ¿Qué región tiene la tasa de crecimiento más alta en el mercado Dispositivos semiconductores de GaN?
Asia Pacífico está creciendo a la CAGR más alta durante 2021-2026.
¿Qué región tiene la mayor participación en el mercado Dispositivos semiconductores de GaN?
América del Norte tiene la participación más alta en 2021.
¿Quiénes son los principales fabricantes en el mercado de Dispositivos semiconductores de GaN?
Panasonic Corporation, Toshiba Corporation, Texas Instruments, NXP Semiconductors NV, Infineon Technologies AG son las principales empresas que operan en el mercado de dispositivos de semiconductores GaN.
80%

of our clients seek made-to-order reports. How do you want us to tailor yours?