Aquaponics Market Market Snapshot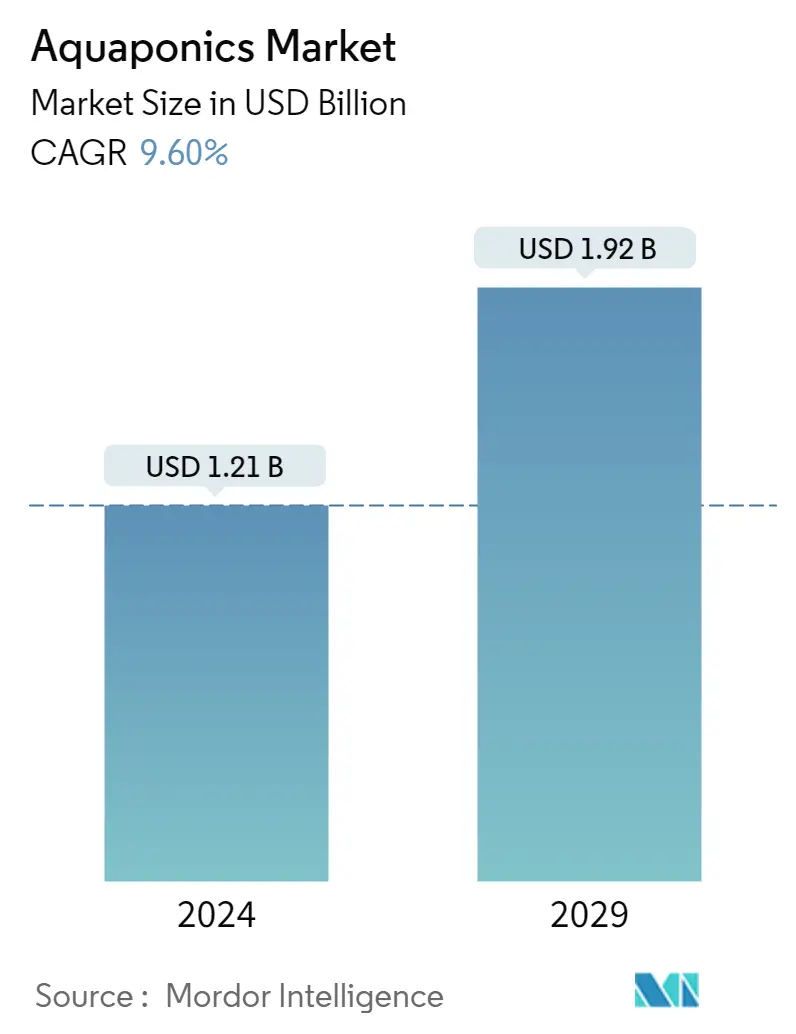 Need a report that reflects how COVID-19 has impacted this market and its growth?
Visión general del mercado
Se estima que el mercado mundial de acuaponía registrará una tasa compuesta anual de 9,6 % durante el período de pronóstico (2022-2027). La pandemia de COVID-19 tuvo un gran impacto en la cadena de suministro del mercado de acuaponia. La interrupción de la cadena de suministro en medio de COVID-19 llevó a los agricultores a criar muchos peces vivos y otras especies acuáticas, lo que tuvo un impacto negativo en el costo, el gasto y el riesgo asumido por los agricultores.
En 2021, América del Norte ocupó la mayor parte del mercado de acuaponia. Estados Unidos contribuyó con la mayor parte de la región, seguido de Canadá. Actualmente, la acuaponia es una industria pequeña pero de rápido crecimiento en la región, con varias asociaciones entre instituciones educativas y de investigación y empresas privadas, que desempeña un papel fundamental en el establecimiento y la concienciación sobre las granjas acuapónicas en los últimos años. Sin embargo, la producción a gran escala de cultivos acuapónicos aún está por tomar forma en la región, aunque las granjas, como Superior Fresh y Ouroboros Farms, están a la vanguardia de la producción comercial de acuaponia.
Alcance del Informe
La acuaponia se refiere a la combinación de la piscicultura convencional con el cultivo de plantas hidropónicamente. El mercado de acuaponia está segmentado por sistema de cultivo (lechos llenos de medios, técnica de película de nutrientes y cultivo en balsa o en aguas profundas), tipo de instalación (invernaderos de polietileno o vidrio, granjas verticales interiores y otros tipos de instalaciones), tipo de pez (tilapia, pez gato , carpa, trucha, peces ornamentales y otros tipos de peces), tipo de cultivo (frutas y verduras y hierbas y microvegetales) y geografía (América del Norte, Europa, Asia-Pacífico, América del Sur y África). El tamaño del mercado en el informe se proporciona en millones de dólares.
Growing System

Media Filled Beds
Constant Flow
Ebb and Flow (Flood and Drain)

Nutrient Film Technique (NFT)
Raft or Deep Water Culture (DWC)
Facility Type
Poly or Glass Greenhouses
Indoor Vertical Farms
Other Facility Types
Fish Type
Tilapia
Catfish
Carp
Trout
Ornamental Fish
Other Fish Types
Geography

North America
United States
Canada
Mexico
Rest of North America

Europe
United Kingdom
France
Germany
Italy
Rest of Europe

Asia-Pacific
China
India
Malaysia
Indonesia
Australia
Rest of Asia-Pacific

South America
Brazil
Argentina
Rest of South America

Africa
South Africa
Rest of Africa
Tendencias clave del mercado
Demanda sustancial de productos orgánicos que impulsa el mercado
Dado que la acuaponía está libre de fertilizantes químicos y productos químicos para la protección de cultivos, y los desechos de pescado sirven como nutrientes principales para las plantas, la demanda de cultivos orgánicos tiene un gran potencial y un espacio sin explotar para las granjas acuapónicas emergentes y los proveedores de sistemas acuapónicos. Las ventas de frutas y verduras orgánicas aumentaron un 5,6%, a USD 17.400 millones, en 2018 desde los USD 16.420 millones del año anterior, según informó la Asociación de Comercio Orgánico, lo que llevó a Estados Unidos a convertirse en uno de los principales mercados de frutas cultivadas orgánicamente. y vegetales. Además, Europa tiene una de las áreas de cultivo orgánico más grandes del mundo, y España representa la mayor parte con 2.246.475,0 hectáreas de área de cultivo orgánico. Como resultado del alcance subyacente de la acuaponia en la industria de productos orgánicos, La acción COST FA1305, financiada con fondos europeos, "El centro de acuaponia de la Unión Europea: realización de una producción sostenible integrada de pescado y verduras para la UE" fortaleció la red entre investigadores y actores privados. Por lo tanto, se espera que la demanda de productos cultivados orgánicamente impulse la industria acuapónica mundial durante el período de pronóstico.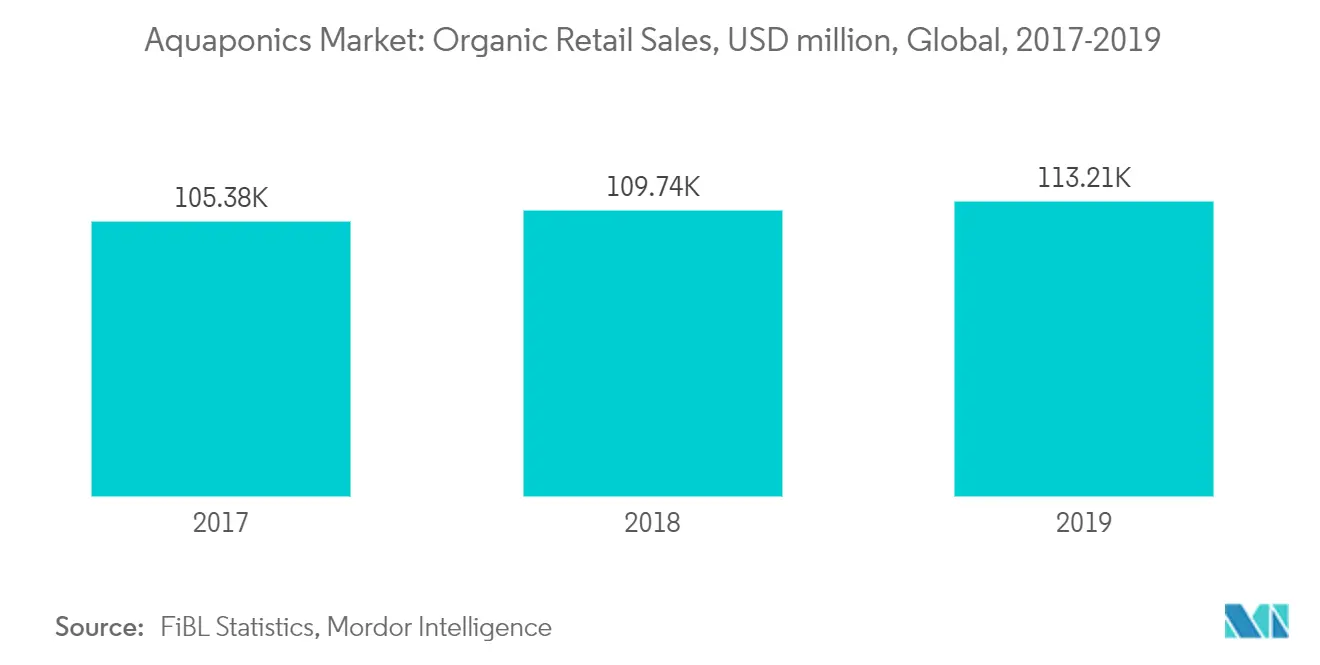 To understand key trends, Download Sample Report
Norteamérica domina el mercado
Aunque todavía es una pequeña industria en América del Norte, se espera que la acuaponia experimente un crecimiento exponencial en los próximos años. En 2014, la Universidad de Wisconsin - Stevens Point y Nelson and Pade Aquaponics ingresaron en una asociación público-privada (PPP) para establecer un Centro de innovación de acuaponia como parte de la subvención de incentivos para el desarrollo económico del sistema UW. Tales iniciativas han jugado un papel fundamental en la creación de conciencia sobre las alternativas agrícolas sostenibles, como la acuaponia, en la región. Además, se espera que la acuaponía ayude a reconstruir la industria de la acuicultura en los Estados Unidos en el futuro. En Wisconsin, la cantidad de granjas acuícolas aumentó recientemente de 2300 a 2800, y 300 de las 500 nuevas granjas son granjas acuapónicas, como se reveló en la Conferencia Aquaculture America en 2018. Actualmente, Estados Unidos importa más del 80,0% de los productos del mar que consume anualmente. Las crecientes granjas de acuaponía en el país ayudarán al país a reducir su importación de productos del mar con el tiempo.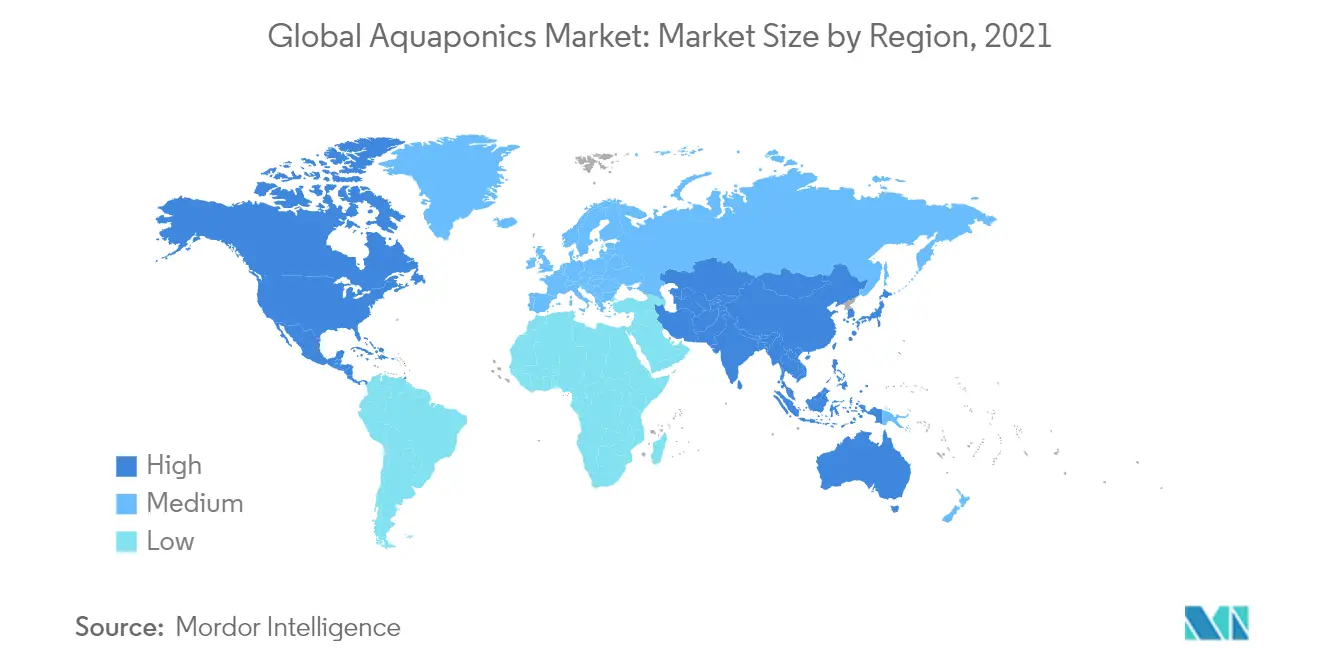 To understand geography trends, Download Sample Report
Panorama competitivo
El mercado mundial de acuaponia está muy fragmentado, principalmente debido a la naturaleza evolutiva del mercado. Algunas de las granjas acuapónicas más activas son Superior Fresh, Ouroboros Farms, Garden City Aquaponics Inc., BIGH, Deep Water Farms y Madhavi Farms, mientras que algunos de los principales proveedores de insumos acuapónicos son Pentair Aquatic Eco-System Inc. (PAES), Nelson & Pade Aquaponics, Practical Aquaponics, Aquaponics USA y The Aquaponic Source. Dado que el mercado aún se está expandiendo, se identificaron jugadores emergentes con estrategias de lanzamiento de productos y expansión de la capacidad para asegurar una participación sustancial en el mercado estudiado.
Principales actores
Nelson & Pade Aquaponics

Pentair Aquatic Eco-System, Inc. (PAES)

The Aquaponic Source

Hydrofarm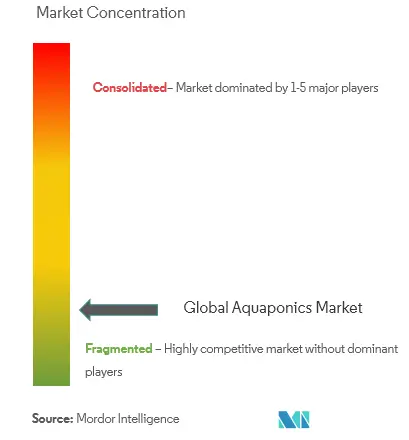 Recent Developments
In April 2021, France-based indoor farming company Les Nouvelles Fermes raised EUR 2 million (approximately USD 2.4 million) in its first round of funding by the investors from IRDI, the Banque des Territoires, Crédit Agricole Aquitaine and the CIC. The company has plans to build the largest aquaponic farm in Europe, with this funding.
In 2019, Superior Fresh, the leading aquaponic produce supplier in the Midwest US, expanded its greenhouse footprint from 6 acres to 13 acres and its aquaculture center from 40,000 square feet to 100,000 square feet.
In 2019, Aerofarms partnered with Dell Technologies to expand its technological requirements of machine learning and network systems. Through its partnership, AeroFarms is well-positioned to implement the right data-driven machinery by using data related to temperature, humidity, airflow, nutrients, light, water, and food safety.
Table of Contents
1. INTRODUCTION

1.1 Study Assumptions and Market Definition

1.2 Scope of the Study

2. RESEARCH METHODOLOGY

3. EXECUTIVE SUMMARY

4. MARKET DYNAMICS

4.1 Market Overview

4.2 Market Drivers

4.3 Market Restraints

4.4 Porter's Five Forces Analysis

4.4.1 Bargaining Power of Suppliers

4.4.2 Bargaining Power of Buyers

4.4.3 Threat of New Entrants

4.4.4 Threat of Substitutes

4.4.5 Intensity of Competitive Rivalry

5. MARKET SEGMENTATION

5.1 Growing System

5.1.1 Media Filled Beds

5.1.1.1 Constant Flow

5.1.1.2 Ebb and Flow (Flood and Drain)

5.1.2 Nutrient Film Technique (NFT)

5.1.3 Raft or Deep Water Culture (DWC)

5.2 Facility Type

5.2.1 Poly or Glass Greenhouses

5.2.2 Indoor Vertical Farms

5.2.3 Other Facility Types

5.3 Fish Type

5.3.1 Tilapia

5.3.2 Catfish

5.3.3 Carp

5.3.4 Trout

5.3.5 Ornamental Fish

5.3.6 Other Fish Types

5.4 Geography

5.4.1 North America

5.4.1.1 United States

5.4.1.2 Canada

5.4.1.3 Mexico

5.4.1.4 Rest of North America

5.4.2 Europe

5.4.2.1 United Kingdom

5.4.2.2 France

5.4.2.3 Germany

5.4.2.4 Italy

5.4.2.5 Rest of Europe

5.4.3 Asia-Pacific

5.4.3.1 China

5.4.3.2 India

5.4.3.3 Malaysia

5.4.3.4 Indonesia

5.4.3.5 Australia

5.4.3.6 Rest of Asia-Pacific

5.4.4 South America

5.4.4.1 Brazil

5.4.4.2 Argentina

5.4.4.3 Rest of South America

5.4.5 Africa

5.4.5.1 South Africa

5.4.5.2 Rest of Africa

6. COMPETITIVE LANDSCAPE

6.1 Most Adopted Strategies

6.1.1 Aquaponics Input Providers

6.1.2 Aquaponic Farms

6.2 Market Share Analysis

6.2.1 Aquaponics Input Providers

6.2.2 Aquaponic Farms

6.3 Company Profiles - Aquaponics Input Providers

6.3.1 Pentair Aquatic Eco-System Inc. (PAES)

6.3.2 Nelson & Pade Aquaponics

6.3.3 Practical Aquaponics

6.3.4 Aquaponics USA

6.3.5 The Aquaponic Source

6.4 Company Profile - Aquaponic Farms

6.4.1 Superior Fresh

6.4.2 Ouroboros Farms

6.4.3 Garden City Aquaponics Inc.

6.4.4 BIGH

6.4.5 Deep Water Farms

6.4.6 Madhavi Farms

6.4.7 ECF Farm Berlin

7. MARKET OPPORTUNITITES AND FUTURE TRENDS

8. AN ASSESSMENT OF COVID-19 IMPACT ON THE MARKET
Frequently Asked Questions
¿Cuál es el período de estudio de este mercado?
El mercado de Acuaponia Market se estudia desde 2017 hasta 2027.
¿Cuál es la tasa de crecimiento del mercado Acuaponia?
El mercado de acuaponia está creciendo a una CAGR del 9,6 % en los próximos 5 años.
¿Que region tiene la tasa de crecimiento mas alta en el mercado acuaponia?
América del Norte está creciendo a la CAGR más alta durante 2021-2026.
¿Qué región tiene la mayor participación en el mercado acuaponia?
América del Norte tiene la participación más alta en 2021.
¿Quiénes son los jugadores clave que operan en el mercado Acuaponia?
Nelson & Pade Aquaponics, Pentair Aquatic Eco-System, Inc. (PAES), The Aquaponic Source, Hydrofarm son las principales empresas que operan en el mercado de acuaponia.
80%

of our clients seek made-to-order reports. How do you want us to tailor yours?