Markt-Snapshot
Study Period:
2016 - 2026
Fastest Growing Market:
Asia Pacific
Largest Market:
Asia Pacific
CAGR%(2019-2024):
3.7%

Major Players

*Disclaimer: Major Players sorted in no particular order
Need a report that reflects how COVID-19 has impacted this market and it's growth?
Marktübersicht
Kaliumcitrat-Markt und wird voraussichtlich bis 2024 817,51 Millionen USD erreichen, was einer jährlichen Wachstumsrate von 3,70 % entspricht. Kaliumcitrat hat ein breites Anwendungsspektrum in einer Reihe von Branchen, wie z. B. Lebensmittel und Getränke, Pharmazeutika, Kosmetika sowie Körperpflegeprodukte. In der Lebensmittel- und Getränkeindustrie findet es Anwendung als Säureregulator, Festigungsmittel und Konservierungsmittel. Kaliumcitrat hat seine Hauptanwendungen in der Lebensmittelindustrie. Die Lebensmittelindustrie hält den Hauptanteil von mehr als 60 % des gesamten Kaliumcitratverbrauchs. Die Nachfrage nach natriumarmen Produkten und die zunehmenden industriellen Anwendungen von Kaliumcitrat haben den Markt angekurbelt. Der asiatisch-pazifische Raum ist weltweit der größte Markt für Kaliumcitrat.
Umfang des Berichts
Der globale Kaliumcitratmarkt ist nach Qualität in Industrie, Lebensmittel und Pharmazie unterteilt. Nach Anwendung ist der Markt in Lebensmittel und Getränke, Industrie, Pharmazeutika und Kosmetik unterteilt. Die geografische Analyse des Marktes ist ebenfalls im Markt enthalten.
By Grade Type
Industrial
Food
Pharmaceuticals
By Application
Food and Beverage
Industrial
Pharmaceuticals
Cosmetics
Geography

North America
United States
Canada
Mexico
Rest of North America

Europe
United Kingdom
France
Germany
Italy
Russia
Spain
Rest of Europe

Asia Pacific
China
Japan
Australia
India
Rest of Asia Pacific

South America
Brazil
Colombia
Rest of South America

Middle East & Africa
Saudi Arabia
South Africa
Rest of Middle East & Africa
Wichtige Markttrends
Wachsende Popularität von Lebensmitteln mit niedrigem Natriumcitratgehalt
Kaliumcitrat wird meistens als wirksamer Ersatz für Natriumcitrat verwendet. Kaliumcitrat wird in Lebensmitteln verwendet, in denen der Natriumgehalt geringer sein sollte. Übermäßiger Natriumkonsum birgt ein höheres Risiko für Herzinfarkte. Die empfohlene Verzehrsgrenze für Natrium beträgt 1.500 Milligramm pro Tag, aber der durchschnittliche Natriumverbrauch in den Vereinigten Staaten beträgt etwa 3.400 Milligramm pro Tag, was fast das Doppelte ist. Die Einbeziehung von Kalium in Ihre Ernährung ist eine Lösung, um die durch Natrium verursachten Gesundheitsprobleme zu vermeiden. Verbraucher auf der ganzen Welt stellen auf eine gesündere Ernährung um und bevorzugen daher gesündere Produkte, was die Hersteller dazu veranlasst, gesündere Zusatzstoffe wie Kaliumcitrat in Lebensmitteln zu verwenden. Kaliumcitratsalz kann auch anstelle von Natriumbicarbonat und Kaliumchlorid in oralen Rehydrierungslösungen verwendet werden.

To understand key trends, Download Sample Report
Asien-Pazifik ist der am schnellsten wachsende Markt
Auf den asiatisch-pazifischen Raum entfällt der größte Anteil des globalen Kaliumcitratmarktes. China ist der größte Produzent und Exporteur von Kaliumcitrat in der Region. Die Vereinigten Staaten machen den größten Exportanteil von Kaliumcitrat aus China aus. Der Export aus dieser Region ist im Vergleich zu anderen Regionen sehr hoch. Dies ist hauptsächlich auf den niedrigen Preis zurückzuführen, den die Hersteller für einen Wettbewerbsvorteil anbieten, der auf die niedrigeren Produktionskosten von Kaliumcitrat in der Region zurückzuführen ist. Der Lebensmittel- und Getränkesektor hatte den größten Anteil am Kaliumcitratmarkt im asiatisch-pazifischen Raum, aufgrund der umfangreichen Liste von Eigenschaften der Verbindung, wie z. B. die Fähigkeit, als Konservierungsmittel, Emulgator usw. zu wirken. Das Fehlen strenger Vorschriften für Lebensmittelzusatzstoffe sind ein wichtiger Faktor für die Verwendung von Kaliumcitrat in der Region.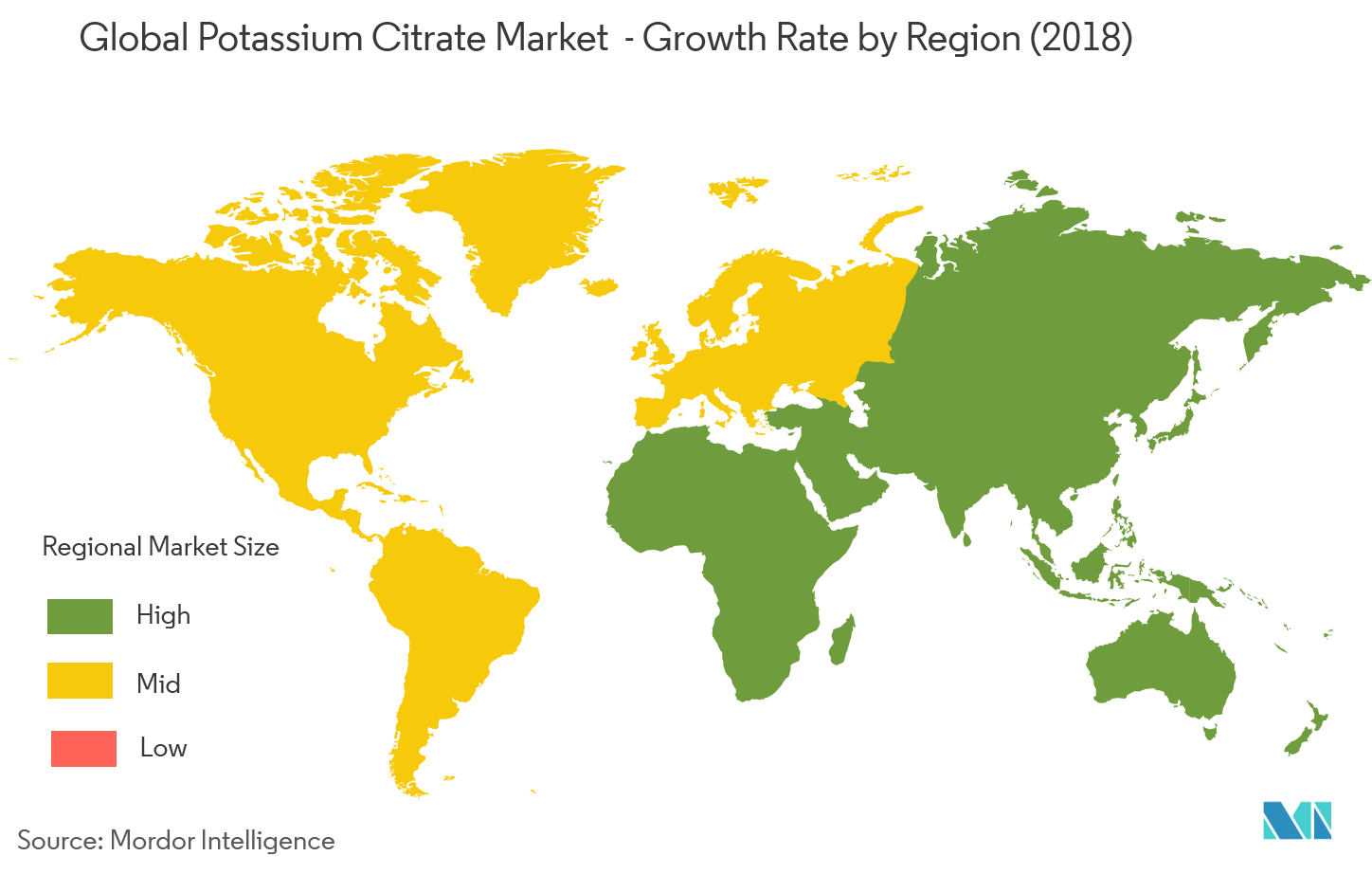 To understand geography trends, Download Sample Report
Wettbewerbslandschaft
Der globale Markt für Kaliumcitrat ist durch die Präsenz vieler Akteure fragmentiert. Wichtige Akteure sind in fast allen wichtigen Ländern präsent. Aufgrund der verschiedenen Anwendungen in der Lebensmittelindustrie formulieren die Akteure Strategien zur Expansion. Die Hauptakteure des Marktes sind Archer Daniels Midland (ADM), Cargill, Jungbunzlauer Company und Tate & Lyle usw.
Hauptakteure
Amerikanische Tartaric-Produkte

Cargill

ADM

Tate & Lyle

Jungbunzlauer
*Disclaimer: Major Players sorted in no particular order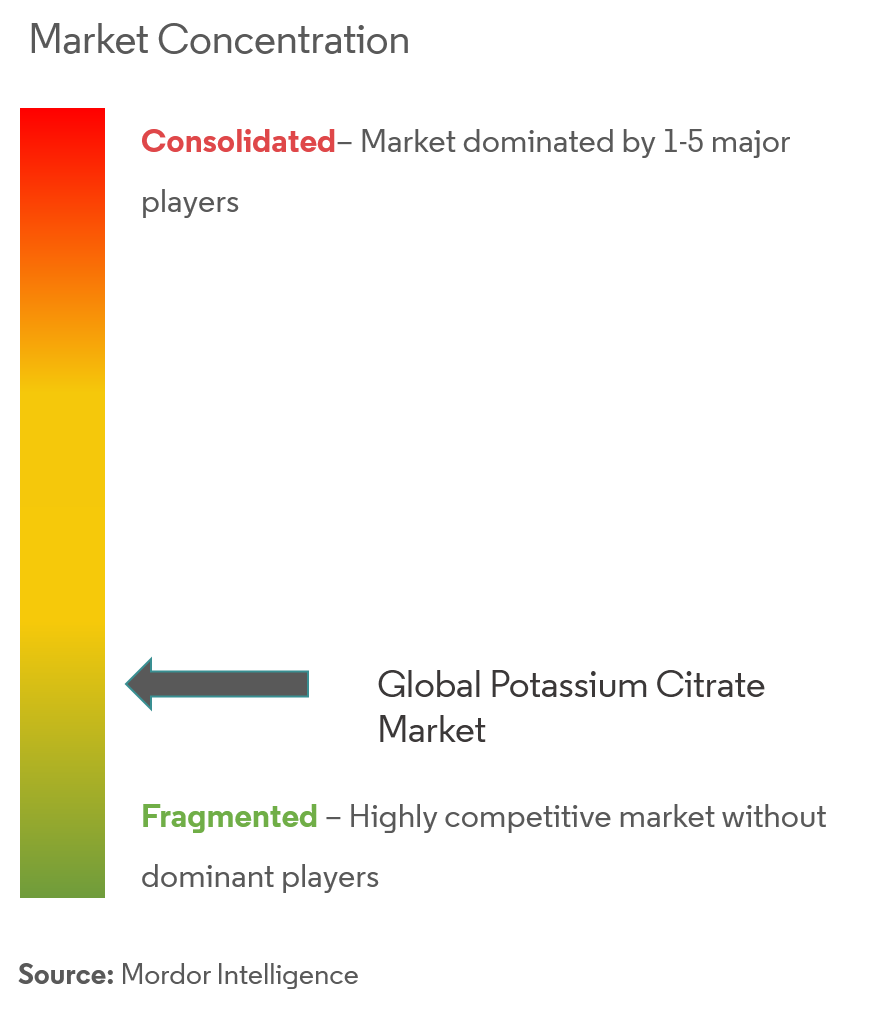 Table of Contents
1. INTRODUCTION

1.1 Research Phases

1.2 Study Deliverables

1.3 Scope of the Study

2. RESEARCH METHODOLOGY

3. EXECUTIVE SUMMARY

3.1 Market Overview

4. MARKET DYNAMICS

4.1 Market Drivers

4.2 Market Restraints

4.3 Industry Attractiveness - Porter's Five Force Analysis

4.3.1 Bargaining Power of Suppliers

4.3.2 Bargaining Power of Consumers

4.3.3 Threat of New Entrants

4.3.4 Threat of Substitute Products

4.3.5 Degree of Competition

5. MARKET SEGMENTATION

5.1 By Grade Type

5.1.1 Industrial

5.1.2 Food

5.1.3 Pharmaceuticals

5.2 By Application

5.2.1 Food and Beverage

5.2.2 Industrial

5.2.3 Pharmaceuticals

5.2.4 Cosmetics

5.3 Geography

5.3.1 North America

5.3.1.1 United States

5.3.1.2 Canada

5.3.1.3 Mexico

5.3.1.4 Rest of North America

5.3.2 Europe

5.3.2.1 United Kingdom

5.3.2.2 France

5.3.2.3 Germany

5.3.2.4 Italy

5.3.2.5 Russia

5.3.2.6 Spain

5.3.2.7 Rest of Europe

5.3.3 Asia Pacific

5.3.3.1 China

5.3.3.2 Japan

5.3.3.3 Australia

5.3.3.4 India

5.3.3.5 Rest of Asia Pacific

5.3.4 South America

5.3.4.1 Brazil

5.3.4.2 Colombia

5.3.4.3 Rest of South America

5.3.5 Middle East & Africa

5.3.5.1 Saudi Arabia

5.3.5.2 South Africa

5.3.5.3 Rest of Middle East & Africa

6. COMPETITIVE LANDSCAPE

6.1 Strategies adopted by Key players

6.2 Most Active Companies

6.3 Market Share Analysis

6.4 Company Profiles

6.4.1 Cargill INC.

6.4.2 Tate & Lyle

6.4.3 ADM

6.4.4 Jungbunzlauer Suisse AG

6.4.5 Cofco Biochemical

6.4.6 American Tartaric Products

6.4.7 Huangshi Xinghua Biochemical

6.4.8 Gadot Biochemical Industries

6.4.9 Niran

6.4.10 Juxian Hongde Citric Acid Co.LTD

*List Not Exhaustive

7. MARKET OPPORTUNITIES AND FUTURE TRENDS
**Subject to Availability
Frequently Asked Questions
Was ist der Untersuchungszeitraum dieses Marktes?
Der Kaliumcitratmarkt wird von 2018 bis 2028 untersucht.
Wie groß ist der Kaliumcitrat-Markt im Jahr 2018?
Der Kaliumcitratmarkt wird 2018 mit 3,7 % bewertet.
Welche Region hat die höchste Wachstumsrate auf dem Kaliumcitrat-Markt?
Der asiatisch-pazifische Raum wächst von 2018 bis 2028 mit der höchsten CAGR.
Welche Region hat den größten Anteil am Kaliumcitrat-Markt?
Asien-Pazifik hält 2021 den höchsten Anteil.
Wer sind die wichtigsten Hersteller auf dem Kaliumcitrat-Markt?
American Tartaric Products, Cargill, ADM, Tate & Lyle, Jungbunzlauer sind die wichtigsten Unternehmen, die auf dem Kaliumcitratmarkt tätig sind.
80%

of our clients seek made-to-order reports. How do you want us to tailor yours?