市場スナップショット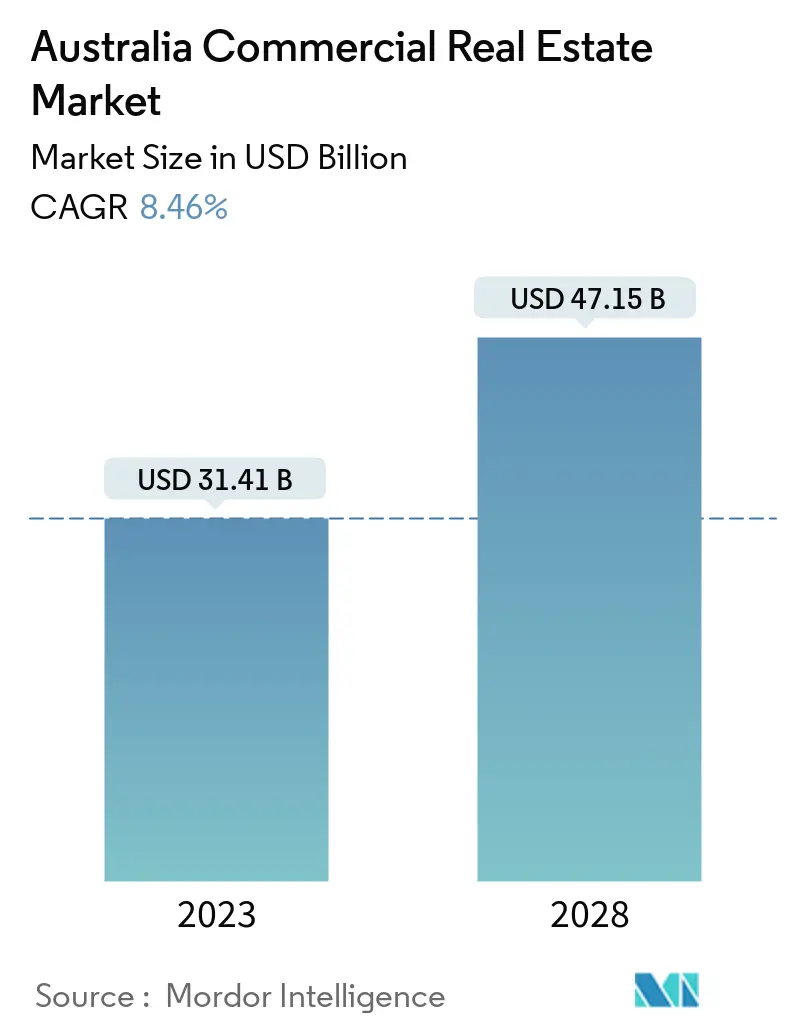 Study Period:
2018-2027
CAGR:

>

5.6 %

Major Players

*Disclaimer: Major Players sorted in no particular order
Need a report that reflects how COVID-19 has impacted this market and it's growth?
市場概況
オーストラリアの商業用不動産市場の規模は2021年にXXと推定され、XX%の複合年間成長率(CAGR)で拡大すると予想されています。
オーストラリアの不動産セクターは、2020年に重大な不確実性と変革を経験しました。COVID-19は、従業員が柔軟に働くことを選択したり、電子商取引に対する消費者の需要が高まったりするなど、トレンドの加速を見ました。これは市場を混乱させ、投資家、家主、そして占領者に同様に多くの機会を生み出しました。
2022年、それはオーストラリアの商業用不動産の新時代です。低金利、持続的な政府の刺激、そしてパンデミックの封鎖から生まれた人口は現金化され、支出を熱望しています。
商業用不動産投資家にとって、この見通しは、安価な債務、構造変化、および実物資産への割り当て不足に支えられて、有望に見えます。
Scope of the report
Commercial real estate (or CRE) is a property that is used exclusively for business or workplace purposes or to generate cash flow in some way for the owner or lessee. Commercial Real Estate Market in South Africa is segmented by Type (Office, Retail, Industrial and Logistics, Hospitality, and Multi-Family) and by Key cities (Sydney, Melbourne, Brisbane, Adelaide, Canberra and Perth). The report offers market size and forecasts for the Commercial Real Estate Market in Australia in Value (USD Billion) for all above segments.
By Type
Offices
Retail
Industrial and logistics
Multi-family
Hospitality
By City
Sydney
Melbourne
Brisbane
Adelaide
Canberra
Perth
主要な市場動向
低金利
記録的な低金利と緩和的な中央銀行の政策は、予見可能な将来にとどまるためにここにあります。
言うまでもなく、低金利は不動産などの資本集約的な資産を強力にサポートしますが、これにはいくつかのメカニズムがあります。低金利は投資家の資金調達を安くし、現金や債券投資の利用可能な利回りを低下させます。不動産をより魅力的に見せ、ビジネスと消費者の活動を支えます。
今後2〜3年間の債券利回りは、長期平均の下限にとどまる可能性がありますが、商業用不動産は4〜5%の利回りがあり、リスクフリーレートに200〜300ベースのスプレッドが提供されます。健康的なリスクプレミアム。
オーストラリア準備銀行は、予想通り、2022年3月の会合で15か月連続でキャッシュレートを過去最低の0.1%に据え置きました。ウクライナでの戦争は不確実性の主要な新たな原因であると述べながら、政策立案者は、世界のエネルギー市場の最近の発展と進行中の供給サイドの問題を背景に、オーストラリアのインフレの回復がどれほど持続するかについて予測不可能性を繰り返した。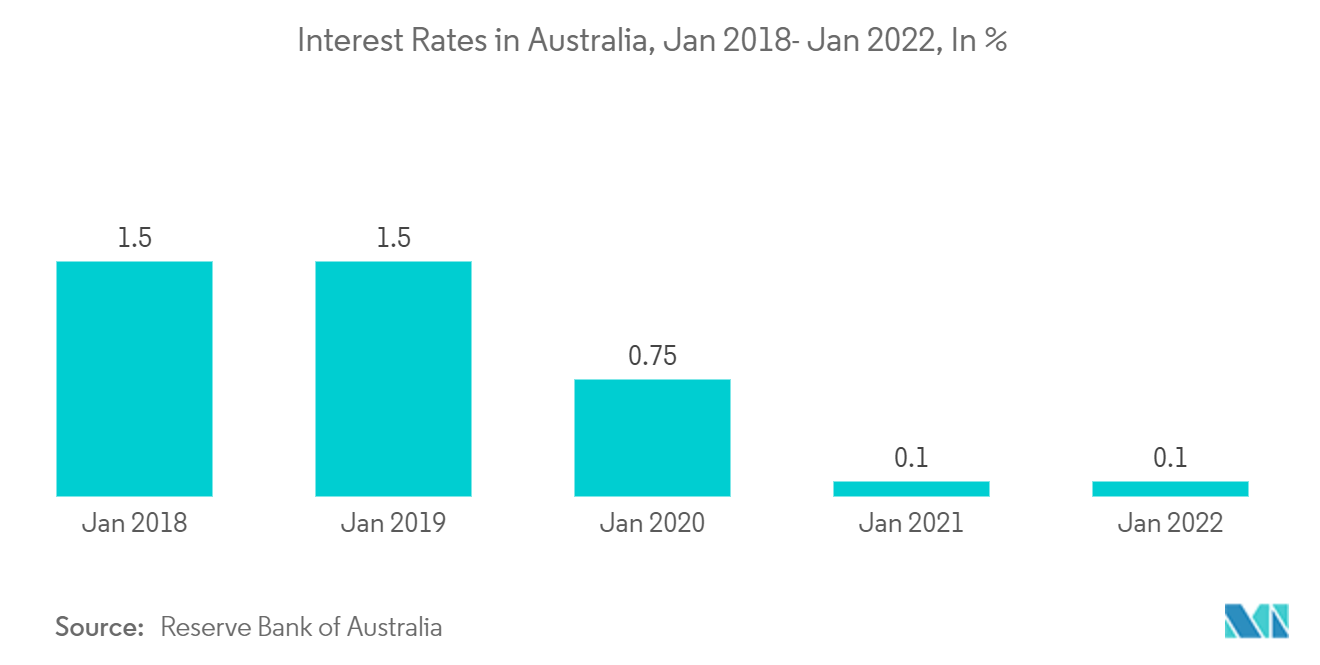 To understand key trends, Download Sample Report
競争力のある風景
オーストラリアの商業用不動産市場は強力で競争が激しい。インドの商業用不動産は、堅調なオフィススペースの占有、空室レベルの低下、および賃貸料の上昇により、世界の機関投資家にとって好ましい目的地になりつつあります。小規模の開発者も大規模な不動産開発者と合併したり、市場から撤退したりしています。国の主要な商業用不動産プレーヤーには、レンドリースコーポレーション、センターグループリミテッド、ミルバック、パクトコンストラクションおよびマルチプレックスコンストラクションズPtyLtdが含まれます。
主要なプレーヤー
Lendlease Corporation

Scentre Group Limited

Mirvac

Pact Construction

Multiplex Constructions PTY Ltd
*Disclaimer: Major Players sorted in no particular order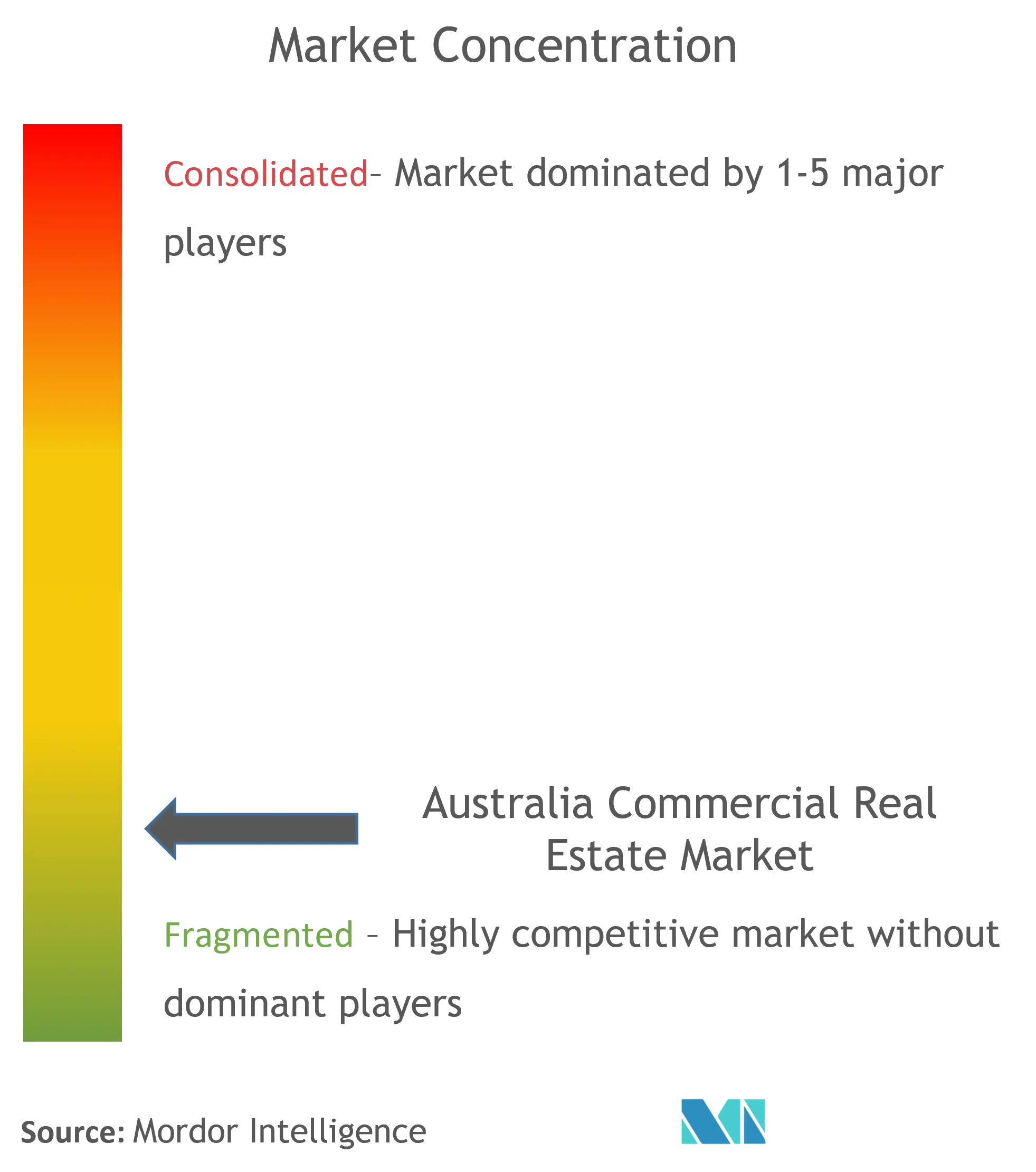 競争力のある風景
オーストラリアの商業用不動産市場は強力で競争が激しい。インドの商業用不動産は、堅調なオフィススペースの占有、空室レベルの低下、および賃貸料の上昇により、世界の機関投資家にとって好ましい目的地になりつつあります。小規模の開発者も大規模な不動産開発者と合併したり、市場から撤退したりしています。国の主要な商業用不動産プレーヤーには、レンドリースコーポレーション、センターグループリミテッド、ミルバック、パクトコンストラクションおよびマルチプレックスコンストラクションズPtyLtdが含まれます。
Table of Contents
1. INTRODUCTION

1.1 Study Assumptions

1.2 Scope of the Study

2. RESEARCH METHODOLOGY

3. EXECUTIVE SUMMARY

4. MARKET INSIGHTS AND DYNAMICS

4.1 Current Economic Scenario and Consumer Sentiment

4.2 Commercial Real Estate Buying Trends - Socioeconomic and Demographic Insights

4.3 Government Initiatives and Regulatory Aspects for Commercial Real Estate Sector

4.4 Insights on Existing and Upcoming Projects

4.5 Insights on Interest Rate Regime for General Economy and Real Estate Lending

4.6 Insights on Rental Yields in the Commercial Real Estate Segment

4.7 Insights on Capital Market Penetration and REIT Presence in Commercial Real Estate

4.8 Insights on Public-Private Partnerships in Commercial Real Estate

4.9 Insights on Real Estate Tech and Startups Active in the Real Estate Segment (Broking, Social Media, Facility Management, Property Management)

4.10 Impact of COVID-19 on the Market

4.11 Market Drivers

4.12 Market Restraints

4.13 Market Opportunities

4.14 Value Chain / Supply Chain Analysis

4.15 Porters five Force Analysis

4.15.1 Threat of New Entrants

4.15.2 Bargaining Power of Buyers/Consumers

4.15.3 Bargaining Power of Suppliers

4.15.4 Threat of Substitute Products

4.15.5 Intensity of Competitive Rivalry

5. MARKET SEGMENTATION (Market Size By Value)

5.1 By Type

5.1.1 Offices

5.1.2 Retail

5.1.3 Industrial and logistics

5.1.4 Multi-family

5.1.5 Hospitality

5.2 By City

5.2.1 Sydney

5.2.2 Melbourne

5.2.3 Brisbane

5.2.4 Adelaide

5.2.5 Canberra

5.2.6 Perth

6. COMPETITIVE LANDSCAPE

6.1 Overview (Market Concentration and Major Players)

6.2 Company Profiles

6.2.1 Lendlease Corporation

6.2.2 Scentre Group Limited

6.2.3 Mirvac

6.2.4 Pact Construction

6.2.5 Multiplex Constructions Pty Ltd

6.2.6 Meriton Apartments Pty Ltd

6.2.7 Stockland

6.2.8 Frasers Property

6.2.9 Pellicano Builders

6.2.10 Qube Property Group Pty Ltd*

*List Not Exhaustive

6.3 Other Companies

7. FUTURE OF THE MARKET

8. APPENDIX
**Subject to Availability
Frequently Asked Questions
この市場の調査期間は?
オーストラリアの商業用不動産市場は、2019年から2027年まで調査されています。
オーストラリアの商業用不動産市場の成長率は?
オーストラリアの商業用不動産市場は、今後 5 年間で 5.6% を超える CAGR で成長しています。
このオーストラリア商業用不動産マーケットのキープレーヤーは誰ですか?
Lendlease Corporation、Scentre Group Limited、Mirvac、Pact Construction、Multiplex Constructions PTY Ltd は、オーストラリアの商業用不動産市場で活動している主要企業です。
80%

of our clients seek made-to-order reports. How do you want us to tailor yours?