The global vinyl acetate market is expected to witness a CAGR of over 5%, owing to the growing demand from the automotive industry. The increasing use of vinyl acetate products in the solar power-generation industry is also likely to stimulate the market growth.
Automotive Industry Driving the Market
The automotive industry is increasingly driving the demand for vinyl acetate products. The products are used in a wide range of applications, like sealing doors and windows, adhesives for bonding and attractive parts, and others. The increase in the production volume of automobiles across Asia-Pacific is likely to drive the demand for vinyl acetate during the forecast period. The increase in maintenance and repair work is likely to further boost the market growth.
Polyvinyl Acetate the Leading Application
In 2017, the polyvinyl acetate (PVA) application accounted for the highest share of the vinyl acetate market, closely followed by polyvinyl alcohol. The polyvinyl acetate application is expected to witness a growth in the coming years, due to the rise of its demand in the plastic bottling and packaging industry. The use of PVA as additives in the cement construction is likely to boost the market growth. The ethylene vinyl acetate (EVA) application is expected to grow rapidly, owing to the use of ethylene vinyl acetate in the 3D printed medical drug delivery devices.
ASEAN Countries Expected to Drive the Market
Asia-Pacific accounted for the highest market share (50%) for vinyl acetate consumption. Increasing expenditure on construction and rise in automotive production are likely to drive the market demand in the region, over the coming years. Production capacity is also expected to increase in China. In ASEAN countries, the consumption rate is expected to witness a significant growth, with a growth in demand from large bases, like Singapore and Thailand. Europe is a mature market for vinyl acetate, which is expected to witness a sluggish growth rate during the forecast period.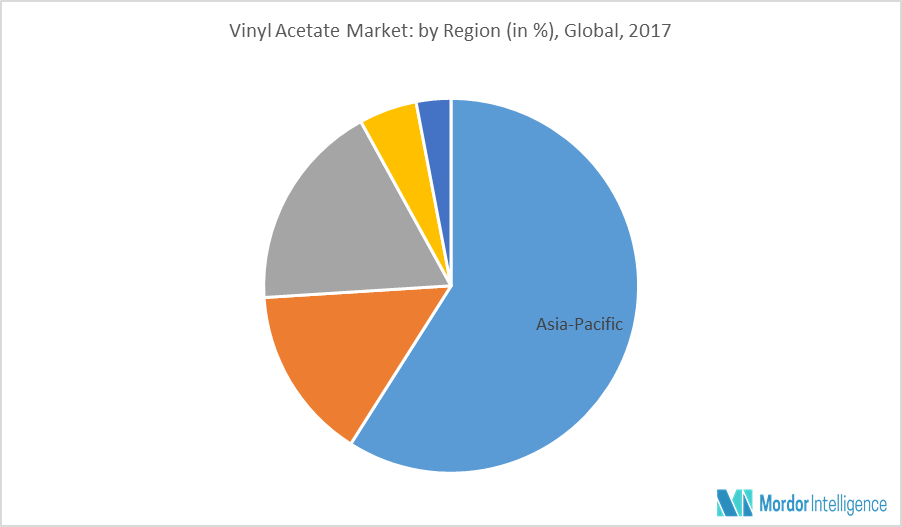 Notable Developments
In Sep 2017, INEOS built a new vinyl acetate monomer plant, with a capacity of about 300,000 metric ton per year in Europe.
Major Players: Celanese Corporation, DowDuPont, Kuraray Corporation Ltd., Sipchem, and Lyondellbasell Industries NV, among others.
Reason to Purchase this Report
To understand the impact of various application on the market
Various perspectives of the market with the help of Porter's five forces analysis
To understand the dominating end-user industry and application in the market
Countries that are expected to witness the fastest growth rates during the forecast period
Identify the latest developments, market shares, and strategies that are employed by the major market players
3 months analyst support, along with the Market Estimate sheet (in Excel)
Customization of the Report
This report can be customized to meet your requirements. Please connect with our analyst, who will ensure you get a report that suits your needs.
1. Introduction
1.1 Scope of the Report
1.2 Research Phases
1.3 Study Deliverables
2. Executive Summary
3. Market Insights
3.1 Industry Value Chain Analysis
3.2 Industry Attractiveness – Porter's Five Force Analysis
3.2.1 Bargaining Power of Suppliers
3.2.2 Bargaining Power of Consumers
3.2.3 Threat of New Entrants
3.2.4 Threat of Substitute Products and Services
3.2.5 Degree of Competition
3.3 Import & Export Trends
3.4 Price Trends
3.5 Feedstock Analysis
3.6 Technological Snapshot
3.7 Regulatory Policy Analysis
4. Market Dynamics
4.1 Drivers
4.1.1 Growing Demand from the Automotive Industry
4.1.2 Increased Use of Adhesives in Food Packaging
4.1.3 Increasing Use in the Solar Power-generation Industry
4.2 Restraints
4.2.1 Stringent Health and Environmental Regulations
4.2.2 Fluctuating Prices of Raw Materials
4.3 Opportunities
4.3.1 Use of EVA for 3D Printed Medical Drug Delivery Devices
5. Market Segmentation and Analysis - (Market size, Growth, and Forecast)
5.1 By Application
5.1.1 Polyvinyl Acetate
5.1.2 Polyvinyl Alcohol
5.1.3 Ethylene Vinyl Acetate (EVA)
5.1.4 Others
5.2 By End-user Industry
5.2.1 Solar Industry
5.2.2 Automotive
5.2.3 Building & Construction
5.2.4 Packaging
5.2.5 Textile
5.2.6 Others
6. Regional Market Analysis (Market size, Growth, and Forecast)
6.1 Asia-Pacific
6.1.1 China
6.1.2 India
6.1.3 Japan
6.1.4 South Korea
6.1.5 ASEAN Countries
6.1.6 Rest of Asia-Pacific
6.2 North America
6.2.1 United States
6.2.2 Canada
6.2.3 Mexico
6.2.4 Rest of North America
6.3 Europe
6.3.1 Germany
6.3.2 United Kingdom
6.3.3 Italy
6.3.4 France
6.3.5 Rest of Europe
6.4 South America
6.4.1 Brazil
6.4.2 Argentina
6.4.3 Rest of South America
6.5 Middle East & Africa
6.5.1 Saudi Arabia
6.5.2 South Africa
6.5.3 Rest of Middle East & Africa
7. Future of the Market
8. Competitive Landscape
8.1 Mergers and Acquisitions, Joint Ventures, Collaborations, and Agreements
8.2 Market Share Analysis**
8.3 Strategies Adopted by Leading Players
9. Company Profiles (Overview, Financials**, Products & Services, and Recent Developments)
9.1 Arkema
9.2 Celanese Corporation
9.3 China Petrochemical Corporation (Sinopec)
9.4 Clariant
9.5 Dairen Chemical Corporation
9.6 DowDuPont
9.7 Exxon Mobil Corporation
9.8 Ineos
9.9 Innospec
9.10 Joyce Lub And Chem Llp
9.11 KURARAY CO., LTD
9.12 LyondellBasell Industries Holdings B.V.
9.13 Sipchem
9.14 The Nippon Synthetic Chemical Industry Co., Ltd.
9.15 Wacker Chemie AG
*List not exhaustive
10. Disclaimer
**Subject to availability of public domain