Market Snapshot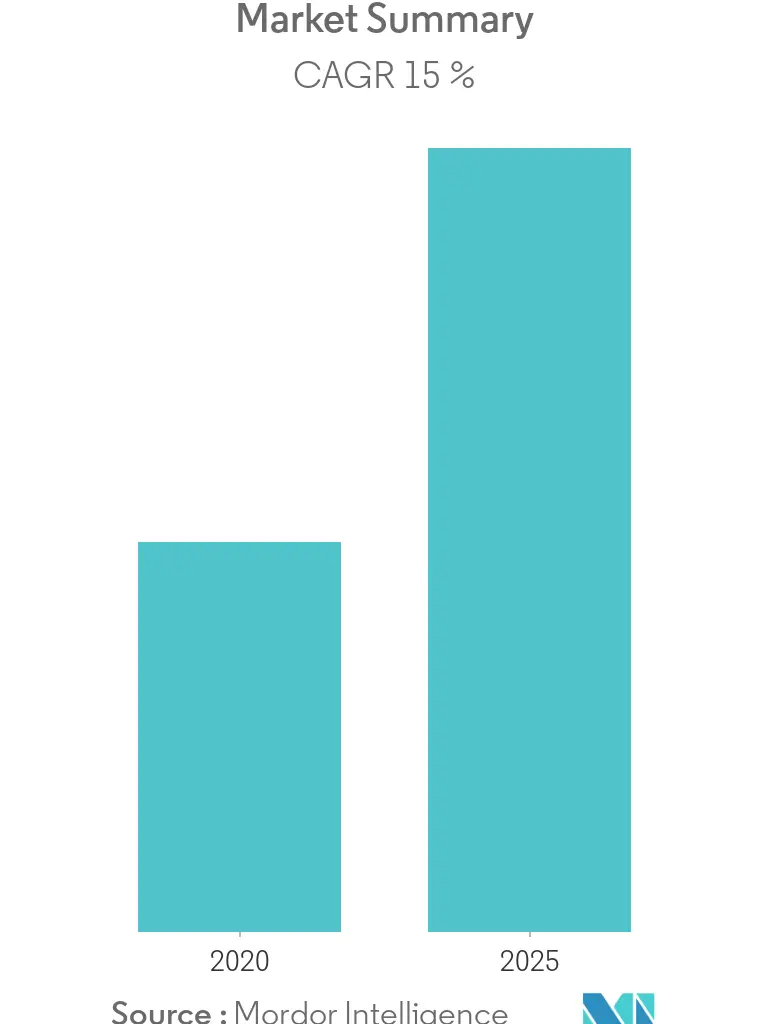 Study Period:
2016 - 2026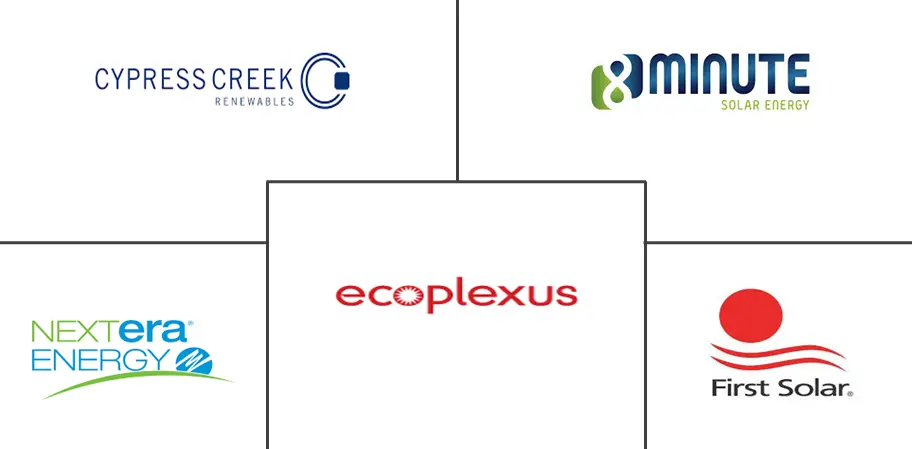 Need a report that reflects how COVID-19 has impacted this market and its growth?
Market Overview
The United States solar energy market is expected to grow at a CAGR of 17.32% during 2020-2025. Factors, such as solar PV projects under construction, in the pipeline and planning stages, and supportive policies of the government are expected to boost the cumulative installed capacity of solar energy during the forecast period. Like many other industries, the solar energy industry has been hit hard by COVID-19 pandemic, resulting in uncertainty for the players involved in the solar energy market. More than 72,000 solar workers are expected to lose their jobs because of the pandemic. According to the industry experts, around 30% decline is anticipated in the new solar PV capacity additions in 2020. This decline in new installations can be attributed to challenges posed by work being halted, permitting delays, and the decline in consumer demand. In addition, financing for solar projects has become a significant challenge. The economic downturn is causing tax equity markets to dry up, an important market that solar companies use to finance their projects. These challenges are expected to have a significant impact on small businesses and new entrants in the United States' solar energy industry..
In 2019, the country's PV installations increased by 24% Y-o-Y, with the residential and utility-scale markets growing by 16% and 38%, respectively. However, the non-residential markets contracted by 4%. The United States installed 13.4 GW of PV in 2019. The Q1 2020 recorded the highest solar PV installations in history, driven by nearly 2 GW of utility-scale solar, supplemented by 1.6 GW of residential, commercial, and industrial solar PV installations.
The perovskite-based PV cells attracted attention in the recent years. Perovskite-based PV cells offer high ease of manufacturing, high efficiency, and excellent semiconducting behavior. Hence, they are comparable to the silicone-based solar PV in terms of solar-to-electric efficiency. Hence, technological advancements in manufacturing of PV cells are likely to lead to a mass-scale production, which is likely to offer growth opportunities.
In terms of deployment, the United States witnessed a record-setting residential solar capacity addition in 2019, with more than 2.8 GW installed. In 2019, the California residential solar adoption across the country was driven by factors, such as resiliency and concerns about climate change.
Scope of the report
The United States solar energy market report include:
Type
Solar Photovoltaic (PV)
Concentrated Solar Power
Key Market Trends
Solar Photovoltaic (PV) Expected to Dominate the Market
In 2019, the United States was the second-largest PV market in terms of both cumulative and annual installations. Cumulative installed PV capacity in the country was 74.84 GW in 2019, with the utility segment accounting for the significant share (61.05%).
California has the highest solar PV generation in the country, accounting for almost 20% in 2019, representing a 52 times increase from 0.4% in 2010. Moreover, PV solar installation in other emerging states in the country, such as Texas, Utah, and Florida, is expected to register significant growth during the forecast period, supporting the market's growth.
In early 2018, the governor of Hawaii passed a law pledging the state to become carbon-neutral by 2045. Adding to this, Vermont, a county that has focused on increasing its commercial-scale solar PV capacity since 2011, pledged to have 90% of its consumed energy from renewable sources by 2050. Moreover, states with low installations five years ago are now driving significant demand. In 2015, Texas and Florida totaled 4% of new United States PV installations, and in 2019, representing 20% of the total solar PV installed capacity.
The percentage of electricity generated by fossil fuels in the United States has dropped from 70% in 2010 to 62% in 2019, while renewable power generation increased from 10%–18% over the same period. Although solar PV only contributed 2.6% of power generation in 2019, it has increased by almost 43 times since 2010. Therefore, with government policies supporting the penetration of solar PV in the energy mix, it is expected to grow during the forecast period.
The Solar Investment Tax Credits (ITC) have proved to be one of the most successful US government schemes in encouraging solar power generation. ​Under Solar ITC schemes, the residential, commercial, and utility solar plant owners can claim 30% of federal tax credits against solar energy property. This scheme has helped reduce the solar power generation cost in the country. ​
The utility-scale solar PV sector has led the overall solar market in the United States, in terms of installed capacity, accounting for nearly 61% of installed capacity in 2019. Four new states, Washington, Wyoming, Vermont, and Connecticut, added their first utility-scale solar project in 2018, three-quarters of all states in the country are now equipped with one or more utility-scale solar projects.
In April 2020, BayWa obtained a tax equity investment and construction term financing for the 134 MW Fern Solar project, comprising 353,276 solar panels and 42 inverters in Edgecombe County, North Carolina. The construction of the projects is underway, which is expected to provide solar power to the Corporate Renewable Energy Aggregation Group, consisting of Bloomberg, Cox Enterprises, Gap Inc., Salesforce, and Workday.
Further, ConnectGen, a Houston-based renewables developer, is planning a USD 500 million, 500 MW solar power project in Leon County, Texas. The projects are to be built on 1,300 acres in the southwestern part of the county, with construction to begin in 2021, with operations starting by mid-2022 for the first phase and by the end of 2023 for the second phase.
Moreover, the amount of utility-scale solar capacity in the development pipeline hints toward a continued momentum and a significant expansion of the industry in future years, driving the country's solar energy market growth.
Homeowners and businesses are increasingly demanding solar systems that are paired with battery storage. The pairing is still relatively in nascent stages, and the growth over the next five years is expected to be significant. By 2025, according to the SEIA, more than 25% of all behind-the-meter solar systems will be paired with storage, compared to under 5% in 2019, further bolstering the solar energy market growth.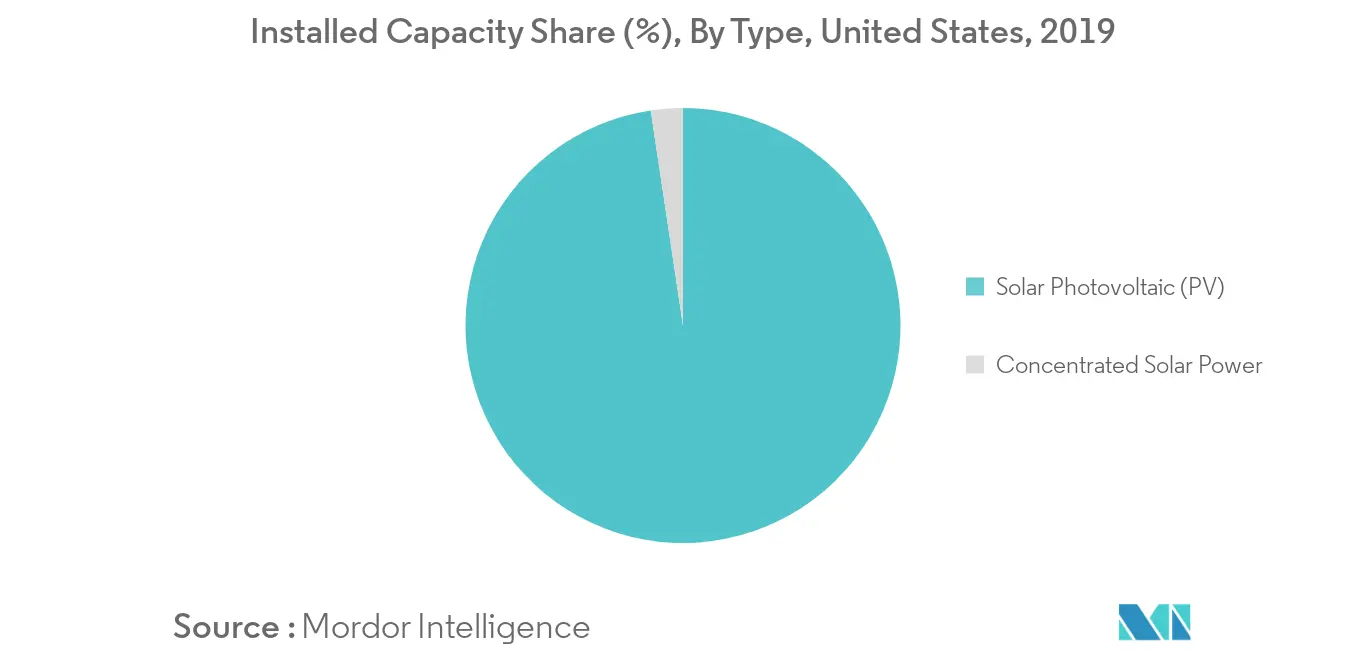 To understand key trends, Download Sample Report
High Investment Attractiveness of the United States Solar Power Market
Due to the COVID-19 outbreak in 2020, most of the major countries worldwide are expected to register a slowdown in solar power installation due to the following two reasons.

The solar power investments are being postponed due to the decline in funds.
Many of these countries, like European countries, Australia, and India, depend on imports to meet the demand for solar panels.

In the United States, tax credits on the renewables are expected to expire in 2021. Hence, the investors in solar power are expected to rush to finish the projects during 2020 and 2021. This trend is expected to partly offset the negative impacts of the COVID-19 on the investments in the solar industry.
The US government had imposed a 30% tax on solar panel imports. This resulted in increased competitiveness of the locally manufactured solar panels, driving the local manufacturing of solar panels. Hence, the United States is expected to be less reliant and less sensitive to the international supply chain disruption. Hence, during 2020 and 2021, solar power installations are expected to register positive growth in terms of total capacity.
Also, given the disruption of the supply chain resulting in an increase in the raw material prices, the solar power cost per MW is expected to stagnate. Hence, the United States is expected to be among the few major countries in the world to register positive growth in the solar market.
Beyond 2021, due to the declined demand for solar energy globally and the availability of a large global solar panel manufacturing capacity, solar power costs are expected to decrease at a faster rate than anticipated before the COVID-19 outbreak. The primary causes of this decline are expected to be the situation of oversupply and increased price-sensitivity of the power plant operators due to economic slowdown. Hence, during the second half of the forecast period, solar energy cost-decline at a faster rate is expected to drive the market.
Hence, the high attractiveness of the United States solar power market due to the expiry of tax credits in the first half of the forecast period, and declining solar panel costs during the second half of the forecast period, is expected to drive the United States solar energy market during the forecast period.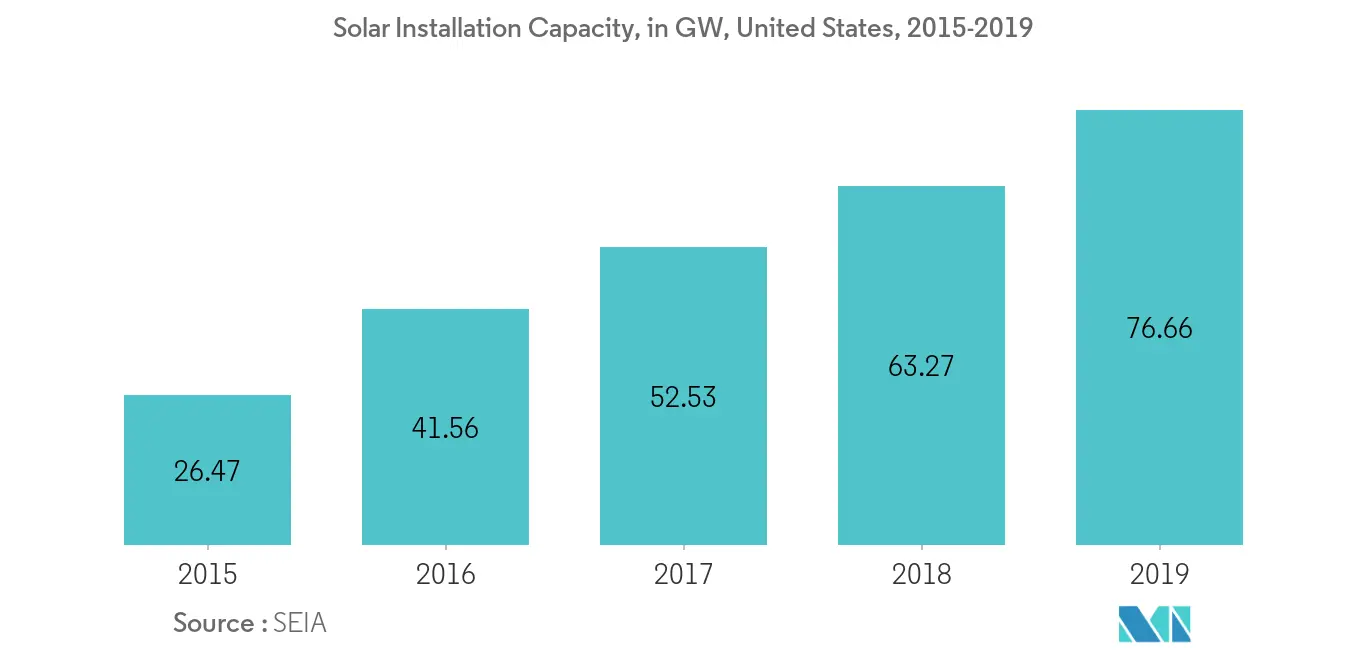 Competitive Landscape
The United States solar energy market is fragmented. Some of the key players in this market include M. A. Mortenson Company, First Solar, Inc., NextEra Energy Inc, Swinerton Renewable Energy, and 8minutenergy Renewables LLC.
Table of Contents
1. INTRODUCTION

1.1 Scope of the Study

1.2 Market Definition

1.3 Study Assumptions

2. EXECUTIVE SUMMARY

3. RESEARCH METHODOLOGY

4. MARKET OVERVIEW

4.1 Introduction

4.2 United States Solar Energy Installated Capacity and Forecast in Megawatt (MW), till 2025

4.3 Recent Trends and Developments

4.4 Government Policies and Regulations

4.5 Market Dynamics

4.5.1 Drivers

4.5.2 Restraints

4.6 Supply Chain Analysis

4.7 PESTLE Analysis

5. MARKET SEGMENTATION

5.1 Type

5.1.1 Solar Photovoltaic (PV)

5.1.2 Concentrated Solar Power

6. COMPETITIVE LANDSCAPE

6.1 Mergers, Acquisitions, Collaboration and Joint Ventures

6.2 Strategies Adopted by Key Players

6.3 Company Profiles

6.3.1 M. A. Mortenson Company

6.3.2 First Solar, Inc.

6.3.3 NextEra Energy Inc

6.3.4 SunPower Corporation

6.3.5 Renewable Energy Systems Ltd

6.3.6 Rosendin Electric Inc.

6.3.7 Hanwha Corporation

6.3.8 LG Electronics Inc.

6.3.9 JinkoSolar Holding Co. Ltd

6.3.10 Swinerton Renewable Energy

6.3.11 8minute Solar Energy

*List Not Exhaustive

7. MARKET OPPORTUNITIES and FUTURE TRENDS
**Subject to Availability
You can also purchase parts of this report. Do you want to check out a section wise price list?
Frequently Asked Questions
What is the study period of this market?
The United States Solar Energy Market market is studied from 2016 - 2026.
What is the growth rate of United States Solar Energy Market?
The United States Solar Energy Market is growing at a CAGR of 17.32% over the next 5 years.
Who are the key players in United States Solar Energy Market?
First Solar, Inc.
NextEra Energy Inc
8minutenergy Renewables LLC
Swinerton Renewable Energy
M. A. Mortenson Company
Are the major companies operating in United States Solar Energy Market.
80%

of our clients seek made-to-order reports. How do you want us to tailor yours?