UK Packaging Market Size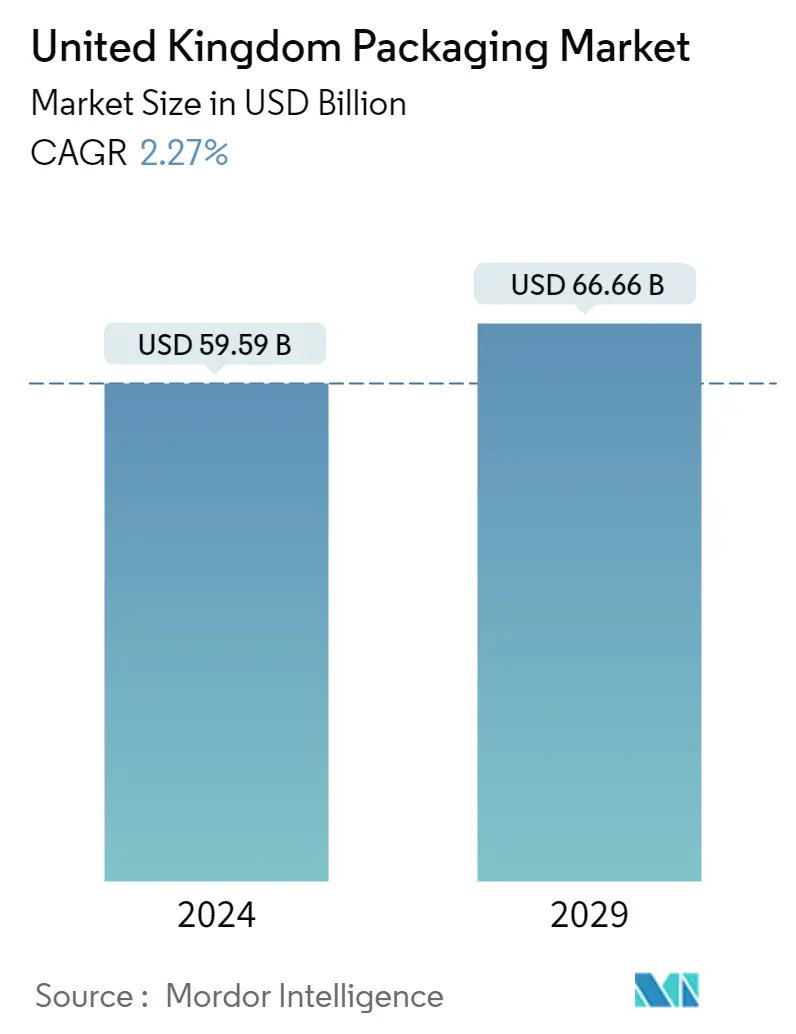 Study Period:
2018 - 2028
CAGR:
3.8 %

Major Players

*Disclaimer: Major Players sorted in no particular order
Need a report that reflects how COVID-19 has impacted this market and it's growth?
UK Packaging Market Analysis
The United Kingdom Packaging Market is expected to register a CAGR of 3.8% over the forecast period. The packaging industry in the United Kingdom has been witnessing significant growth owing to the increased manufacturing activities in the country that are propelling the demand for packaging and labeling solutions in the region. According to the Packaging Federation of the United Kingdom, the UK packaging manufacturing sector has annual sales of around GBP 11 billion (nearly USD 13.6 billion), employing more than 85,000 people, representing 3% of the country's manufacturing workforce. It significantly contributes to the country's GDP and is a vital link in the broader packaging supply chain.
Moreover, the growth of e-commerce sales, increased demand from food and beverage manufacturers for eco-friendly and recyclable packaging, increasing demand for personalization of products, and the growing industrial packaging sector are driving the growth of the packaging market in the country.
The increase in regulations for plastic use is anticipated to have a significant effect on the market. For instance, the United Kingdom's Plastic Packaging Tax (PPT), which took effect on 1 April 2022, applies to plastic packaging in the United Kingdom that contains less than 30% recycled plastic content at a rate of GBP 200 (USD 247.7) per metric tonne. The tax aims to encourage the use of more sustainable plastic packaging, increase the use of recycled plastic, and help reduce plastic waste.
By disincentivizing the usage of unsustainable materials, the government of the UK is simultaneously incentivizing the market value of recyclable plastic, fostering a sustainable circular economy that will have global repercussions.
Due to the gas emissions from deliveries and returns, consumers all over the country believe that e-commerce is not environmentally friendly. More than half (52%) of UK consumers surveyed in 2022 by Aquapak, a specialty polymers company that creates materials to support a circular economy, said they would be willing to pay more for environmentally friendly packaging when purchasing clothing and accessories. To receive their goods in sustainable packaging, one-third of those willing to pay more said they would add 1% to 4% to the purchase price, and nearly two-fifths (39%) said they would pay a 5% premium. 15% said they would be willing to pay between 10% and 20% more, while 8% said they would pay between 6% and 9% more.
Amazon UK announced this year that it no longer ships items in single-use plastic delivery bags. The company started using cardboard envelopes and recyclable paper delivery bags for orders shipped from fulfillment centers. Because recyclable paper delivery bags and envelopes are more readily available in the United Kingdom, the company selected this market. Compared to other cardboard materials, the materials have a higher percentage of recycled content and take up less space.
However, with the COVID-19 pandemic affecting the market studied, multiple companies in the market shifted toward the usage of single-use plastics. Supply chains strained to meet a surge in demand for single-use plastic packaging and medical supplies. Such a significant spike in plastic demand is likely to lead to a temporary change in the short-term initiatives and goals of transitioning toward a circular economy. Apart from this, it is also expected to put pressure on the plastic packaging manufacturing chain. Further, the Russia-Ukraine war has an impact on the overall packaging ecosystem.
UK Packaging Industry Segmentation
Packaging is a part of the multi-faceted system for providing products, from the point of manufacture to the point of consumption. Its principal purpose is to guard and ensure the safe and secure delivery of the product in its flawless and perfect condition to the end user (manufacturer of product or consumer). Its role in a circular economy is to sustain the value in a product for as long as required and to help remove product waste.
The United Kingdom Packaging Market is segmented by End-user Vertical (Food, Beverage, Healthcare, Industrial, Cosmetics, Personal Care and Household Care, Industrial Care), Plastic Packaging (Material Type (Polyethylene, Polypropylene, Poly Vinyl Chloride, Polyethylene Terephthalate), Type (Rigid Plastic Packaging (Bottles and Jars, Trays and Containers), Flexible Plastic Packaging (Pouches and Bags, Films and Wraps))), and Packaging Material Type (Paper (Carton Board, Containerboard and Linerboard), Glass and Metal). The market sizes and forecasts are provided in terms of value (USD million) for all the above segments.
The market sizes and forecasts are provided in terms of value (USD million) for all the above segments.
By End-User Vertical
Food
Beverage
Healthcare
Cosmetics, Personal Care and Household Care
Industrial
By Plastic Packaging

Material Type
PE (Polyethylene)
PP (Polypropylene)
PVC (Poly Vinyl Chloride)
PET (Polyethylene Terephthalate)
Other Material Types

Type

Rigid Plastic Packaging
Bottles and Jars
Trays and Containers
Other Product Types

Flexible Plastic Packaging
Pouches & Bags
Films and Wraps
Other Product Types
By Packaging Material Type

Paper
Carton Board
Containerboard and Linerboard
Other Types

Glass
Metal (Cans, Drums, Caps and Closures and Bulk Containers)
UK Packaging Market Trends
This section covers the major market trends shaping the UK Packaging Market according to our research experts:
Food Segment is Expected to Drive the Market's Growth
Several factors, like a steady rise in demand for processed food and increasing adoption of lightweight flexibles, drive the market with varying impacts over the short, medium, and long-term periods. Further, the market for frozen food packaging is witnessing an upsurge in demand with the consumer appreciation of the product quality in the country. The demand for frozen food packaging has increased in the UK due to changing lifestyles, and market growth is anticipated over the coming years.
Further, food takeaway is a crucial segment of the food segment. For instance, in August 2021, as the demand for takeaways grew despite the reopening of bars and restaurants, Deliveroo, a British online food delivery service, reported that it registered more than double its number of customer orders to 149 million in the first six months of 2021. The food delivery service announced that it now offers takeaways from more UK restaurants and food merchants than any other service, with orders across the United Kingdom and Ireland up 110% from the first half of 2020.
Due to their capacity to maintain the freshness of food products and increase product shelf life, stand-up pouches are anticipated to become a standard form of packaging throughout the forecast period. In addition to this, the pouches also offer a great visible aesthetic which adds to the marketing benefits of the products. This has led to the wide adoption of pouches as a stable alternative to other formats and is expected to take further momentum in terms of demand and customer acceptance during the forecast period.
In the United Kingdom, sustainability and recyclability play a significant role in raising consumer preference for brands. Last year, responding to the expanded market demand for post-consumer recycled (PCR) packaging solutions, a flexible packaging company, ProAmpac, announced the launch of its ProActivePCR Retort pouches. The retort pouches are intended for pet and human food packaging and are both FDA and EU-compliant for food contact in retort applications. They provide packaging with a post-consumer recycled (PCR) content of 30 weight percent or more, which minimizes the use of virgin resins. These inventive pouches also adhere to United Kingdom Plastics Packaging Tax regulations (PPT).
Further, last year, it was announced by Mondelez International that the packaging for Cadbury Dairy Milk, which is produced in Bournville and sold in the United Kingdom and Ireland, will contain up to 30% recycled plastic. It is a component of a larger global commitment by the company to, assuming a constant portfolio mix, reduce the use of virgin plastic material in its total plastic packaging portfolio by 5% by 2025. The packaging for Dairy Lunchables and Snackers in the UK already contains 75% recycled plastic (RPET).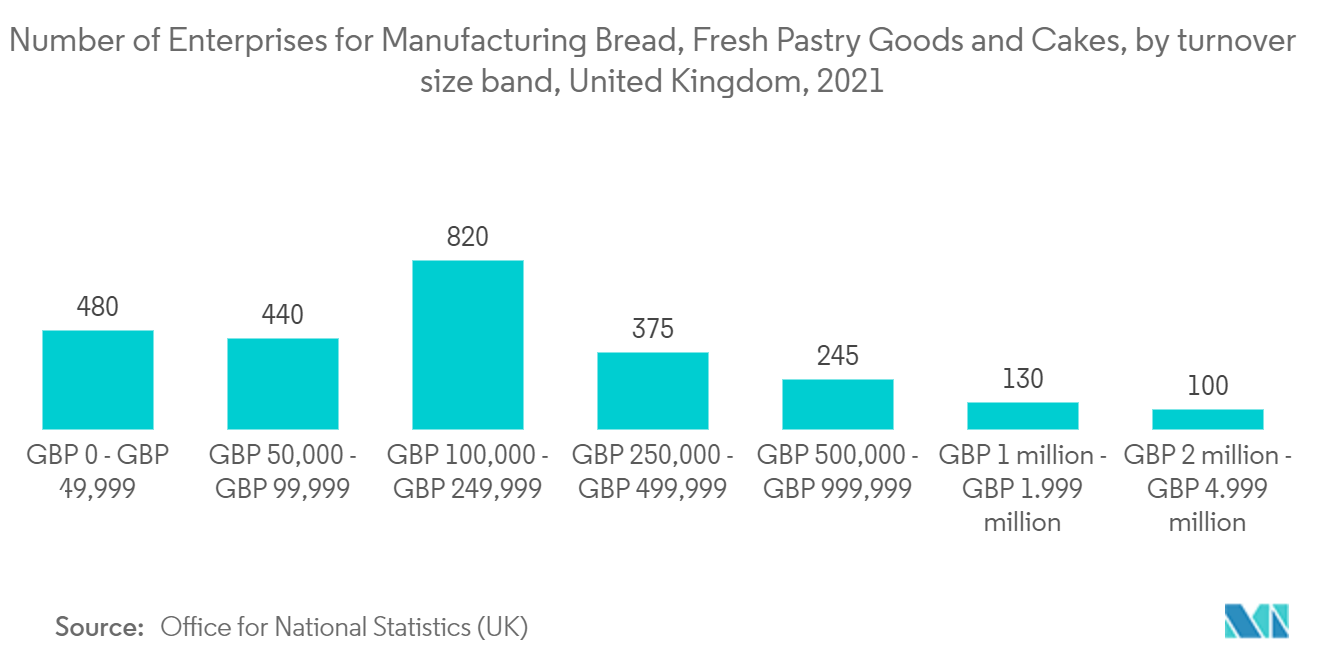 To understand key trends, Download Sample Report
Bottles Segment is Expected to Hold a Major Market Share
In the United Kingdom, plastic bottles are widely used in a variety of industries. Due to the beverage companies' growing use of recyclable plastics, the food and beverage market is one of the major users of plastic bottles and containers. The average European Union member state citizen consumed 89.7 liters of soft drinks annually in 2020, according to the Union of European Soft Drinks Associations (UNESDA). The British Soft Drinks Association Annual Report 2021 stated that approximately 5.16 billion liters of carbonates were consumed in the United Kingdom in 2020. Such instances are expected to drive the growth of the market.
The country's plastic bottle market is driven by the rising use of PET bottles due to their simplicity, low cost, and light weight in a variety of end-user applications, including food, beverage, cosmetics, and pharmaceuticals. 70% of soft drinks are packaged in PET plastic bottles, according to the British Plastics Federation.
Furthermore, newer filling technologies and the development of heat-resistant PET bottles provided new possibilities and options in the market. While PET bottles are standard in multiple segments, beverages, cosmetics, sanitary products, and detergents are largely sold in polyethylene (PE) bottles. According to Recycling Bins.co.uk, the country uses 7.7 billion plastic bottles, accounting for 117 bottles per person per year.
Market players are also increasingly investing in bottles as a packaging product. For instance, in November 2021, Amcor Rigid Packaging (ARP), a multinational packaging manufacturer, created a container design to enable more small plastic bottles to be recycled. The design is being used on recyclable polyethylene terephthalate 50ml alcohol bottles (PET).
Owing to various sustainability initiatives, recycling and using PCR content in bottles has been growing in the country. For instance, in February 2022, the Coca-Cola Company set an industry-leading objective to increase its reusable packaging usage significantly. By 2030, the firm hopes to have at least 25% of all beverages sold in refillable/returnable plastic bottles or refillable containers through a traditional fountain or Coca-Cola Freestyle dispensers across its portfolio of brands. Such developments are expected to increase the demand for plastic bottle manufacturing in the market.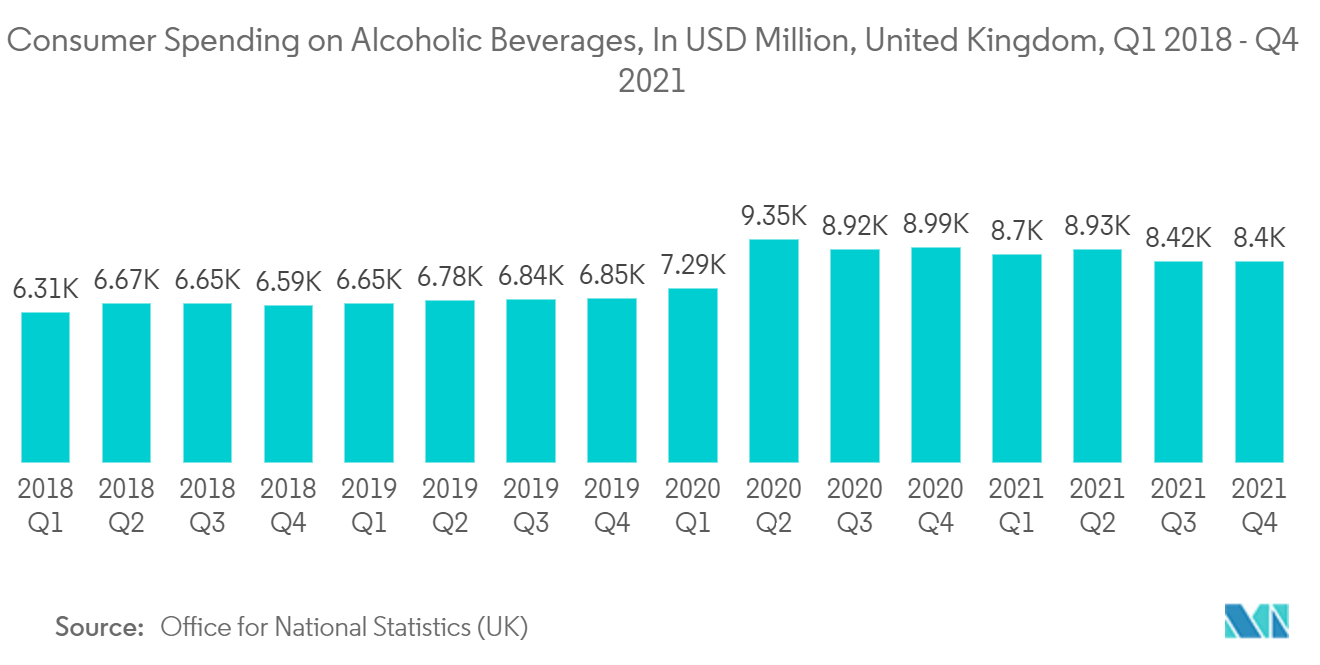 UK Packaging Industry Overview
The United Kingdom packaging market is fragmented and consists of several global and regional players. In terms of market share, some of the players currently dominate the market in terms of overall share. These major players with a prominent market share are focusing on expanding their customer base across the end users. These companies leverage strategic collaborative initiatives to increase their market share and profitability.
August 2022 - Constantia Flexibles agreed to purchase FFP Packaging Solutions (FFP), a major player in flexible consumer packaging, in Northampton, United Kingdom. Constantia Flexibles' acquisition signifies opening its first consumer packaging facility in the United Kingdom.
June 2022 - In a deal worth more than EUR 25 million (USD 26.33 million), Zeus, an Irish-owned provider of global packaging solutions, announced the acquisition of Swanline Group and BoxMart, two UK packaging firms. The combined revenue of the two businesses exceeds EUR 30 million (USD 31.6 million). These two acquisitions are expected to help Zeus maintain its leadership position in the retail, food, beverage, and e-commerce packaging industries and help it achieve its goal of achieving half a billion euros in annualized revenue in 2023. Zeus is anticipated to generate more than EUR 400 million (USD 421.32 million) in annual revenues in 2022.
UK Packaging Market Leaders
Amcor PLC

DS Smith PLC

AptarGroup Inc.

Sealed Air Corporation

Sonoco Products Company
*Disclaimer: Major Players sorted in no particular order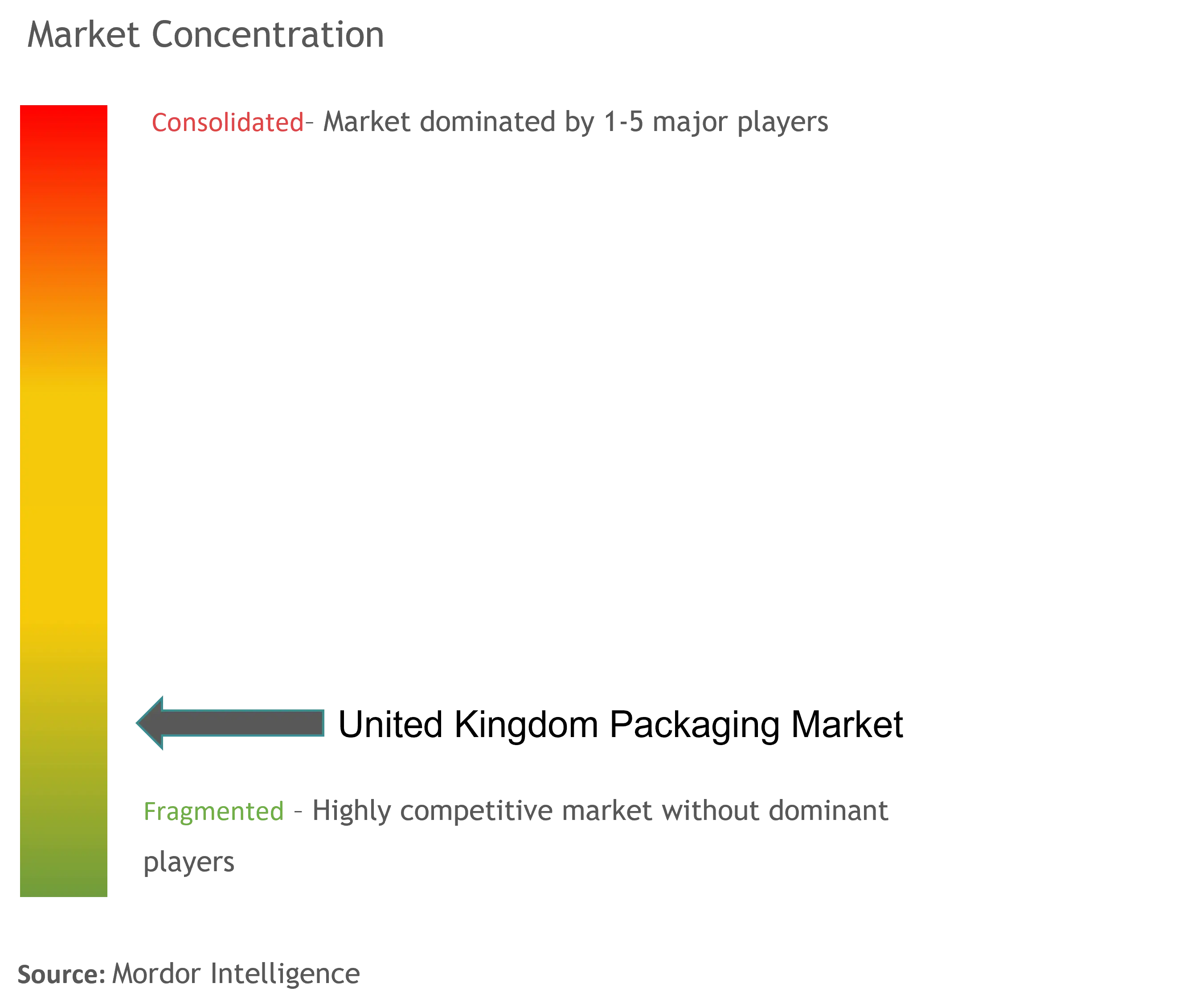 UK Packaging Market News
July 2022 - Flexible packaging provider ProAmpac introduced ProActivePCR Retort pouches in response to the rising market need for post-consumer recycled (PCR) packaging solutions. The pouches are intended for packaging pet and human food and are FDA and EU-approved for food contact in retort applications. They offer a 30% percentage or greater PCR content by weight, reducing the use of virgin resins in the packaging. In addition, these innovative pouches comply with the United Kingdom (UK) Plastics Packaging Tax (PPT).
May 2022 - As a part of the United Kingdom Research and Innovation's (UKRI) Smart Sustainable Plastic Packaging challenge, Interface Polymers Ltd. and Flexipol Ltd. jointly won funding of GBP 850 thousand (USD 1.05 million) grant to finance a 24-month collaborative project entitled 'Recycle Ready' multi-layer barrier plastic packaging films, aimed at the development of fully recyclable LDPE multi-layer packaging suitable for upcycling into high-value applications.
February 2022 - UK-based packaging manufacturer Coveris, and British chemical group Ineos, developed and launched a range of lightweight stretch films containing a minimum of 30% recycled content in advance of UK Plastic Packaging Tax requirements, with Ineoseven trialing the film for use at its own Grangemouth, Scotland operation. The two firms claim that the trials have successfully demonstrated that the new recycled stretch-hood covering for pallets performs to the same standards as a previous product made from 100% virgin material.
UK Packaging Market Report - Table of Contents
1. INTRODUCTION

1.1 Study Assumption and Market Definition

1.2 Scope of the Study

2. RESEARCH METHODOLOGY

3. EXECUTIVE SUMMARY

4. MARKET INSIGHTS

4.1 Market Overview

4.2 Industry Attractiveness - Porter's Five Forces Analysis

4.2.1 Bargaining Power of Suppliers

4.2.2 Bargaining Power of Buyers

4.2.3 Threat of New Entrants

4.2.4 Threat of Substitutes

4.2.5 Intensity of Competitive Rivalry

4.3 Industry Value Chain Analysis

4.4 Impact of COVID-19 on the Packaging Industry

4.5 Analysis of Technologies for Sustainability in Packaging

4.6 Overview of the Global Packaging Market

5. MARKET DYNAMICS

5.1 Market Drivers

5.1.1 Rising Demand from the Millennial for Luxury Packaging for Consumer Goods

5.1.2 Demand for E-commerce Packaging is Soaring

5.1.3 Flexible Packaging Continues to Grow Faster

5.2 Market Restraints

5.2.1 High Cost of Development and the Rising Concept of Recycling

5.2.2 The Rising Environmental Concerns

6. MARKET SEGMENTATION

6.1 By End-User Vertical

6.1.1 Food

6.1.2 Beverage

6.1.3 Healthcare

6.1.4 Cosmetics, Personal Care and Household Care

6.1.5 Industrial

6.2 By Plastic Packaging

6.2.1 Material Type

6.2.1.1 PE (Polyethylene)

6.2.1.2 PP (Polypropylene)

6.2.1.3 PVC (Poly Vinyl Chloride)

6.2.1.4 PET (Polyethylene Terephthalate)

6.2.1.5 Other Material Types

6.2.2 Type

6.2.2.1 Rigid Plastic Packaging

6.2.2.1.1 Bottles and Jars

6.2.2.1.2 Trays and Containers

6.2.2.1.3 Other Product Types

6.2.2.2 Flexible Plastic Packaging

6.2.2.2.1 Pouches & Bags

6.2.2.2.2 Films and Wraps

6.2.2.2.3 Other Product Types

6.3 By Packaging Material Type

6.3.1 Paper

6.3.1.1 Carton Board

6.3.1.2 Containerboard and Linerboard

6.3.1.3 Other Types

6.3.2 Glass

6.3.3 Metal (Cans, Drums, Caps and Closures and Bulk Containers)

7. COMPETITIVE LANDSCAPE

7.1 Company Profiles

7.1.1 Amcor PLC

7.1.2 DS Smith PLC

7.1.3 Owens Illinois Inc.

7.1.4 Crown Holdings Inc.

7.1.5 Berry Global Inc.

7.1.6 Sealed Air Corporation

7.1.7 Sonoco Products Company

7.1.8 Graphic Packaging International LLC

7.1.9 Greif Inc.

7.1.10 Ball Corporation

7.1.11 Westrock Company

7.1.12 Silgan Holdings Inc.

7.1.13 AptarGroup Inc.

7.1.14 Huhtamaki Oyj

7.1.15 Mondi Group

7.1.16 Tetra Pak International SA

7.1.17 Can-Pack UK Ltd

7.1.18 Ardagh Group

*List Not Exhaustive

8. INVESTMENT ANALYSIS

9. FUTURE OF THE MARKET
**Subject to Availability
UK Packaging Market Research FAQs
What is the study period of this market?
The United Kingdom Packaging Market is studied from 2018 - 2028.
What is the growth rate of United Kingdom Packaging Market?
The United Kingdom Packaging Market is growing at a CAGR of 3.8% over the next 5 years.
Who are the key players in United Kingdom Packaging Market?
Amcor PLC, DS Smith PLC, AptarGroup Inc. , Sealed Air Corporation, Sonoco Products Company are the major companies operating in United Kingdom Packaging Market.
United Kingdom Packaging Industry Report
Statistics for the 2023 United Kingdom Packaging market share, size and revenue growth rate, created by Mordor Intelligence™ Industry Reports. United Kingdom Packaging analysis includes a market forecast outlook to 2028 and historical overview. Get a sample of this industry analysis as a free report PDF download.
United Kingdom Packaging Report Snapshots
80%

of our clients seek made-to-order reports. How do you want us to tailor yours?