Ready Mix Concrete Market Size
The ready-mix concrete market is expected to witness a steady growth rate during the forecast period, 2018 - 2023. Asia-Pacific dominated the global ready-mix concrete market in 2017, owing to significant demand from India, China, Singapore, Indonesia, and South Korea.
Increasing Development of Smart Cities Driving the Ready Mix Concrete Market
With increasing urbanization, development of newer cities, and renewal of old infrastructures in established cities, the development of smart cities is growing. Various countries in Asia-Pacific region, such as Singapore, South Korea, Hong Kong, India are emerging as the fastest countries where the largest number of smart cities are present. In India, New Delhi, and Mumbai has emerged in the list of top smart cities by 2017 Smart Cities Index. Over 1000 smart cities pilot projects are ready or are under construction globally, with China itself having almost half of the projects. Growing number of such smart cities projects all across the world is expected to drive the ready-mix concrete market through the forecast period.
Non-Residential – The Largest Application Segment of Ready Mix Concrete Market
Ready-mix concrete owing to their superior features are widely used in non-residential applications, such as in commercial, infrastructure, and industrial. India has even experienced significant interest from foreign investors in its infrastructural sector. In the United States, non-residential construction segment is showing strong growth with education and public buildings expected to register the fastest growth of 6% in 2018. Commercial segment is expected to grow by 2% with office spaces at 6% during the same year. Overall, non-residential is predicted to grow 4% in 2018. Such positive growth is expected to drive the non-residential segment through the forecast period.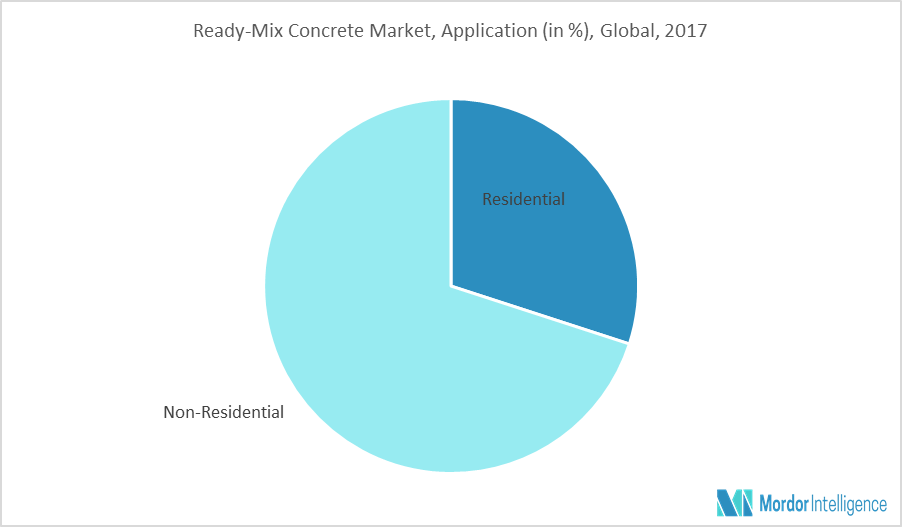 Asia-Pacific is the Largest Region for Ready Mix Concrete Market
Asia-Pacific dominated the global market in 2017, and is also expected to register the fastest growth through the forecast period. Development of 100 smart cities in countries, like India and Government projects, such as 'Housing For All' by 2022, restructuring of South Korea's construction industry are some of the few factors driving the ready-mix market growth in Asia-Pacific region.
Ready Mix Concrete Market Major Players:
BASF SE, CEMEX Group, ACC Limited, HeidelbergCement Group, Sika Group, Lafarge, UltraTech Cement, among others.
Reason to Purchase Ready Mix Concrete Market Report
Analyzing various perspectives of the market with the help of Porter's five forces analysis
To understand the application that is dominating the market
Countries expected to witness the fastest growth during the forecast period
Identifying the latest developments, market shares, and strategies employed by the major market players
3-month analyst support, along with the Market Estimate sheet (in Excel)
Customize Ready Mix Concrete Market Report
This report can be customized to meet your requirements. Please connect with our representative, who will ensure you get a report that suits your needs
1. Introduction
1.1 Research Phases
1.2 Study Deliverables
1.3 Scope of the Report
2. Executive Summary
3. Ready Mix Concrete Market Insights
3.1 Industry Value Chain Analysis
3.2 Industry Attractiveness- Porters Five Forces Analysis
3.2.1 Bargaining Power of Suppliers
3.2.2 Bargaining Power of Consumers
3.2.3 Threat of New Entrants
3.2.4 Threat of Substitute Products and Services
3.2.5 Degree of Competition
4. Market Dynamics
4.1 Ready Mix Concrete Market Drivers
4.1.1 Development of Smart Cities
4.1.2 Continuous Infrastructure Development in Emerging Economies
4.1.3 Superior Technical Properties over Normal Concrete
4.2 Ready Mix Concrete Market Restraints
4.2.1 Loss of Workability
4.2.2 High Initial Investments
4.3 Ready Mix Concrete Market Opportunities
4.3.1 Rising Awareness of Ready-mix Concrete in Developing Countries
5. Market Segmentation and Analysis (Market Size, Growth, and Forecast)
5.1 Ready Mix Concrete Market By Application
5.1.1 Residential
5.1.2 Non-residential
5.1.2.1 Infastructure
5.1.2.2 Commercial
5.1.2.3 Industrial/Institutional
6. Ready Mix Concrete Market Regional Analysis (Market Size, Growth, and Forecast)
6.1 Asia-Pacific
6.1.1 China
6.1.2 India
6.1.3 Japan
6.1.4 South Korea
6.1.5 ASEAN countries
6.1.6 Rest of Asia-Pacific
6.2 North America
6.2.1 United States
6.2.2 Mexico
6.2.3 Canada
6.2.4 Rest of North America
6.3 Europe
6.3.1 Germany
6.3.2 United Kingdom
6.3.3 Italy
6.3.4 France
6.3.5 Spain
6.3.6 Rest of Europe
6.4 South America
6.4.1 Brazil
6.4.2 Argentina
6.4.3 Rest of South America
6.5 Middle East & Africa
6.5.1 South Africa
6.5.2 Saudi Arabia
6.5.3 Rest of Middle East & Africa
7. Ready Mix Concrete Market Competitive Landscape
7.1 Mergers & Acquisitions, Joint Ventures, Collaborations, and Agreements
7.2 Market Share Analysis**
7.3 Strategies Adopted by Leading Players
8. Ready Mix Concrete Market Company Profiles (Overview, Financials**, Products & Services, and Recent Developments)
8.1 ACC Limited
8.2 Barney & Dickenson, Inc.
8.3 BuzziUnicem S.p.A.
8.4 CEMEX S.A.B. de C.V.
8.5 China National Building Material Company Limited (CNBM)
8.6 Colas Group
8.7 Dillon Bros Ready Mix Concrete, LLC
8.8 Godrej & Boyce Mfg Co Ltd.
8.9 Hanson Cement Limited
8.10 HeidelbergCement Group
8.11 Holcim Ltd.
8.12 Italcementi Group
8.13 LafargeHolcim
8.14 Livingston's Concrete Service, Inc.
8.15 Oldcastle
8.16 R.W. Sidley, Inc.
8.17 TNR Constructions
8.18 Trinity Industries
8.19 U.S. Concrete, Inc.
8.20 UltraTech Cement
8.21 Vicat S.A.
8.22 Vulcan Materials
*List not exhaustive
9. Disclaimer
**Subject to availability on public domain