Turboexpanders have undergone a development phase for over a decade, and have now captured the market for energy recovery while driving the profits for companies involved in the oil & gas, and power generation markets. Accentuated by the growth in global environmental awareness, there has been a shift to greener methods of energy production. Now, the government regulations are favoring the optimization of energy produced from the conventional sources. Utilizing the turboexpanders, substantial energy can be recovered using low-grade waste heat.
Increase in Natural Gas for Power Generation - Driving the Market
Natural gas is expected to play an important role in global energy portfolios, owing to its increasing abundance via pipelines, and especially liquefied natural gas (LNG) and its lower emissions. The shift from coal-fired thermal power plants to gas turbines is expected to increase the demand for natural gas. As a result, the demand for turboexpander is expected to grow. Moreover, as of 2017, Natural gas had a significant share in the global energy mix. It reflected a share of 24% in global primary energy consumption, and it is the second energy source in power generation, representing a 22% share. Natural gas has the potential to play a significant role in the world's transition to a cleaner, more affordable, and secure energy in the future. In developing regions, natural gas can be used to provide electricity to growing communities. As the lowest carbon-emitting fossil fuel, natural gas also has the potential to serve as a cleaner source of power. With the increase in natural gas-based power generation, the demand for turboexpanders is expected to increase during the forecast period.
Asia-Pacific occupying the Highest Market Share
Asia-Pacific is one of the world's largest consumers of electricity, with high growth in the consumption levels. A major share of Asia-Pacific's primary energy consumption comes from hydrocarbon-based sources of energy, but in recent years, the region witnessed an increase in LNG imports. The major LNG importing countries have very different market structures and dynamics. It is expected that China and India would be among the leading LNG consumers during the forecast period. The turboexpander market is expected to be driven by increasing adaptation of LNG in the region, as the increase in demand for turboexpanders is likely, during the forecast period.
India – One of the Fastest Growing Economies with Increasing Power Demand
India is one of the world's fastest-growing economies with a GDP of USD 2.264 trillion. Country's power generation mix is considerably inclined toward coal-based power generation, accounting for almost 58.8%. Government's plan to shift toward cleaner fuel and the increase in consumption of energy is expected to be supplemented by an alteration in primary energy mix on account of substitution of coal and oil by gas. The major demand for natural gas in India is from power and fertilizer sector, accounting for almost 55%. This increase in demand for natural gas would propel the turboexpander market, during the forecast period.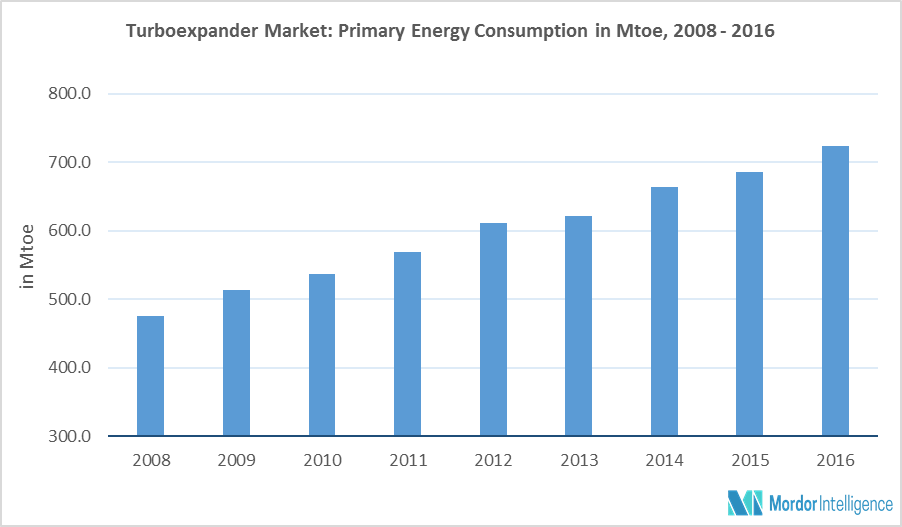 Key Developments in the Market
February 2017: Venture Global LNG, Inc. had selected GE Oil & Gas as a strategic partner to provide a plant-wide technology solution for its liquefied natural gas (LNG) export facilities under development in Louisiana.
Major Players: GE Oil and Gas, Atlas Copco, Cryostar, ACD, L.A. Turbine, Air Products and Chemicals, Inc., Turbogaz, Elliot Group, and Blair Engineering, among others.
Reasons to Purchase The Report
Current and future global turboexpander market outlook in the developed and emerging markets
Analyzing various perspectives of the market with the help of Porter's Five Forces analysis
The segment that is expected to dominate the market
Regions that are expected to witness the fastest growth during the forecast period
Identify the latest developments, and strategies employed by the major market players
3 months analyst support, along with the Market Estimate sheet (in excel)
Customization of the Report
This report can be customized to meet your requirements. Please connect with our representative, who will ensure you get a report that suits your needs.
1. Executive Summary
2. Research Methodology
3. Market Overview
3.1 Introduction
3.2 Market Size and Demand Forecast until 2023
3.3 Recent Trends and Developments
3.4 Government Policies and Regulations
4. Market Dynamics
4.1 Drivers
4.2 Restraints
4.3 Opportunities
5. Supply Chain Analysis
6. Industry Attractiveness - Porter's Five Forces Analysis
6.1 Bargaining Power of Suppliers
6.2 Bargaining Power of Consumers
6.3 Threat of New Entrants
6.4 Threat of Substitutes
6.5 Intensity of Competitive Rivalry
7. Market Segmentation and Analysis (Overview, Market Size, and Demand Forecast until 2023t)
7.1 By Loading Devices
7.1.1 Compresser (Centrifugal)
7.1.2 Generators (Electrical)
7.1.3 Hydraulic Brake
7.2 By Application
7.2.1 Oil & Gas Industry
7.2.2 Power Generation Systems
7.2.3 Refrigeration Systems
7.2.4 Energy Recovery
8. Regional Market Analysis (Overview, Market Size, and Demand Forecast until 2023t)
8.1 North America
8.1.1 United States
8.1.2 Canada
8.1.3 Mexico
8.2 Asia-Pacific
8.2.1 China
8.2.2 India
8.2.3 Australia
8.2.4 Indonesia
8.2.5 Rest of Asia-Pacific
8.3 Europe
8.3.1 Russia
8.3.2 Sweden
8.3.3 Denmark
8.3.4 France
8.3.5 Rest of Europe
8.4 Middle East & Africa
8.4.1 Algeria
8.4.2 Libya
8.4.3 South Africa
8.4.4 United Arab Emirates
8.4.5 Saudi Arabia
8.4.6 Rest of Middle East & Africa
8.5 South America
8.5.1 Brazil
8.5.2 Argentina
8.5.3 Paraguay
8.5.4 Rest of South America
9. Key Company Analysis* (Overview, Products & Services, Financials**, Recent Development, and Analyst View)
9.1 GE Oil and Gas
9.2 Atlas Copco
9.3 Blair Engineering
9.4 Cryostar
9.5 ACD
9.6 L.A. Turbine
9.7 Air Products and Chemicals, Inc.
9.8 Turbogaz
9.9 Elliot Group
10. Competitive Landscape
10.1 Mergers & Acquisitions
10.2 Joint Ventures, Collaborations, and Agreements
10.3 Strategies Adopted by Leading Players
11. Appendix
11.1 Contact Us
11.2 Disclaimer
*List not Exhaustive
**Subject to availability to public domain