The South America Cardiac Monitoring Market is expected to register high CAGR during the forecast period, 2018 to 2023. Cardiac monitoring devices are used to monitor and diagnose various abnormalities or disorders of the heart and the overall cardiovascular system.
Rise in the Incidences of Cardiovascular Diseases
Cardiovascular diseases (CVD) in South America region are the leading cause of death. The factors which leads to cardiovascular diseases are obesity, diabetes, life style and dietary habits. According to Mexican National Survey 2012, overweight or obesity was found in 64.9% of men and 73% of women which lead to CVD and increased mortality rates. Rate of diagnosis for cardio vascular diseases is increasing over time due to high incidence rates of cardiac diseases and to control mortality rates by early diagnosis and treatment for CVD with the help of cardiac monitoring devices. Hence rise in incidence of cardiovascular diseases drives the market. The other factors such as investments in R&D for innovative product development, ease and use of portability in devices and demand for home based, point of care & remote monitoring cardiac systems are the major drivers for the market.
Risk of Infection Due to Implantable Monitoring Devices
Cardiac Monitoring device is used by patients who require continuous monitoring of the heart for better treatment. Monitoring the cardiac output is a common practice in patients who undergo surgeries as they will be under anesthesia and critical care. Cardiac implantable devices are used for related cardiac surgeries to monitor heart rate continuously. The patients who undergo any invasive procedures are at risk of infections; cardiac patients are more prone to the infections than others. The rising rate of infections due to these devices has tremendous economic implications on hospitals. Patients who were implanted with these monitoring devices are likely to require prolonged hospital stays, and the related costs rack up quickly. However, minimally invasive cardiac output monitors for clinical practice are introduced into the market, without requiring insertion of Pacemaker. These devices utilize different techniques to monitor, and each has their own sources of potential errors and degree of invasiveness. Hence, the risk of infection due to implantable medical devices is a constraint for the market. The other factors such as low level of accuracy with invasive cardiac output monitoring devices and stringent FDA and validator regulations are the major restraints for the South America Cardiac Monitoring Market.
Brazil Lead the Market in South America region
The Cardiac Monitoring Market holds the largest market share in Brazil in South America region for the year 2017 due to high incidence rates of cardiac diseases.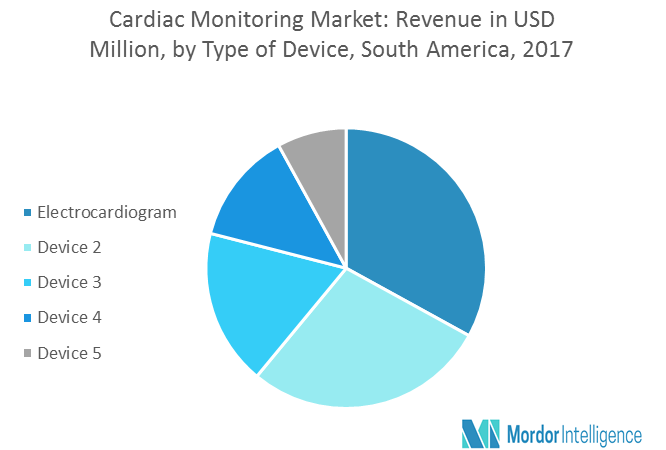 Key Developments in the Market
Sep 2017: ABBOTT Confirm Insertable Cardiac Monitor (ICM) is the world's first and only smartphone compatible ICM which got FDA clearance.
July 2017: GE Healthcare collaborated with Heartflow technologies to provide better care of coronary artery patients.
The major players include - Cardiac Science Corporation, GE Healthcare, Medtronic, Mennen Medical, Phillips Healthcare, Siemens Healthcare, Toshiba Medical Systems, Siemens Healthcare and Toshiba Medical Systems are amongst others.
Reasons to Purchase this Report
Current and future South America Cardiac Monitoring Market outlook in the developed and emerging markets
Analyzing various perspectives of the market with the help of Porter's five forces analysis
The segment that is expected to dominate the market
Regions that are expected to witness fastest growth during the forecast period
Identify the latest developments, market shares and strategies employed by the major market players.
3 months analyst support along with the Market Estimate sheet (in excel).
Customization of the Report
This report can be customized to meet your requirements. Please connect with our representative, who will ensure you to get a report that suits your needs.
1. Introduction
1.1 Market Definition
2. Research Methodology
3. Executive Summary
4. Key Inferences
5. Market Overview
5.1 Current Market Scenario
5.2 Porter's Five Forces Analysis
5.2.1 Bargaining Power of Suppliers
5.2.2 Bargaining Power of Consumers
5.2.3 Threat of New Entrants
5.2.4 Threat of Substitute Product and Services
5.2.5 Competitive Rivalry within the Industry
6. Drivers, Restraints, Opportunities and Challenges Analysis (DROC)
6.1 Market Drivers
6.1.1 Rise in the Incidences of Cardiovascular Diseases
6.1.2 Investments in R&D for Product Development
6.1.3 Ease and Use of Portability in Devices
6.1.4 Demand for Home Based, Point of Care & Remote Monitoring Cardiac Systems
6.2 Market Restraints
6.2.1 Risk of Infection Due to Implantable Monitoring Devices
6.2.2 Low Level of Accuracy with Invasive Cardiac Output Monitoring Devices
6.2.3 Stringent FDA and Validator Regulations
6.3 Opportunities
6.4 Key Challenges
7. Market Segmentation
7.1 By Type of Device
7.1.1 Insertable Cardiac Monitoring Devices
7.1.2 Cardiac Output Monitoring Devices
7.1.3 Electrocardiogram
7.1.4 Cardiac Event Monitoring Systems
7.1.5 Others
7.2 By Geography
7.2.1 South America
7.2.1.1 Brazil
7.2.1.2 Argentina
7.2.1.3 Rest of South America
8. Competitive Landscape
8.1 Mergers & Acquisition Analysis
8.2 Agreements, Collaborations, and Partnerships
8.3 New Products Launches
9. Key Players
9.1 Cardiac Science Corporation
9.2 GE Healthcare
9.3 Medtronic
9.4 Mennen Medical
9.5 Phillips Healthcare
9.6 Siemens Healthcare
9.7 Toshiba Medical Systems
*List not exhaustive
10. Future of the Market