The global smart factory market was valued at USD 211.74 billion in 2017. This market is expected to reach USD 358.01 billion by 2023, at a CAGR of 9.17% during the forecast period (2018 - 2023). Smart factory refers to various fully-integrated automation solutions adopted for manufacturing facilities. This integration helps streamline the material flow during all the processes involved in the manufacturing, thus, enabling effective movement of materials across the factory floor. Combining the digital and physical worlds has revolutionized the automation industry, thereby, enabling optimum performance. Several manufacturing companies are now capable of achieving zero waste production and shorter time to market. The judicious adoption of smart systems could extend a way in reducing the need for human labor, particularly in challenging environments. Quality control processes have historically relied on human intervention; however, a greater availability of these smart factory systems, with more user-friendly controls, is expected to gain popularity in complex manufacturing settings.
Industry Digitization and End-to-end Supply Chain Visibility to Drive the Market Growth
Digitization in industries allows for improved efficiency and optimum resource management. The definition of digitization of the industrial sector varies from industry to industry, depending on whether the focus is on connected systems or automation. IT & telecom and finance sectors have been the pioneers in adopting digitization in North America. However, manufacturing and processing industries have realized the potential of advanced technologies and deploying connected and smart systems. Digitization in the industries allows end-to-end visibility of industrial supply chain. Smart factory technologies constantly collect data from different equipment for performance monitoring. Smart factory systems, thus, allow easy data access of production volumes and operational data. This also enables companies to deploy advance data analysis tools to analyze and identify the flaws in the operation and rectify them to improve the overall efficiency.
Automotive to Dominate the Market by End User
The rapid development of the digital economy is changing consumer expectations and old business models are being adapted, changed and even scrapped as a result. In order to reclaim its leading position in production technologies, the American manufacturing industry has launched a digital transformation offensive. The United States and Canada produced 8,263,780 and 1,568,214 commercial vehicles respectively, in 2016, where the output level is expected to increase further during the forecast period. The automotive industry is dominated by three major manufacturers, namely General Motors, Ford, and Chrysler. The automotive sector is, however, on the edge of dramatic change. Constant technological advancements are creating a host of opportunities that allow innovations and the development of safer, cleaner, and more efficient vehicles.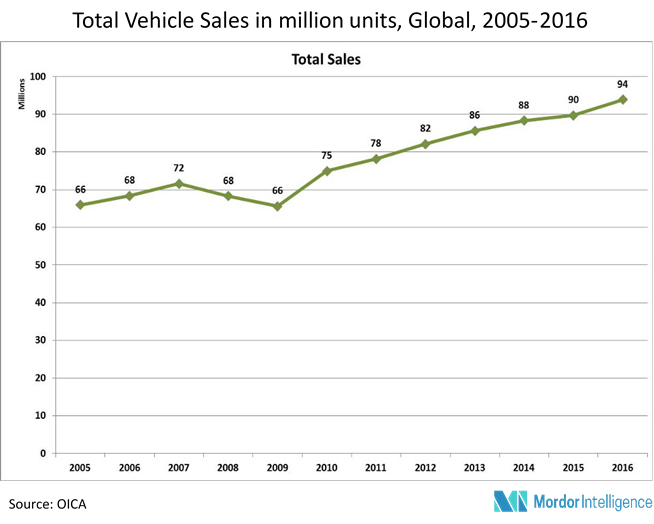 US Dominates the Smart Factory Market in North America
The United States is on the verge of the fourth industrial revolution, where data is being used on a large-scale for production while integrating the data with a wide variety of manufacturing systems throughout the supply chain. The United States is also one of the largest automotive markets in the world and is home to over 13 major auto manufacturers. The automotive manufacturing has been one of the largest revenue generators for the country in the manufacturing sector. Manufacturing industries from the United States are shifting their base to Mexico, due to the huge availability of inexpensive labor. This shift is expected to pose a major challenge for the US market. Hence, there is a need to come up with innovative technologies for reducing the costs, which can be achieved by implementing smart factory solutions to reduce human intervention.
Recent Developments
November 2017: Yokogawa Electric Corporation announced Synaptic Business Automation, a new industrial automation and control business concept that expresses the company's commitment to working with its customers to sustain its creation of corporate value.
August 2017: Honeywell acquired Nextnine Ltd, a global provider of industrial cybersecurity solutions. The business will be integrated into Honeywell's Industrial Cybersecurity group and will significantly strengthen Honeywell's capability to offer multi-vendor, multi-site secure remote access, monitoring and support to protect industrial control systems and critical infrastructure against a growing threat of cyber-attacks.
Major Players: ABB, Cognex Corporation, Siemens AG, Schneider Electric, Rockwell Automation, Honeywell Automation, Robert Bosch, and Johnson Controls, among others.
Reasons to Purchase this Report
Analysis of how the market scenario of smart factory is changing
Analyze various perspectives of the market with the help of Porter's five forces analysis.
The security technology, services, and vertical that are expected to dominate the market.
The regions that are expected to witness fastest growth during the forecast period.
Identify the latest developments, market shares, and strategies employed by the major market players.
3 months analyst support, along with the Market Estimate sheet in excel.
Customization of the Report
This report can be customized to meet your requirements. Please connect with our analyst, who will ensure you get a report that suits your needs.
1. Introduction
1.1 Scope of the Study
1.2 Executive Summary
2. Research Methodology
2.1 Study Deliverables
2.2 Study Assumptions
2.3 Research Methodology
2.4 Research Phases
3. Market Insights
3.1 Market Overview
3.2 Porter's Five Forces Analysis
4. Market Dynamics
4.1 Introduction
4.2 Market Drivers
4.2.1 Growing Adoption of Internet of Things (IoT) in Industrial sSector
4.2.2 Industry Digitization and End-to-end Supply Chain Visibility
4.2.3 Rising Demand for Energy Efficiency
4.3 Market Restraints
4.3.1 Huge Capital Investments for Transformations
4.3.2 Vulnerable to Cyber Attacks
4.4 Industry Value Chain
5. Market Segmentation
5.1 By Porduct
5.1.1 Machine Vision Systems
5.1.1.1 Cameras
5.1.1.2 Processors
5.1.1.3 Software
5.1.1.4 Enclosures
5.1.1.5 Frame Grabbers
5.1.1.6 Integration Services
5.1.1.7 Lighting
5.1.2 Industrial Robotics
5.1.2.1 Articulated Robots
5.1.2.2 Cartesian Robots
5.1.2.3 Cylindrical Robots
5.1.2.4 SCARA Robots
5.1.2.5 Parallel Robots
5.1.2.6 Collaborative Industry Robots
5.1.3 Control Devices
5.1.3.1 Relays and Switches
5.1.3.2 Servo Motors and Drives
5.1.4 Sensors
5.1.5 Communication Technologies
5.1.5.1 Wired
5.1.5.2 Wireless
5.1.6 Others
5.2 By Technology
5.2.1 PLM
5.2.2 HMI
5.2.3 ERP
5.2.4 MES
5.2.5 DCS
5.2.6 SCADA
5.2.7 PLC
5.2.8 Others
5.3 By End User
5.3.1 Automotive
5.3.2 Semiconductors
5.3.3 Oil & Gas
5.3.4 Chemical & Petrochemical
5.3.5 Pharmaceutical
5.3.6 Aerospace & Defense
5.3.7 Food & Beverage
5.3.8 Mining
5.3.9 Others
5.4 By Geography
5.4.1 North America
5.4.1.1 United States
5.4.1.2 Canada
5.4.2 Europe
5.4.2.1 United Kingdom
5.4.2.2 Germany
5.4.2.3 France
5.4.2.4 Others
5.4.3 Asia-Pacific
5.4.3.1 China
5.4.3.2 India
5.4.3.3 Japan
5.4.3.4 Others
5.4.4 Latin America
5.4.4.1 Brazil
5.4.4.2 Argentina
5.4.4.3 Mexico
5.4.4.4 Others
5.4.5 Middle East & Africa
5.4.5.1 UAE
5.4.5.2 Saudi Arabia
5.4.5.3 South Africa
5.4.5.4 Others
6. Competitive Intelligence - Key vendor Profiles
6.1 ABB (ASEA BROWN BOVERI) Group
6.2 Cognex Corporation
6.3 Siemens AG
6.4 Schneider Electric SE
6.5 Yokogawa Electric Corporation
6.6 Swisslog Holding AG
6.7 Rockwell Automation Inc.
6.8 Honeywell International Inc
6.9 Robert Bosch GmbH
6.10 Atos SE
6.11 Johnson Controls Inc.
6.12 Emerson Electric Company
7. Investment Analysis
8. Future of the Smart Factory Market