The global shape-memory polymer market is expected to witness a CAGR of around 15%, owing to increasing application from healthcare industry. The growing construction industry in Asia-Pacific region is also, likely to stimulate the market growth.
Healthcare Industry Driving the Market
The major driver for the market is increasing application of shape-memory polymer in healthcare for smart drug delivery, orthodontic implants, orthopedic braces and splints, cardiovascular stents, catheters, etc. Global demand for healthcare products and services will continue to rise in the coming years due to aging populations in mature markets and improving access to healthcare in emerging ones. The United States contributes the highest share in the global healthcare industry and is likely to witness a significant growth rate, which is expected to boost the shape-memory polymer market.
Temperature-Induced SMP the Leading Stimulus Type
Among the stimulus type-based segments, temperature-induced SMP is expected to dominate over the others. There are numerous opportunities in the textile industry, which can drive the demand of temperature-induced smart polymers market. Textiles integrated with these SMPs can help in achieving different 3D forms in garments. Window curtains or films with temperature-induced SMPs can also act under the influence of heat, which changes the microstructure and macrostructure properties of smart clothing.
Automotive and Construction Expected to Drive the Asia-Pacific Market
Asia-Pacific is expected to register the highest growth, due to the booming construction industry. The region is also expected to be an emerging market during the forecasted period with an increase in automotive manufacturing facilities in China, India, Indonesia and Thailand. In the automotive industry, shape memory polymers are used in reconfigurable storage bins, seat assemblies, energy absorbing assemblies, airflow control systems, and others. North America and Europe are expected to experience considerable growth, owing to their established aerospace, robotics, and healthcare industries.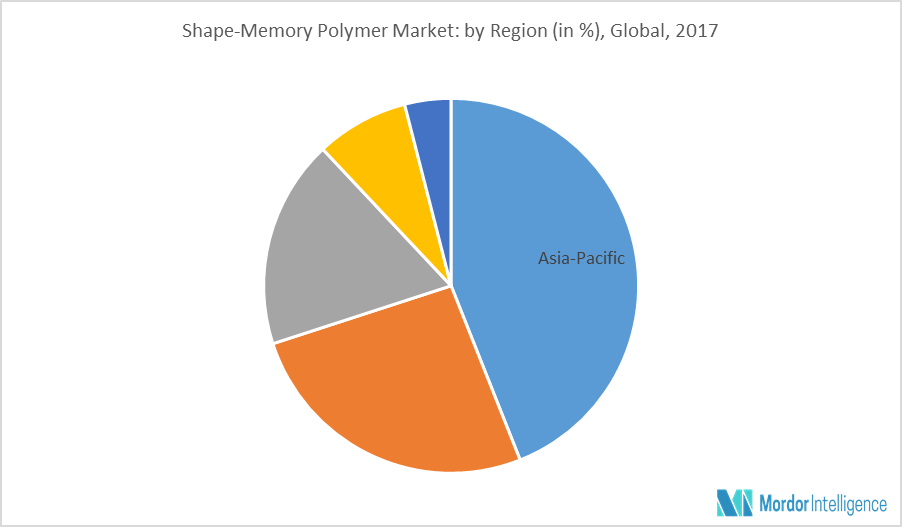 Notable Developments
A new photosensitive shape-memory polymer is developed, which can be suitable for 3D printing technology via UV curing.
Major Players: Spintech LLC, Cornerstone Research Group, Covestro, MedShape and SMP Technologies Inc., among others.
Reason to Purchase this Report
To understand the impact of various stimulus type on the market
Analyzing various perspectives of the market with the help of Porter's five forces analysis
To understand the dominating end-user industry and stimulus type in the market
Countries expected to witness the fastest growth during the forecast period
Identifying the latest developments, market shares, and strategies employed by the major market players
3-month analyst support, along with the Market Estimate sheet in excel
Customization of the Report
This report can be customized to meet your requirements. Please connect with our analyst, who will ensure you get a report that suits your needs
1. Introduction
1.1 Scope of the Report
1.2 Research Phases
1.3 Study Deliverables
2. Executive Summary
3. Market Insights
3.1 Industry Value Chain Analysis
3.2 Industry Attractiveness – Porter's 5 Forces Analysis
3.2.1 Bargaining Power of Suppliers
3.2.2 Bargaining Power of Consumers
3.2.3 Threat of New Entrants
3.2.4 Threat of Substitute Products and Services
3.2.5 Degree of Competition
3.3 Technological Snapshot
3.3.1 Production Process
3.3.2 Patent Analysis
4. Market Dynamics
4.1 Drivers
4.1.1 Increasing Applications in Healthcare
4.1.2 Growing Construction Industry in Asia-Pacific Countries, like India and China
4.2 Restraints
4.2.1 Relatively Low Stiffness Values
4.2.2 Other Restraints
4.3 Opportunities
4.3.1 Invention of Better Manufacturing Techniques, like Mnemosynation
5. Market Segmentation and Analysis (Market Size, Growth, and Forecast)
5.1 By Stimulus
5.1.1 Temperature-induced
5.1.2 Light-induced
5.1.3 Electricity-induced
5.1.4 Others (pH, Magnetic, etc.)
5.2 By End-user Industry
5.2.1 Aerospace
5.2.2 Automotive
5.2.3 Construction
5.2.4 Healthcare
5.2.5 Others (Textiles, Robotics, etc.)
6. Regional Market Analysis (Market Size, Growth, and Forecast)
6.1 North America
6.1.1 United States
6.1.2 Canada
6.1.3 Mexico
6.1.4 Rest of North America
6.2 Europe
6.2.1 Germany
6.2.2 United Kingdom
6.2.3 Italy
6.2.4 France
6.2.5 Rest of Europe
6.3 Asia-Pacific
6.3.1 China
6.3.2 India
6.3.3 Japan
6.3.4 South Korea
6.3.5 ASEAN Countries
6.3.6 Rest of Asia-Pacific
6.4 South America
6.4.1 Brazil
6.4.2 Argentina
6.4.3 Rest of South America
6.5 Middle East & Africa
6.5.1 Saudi Arabia
6.5.2 Iran
6.5.3 Egypt
6.5.4 Rest of Middle East & Africa
7. Future of the Market
8. Competitive Landscape
8.1 Mergers & Acquisitions, Joint Ventures, Collaborations, and Agreements
8.2 Market Share Analysis**
8.3 Strategies Adopted by Leading Players
9. Company Profiles (Overview, Financials**, Products & services, Recent Developments, and Analyst View)
9.1 BASF SE
9.2 Covestro AG
9.3 Evonik Industries AG
9.4 SMP Technologies Inc.
9.5 Spintech LLC
9.6 EndoShape
9.7 MedShape
9.8 Cornerstone Research Group
*List Not Exhaustive
10. Disclaimer
**Subject to availability of public domain