Semiconductor Market Size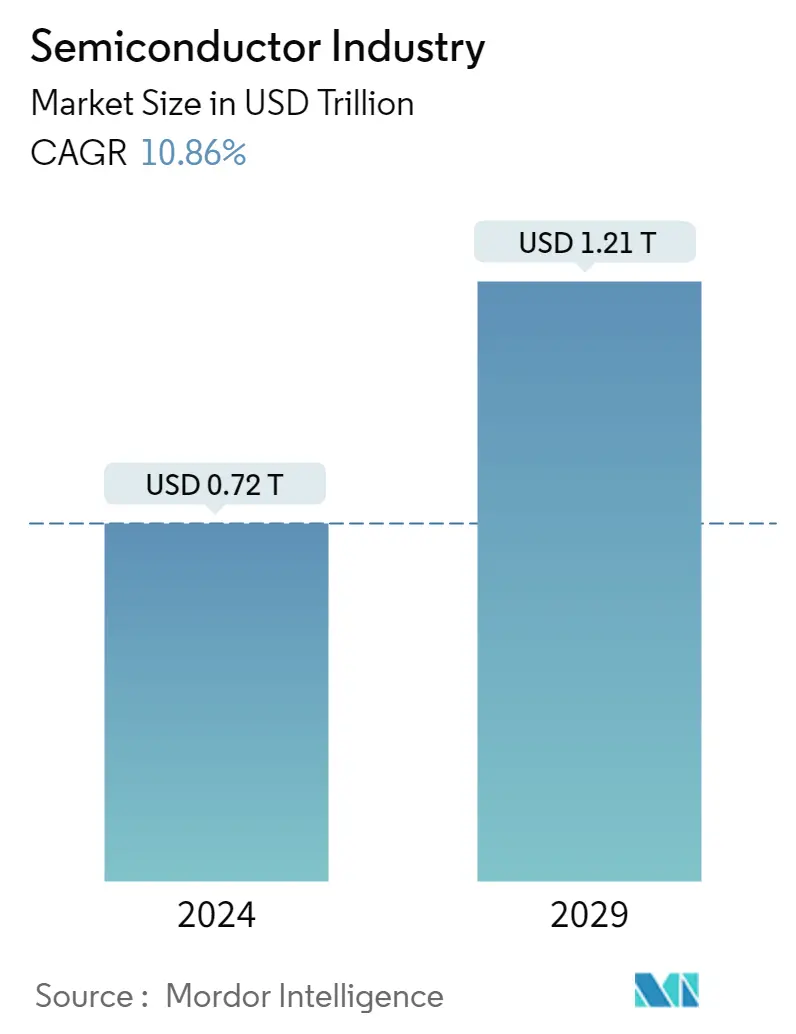 Study Period
2020- 2028
Base Year For Estimation
2022
CAGR
10.86 %
Fastest Growing Market
Asia Pacific
Largest Market
Asia Pacific
Market Concentration
High

Major Players

*Disclaimer: Major Players sorted in no particular order
Need a report that reflects how COVID-19 has impacted this market and its growth?
Semiconductor Market Analysis
The Semiconductor industry was valued at USD 585.56 illion in the previous year and is expected to reach USD 1,087.12 billion by the end of the forecast period by recording a CAGR of 10.86% during the forecast period.
The expanding use of consumer electronics products worldwide drives this market's expansion. Additionally, new potentials for market expansion are being created by the development of artificial intelligence (AI), the Internet of Things (IoT), and machine learning (ML) technologies. Due to these innovations, memory chips can process vast data more quickly. The need for faster and more sophisticated memory chips in industrial applications would also increase during the projection period.
Global demand is rising dramatically due to AI, IoT, and wirelessly connected gadgets developments. For instance, Micron Technologies Inc. provides multi-chip packages and high-capacity memory supported by AI training and used in mobile, edge, cloud, and embedded devices. The bulk of these new discoveries come with a single system on a chip (SoC) to provide high degrees of integration. As it combines processors, memory, RF Transceivers, sensors, power management, and networking in a single component, SoC also enables the devices to run with excellent power efficiency and increased security.
By employing materials such as silicon (Si), germanium (Ge), and gallium arsenide (GaAs), electronics manufacturers have been able to replace traditional thermionic devices that made electronic items heavy and non-portable. Since the inception of semiconductor elements, there has been a high degree of miniaturization, making electronic equipment more compact and mobile. Silicon is considered the best among all the semiconductor elements available in the current market scenario.
The development of smart factories for semiconductor manufacturing equipment faces several difficulties, including those related to energy supply and availability, worker productivity, and the availability of the technological infrastructure required to make the transition to smart factories. However, these factories will negatively affect current employment and may raise unemployment rates.
Due to the fact that China is home to GM, Honda, Nissan, Renault, and Toyota car facilities, the unexpected Covid-19 epidemic there has had a significant impact on Asian automotive manufacturing. China's export of automobile parts to other automakers in the European Union is expected to decline by 2%, according to the UNCTAD. Similar to this, the US, South Korea, Japan, and many other countries might cause a 7 billion USD decline in car exports from these economies to the rest of the globe. However, the increasing need for remote work has significantly increased networking, communication, and data processing applications globally, which will eventually contribute to a moderate expansion of the semiconductor industry.
Semiconductor Market Trends
Increased Deployment of 5G and Rising Demand for 5G Smartphones to Drive the Market
Semiconductors are crucial for economic competitiveness and national security. Semiconductor innovation is essential to advance the global economy into the digital transformation era, artificial intelligence, and 5G communications. The economic viability of revolutionary applications like augmented and virtual reality, the Internet of Things, Industry 4.0 technology, and self-driving automobiles is rapidly approaching.
5G, or the fifth generation of wireless technology for digital cellular, is driving massive potential for high-tech companies developing connected devices and intelligent products and the semiconductor fabs producing the chips utilized in the devices that enable 5G.
As per the GSM association, by 2025, 5G networks are expected to cover one-third of the world's population. The organization also predicted that 5G connections would surpass 1 billion by the end of 2022 and 2 billion by 2025, making up over a fifth of mobile connections. The increasing pace of 5G wireless network rollouts across many regions benefits telecommunications equipment suppliers and makers of 5G-enabled phones. This momentum also promises to provide a profitable new market for chipmakers in the coming years.
The rising commercialization of applications like AI and 5G is also fueling advancements in packaging platforms, like Fan-Out Packaging and the 3D Flip Chip technology, to address the high-power consumption needs and provide benefits such as more excellent chip connectivity. This forces many companies to collaborate with OSAT vendors; hence, many OSATs, such as ASE/ SPIL, Amkor, and JCET, invest in various advanced SiPs and fan-out technology to gauge their competition.
The fan-Out Packaging market has grown significantly recently, and increased CapEx and R&D spending enable new Fan-Out Packaging adoption in 5Gand HPC applications. Suppliers heavily depend on these manufacturers to fuel strong growth in Fan-Out Packaging. Most of the Asian OSATsare well-positioned to invest progressively in Fan-Out Packaging.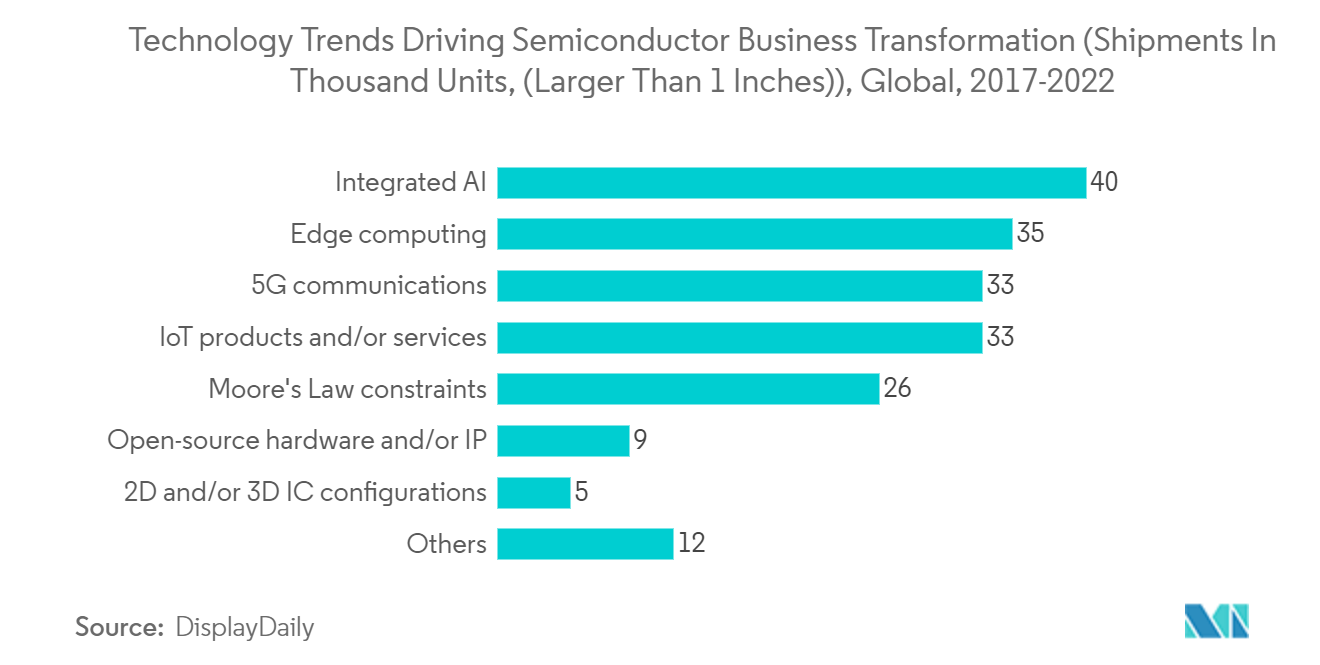 To understand key trends, Download Sample Report
Sensor Segment is Expected to Drive the Market
The segment includes semiconductors whose electrical properties correlate to temperature, pressure, displacement, velocity, acceleration, stress, strain, or any other physical, chemical, or biological property. The segment covers temperature & other sensors, pressure, acceleration, and yaw rate, magnetic field, and actuators.
Owing to factors like surging demand for smart sensors in IoT-based devices and consumer electronics, increasing use of sensors in improving industrial processes, rising demand by automobile manufacturers to deliver enhanced safety and comfort, and accelerated use of wireless technology to monitor and control security devices equipped with smart sensors, the segment is expected to register one of the fastest growth rates in the forecast period.
Investments in Industry 4.0 are rising globally. Organizations have started adopting Industry 4.0 smart solutions owing to the positive impact these solutions have on their businesses, including increased productivity. For instance, as per a report by the National Association of Software and Services Companies (NASSCOM), and Capgemini, it is expected that by 2025, more than two-thirds of the Indian manufacturing sector will embrace Industry 4.0.
Sensors are a key part of factory automation and Industry 4.0. Motion, environmental, and vibration sensors are used to monitor the health of equipment, ranging from linear or angular positioning, tilt sensing, leveling, and shock to fall detection.
Dedicated industrial motion sensors based on micromachined sensing (MEMS) elements are available for Industry 4.0 applications. These have a wide mechanical frequency sensing bandwidth, high reliability, and accurate operation up to 105°C.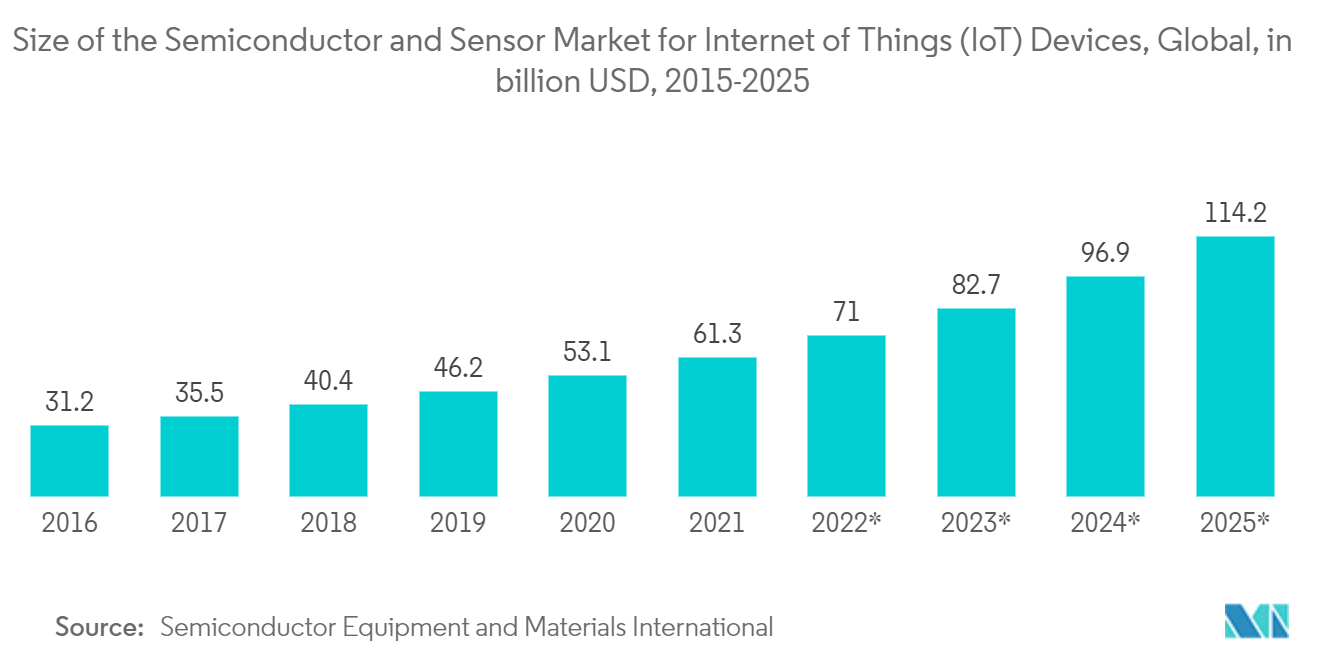 To understand geography trends, Download Sample Report
Semiconductor Industry Overview
The semiconductor industry landscape is highly competitive and consists of several players. Brand identity plays a significant role, considering the importance of quality that the end-users expect from a semiconductor manufacturing player. Market penetration levels are also high with considerable market incumbents like Kyocera Corporation, Qualcomm Technologies Inc., and STMicroelectronics NV.
May 2023 - Micron Technology, Inc. announced that it would introduce Extreme ultraviolet (EUV) technology, a complex patterning technique to produce its 1-gamma node DRAM. Due to the importance of its Hiroshima fab in the company's development of the 1-gamma node, Micron will be the first semiconductor manufacturer to introduce EUV technology to Japan for manufacturing. In the following years, Micron anticipates investing up to JPY 500 billion in 1-gamma process technology, with solid backing from the Japanese government, to support the next wave of end-to-end technological innovation, including the quickly developing generative artificial intelligence (AI) applications.
March 2023 - The second-largest memory chip manufacturer in the world, SK Hynix, is moving forward with plans to construct a USD 15 billion semiconductor chip facility in the US. The U.S. CHIPS Act, which offered USD 52.7 billion in federal incentives to entice advanced chip production to the United States, was said to have influenced the choice to invest.
Semiconductor Market Leaders
Intel Corporation

Samsung Electronics Co. Ltd

Qualcomm Technologies Inc.

Micron Technologies Inc.

SK Hynix Inc.
*Disclaimer: Major Players sorted in no particular order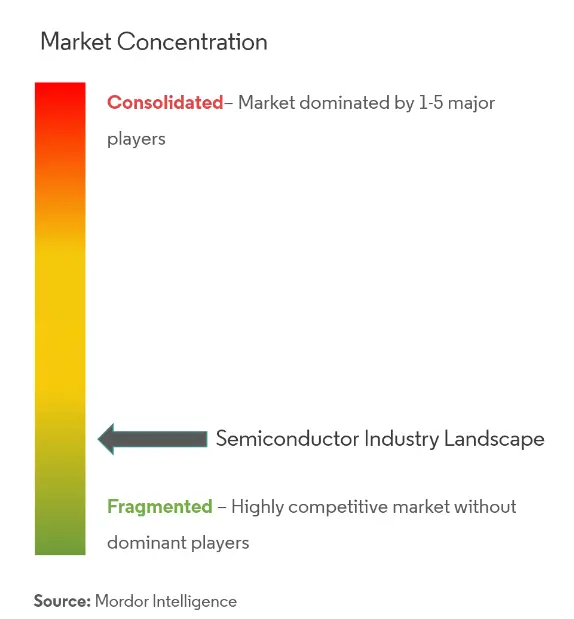 Semiconductor Market News
May 2023 - Purdue University signed the contract with the India Semiconductor Mission's leadership. It is the second significant international cooperation Purdue has announced this month. A relationship with imec, located in Belgium, was announced on May 3 by Purdue, the state of Indiana, and the Indiana Economic Development Corporation. Additionally, Purdue has made several additional forward-thinking efforts during the past year to meet urgent national semiconductor requirements.
February 2023 - The US Semiconductor Industry Association (SIA) and India Electronics and Semiconductor Association (IESA) hope to improve public-private cooperation in the chip ecosystem by creating a private-sector task force. This agreement will strengthen the collaboration between the two nations in the global semiconductor ecosystem. The two parties signed an MOU in April 2022 to promote cooperation and find possible business prospects between the two nations in the semiconductor industry.
Semiconductor Market Report - Table of Contents
1. INTRODUCTION

1.1 Study Assumptions and Market Definition

1.2 Scope of the Study

2. RESEARCH METHODOLOGY

3. EXECUTIVE SUMMARY

4. MARKET INSIGHTS

4.1 Market Overview

4.2 Technological Trends

4.3 Industry Value Chain/Supply Chain Analysis

4.4 Assessment of the Impact of COVID-19 on the Market

4.5 Industry Attractiveness - Porter's Five Forces Analysis

4.5.1 Bargaining Power of Suppliers

4.5.2 Bargaining Power of Buyers

4.5.3 Threat of New Entrants

4.5.4 Threat of Substitutes

4.5.5 Intensity of Competitive Rivalry

5. MARKET DYNAMICS

5.1 Market Drivers

5.1.1 Increasing Needs of Consumer Electronic Devices Boosting the Manufacturing Prospects

5.1.2 Proliferation of AI, IoT, and Connected Devices Across Industry Verticals

5.1.3 Increased Applications of Semiconductors in Automotive

5.1.4 Increased Deployment of 5G and Rising Demand for 5G Smartphones

5.2 Market Challenges/Restraints

5.2.1 Supply Chain Disruptions Resulting in Semiconductor Chip Shortage

5.2.2 Dynamic Nature of Technologies Requires Several Changes in Manufacturing Equipment

5.2.3 Vertical Integration is One of the Significant Concerns of OSAT Players

6. MARKET SEGMENTATION

6.1 By Semiconductor Devices

6.1.1 Discrete Semiconductors

6.1.2 Optoelectronics

6.1.3 Sensors

6.1.4 Integrated Circuits

6.2 By Integrated Circuits

6.2.1 Front-end Equipment

6.2.2 Back-end Equipment

6.3 By Semiconductors Materials

6.3.1 Fabrication

6.3.2 Pacakging

6.4 By Semiconductor Foundry Market

6.5 By Outsourced Semiconductor Assembly Test Services (OSAT) Market

6.5.1 Packaging

6.5.2 Testing

6.6 Geography

6.6.1 North America

6.6.2 Europe

6.6.3 Asia-Pacific

6.6.4 Latin Ameica

6.6.5 Middle-East and Africa

7. COMPETITIVE LANDSCAPE

7.1 Company Profiles - Semiconductor Devices Market

7.1.1 Intel Corporation

7.1.2 Samsung Electronics Co. Ltd

7.1.3 Qualcomm Incorporated

7.1.4 Micron Technology Inc.

7.1.5 SK Hynix Inc.

7.1.6 Texas Instruments Incorporated

7.1.7 Broadcom Inc.

7.1.8 Mediatek Inc.

7.2 Company Profiles - Semiconductor Equipment Market

7.2.1 Applied Materials Inc.

7.2.2 ASML Holding NV

7.2.3 Tokyo Electron Limited

7.2.4 Lam Research Corporation

7.2.5 Kla Corporation

7.2.6 Advantest Corporation

7.2.7 Screen Holdings Co. Ltd

7.2.8 Teradyne Inc.

7.3 Company Profiles - Semiconductor Materials Market

7.3.1 BASF SE

7.3.2 LG Chem Ltd

7.3.3 Indium Corporation

7.3.4 Showa Denko Materials Co. Ltd

7.3.5 KYOCERA Corporation

7.3.6 Henkel AG & Co. KGAA

7.3.7 Sumitomo Chemical Co. Ltd

7.3.8 Dow Chemical Co. (Dow Inc.)

7.4 Company Profiles - Semiconductor Foundry Market

7.4.1 Taiwan Semiconductor Manufacturing Company (TSMC) Limited

7.4.2 Samsung Foundry (Samsung Electronics Co. Ltd)

7.4.3 United Microelectronics Corporation (UMC)

7.4.4 GlobalFoundries Inc.

7.4.5 Semiconductor Manufacturing International Corporation (SMIC)

7.4.6 Hua Hong Semiconductor Limited

7.4.7 Powerchip Technology Corporation

7.5 Company Profiles - Semiconductor OSAT Market

7.5.1 Advanced Semiconductor Engineering Inc.

7.5.2 Amkor Technology Inc.

7.5.3 Jiangsu Changjiang Electronics Technology Co. Ltd

7.5.4 Powertech Technology Inc.

7.5.5 Tongfu Microelectronics Co. Ltd

7.5.6 Tianshui Huatian Technology Co. Ltd

7.5.7 King Yuan Electronics Co. Ltd

7.6 Vendor Market Share

7.6.1 Vendor Market Share - Semiconductor Devices Market

7.6.2 Vendor Market Share - Semiconductor Equipment Market

7.6.3 Vendor Market Share - Semiconductor Foundry Market

7.6.4 Vendor Market Share - OSAT Market

8. INVESTMENT ANALYSIS

9. FUTURE OUTLOOK OF THE MARKET
**Subject to Availability
Semiconductor Industry Segmentation
Semiconductors are essential technology enablers that power many cutting-edge digital devices. The global semiconductor industry is set to continue its robust growth well into the next decade due to advancements in emerging technologies, such as autonomous driving, artificial intelligence (AI), 5G, and the Internet of Things (IoT), coupled with consistent spending on R&D and competition among the prominent players. The Semiconductor Industry Landscape is Segmented by Semiconductor Devices (Discrete Semiconductors, Optoelectronics, Sensors, Integrated Circuits (Front-end Equipment, Back-end Equipment)), by Semiconductors Materials (Fabrication, Packaging), by Semiconductor Foundry Market, by Outsourced Semiconductor Assembly Test Services (OSAT) Market (Packaging, Testing), and by Geography. The market sizes and forecasts are provided in terms of value in USD million for all the above segments.
By Semiconductor Devices
Discrete Semiconductors
Optoelectronics
Sensors
Integrated Circuits
By Integrated Circuits
Front-end Equipment
Back-end Equipment
By Semiconductors Materials
Fabrication
Pacakging
By Outsourced Semiconductor Assembly Test Services (OSAT) Market
Packaging
Testing
Geography
North America
Europe
Asia-Pacific
Latin Ameica
Middle-East and Africa
Semiconductor Market Research FAQs
What is the current Semiconductor Market size?
The Semiconductor Market is projected to register a CAGR of 10.86% during the forecast period (2023-2028).
Who are the key players in Semiconductor Market?
Intel Corporation, Samsung Electronics Co. Ltd, Qualcomm Technologies Inc., Micron Technologies Inc. and SK Hynix Inc. are the major companies operating in the Semiconductor Market.
Which is the fastest growing region in Semiconductor Market?
Asia Pacific is estimated to grow at the highest CAGR over the forecast period (2023-2028).
Which region has the biggest share in Semiconductor Market?
In 2023, the Asia Pacific accounts for the largest market share in the Semiconductor Market.
Semiconductor Industry Report
Statistics for the 2023 Semiconductor market share, size and revenue growth rate, created by Mordor Intelligence™ Industry Reports. Semiconductor analysis includes a market forecast outlook to 2028 and historical overview. Get a sample of this industry analysis as a free report PDF download.
Semiconductor Market Report Snapshots
80%

of our clients seek made-to-order reports. How do you want us to tailor yours?