Market Snapshot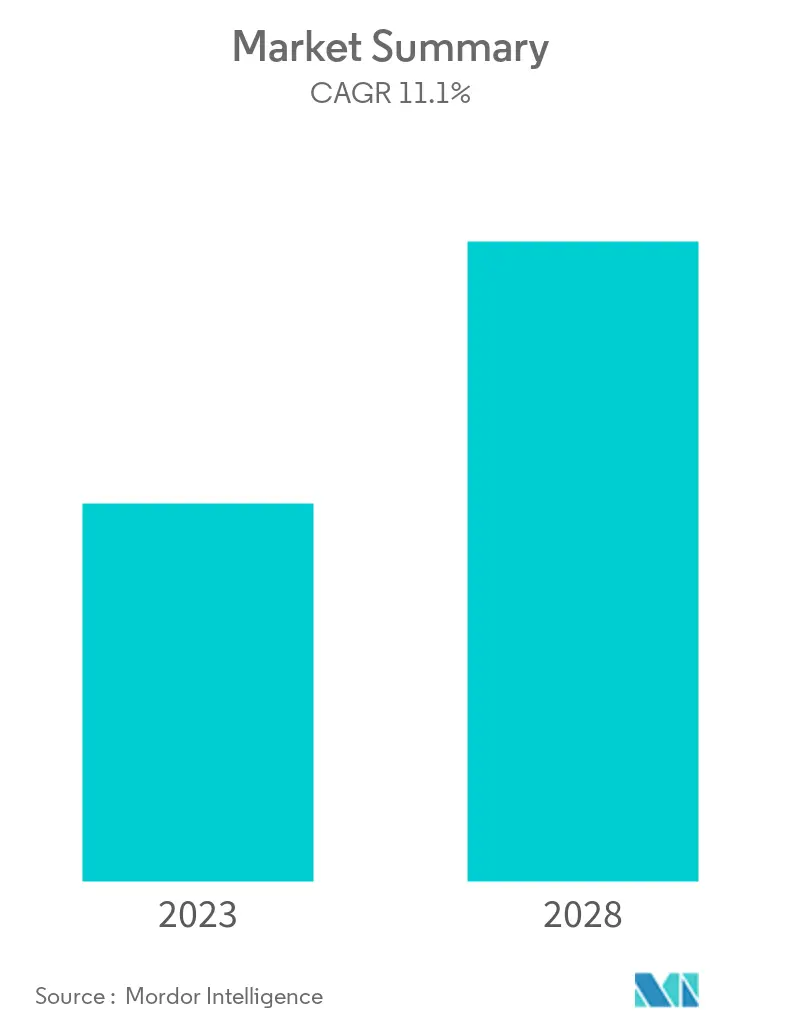 Study Period:
2018 - 2026
Base Year:
2021
CAGR:
11.1 %
Need a report that reflects how COVID-19 has impacted this market and its growth?
Market Overview
The Saudi Arabia Wearables market was valued at USD 33.9 million in 2020 and is expected to reach USD 63.81 million by 2026 at a CAGR of 11.1% whereas audio devices market was valued at USD 32.2 million and it is expected to reach USD 46.5 million at a CAGR of 6.4% during the forecast period (2021 - 2026). The market growth of wearables in the country is influenced by technological advancements in software and hardware components, increasing implementation across various verticals, and increased adoption in fitness and healthcare. However, limited battery life and security concerns could hinder the adoption of wearables.​
The market for wearables in the country is also driven by the rising awareness of health and fitness, where wearable sensors play a vital role. Sensors embedded wearable devices are being used to monitor bodily activities, such as body temperature, blood pressure, and heart rate. The demand from the healthcare industry has been driving the wearables market, as it enables remote data access. A research study conducted on 984 participants at King Saud bin Abdulaziz University for Health Sciences in Jeddah, Saudi Arabia, indicated that coronary artery disease (CAD) constitutes a significant share (37%) of health hazards in middle-aged individuals in Saudi Arabia.​
There is a growing consumer demand being observed in Saudi Arabia for high-performance home theater experience, owing to increased disposable income to drive home audio demand over the upcoming years. Reduced manufacturer focus on built-in sound quality in television sets is expected to amplify the need for external audio solutions, thus, benefiting market growth.​ In Jan 2020, Huawei Tech Investment, a Saudi Arabian company, announced the launch of Huawei-Devialet joint Wireless speaker known as the HUAWEI Sound X, which is a product that is sure to revolutionize high-end acoustic technology with sonorous audio that leaves an enduring, life-altering impression on the listener.​
The COVID-19 pandemic has brought in a lot of changes pertaining to the buying approach of customers. Lifestyle adjustment is among those with the working-class population of the country adopting wearables, like a smartwatch, wearable medical devices to maintain the health and fitness amidst work from home conditions.​ From the perspective of enterprises, the lockdown enacted by the country has resulted in the shutdown of manufacturing facilities combined with strict restrictions over social movement. This has impacted the overall operations of manufacturing facilities.​
However, there has been a rise in unit sales of flat-panel HD TVs as a result of falling prices is expected to widen the consumer base through the forecast period. The development of networked speakers and dedicated speaker docks is expected to spur increased consumer spending on home audio to enhance audio quality. Suppliers and manufacturers based in Saudi Arabia have been striving to expand market penetration by making systems user-friendly and visually less intrusive. ​Moreover Saudi Arabia has introduced a electronic wristband trackers to monitor those who have tested positive for the COVID-19 virus and are self-isolating. Moreover, the increasing effect of COVID-19 pandemic in the country has forced customers to shift from a brick-and-mortar store to online channels, which has resulted in sluggish growth of this segment.​
Scope of the Report
Wearables belong to a category of electronic devices that can be worn as accessories, implanted in the user's body, embedded in clothing, and can even be tattooed on the skin. These devices are typically hands-free gadgets powered by microprocessors and enriched with the capability to transmit data via the Internet.​ The study characterizes the wearable devices market based on the channel type and application, and audio device market based on channel and type. The study takes into account the volume of devices accrued from the individual product groups as well as the related services.​
Channel
E-Commerce
Offline
Application
Fitness and Wellness
Healthcare
Lifestyle
Gaming and Entertainment
COMPETITIVE INTELLIGENCE
List of Online Marketplaces for Wearables in KSA
Vendor Market Share

Company Profiles
United Matbouli Group
Huawei Technologies Co. Ltd
Polar Electro Oy
Apple Inc.
Garmin Inc.
Fitbit Inc.
Nike Inc.
Key Market Trends
E-commerce is Expected to Grow Significantly
Despite a high e-commerce readiness index, Saudi Arabia never really experienced significant growth in online sales for the longest time. To put it into perspective, Saudi's e-commerce penetration in 2017 was only 1.4%, which was less than half compared to the United States in 2005. However, this narrative has been steadily changing in the last two years, with an e-commerce growth rate exceeding 32% and online sales in the country expected to hit USD 9 billion, by 2025.​
Additionally, around 74% of online shoppers in Saudi Arabia are between age 18 and 34 years and mostly purchase electronics. Furthermore, in July 2019, Saudi's cabinet passed the new e-commerce regulation that dictates the terms, conditions, and liabilities between all the entities, which are involved in the online sale. The law is anticipated to enhance the reliability of online transactions, offer stimulus e-commerce activities, and protect the consumer against fraud, misinformation, and deception.​
In 2017, the total revenue generated by the fashion industry stood at USD 1.91 billion, followed by electronics and media at USD 1.85 billion, and the electronics and media category is set to maintain a growth rate and reach USD 2.66 billion, in 2021. The wearables market is steadily increasing during the past years, as its not only appeals to athletes anymore, but also benefits people with health concerns. The considerable share of fitness trackers growth has shifted into smartwatches, and the industry anticipates a further increasing convergence of smartwatches and fitness bands.​
Furthermore, 65% of all online purchases were made from websites based in Gulf Cooperation Council countries and Noon.com, based in the United Arab Emirates, but owned 50% by Saudi Arabia Public Investment Fund, launched a local version of its website in Saudi Arabia at the end of 2017, and it is expected to contribute to the share of domestic online shopping. Similarly, Souq.com (which was recently purchased by Amazon), as well as Amazon Global, Jarir.com, Extrastores.com, and Aliexpress, are among the most visited e-commerce websites in Saudi Arabia, which include the wearable segment.​
Moreover, Saudi Arabia makes up a large amount of traffic to these sites, nearly 22% of the traffic to souq.com, 75% of jarir.com, and 21% of opensooq.com. This caters to the wearable players to add the expansion in the online business, along with offline.​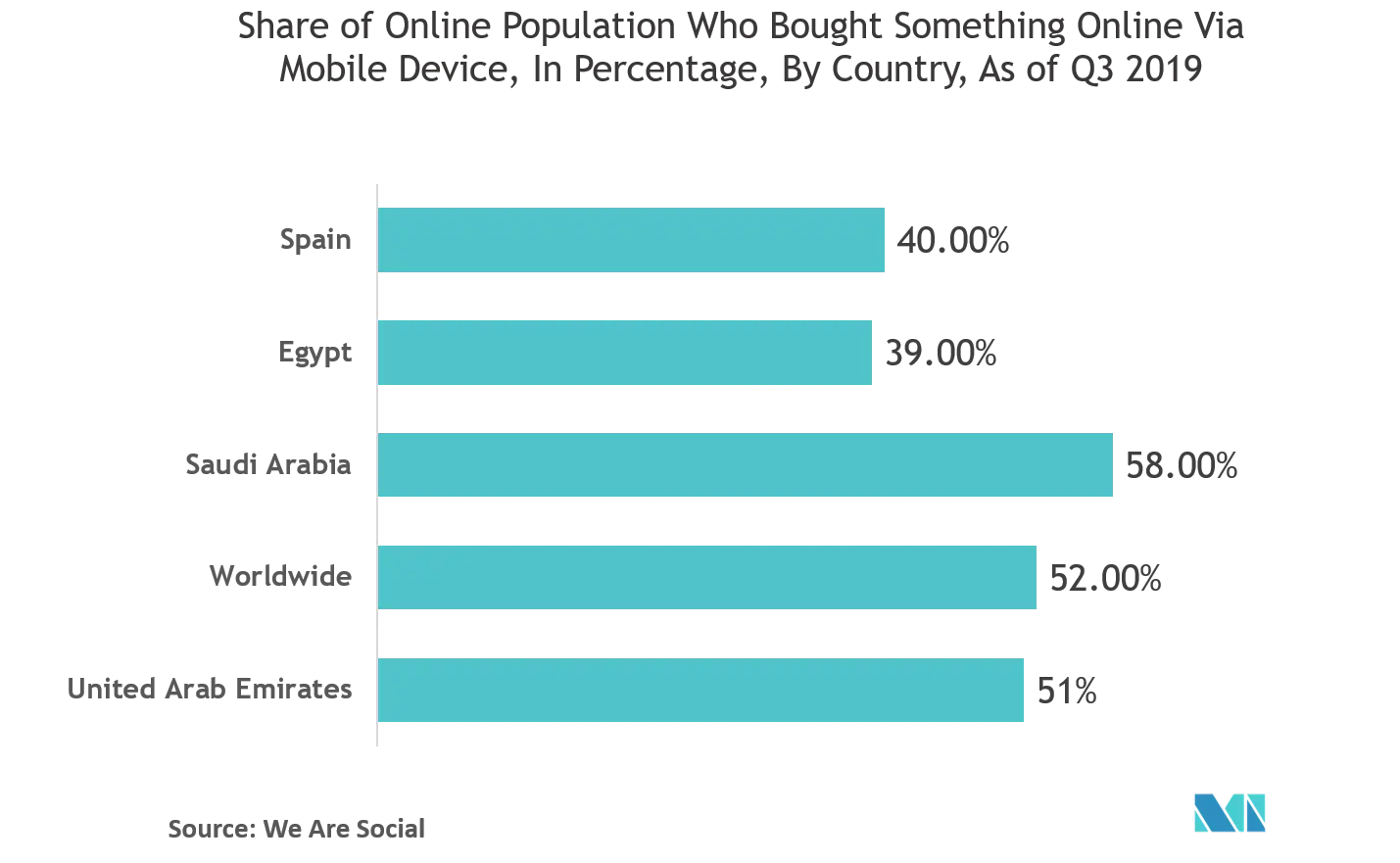 To understand key trends, Download Sample Report
Fitness and Wellness Segment is Expected to Hold Major Share
The fitness industry continues to expand in the country, owing to favorable government initiatives. In 2017, the government of Saudi Arabia introduced Vision 2030, a socio-economic reform package that emphasized the quality of life. It focuses on promoting healthy behaviors, which loosened restrictions on women's activities, including exercise.​ In line with vision 2030, the country is emerging as a health and fitness conscious economy, creating significant demand for complementary health and fitness products across the country.​
Increased awareness and participation as individuals in the community have started prioritizing a healthy lifestyle. Additionally, the number of specialized and talented Saudi fitness professionals has risen drastically. ​The government builds a strong foundation with an emphasis on health and wellness through campaigns, fitness studio licenses, outdoor parks, running and bike trails, and fitness-related events. Such fitness awareness in the country has also created the demand for wearables in the country for monitoring fitness parameters.​
Hence, vendors in the country are launching wearables for fitness needs. For instance, In February 2020, Smartphone brand, HONOR, announced that its brand-new smartwatch, the HONOR MagicWatch2, is now available in the country. The wearable comes with breakthrough battery performance of up to 14 days, intelligent fitness, and health monitoring technologies, while ensuring a versatile and personalized design that resonates with global youth.​ The wearable is also pre-installed with 13 professional running courses and detailed data analysis of activities, to improve training performance with voice guidance. In cooperation with FirstBeat, the provider of physiological analytics for sports and well-being, the HONOR MagicWatch 2 may offer professional exercise data for more efficient workouts. ​
Moreover, In March 2020, the Saudi government launched the "Your Home, Your Gym" campaign, encouraging citizens to workout at home and share their videos online. The initiative has been supported by the Ministry of Sports and the Saudi Arabian Olympics Committee.​ Nearly four million people across the country have been engaging with the digital national health and wellness campaign, launched by the Saudi Sports for All Federation (SFA), by sharing their daily workouts from home.​ All the above factors are expected to proliferate the demand of wearables and audio devices in the region through the forecast period.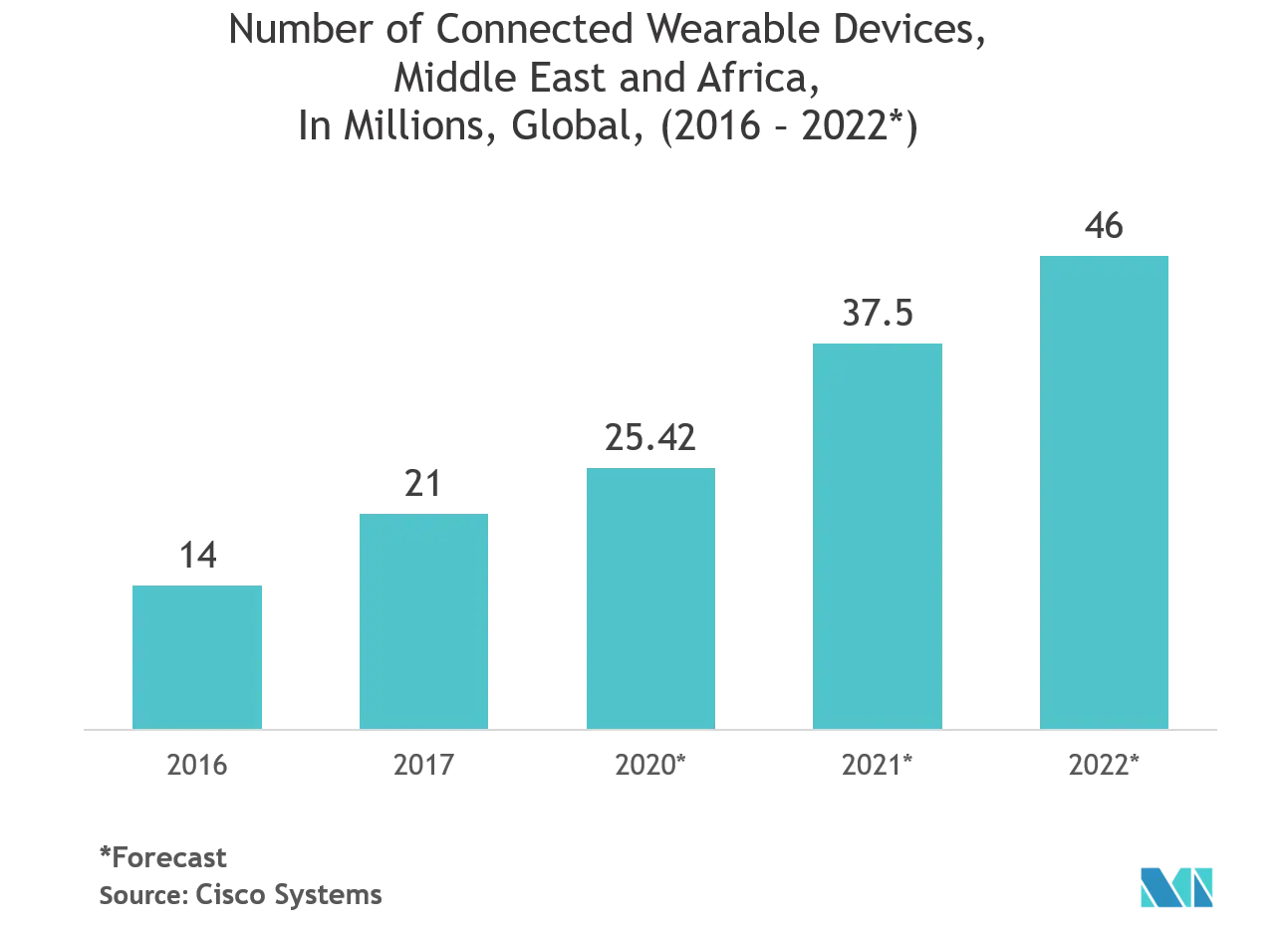 Competitive Landscape
The market for wearables and audio devices in Saudi Arabia has consolidated as few prominent international and regional players hold the majority of the market share. The market in the region is highly competitive and players are adopting strategies such as product innovation and partnerships in order to maintain their competitive advantage. Moreover, low prices and difficulty in sustaining the rapidly growing technology are acting as major barriers to entry for new players.
June 2020, Xiaomi Corporation launched the Mi Smart Band 4 NFC, a special edition of the fitness band with contactless payment technology. This innovative product was developed in collaboration with Mastercard and available to the cardholders of this payment system.​
June 2020, Apple previewed watchOS 7, which delivers enhanced customization tools and powerful new health and fitness features to the advanced smartwatch. The watchOS 7 offers sleep tracking, automatic handwashing detection, and new workout types together with a whole new way to discover and use watch faces, that will help users to stay healthy, active, and connected.​
Table of Contents
1. INTRODUCTION

1.1 Study Deliverables

1.2 Study Assumptions

1.3 Scope of the Study

2. RESEARCH METHODOLOGY

3. EXECUTIVE SUMMARY

4. MARKET DYNAMICS

4.1 KSA Wearables Market Overview

4.2 KSA Home Audio Market Overview

4.3 Market Drivers for Wearables Segment in KSA

4.3.1 High Adoption of Smart Wearables as Fashion Accessories

4.3.2 The Growing Area of m-Health (mobile health)

4.3.3 Increasing Share of Technologically Connected Youth Population

4.4 Market Restraints for Wearables Segment in KSA

4.5 Market Drivers for Audio Segment in KSA

4.6 Market Restraints for Home Audio Segment in KSA

4.6.1 Decline in Home Cinema and Speaker Spending

4.6.2 Lower Consumer Spending Power and Longer Replacement Cycles

4.7 Impact of COVID-19 on the Consumer Wearables and Home Audio Demand in KSA

4.8 Key Wearable Demographics in KSA

5. SAUDI ARABIA WEARABLES MARKET SEGMENTATION

5.1 KSA Wearables Market Size, Forecast, and Trends (In Shipments and USD million)

5.2 Channel

5.2.1 E-Commerce

5.2.2 Offline

5.3 Type

5.3.1 Head

5.3.2 Body

5.3.3 Wrist

5.4 Application

5.4.1 Fitness and Wellness

5.4.2 Healthcare

5.4.3 Lifestyle

5.4.4 Gaming and Entertainment

5.5 COMPETITIVE INTELLIGENCE

5.5.1 List of Online Marketplaces for Wearables in KSA

5.5.2 Vendor Market Share

5.5.3 Company Profiles

5.5.3.1 United Matbouli Group

5.5.3.2 Huawei Technologies Co. Ltd

5.5.3.3 Polar Electro Oy

5.5.3.4 Apple Inc.

5.5.3.5 Garmin Inc.

5.5.3.6 Fitbit Inc.

5.5.3.7 Nike Inc.

*List Not Exhaustive

6. FUTURE OPPORTUNITIES IN KSA E-COMMERCE WEARABLE MARKET

7. SAUDI ARABIA AUDIO MARKET SEGMENTATION

7.1 KSA Market Size, Forecast, and Trends (In Shipments and USD million)

7.2 Channel

7.2.1 E-Commerce

7.2.2 Offline

7.3 Type

7.3.1 Speakers

7.3.2 Digital Media Player Docks

7.3.3 Hi-Fi Systems

7.3.4 Audio Separates

7.3.5 Home Cinema and Speaker Systems

7.3.6 Hearables Segment

7.3.6.1 Headsets (In/On Ear Headphones/Earphones)

7.3.6.2 Earbuds

7.3.6.3 Hearing Aids

8. COMPETITIVE INTELLIGENCE

8.1 List of Online Marketplaces for Audio in KSA

8.2 Vendor Market Share

8.3 Company Profiles

8.3.1 United Matbouli Group

8.3.2 LG Electronics Saudi Arabia Ltd

8.3.3 aDawliah Universal Electronics

8.3.4 Modern Electronics Co. Ltd

8.3.5 Alesayi Electronics Co. Ltd

8.3.6 Pioneer Corp.

8.3.7 Digital & Electronic Solutions Development Co. Ltd

*List Not Exhaustive

9. FUTURE OPPORTUNITIES IN KSA E-COMMERCE AUDIO MARKET
**Subject to Availability
You can also purchase parts of this report. Do you want to check out a section wise price list?
Frequently Asked Questions
What is the study period of this market?
The Saudi Arabia Wearable and Audio Devices Market market is studied from 2018 - 2026.
What is the growth rate of Saudi Arabia Wearable and Audio Devices Market?
The Saudi Arabia Wearable and Audio Devices Market is growing at a CAGR of 11.1% over the next 5 years.
Who are the key players in Saudi Arabia Wearable and Audio Devices Market?
United Matbouli Group, Huawei Technologies Co. Ltd, Apple Inc., Garmin Inc., Nike Inc. are the major companies operating in Saudi Arabia Wearable and Audio Devices Market.
80%

of our clients seek made-to-order reports. How do you want us to tailor yours?