Market Snapshot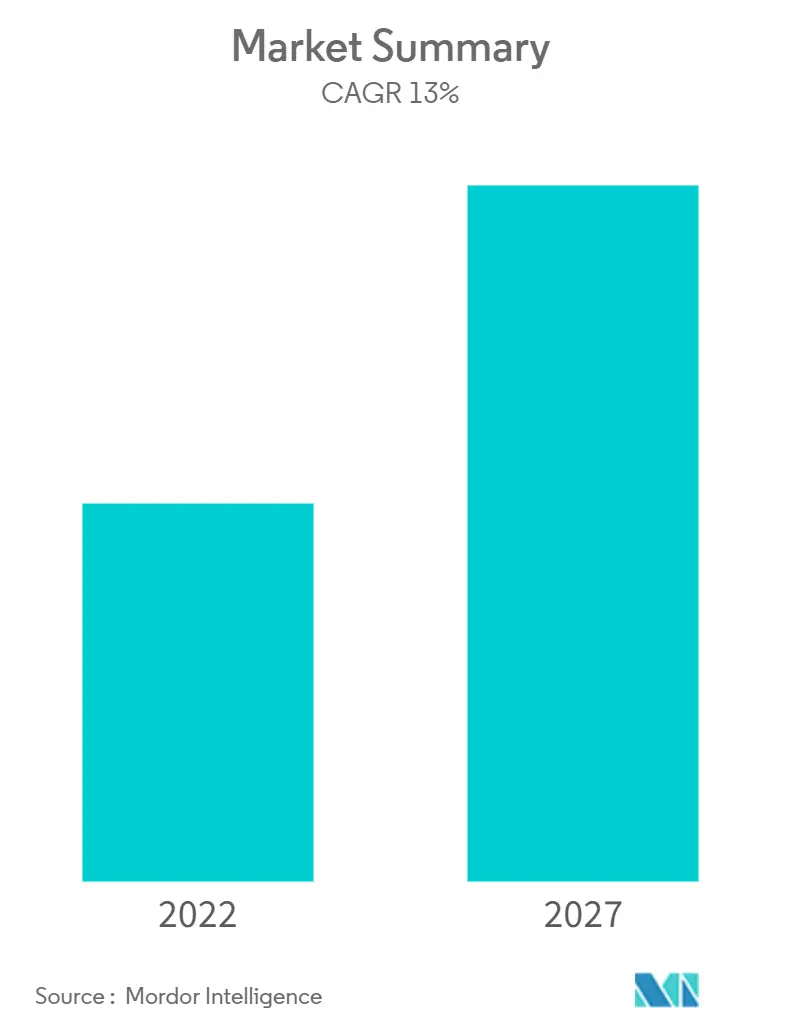 Study Period:
2018-2027
Base Year:
2021
CAGR:

>

13 %
Need a report that reflects how COVID-19 has impacted this market and its growth?
Market Overview
The residential real estate market in Oman is expected to register a CAGR greater than 13% during the forecast period (2022 - 2027). Due to COVID-19, Oman's real estate sector has continued to feel the consequences of slower economic growth in 2020. Since the recent highs in 2014, rental rates have fallen by more than 25%, and prices have continued to tumble in 2019 amid fears about oversupply and expatriate employees fleeing the nation. The residential sector has been the hardest hit, with a slew of new developments putting downward pressure on rental and sales prices. Expatriates make up 40% of Oman's population and account for a large portion of the country's residential demand. While the Omani population has continued to rise steadily, expatriate numbers began to decline progressively in 2018 and 2019, with a dip from 880,000 to 760,000 (almost 15%) in 2020.
The expatriate population has begun to stabilize in recent months, but additional reductions in numbers are possible due to the pandemic's long-term economic effects and a greater focus on Omanization of the workforce, particularly in white-collar sectors. According to the Oman Census 2020, there are around 80,000 unoccupied residential units in Muscat (almost 20% of the total residential supply). Due to the fact that the vast majority of Omanis own their homes, it is expected that a considerable number of the vacant units will be used as rental rentals. Demand has dropped significantly in the previous 15 months as a result of a significant drop in the number of expatriates in Muscat over 2020, combined with the difficulties for new personnel to join Oman owing to travel restrictions. It has concentrated on more affordable apartments and villas/townhouses in the more exclusive Al Mouj, Muscat Hills, and Shatti Al Qurum neighborhoods.
In recent years, Muscat has seen an increased building of residential units for the rental market (particularly low to moderate grade residential apartments with limited/no facilities), resulting in a significant surplus (especially in relation to falling demand). There is a major and growing supply/demand imbalance, according to current evidence, and many of the residential units built in recent years have been poorly assessed in terms of location, design, quality, and/or target market. The number of well-thought-out, high-quality residential units designed with a specific tenant market in mind is still rather small. Over the last 18 months, average apartment rental values have declined by a further 10%-15%, while average villa rental values have dropped by 15% to 25% due to tightening tenant budgets and a greater focus on value. The exception to these trends has been the more stable performance of the limited supply of high-end villas at Al Mouj and Muscat Hills, which have seen a more moderate drop in average rental values of around 10% since the start of 2020 and have remained relatively stable in 2021. In contrast, the growing supply of apartments at both of these locations has put greater pressure on apartment rental values.
Scope of the Report
Residential real estate is the land that has been built for the purpose of allowing people to live there. It cannot be utilized for commercial or industrial reasons. It appears when someone purchases land designated for residential use, which becomes real property and contains a wide range of potential homes, from houses to houseboats and neighborhoods ranging from the poorest slum to the wealthiest suburban development. A complete assessment of the Residential Real Estate Market in Oman includes an assessment of the economy and contribution of sectors in the economy, market overview, market size estimation for key segments, and emerging trends in the market segments in the report. The report sheds light on the market trends like growth factors, restraints, and opportunities in this sector. The competitive landscape of the Residential Real Estate Market in Oman is depicted through the profiles of active key players. The report also covers the impact of COVID – 19 on the market and the future projections.
The residential real estate market in Oman is segmented type (apartments and condominiums, villas and landed houses) and key cities (Muscat, Dhofar, and Musandam). For each segment, the market sizing and forecasts have been done on the basis of value (USD billion).
By Type
Apartments and Condominiums
Villas and Landed Houses
By Key Cities
Muscat
Dhofar
Musandam
Key Market Trends
Supply of Residential Buildings
In the fall of 2021, Oman's Ministry of Housing and Urban Planning has presented plans for five new constructions totaling 4,800 housing units, catering to an estimated 24,000 people, following the success of its first Integrated Housing Development Project in Barka based on the Public-Private Partnership (PPP) model. The Ministry of Housing and Urban Planning wishes to present new opportunities for companies and institutions specializing in real estate development (both domestic and international) who have experience, competence, financial and administrative capability in real estate development, and who wish to compete, file an "Expression of Interest" to develop.
The Hay Al Naseem project, the first of a series of integrated housing projects planned across the Sultanate under the Al Souroh Initiative, served as a model for the five subsequent developments. Hay Al Naseem is a mixed-use development in Barka that will be built on a 350,000 sq m tract of government property. It will feature a variety of residential units surrounded by integrated utilities, as well as commercial facilities, recreational services, public parks, and community amenities. There are 132 semi-detached villas (3-5 BHK), 320 flats (3-4 BHK), 120 detached villas (3-5 BHK), and 479 townhouses available for purchase (3-4 BHK).
Al Amerat 1: Covering an area of around 300,000 sq meters, Plot Number 9197 in Al Amerat in Muscat Governorate will feature an integrated housing project with around 750 assorted residential units distributed across residential apartments, villas, attached villas, semi-attached villas, and detached villas, along with a full array of support infrastructure. As many as 3,750 people can be hosted within this development. Al Amerat 2: Also in Muscat Governorate, Plot Number 9199 is about 445 thousand sq meters in area and will accommodate about 1,100 residential units that will house an estimated 5,500 people.
Bidbid: Interested developers are invited to invest in an integrated housing scheme on a 287 thousand square meter plot in Bidbid (Al Dakhiliyah Governorate) featuring about 750 residential units serving around 3,750 people. Al Seeb: The Ministry is offering about 231 thousand square meters of land at Hellat Al Fateh in Seeb Wilayat (Muscat Governorate) for the construction of about 600 residential units serving about 3,000 people. Nakhl: The largest of the five developments is proposed to come up at Halban (Wilayat of Nakhl) in South Al Batinah Governorate. The ministry is making available around 637 thousand square meters of land for the construction of 1,600 residential units catering to about 8,000 people.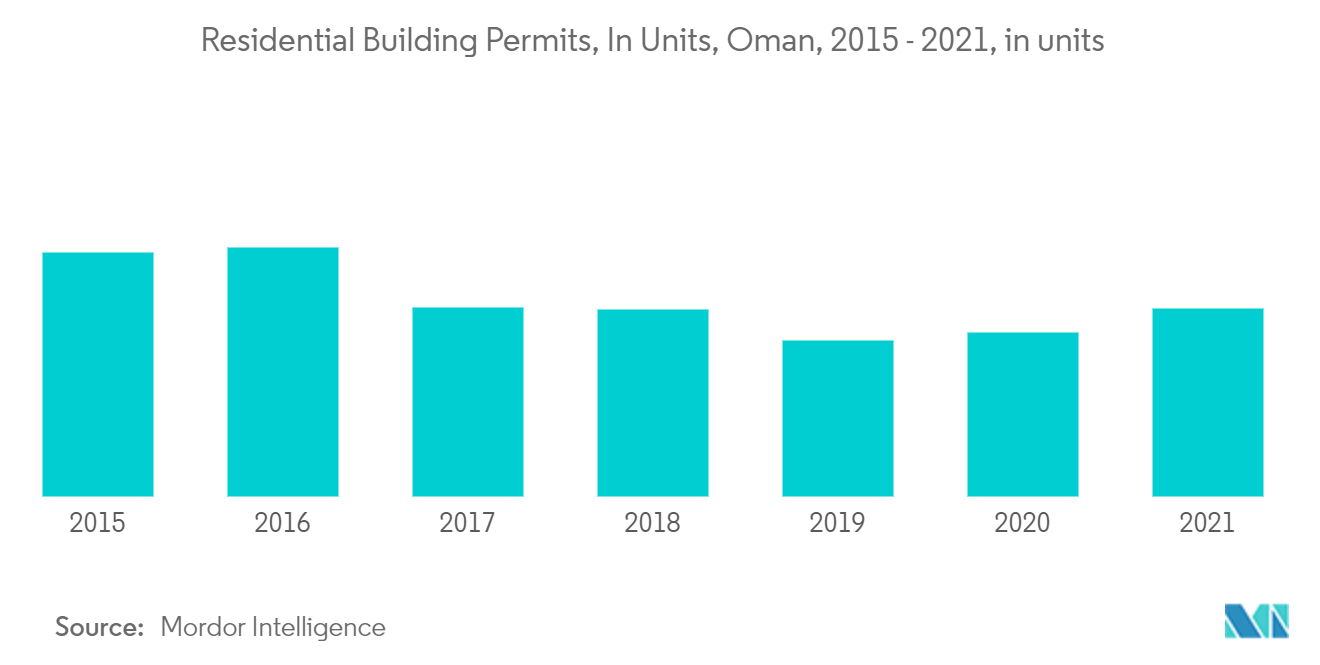 To understand key trends, Download Sample Report
Increase in Luxury Residential Properties
Eagle Hills Muscat, a joint venture between Eagle Hills Abu Dhabi and Ezz International, has launched a new sales center in the Sultanate of Oman as demand for premium brand housing units continues to rise in the Sultanate. The Sultanate of Oman's first luxury brand residences, as well as the region's first "Residences at Mandarin Oriental" project, was created to provide a five-star lifestyle. It is located in the center of Muscat along Shati Al Qurm. The project provides an aesthetic touch to the original qualities of the site by its synergy with the spirit of Muscat, whether in the city's general scale or its minute nuances, thanks to its unique design.
Despite fluctuating oil prices and the impact of the coronavirus pandemic continuing to threaten Oman's economy and real estate sector, Al Mouj Muscat has stated that there remains demand for ultra-luxury properties. The debut of the development's latest ultra-luxury gated community, Golf Beach Residences, a collection of six-bedroom villas and mansions within the integrated tourism complex, was met with "great demand," according to Arabian Business. The 19 villas are being introduced in the Shatti District's northern sector of Golf Beach Residences, flanked on each side by the St Regis Hotel, which is set to open at the end of 2022, and the Kempinski Hotel, which is currently open. Murooj Lanes, a 'entry level' property, was launched in Q4 of 2020, and roughly 300 flats were sold out in 48 hours, demonstrating significant demand.
Expatriates over the age of 23 can purchase housing units in multi-story residential and commercial buildings under the usufruct system for a duration of 99 years if they hold a valid residence permit for at least two years at the time of application. The usufruct purchase system, according to a document issued by the Ministry of Housing and Urban Planning, includes the right of the expatriate to own the housing unit in person or in partnership with first-degree relatives, the ability to obtain financing with the real estate unit as collateral, the ability to sell the residential real estate unit after four years, and the right to transfer the right of usufruct after death to the legal heirs.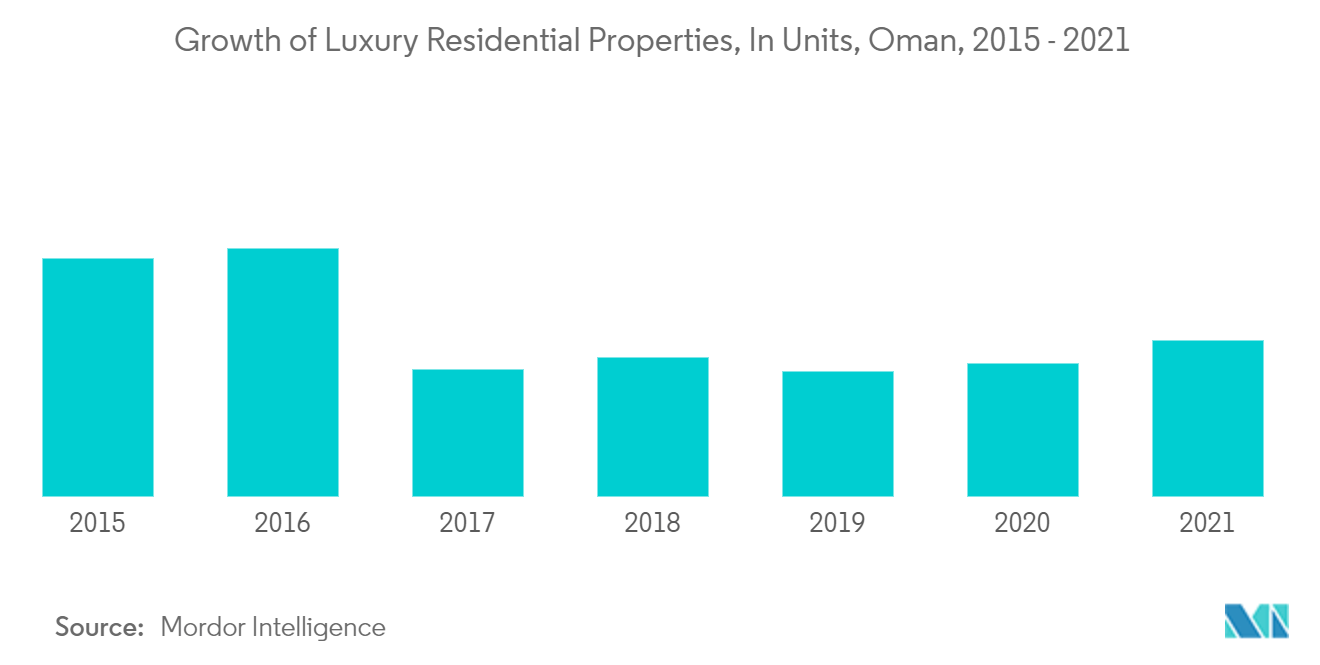 Competitive Landscape
The residential real estate of Oman is fragmented due to the presence of numerous players in the market. The increasing demand for already constructed, better-designed houses was primarily from the traditional Omani population, as people do not seek to involve themselves in the purchase of land and construction of houses. The market is still absorbing new projects, and modern housing seekers are expected to invest in the real estate sector. Thus, various companies are focusing on launching and marketing new projects, along with entertainment and stability for residents. The market is witnessing slow growth due to the declining demand and increasing supply, which resulted in a considerable gap while exacerbating price pressures. Key market players include Al Mouj Muscat, Majan Development Company, AlRaid Group, and WUJHA Real Estate.
Recent Developments
September 2021: National Bank of Oman (NBO) signed a strategic partnership with Alfardan Hotels and Resorts to provide finance facilities for buyers interested in purchasing a property within The Residences at The St. Regis Al Mouj Muscat. Buying a dream home at one of Muscat's most luxurious destinations is now easier than ever thanks to NBO's unique housing loan offerings, with up to 90 percent funding of the property value, including registration fee, mortgage charges, and insurance premium starting at as low as 4.99 percent p.a. reducing balance rate.
December 2021: Oman's Al Madina Investment obtained the board's approval to merge the firm by inclusion with Shaden Development Company. The board issued the approval of the merger based on the book value of both companies, and the investment banking firm told the Muscat Securities Market (MSX), on which its shares are listed.
Table of Contents
1. Introduction

1.1 Study Assumptions

1.2 Scope of the Study

2. Research Methodology

2.1 Analysis Methodology

2.2 Research Phases

3. Executive Summary

4. Market Insights

4.1 Current Market Overview

4.2 Residential Real Estate Buying Trends, Along with Socioeconomic and Demographic Insights

4.3 Government Initiatives and Regulatory Aspects for the Residential Real Estate Sector

4.4 Insights into the Size of Real Estate Lending and Loan to Value Trends

4.5 Insights into Interest Rate Regime for General Economy and Real Estate Lending

4.6 Insights into Rental Yields in the Residential Real Estate Sector

4.7 Insights into Capital Market Penetration and REIT Presence in the Residential Real Estate Sector

4.8 Insights into Affordable Housing Support Provided by Government and Public-Private Partnerships

4.9 Insights into Technology and Startups Active in the Real Estate Segment (Broking, Social Media, Facility Management, and Property Management)

4.10 Impact of COVID-19 on the Market

5. Market Dynamics

5.1 Drivers

5.2 Restraints

5.3 Opportunities

5.4 Porter's Five Forces Analysis

6. Market Segmentation

6.1 By Type

6.1.1 Apartments and Condominiums

6.1.2 Villas and Landed Houses

6.2 By Key Cities

6.2.1 Muscat

6.2.2 Dhofar

6.2.3 Musandam

7. Competitve Landscape

7.1 Market Concentration Overview

7.2 Company Profiles

7.2.1 Al Mouj Muscat

7.2.2 Al Raid Group

7.2.3 Wujha Real Estate

7.2.4 Al-Taher Group

7.2.5 Maysan Properties SAOC

7.2.6 Orascom Development Holding AG

7.2.7 Harbor Real Estate

7.2.8 Edara Real Estate LLC

7.2.9 Savills

7.2.10 Abu Malak Global Enterprises Muscat

7.2.11 Al Madina Real Estate Company Muscat

7.2.12 Better Homes

7.2.13 Coldwell Banker

7.2.14 Engel & Voelkers

7.2.15 Hilal Properties

7.2.16 Saraya Bandar Jissah*

*List Not Exhaustive

8. MARKET OPPORTUNITIES AND FUTURE TRENDS

9. APPENDIX

9.1 Macroeconomic Indicators (GDP breakdown by Sector, Contribution of Construction to the Economy, etc.)

9.2 Key Production, Consumption, and Exports and Import Statistics of Construction Materials
You can also purchase parts of this report. Do you want to check out a section wise price list?
Frequently Asked Questions
What is the study period of this market?
The Residential Real Estate Market in Oman market is studied from 2018 - 2027.
What is the growth rate of Residential Real Estate Market in Oman?
The Residential Real Estate Market in Oman is growing at a CAGR of >13% over the next 5 years.
Who are the key players in Residential Real Estate Market in Oman?
Al Mouj Muscat, Al Raid Group, Wujha Real Estate, Al-Taher Group, Maysan Properties SAOC are the major companies operating in Residential Real Estate Market in Oman.
80%

of our clients seek made-to-order reports. How do you want us to tailor yours?