Market Snapshot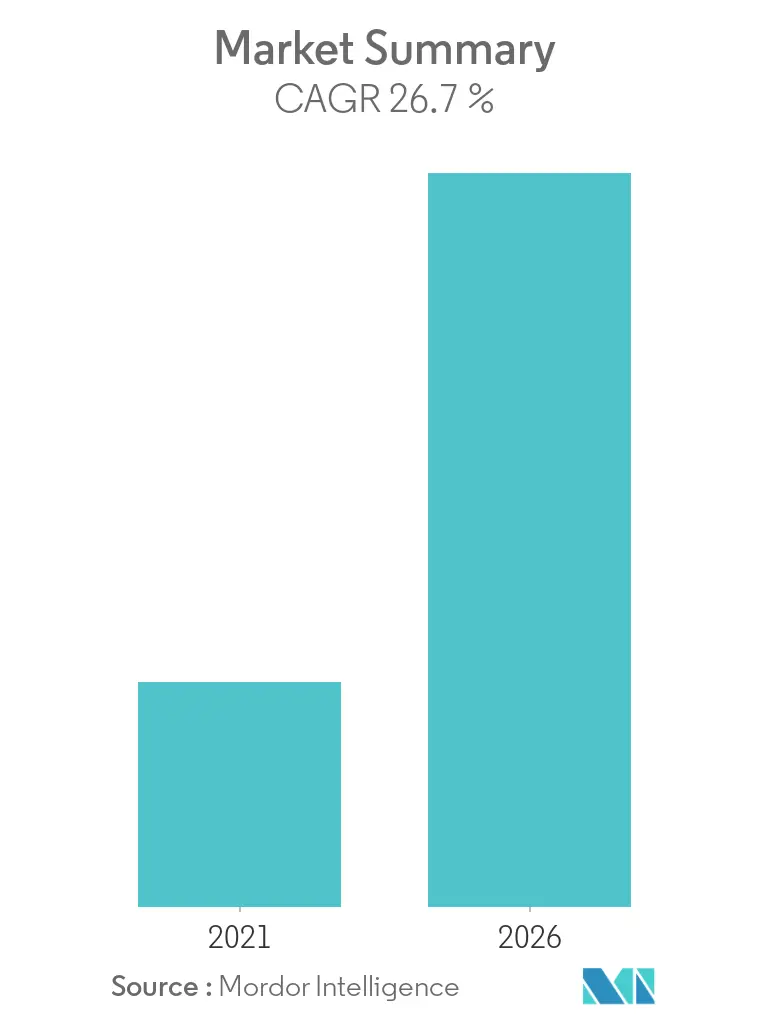 Study Period:
2019- 2026
Base Year:
2020
CAGR:
26.7 %
Need a report that reflects how COVID-19 has impacted this market and its growth?
Market Overview
The Packaging Industry in India is expected to register a CAGR of approximately 26.7% during the period (2021-2026). After the COVID-19 pandemic, most developed countries burned wastepaper or used it for landfills to avoid coronavirus spread. This has resulted in a huge shortage of raw materials for Indian paper mills. The manufacturers of Indian corrugated cardboard boxes are working to keep transport packaging flowing to makers of essential products, including packaging for food and other consumer products, medical and pharmaceutical products, tissue, and hygiene products.
Further, the demand for packaging is growing due to the rising population, increasing income levels, changing lifestyles, increased media penetration through the internet, television, and growing economy. Moreover, it is one of the strongest growing sectors in the country. According to Care Ratings, a prominent credit rating company in India, more than 49% of the paper produced in the country is used for packaging purposes.
The rapid growth of the market is primarily driven by the pharmaceuticals and foods and beverages industries. Huge investments in the food processing, personal care, and pharmaceutical end-user industries are creating scope for expansion of the packaging market. According to recent data released by the Associated Chambers of Commerce and Industry of India, the market size for organized packaged food is expected to reach INR 780 million, in 2020, from INR 530 million, in 2016.
The rise of the Indian middle class, the rapid expansion of organized retail, the growth of exports, and India's rising e-commerce sector is further facilitating growth. According to the Indian Institute of Packaging (IIP), the packaging consumption in India has increased by 200% in the past decade, rising from 4.3 kg per person per annum (pppa) to 8.6 kg pppa.
In order to further maximize the potential of the packaging sector in India, the government has been continuously consulting the industry experts. For instance, PIAI (Packaging Industry Association of India) has been asked to formulate policies and guidelines that are expected to augment India's export potential in the international market.
Scope of the Report
The growth of the Packaging Industry in India is largely driven by various logistic applications, technological advancements, and the development of the packaging sector across the country. The report on the Indian packaging market studies the market segmentation based on different materials, like paper, plastic, glass, and metal. The end-user verticals considered while studying the market include food, beverage, healthcare, cosmetics, personal care, household care, and industrial segment.
Paper and PaperBoard

Product Type
Corrugated Boxes
Folding Cartons
Other Product types

End-user Industry
Food
Beverage
Pharmaceutical
Cosmetics & Personal Care
Other End-user Industries
Glass

End-User Industry
Food
Beverage
Cosmetics & Perfumery
Pharmaceuticals
Plastic

Material Type
PET
HDPE
LDPE
PVC
PP
Other Material Types

End-user Industry
Food
Beverage
Pharmaceutical
Cosmetics & Personal Care
Other End-user Industries
Metal

Material Type

Cans
Beverage Cans
Aerosol
Others

Caps and Closures
Other Product Types (Barrels, Drums, and Others)

End-user Industry
Soft Drinks
Beer & Cider
Spirits
Wines
Food
Pet Care
Paints & Stains
Health & Beauty
Household Care
Tobacco
Key Market Trends
Food Industry is Expected to Hold Largest Share in the Market
The food packaging industry in India witnessed major innovations in terms of branding and packaging. For instance, iD Fresh has introduced Smart Sip Tender Coconut and iD Grated Coconut in innovative eco-friendly packaging. Many popular brands, like Amul, Mother Dairy, Patanjali, and others, use UV-protected films, color-changing films, and holographic films to reduce the chance of adulterating their products.
Packaged food is the fastest-growing segment in the Indian packaging industry. It is expected to fuel the demand for plastic packaging, as it ensures food quality, safety, and long shelf life. According to the Federation of Indian Chambers of Commerce & Industry (FICCI), the expenditure on packaged foods is increasing (at inflection point) due to an increase in per capita income, urbanization, and an increase in the number of working women. According to Agriculture and Agri-food Canada, packaged food sales in India amounted to USD 76,284.2 million in 2018, and it is expected to register a CAGR of 18% during the forecast period.
In India, the grocery market is a traditional retail industry, and therefore, online retail penetration is even lower. The expenditure on food and grocery accounts for 60% of the total expenditure on retail in India. However, the food delivery and services market is fostering further growth in the country, with players, like Bigbasket, Grofers, Zomato, Swiggy, Scootsy registering a rapid increase in sales. According to a study conducted by the Ministry of corporate affairs (India), the revenue generated by Swiggy and Zomato in India in FY 2018 was INR 4.42 billion and INR 4.66 billion, respectively.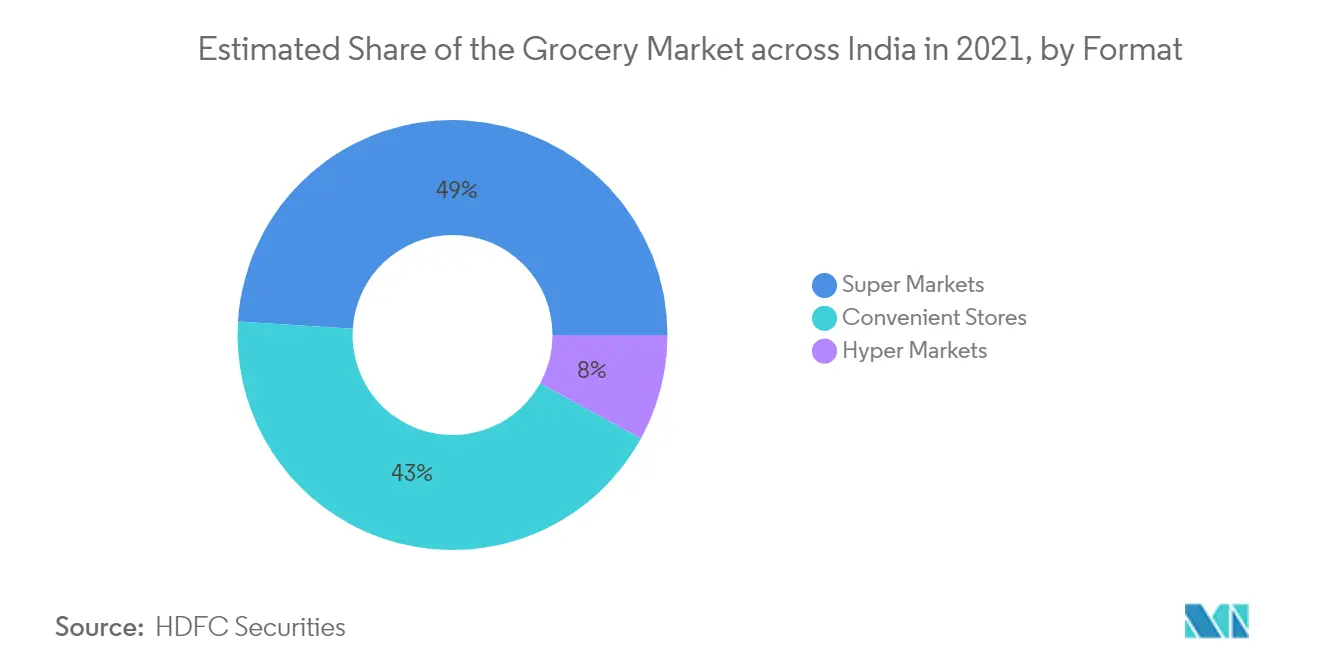 To understand key trends, Download Sample Report
Plastic Packaging to Have Significant Market Share
The industries where plastic bottles and jars are mostly used in the country include food and beverage, cosmetics and personal care, and pharmaceutical industries. Polyethylene terephthalate (PET) and HDPE are the preferred materials for manufacturing bottles and jars in India. There are some applications where PVC is still being used to manufacture bottles, jars, and vials. However, due to the increasing environmental concerns, the manufacturers are trying to shift to PET and HDPE.
Companies such as Bizongo are manufacturing the first biodegradable spill-proof meal tray to promote sustainability in the packaging ecosystem.
Stand-up pouches and pillow pouches are some of the most common types of pouches used in the country. The increasing dairy consumption (especially milk, yogurt, and cream products) and the rising export of dairy products are driving the demand for pillow pouches.
Plastic bags are among the most used plastic packaging solutions in the country. The growing supermarket chains and Kirana stores are some major factors driving the growth of plastic bags in the country.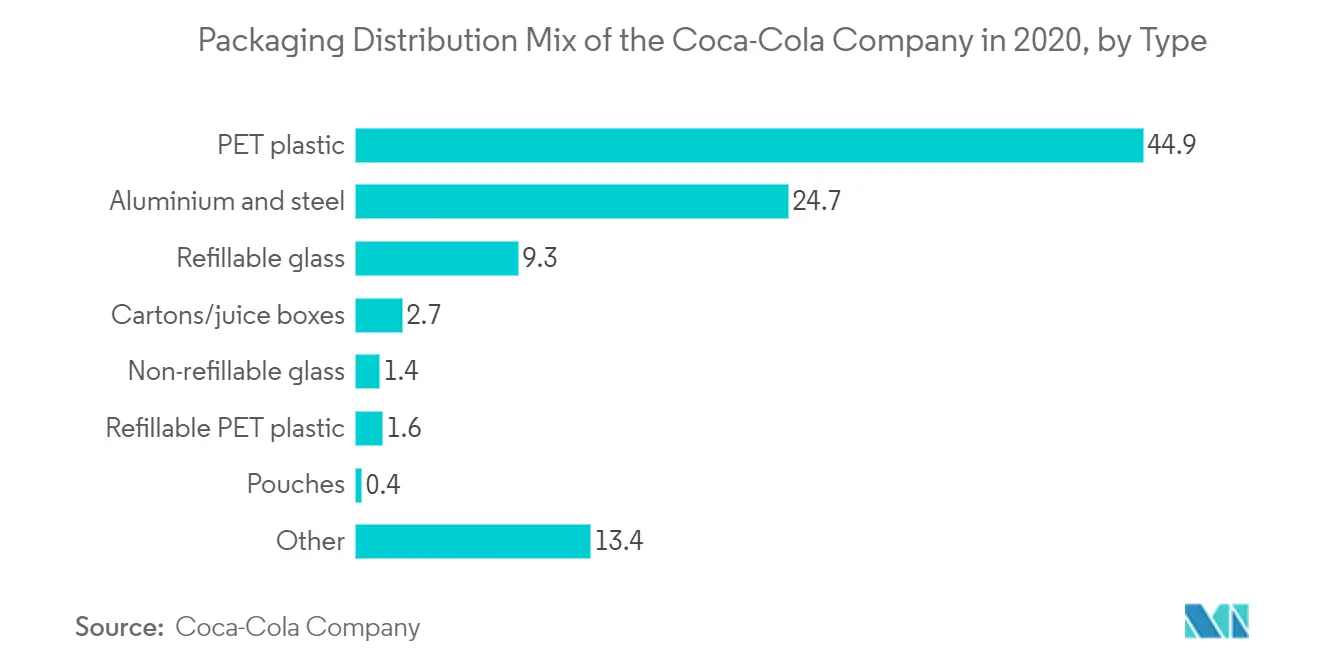 Competitive Landscape
The Packaging Industry in India is moderately fragmented in nature, owing to the several players competing to improve their market share. With the rising demand for packaging applications and technological advancement across the Indian economy, many companies are increasing their market presence by expanding their business footprint across various end-user markets.
July 2021 - Liquibox and WestRock team up to deliver the ultimate e-commerce solution for liquids. With the rise of e-commerce, many brands are experiencing leakages, costly returns, and brand reputation damage when trying to force traditional brick-and-mortar liquid packaging formats through the rigors of the online fulfillment supply chain. Liquibox and WestRock, two leaders in sustainable packaging, present a Ships In Own Container (SIOC) bag-in-box solution for Amazon that delights consumers, reduces waste, and ensures products arrive undamaged.
Recent Developments
September 2021 - Heinz Partnered with WestRock to Remove 550 Tonnes of Plastic Packaging from Multipacks in UK Supermarkets as Part of 25 Million Euros to Investment in more sustainable solutions. Heinz has announced its mission to remove plastic from supermarket shelves with the UK roll-out of the Heinz Eco-Friendly Sleeve Multipack, a new, convenient, super skinny paperboard sleeve for all its multipack canned products. It is made with WestRock's PEFC-certified CarrierKote paperboard; the Heinz Eco-Friendly Sleeve is recyclable and comes from sustainably managed forests. The innovative wrap design uses no glue and 50 percent less material than a fully enclosed wraparound box and 10 percent less than a traditional paperboard sleeve design.
February 2021 - WestRock Company announced the signing of a definitive agreement, pursuant to which WestRock will sell its sawmill located in Summerville, South Carolina, to Interfor Corporation for cash compensation of USD 59 million.
January 2021 - At McDonald's, Parksons packaging's mission was simple, to make delicious, feel-good moments easy for everyone. According to India's most recent Census report, more than 21 million people across the country have a disability. Approximately 28% of these people have disabilities related to movement. Parksons Packaging developed packaging that enabled food to be eaten using only one hand. The new packaging is available in McDonald's restaurants across western and southern India.
Table of Contents
1. INTRODUCTION

1.1 Study Assumptions and Market Definition

1.2 Scope of the Study

2. RESEARCH METHODOLOGY

3. EXECUTIVE SUMMARY

4. MARKET DYNAMICS

4.1 Market Overview

4.2 Industry Value Chain Analysis

4.3 Industry Attractiveness - Porter's Five Forces Analysis

4.3.1 Bargaining Power of Suppliers

4.3.2 Bargaining Power of Buyers

4.3.3 Threat of New Entrants

4.3.4 Threat of Substitutes

4.3.5 Intensity of Competitive Rivalry

4.4 Market Drivers

4.4.1 Growing Demand for Longer-lasting Packaging Products

4.4.2 Rising Demand for Sustainable Food Packaging Products

4.4.3 Evolving Supply Chain Logistics With E-commerce

4.5 Market Restraints

4.5.1 Stringent Environment Regulations

4.6 Assessment of Impact of COVID-19 on the Industry

4.7 Technology Snapshot

4.7.1 Primary

4.7.2 Secondary

4.7.3 Tertiary

5. CURRENT REGULATORY / POLICY SCENARIO

6. ANALYSIS OF GLASS LANDSCAPE (IMPORT & EXPORT ANALYSIS)

6.1 Production Of Glass Sheet

6.2 Production Of Glassware

6.3 Export Analysis

6.3.1 India's Total Glass Exports

6.3.2 Share of Country wise Glass Exports from India

6.4 Import Analysis

6.4.1 India's Total Glass Imports

6.4.2 Share of Country wise Glass Imports to India

7. ANALYSIS OF LOCAL PRODUCTION & CONSUMPTION LANDSCAPE (PRODUCTION, CONSUMPTION & EXPORT-IMPORT PARADIGM)

7.1 Aluminum

7.2 Tinplate

7.3 Steel

8. ANALYSIS OF INDIA PAPER AND PAPERBOARD LANDSCAPE

8.1 India Wrapping And Packaging Paper And Paperboard Production Import, Export

8.2 India Cartonboard Production, Import , Export (Volume & Value)

8.3 India Recovered Paper Import , Export (Volume & Value)

9. MARKET SEGMENTATION

9.1 Paper and PaperBoard

9.1.1 Product Type

9.1.1.1 Corrugated Boxes

9.1.1.2 Folding Cartons

9.1.1.3 Other Product types

9.1.2 End-user Industry

9.1.2.1 Food

9.1.2.2 Beverage

9.1.2.3 Pharmaceutical

9.1.2.4 Cosmetics & Personal Care

9.1.2.5 Other End-user Industries

9.2 Glass

9.2.1 End-User Industry

9.2.1.1 Food

9.2.1.2 Beverage

9.2.1.3 Cosmetics & Perfumery

9.2.1.4 Pharmaceuticals

9.3 Plastic

9.3.1 Material Type

9.3.1.1 PET

9.3.1.2 HDPE

9.3.1.3 LDPE

9.3.1.4 PVC

9.3.1.5 PP

9.3.1.6 Other Material Types

9.3.2 End-user Industry

9.3.2.1 Food

9.3.2.2 Beverage

9.3.2.3 Pharmaceutical

9.3.2.4 Cosmetics & Personal Care

9.3.2.5 Other End-user Industries

9.4 Metal

9.4.1 Material Type

9.4.1.1 Cans

9.4.1.1.1 Beverage Cans

9.4.1.1.2 Aerosol

9.4.1.1.3 Others

9.4.1.2 Caps and Closures

9.4.1.3 Other Product Types (Barrels, Drums, and Others)

9.4.2 End-user Industry

9.4.2.1 Soft Drinks

9.4.2.2 Beer & Cider

9.4.2.3 Spirits

9.4.2.4 Wines

9.4.2.5 Food

9.4.2.6 Pet Care

9.4.2.7 Paints & Stains

9.4.2.8 Health & Beauty

9.4.2.9 Household Care

9.4.2.10 Tobacco

10. COMPETITIVE LANDSCAPE

10.1 Company Profiles*

10.1.1 Jindal Poly Films Ltd.

10.1.2 Positive Packaging Industries Ltd.

10.1.3 Amcor Limited

10.1.4 Cosmo Films Limited

10.1.5 Essel Propack Limited

10.1.6 Tetra Pak International SA

10.1.7 Uflex Limited

10.1.8 Oji India Packaging Pvt Ltd.

10.1.9 Umax Packaging Ltd.

10.1.10 Polyplex Corporation Limited

10.1.11 Tri-wall Pak Private Limited

10.1.12 HNGIL: Hindusthan National Glass & Industries Limited

10.1.13 HSIL

10.1.14 Piramal Glass

10.1.15 La Opala RG

10.1.16 Borosil Glass Works

10.1.17 Haldyn Glass Limited (HGL) 

10.1.18 EMPIRE INDUSTRIES LTD- VITRUM GLASS

10.1.19 Asian Cans Pvt. Ltd.

10.1.20 Oriental Containers Limited

10.1.21 Zenith Tins Private Limited

10.1.22 Unique Closures

10.1.23 Western Cans Private Limited

10.1.24 Nipra Industries Pvt. Ltd.

10.1.25 Petrox Packaging (I) Pvt. Ltd.

10.1.26 Crown Closures Pvt. Ltd.

10.1.27 Deccan Cans & Printers Pvt. Ltd.

10.1.28 Hindustan Tin Works Ltd.

10.1.29 Hi-Can Industries Pvt. Ltd.

10.1.30 Kaira Can Company Limited

11. INVESTMENT ANALYSIS

12. FUTURE OUTLOOK
You can also purchase parts of this report. Do you want to check out a section wise price list?
Frequently Asked Questions
What is the study period of this market?
The Packaging Industry in India market is studied from 2019 - 2026.
What is the growth rate of Packaging Industry in India?
The Packaging Industry in India is growing at a CAGR of 26.7% over the next 5 years.
Who are the key players in Packaging Industry in India?
WestRock India Pvt. Ltd, Kapco Packaging, OJI India Packaging Pvt. Ltd, Parksons Packaging Ltd, PR Packagings Ltd are the major companies operating in Packaging Industry in India.
80%

of our clients seek made-to-order reports. How do you want us to tailor yours?