Market Snapshot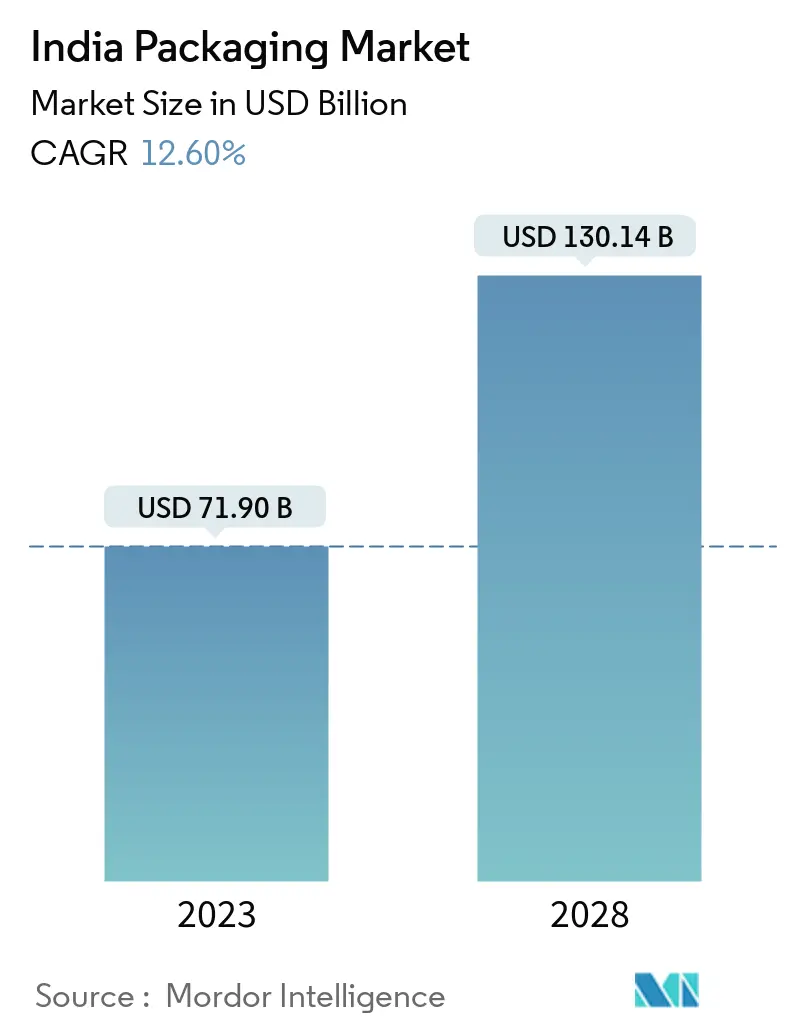 Study Period:
2020-2027
Base Year:
2021
CAGR:
12.6 %
Need a report that reflects how COVID-19 has impacted this market and its growth?
Market Overview
The Indian packaging market is expected to register a CAGR of 12.60% during the forecast period (2022 - 2027). The demand for packaging in India has expanded drastically, spurred by the rapid growth in consumer markets, especially in processed food, personal care, and pharmaceutical end-user industries. Packaging is India's one of the fastest growing sectors. Over the last few years, the industry has been a key driver of technology and innovation, contributing to various manufacturing sectors, including agriculture and the fast-moving consumer goods (FMCG) sectors. The packaging industry is driven by the factors such as rising population, increasing income levels, and changing lifestyles are anticipated to drive consumption across various industries leading to higher demand for packaging product solutions. Moreover, demand from the rural sector for packaged products is fueled by the growing media penetration through the internet and television.
On 11 November 2021, the government announced the production-linked incentive (PLI scheme) to incentivize firms in 10 sectors to drive local manufacturing and improve exports to control the disruption in the supply chain scenario. In addition, there is Atmanirbhar and the structural reforms, which should boost growth prospects for packaging in India. Furthermore, according to Western India Corrugated Box Manufacturers Association, the market for corrugated boxes in India needs to hike prices by 35% to offset kraft paper and conversion cost hikes to survive the current situation.
According to the Indian Institute of Packaging (IIP), packaging consumption in India is increased by nearly 200% in the last decade, from 4.3 kilograms per person per annum (pppa) in 2010 to 8.6 kilograms pppa in 2020. Despite the sharp growth over the last decade, this industry remains a large space for growth compared to other developed countries worldwide. Furthermore, India is emerging as an organized retail destination globally. The presence of e-commerce is increasing rapidly and is bringing around a revolution in the retail sector, driving the need for packaging. Retailers are now leveraging digital retail channels, thus enabling wider reach out to customers with fewer amounts of money spent on real estate. Thus, organized retail services and the boom in e-commerce offer enormous potential for the future growth of retailing in India, which in turn is promoting the growth of the packaging sector.
The market is expected to be significantly challenged due to fluctuation in raw materials pricing, dynamic changes in regulatory standards, growing environmental concerns, limited effective recycling of mixed plastic waste, ineffective plastic recovery, and a lack of modern and advanced machinery in India for the packaging sector. The volatile trend in crude oil and demand for polymers in competing applications has been increasing pressure on input costs that fluctuate raw materials prices. Recent disruptions due to Russia's invasion of Ukraine and China's stringent Zero Covid policy caused substantial supply chain difficulties and aggravated the challenges for the packaging sector in India.
The outbreak of the COVID-19 pandemic in March 2020 and subsequent waves of the virus led to a volatile operating environment with stringent lockdown measures across the country, severely disrupting the packaging industry. This compelled market players and many customers to temporarily scale down or halt operations, resulting in decreased revenues in the first half of the year 2020. As the country lifted restrictions, there was an immediate recovery in the overall economy. As operations quickly normalized, for most of the packaging companies, the loss suffered in the first quarter was covered up in the subsequent months, resulting in a positive revenue increase for 2020 and 2021. The spread of the COVID-19 virus side-tracked the forecasts significantly. However, the impact of the pandemic has varied, largely dependent on the end-user industry. Even with the ongoing- pandemic, the packaging industry in the country has continued to grow steadily, though not at the same scale as in pre-COVID times with the emergence of online retail and e-commerce brands.
As of October 2021, a sharp price increase of INR 5000 per ton of kraft paper within ten days has been sharp. The Federation of Corrugated Box Manufacturers of India (FCBM) suggested that the price is expected to increase in the coming years. The prime reason behind this surge is coal, the main energy source for paper mills, which has increased from INR 5000 per ton to INR 15000 per ton. This has increased the production cost of paper mills by about INR 3500- 4000 per ton.​
Scope of the Report
The packaging industry is paramount and plays a vital role in the international trade of goods. Packaging may be classified based on its type of use, which is primary packaging, secondary packaging, tertiary packaging, and ancillary packaging. It is also segregated based on the types of materials used, such as plastic, paper, paperboard, glass, and metals. Packaging is used across different end-user sectors in a wide range of industries, such as food and beverage, healthcare, and cosmetics, among other end-user industries. The study also analyzes the packaging machinery sector in the Indian packaging sector landscape.
The study on Indian packaging tracks demands for the major material types such as plastic (flexible (wraps, pouches, films, stand-up pouches, tubes, etc.) and rigid (bottles, jars, containers, drums, IBC, etc.), metals (cans, container, drums, pails, etc.), glass (glass container, bottles, vials, ampoules, etc.), and paper (folding carton, corrugated boxes, paper bags, liquid board) on the high level while it tracks the market size in terms of revenue for the respective end-user industry verticals from the listed product types. The study factors in the impact of COVID-19 on the packaging market based on the prevalent base scenarios, key themes (growing demand for single-use), and end-user vertical-related demand cycles.
By Material Type

Plastic
Summary
Rigid Plastic Packaging - Summary
Flexible Plastic Packaging - Summary

End-user
Food
Beverage
Cosmetics and Personal Care
Industrial
Pharmaceutical and Healthcare
Other End-users

Paper
Summary
Folding Carton
Corrugated Boxes
Paper Bags and Liquid Paperboard

End-user
Food and Beverage
Retail and E-commerce
Industrial
Personal Care & Cosmetics
Other End-users

Container Glass
Summary

End-user
Food

Beverage
Alcoholic
Non-alcoholic

Personal Care and Cosmetics
Healthcare

Metal Cans and Containers
Summary

End-user
Food
Beverage
Paints and Chemicals
Industrial
Other End-users
Key Market Trends
Food Industry is Expected to Hold the Largest Share in the Market
According to the Indian Brand Equity Foundation (IBEF), between March 2020 and February 2021, total agriculture commodities exports by India were USD 17.19 billion. Grape exports totaled USD 47.36 million in April 2021. Grape exports totaled USD 313.61 million in FY21. India exported pulses for USD 17.73 million and dairy products worth USD 12.63 million in April 2021. Such an Export rate may increase the demand for packaging since Rigid plastics are extremely light and cost less to ship than any other type of packaging. This may lead to significant shipping savings and reduce the quantity of fossil fuel used to carry the items.
Furthermore, with the outbreak of COVID-19, the online ordering food segment witnessed significant growth in the country as the country was under lockdown, which resulted in a sudden boom in the online food sector. Additionally, major food delivery players across India, such as Swiggy and Zomato, expanded their base to tier two and tier three cities. Containers, such as bowls, trays, and containers, increased prominently. According to the Ministry of Corporate Affairs India, Swiggy and Zomato in online food delivery across India in FY 2019 accounted for INR 11.22 billion and INR 13.13 billion, respectively, that increased to INR 25.47 billion and INR 19.94 billion, respectively for FY 2021.
The drive for going sustainable has pushed many folding carton manufacturers to launch new products in the market. The packaging solution providers also aim to launch innovative products for the dairy segment. In March 2022, SIG India launched a similar aluminum-free folding carton aseptic packaging to tap into the rising demand for carton packaged milk products in the country.
Vendors in the market are investing in various related businesses to expand their presence in India. For instance, in November 2021, India-based folding carton manufacturer Parksons Packaging acquired Manohar Packaging, a company that produces paper board packaging for alcoholic beverages and confectionery. The acquisition is expected to help Parksons expand its presence in Goa and Punjab and a total of eight factories, increasing its total converting capacity to almost 150,000 tons a year.
Furthermore, in January 2022, AGI glaspac introduced a new production facility in Bhongir, Telangana. The company began the new 154 TPD (ton per day) glass facility to meet the growing demand in the specialty glass area and generally used for food and beverages.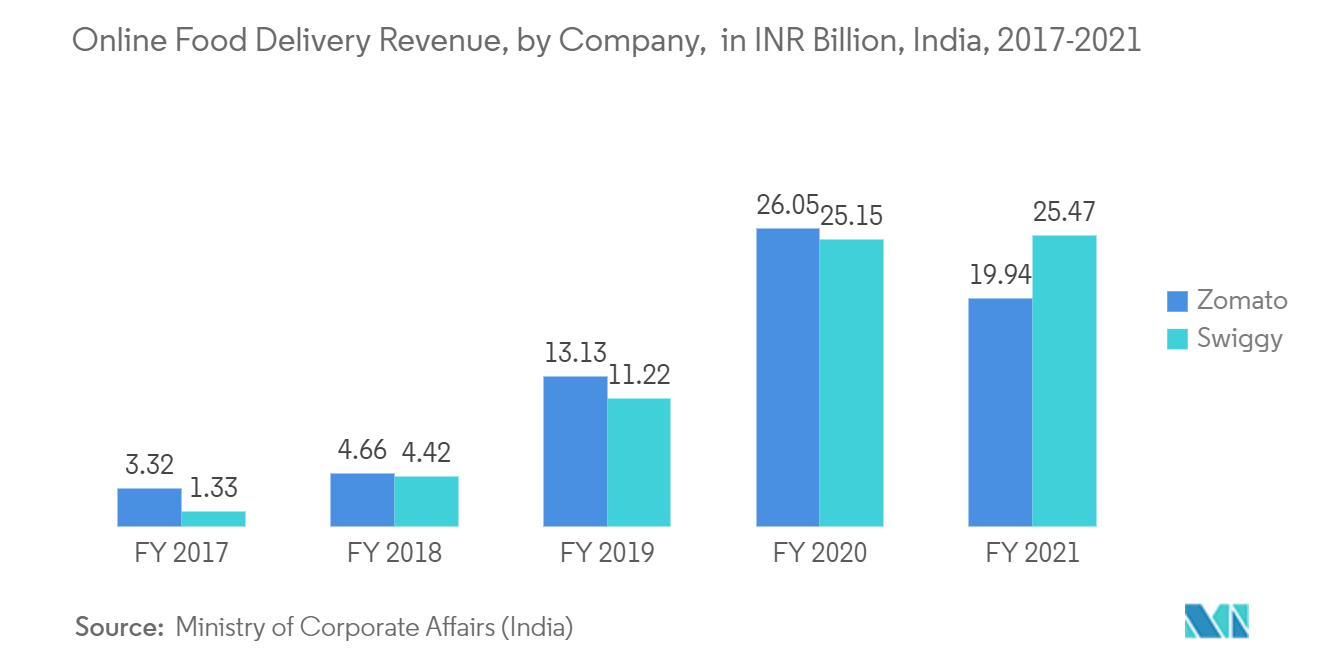 To understand key trends, Download Sample Report
Paper Packaging to Have Significant Market Share
The paper packaging business witnessed growth over the last decade due to changes in substrate choice, expansion of new markets, changing ownership dynamics, and government initiatives to ban plastic. Sustainability and environmental issues continue to be emphasized, and various innovations catering to paper packaging are expected to drive the market's growth in India. According to the Directorate General of Commercial Intelligence and Statistics & Department of Commerce (India), the value of paper and paperboard products exported from India valued USD 1,998.26 million in 2021.
Packaging product in paper packaging comprises folding cartons, corrugated boxes, paper bags, and liquid paperboard. With the considerable increase in organized retail, the demand for paper packaging is anticipated to increase due to the rapid increase in supermarkets and modern shopping centers. In June 2022, the Central Pollution Control Board (CPCB), a federal agency under the Ministry of the Environment, released a list of steps to outlaw specific single-use plastic products by June 2022. Such measures are anticipated to drive the demand for paper packaging in the country.
During the COVID-19 pandemic, the Indian e-commerce industry witnessed significant growth in the volume of online orders due to restrictions imposed on the movement of people and the shutdown of physical stores. People across the country are increasingly buying online groceries, food items, and daily essentials while also purchasing merchandise online. Corrugated packaging materials significantly transported food, medicines, and medical equipment, which accelerated due to the rise in online deliveries.
High prices of key input material, kraft paper, led to increased rates of corrugated boxes in India. This is expected to hamper the market's growth in the forecast period. For instance, in February 2022, the Kerala Corrugated Box Manufacturers Association (KeCBMA) proposed increasing the prices of corrugated boxes due to the sharp increase in the cost of essential input materials used for the manufacturing of corrugated boxes such as duplex board and kraft paper. The association said that the cost of kraft paper, the essential raw material used for manufacturing corrugated boxes, increased by more than INR 5 in the last two months. The emerging situation forced the association to increase the prices of corrugated boxes.
Furthermore, India has recently witnessed a growth in demand for paperboard blister packs. For instance, in July 2021, US-based Keystone Folding Box reported a surge in demand for the company's line of child-resistant, paperboard-based blister packs from the pharmaceutical sector in India. The new environmental sustainability legislation in India and the increased demand for child-resistant pharmaceutical packaging in the United States Key-Pak portfolio increased sales. According to the Keystone Folding Box, India supplies nearly 40% of packaged over-the-counter and prescription drugs.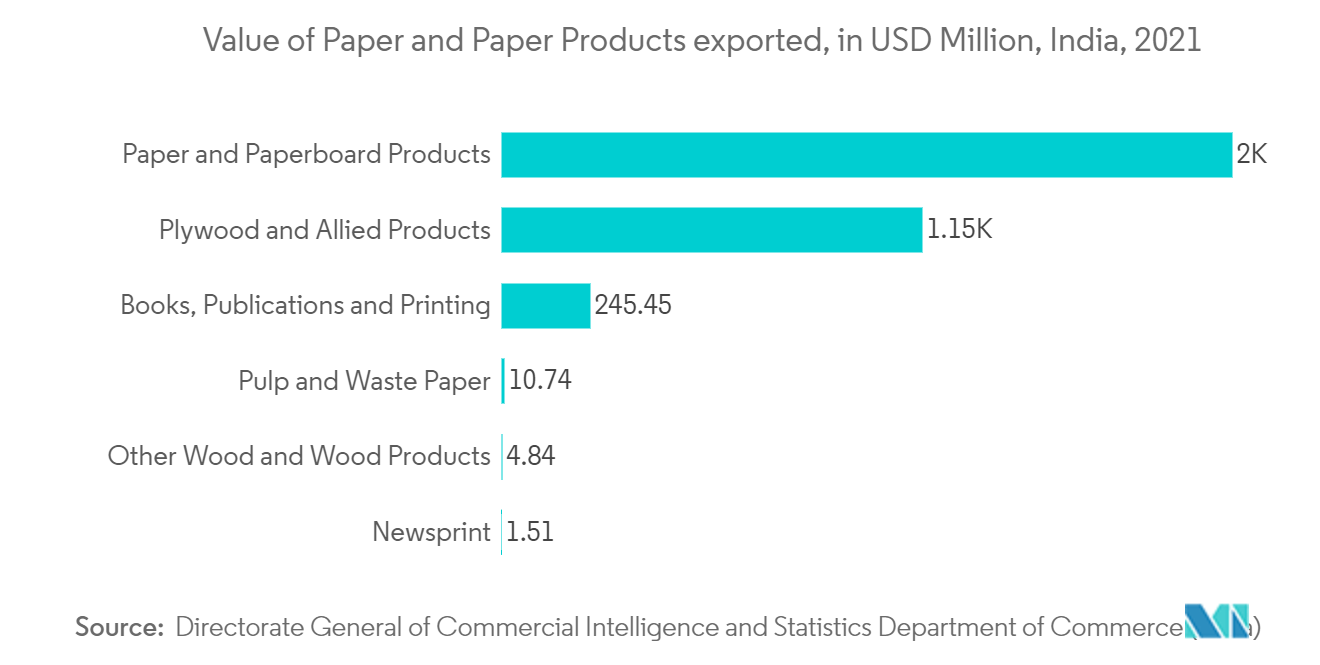 Competitive Landscape
India's packaging industry is moderately fragmented due to the several players competing to improve their market share. With the rising demand for packaging applications and technological advancement across the Indian economy, many companies are increasing their market presence by expanding their business footprint across various end-user markets.
March 2022 - TCPL packaging ltd doubled its flexible packaging plant capacity, which has gone into commercial production. Besides this, the company also expanded offset capacity by adding a new printing line at the Goa plant. With these capacity expansions, market players are also poised to manage the expected higher demand.
January 2022 -HSIL's packaging products division, AGI Glaspac, opened its new specialty glass manufacturing facility at Bhongiron Hyderabad's outskirts with an investment of INR 400 crore. After the investment, the campus became one of the largest single-location glass facilities globally. The campus has a combined capacity to process 1,154 metric tons of glass and produces about 70 lakh bottles and containers per day.
Major Players
Gerresheimer AG

ITC Limited

Westrock India

Hitech Plast (Hitech Group)

Jindal Poly Films Limited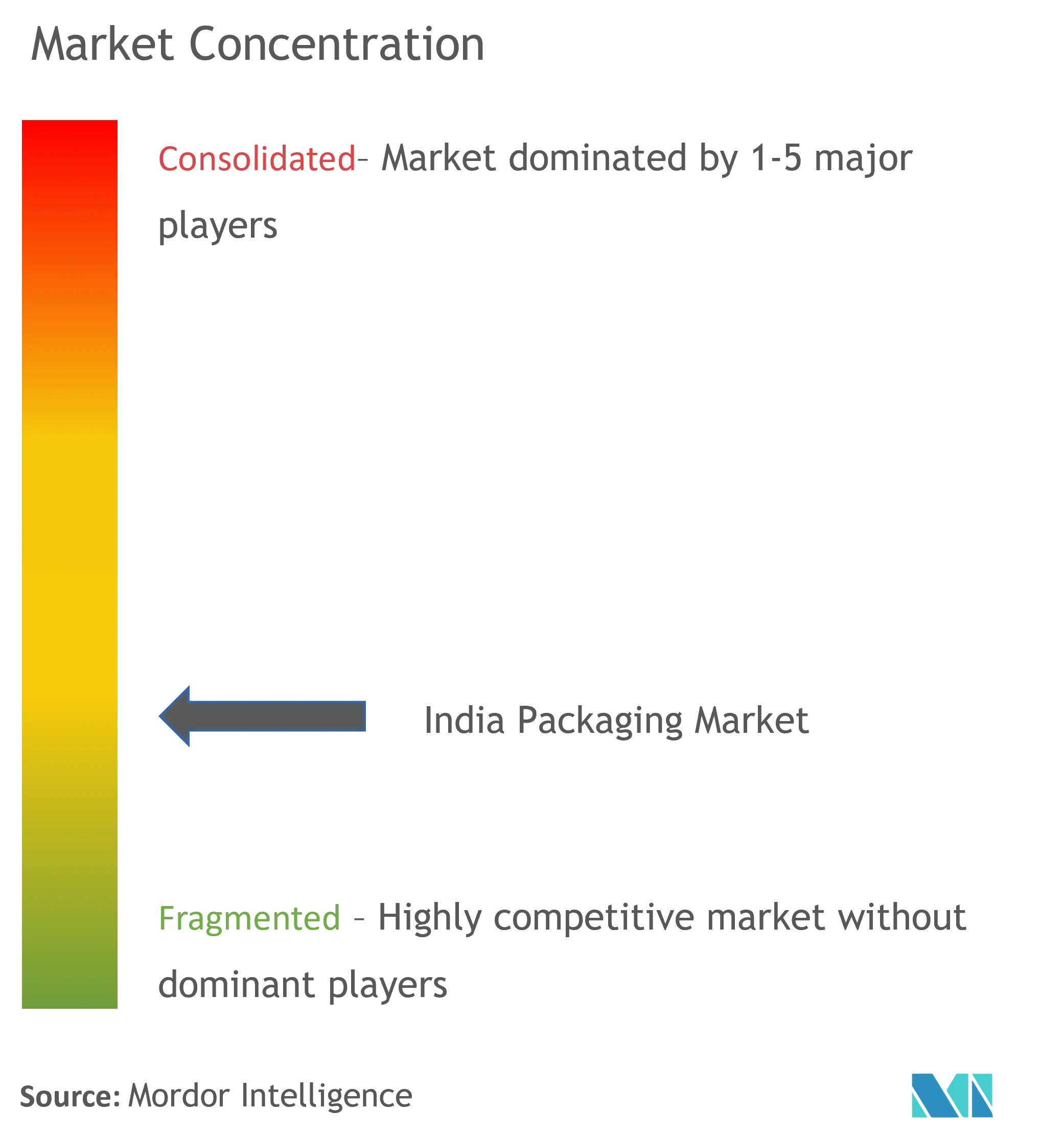 Recent Developments
July 2022 - Manjushree TechnopackLimited (MTL) acquired Hitesh Plastics from Bengaluru-based Hitesh Plastics with the support of US private equity firm Advent International. The acquisition would help the company to increase its current capacity of 190,000 MT per annum to 200,000 MT.
January 2022 - Vikas EcotechLimited announced its plans to invest in the environment-friendly BioPlastics(PHA) technology and is in the advanced stage of finalizing a Technology joint venture with AuraphaPrivate Ltd to produce Biodegradable Plastics.
Table of Contents
1. INTRODUCTION

1.1 Study Assumptions and Market Definition

1.2 Scope of the Study

2. RESEARCH METHODOLOGY

3. EXECUTIVE SUMMARY

4. PACKAGING INDUSTRY OVERVIEW IN INDIA

4.1 Market Overview

4.2 Composition of Packaging Sector in India - Analysis of Establishments

4.3 End-user Analysis

4.4 Analysis of the Share of Imports in the Packaging Sector (Historical and Current)

4.5 Market Ecosystem Analysis

5. SECTORAL PERFORMANCE AND MARKET ENTRY PARAMETERS

5.1 Analysis of Key Economic Indicators and Trade Flows w.r.t. Packaging Industry in India

5.2 Analysis of the Key Foreign Investments in the Packaging Sector in India

5.3 Trade Scenario Analysis - Coverage of the Key Packaging Products Based on the Relevant hs Codes

5.4 Routes to Entry into the Indian Packaging Sector

5.5 Overall Profitability of the Packaging Sector in India

5.6 Assessment of COVID-19 on the Paper Packaging Market

5.7 Key Strategic Imperatives for Prospective Entrants into India

6. MARKET DYNAMICS

6.1 Market Drivers

6.1.1 Rise of the Organized Retail and E-commerce Sector

6.1.2 Increasing Demand for Sustainable and Recyclable Packaging

6.2 Market Challenges

6.2.1 Shortage and Rising Cost of Raw Material

6.2.2 Non-availability of Skilled Manpower

6.3 Focus Toward Development of Intelligent Packaging

6.4 Assessment of the Impact of COVID-19 on the Packaging Industry in India

7. KEY THEMES IN THE PACKAGING INDUSTRY IN INDIA

7.1 Role of E-commerce in Driving the Packaging Sector

7.2 Major Pharmaceutical Packaging Vendors Foraying into India

7.3 Role of Sustainability in the Food and Beverage Packaging Market

7.4 Emergence of Closed-loop Solutions in the Retail Sector

8. MARKET SEGMENTATION

8.1 By Material Type

8.1.1 Plastic

8.1.1.1 Summary

8.1.1.2 Rigid Plastic Packaging - Summary

8.1.1.3 Flexible Plastic Packaging - Summary

8.1.1.4 End-user

8.1.1.4.1 Food

8.1.1.4.2 Beverage

8.1.1.4.3 Cosmetics and Personal Care

8.1.1.4.4 Industrial

8.1.1.4.5 Pharmaceutical and Healthcare

8.1.1.4.6 Other End-users

8.1.2 Paper

8.1.2.1 Summary

8.1.2.2 Folding Carton

8.1.2.3 Corrugated Boxes

8.1.2.4 Paper Bags and Liquid Paperboard

8.1.2.5 End-user

8.1.2.5.1 Food and Beverage

8.1.2.5.2 Retail and E-commerce

8.1.2.5.3 Industrial

8.1.2.5.4 Personal Care & Cosmetics

8.1.2.5.5 Other End-users

8.1.3 Container Glass

8.1.3.1 Summary

8.1.3.2 End-user

8.1.3.2.1 Food

8.1.3.2.2 Beverage

8.1.3.2.2.1 Alcoholic

8.1.3.2.2.2 Non-alcoholic

8.1.3.2.3 Personal Care and Cosmetics

8.1.3.2.4 Healthcare

8.1.4 Metal Cans and Containers

8.1.4.1 Summary

8.1.4.2 End-user

8.1.4.2.1 Food

8.1.4.2.2 Beverage

8.1.4.2.3 Paints and Chemicals

8.1.4.2.4 Industrial

8.1.4.2.5 Other End-users

9. SUMMARY OF PACKAGING MACHINERY SECTOR IN INDIA

9.1 Current Market Scenario

9.2 Analysis of the Share of Imports (Based on hs Codes) and Key Import Regulations and Parameters

9.3 Addressable Market for Packaging Machinery in India

9.4 End-user Trends and Insights

9.5 Coverage on the Major Packaging Machine Vendors in the Country

9.5.1 Gempac (Sam Packaging Innovations Pvt. Ltd)

9.5.2 IPK Packaging (India) Private Limited

9.5.3 Nichrome Packaging Solutions

9.5.4 Pakona Engineers (India) Private Limited

9.5.5 Pack Leader Machinery Inc.

9.5.6 Shruti Flexipack Pvt. Ltd

10. COMPETITIVE LANDSCAPE

10.1 Company Profiles - Analysis of Top Five Glass Container Packaging Manufacturers in India

10.1.1 Schott Poonawalla Private Limited

10.1.2 Gerresheimer AG

10.1.3 Agi Glaspac (HSIL Limited)

10.1.4 PGP Glass Private Limited (Piramal Glass)

10.1.5 Hindustan National Glass & Industries Limited (HNGIL)

10.2 Company Profiles - Analysis of Top Five Folding Carton Packaging Manufacturers in India

10.2.1 ITC Limited

10.2.2 JK Paper Ltd

10.2.3 Emami Paper Mills Limited (Emami Group)

10.2.4 Canpac

10.2.5 Velpack Pvt. Ltd

10.3 Company Profiles - Analysis of Top Five Corrugated Box Manufacturers in India

10.3.1 Westrock India

10.3.2 OJI India Packaging Pvt. Ltd

10.3.3 KCL Limited

10.3.4 Trident Paper Box Industries

10.3.5 Packman Packaging Private Limited

10.4 Company Profiles - Analysis of Top Five Rigid Packaging Manufacturers in India

10.4.1 Hitech Plast (Hitech Group)

10.4.2 Schoeller Allibert

10.4.3 Berry Global Inc.

10.4.4 Aptar Group Inc.

10.4.5 Manjushree Technopack Ltd

10.5 Company Profiles - Analysis of Top Five Flexible Plastic Packaging Manufacturers

10.5.1 Jindal Poly Films Limited - Company Overview

10.5.2 TCPL Packaging Limited - Overview

10.5.3 Uflex Limited

10.5.4 Polyplex Corporation Limited - Overview

10.5.5 Cosmo Films Ltd (Cosmo First Limited)

10.6 Company Profiles - Analysis of Top Five Metal can Manufacturers in India

10.6.1 Hindustan Tin Works Ltd

10.6.2 Ball India (Ball Corporation)

10.6.3 AI Packaging Limited

10.6.4 Zenith Tins Pvt. Ltd

10.6.5 Kaira can Company Limited

10.7 Company Profiles - Analysis of Paper Bags and Liquid Board Vendors

10.7.1 Asepto (Uflex Limited)

10.7.2 Tetra-pak India Private Limited

10.7.3 Megaplast India Pvt. Ltd

10.7.4 Bag Master

10.7.5 The Bag Smiths

11. CURRENT RECYCLING TRENDS IN INDIA

12. MARKET OUTLOOK
Frequently Asked Questions
What is the study period of this market?
The India Packaging Market market is studied from 2020 - 2027.
What is the growth rate of India Packaging Market?
The India Packaging Market is growing at a CAGR of 12.6% over the next 5 years.
Who are the key players in India Packaging Market?
Gerresheimer AG , ITC Limited , Westrock India , Hitech Plast (Hitech Group) , Jindal Poly Films Limited are the major companies operating in India Packaging Market.
80%

of our clients seek made-to-order reports. How do you want us to tailor yours?