The smart grid market is growing. Countries have introduced their smart grid plans to meet the increasing electricity demand, reduce transmission and distribution loss (especially in Asia-Pacific), and establish two-way communication for managing the consumption trend. Electric companies in the United States already deployed smart meters in more than 50% of the households in 2015, and is planning to deploy 28% more smart meters during 2017 and 2020. Further, Canada with 100% electrification rate has installed smart meters in 70% of the country.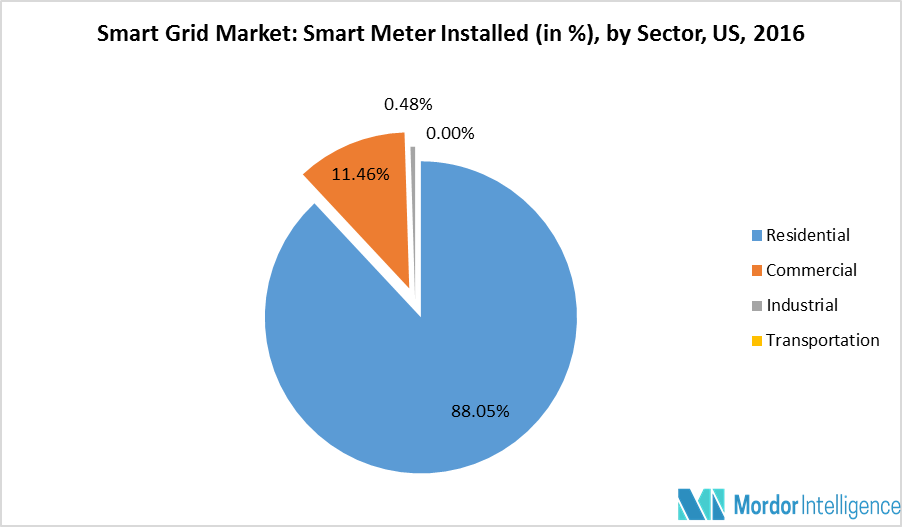 Increasing Renewable Energy Driving the Market
Share of renewables is increasing in the energy mix. In 2017, around 18% of the electricity in the United States was produced by renewable sources, up by 15% in 2016 and accounted for 62% of the new generation capacity. The closure of coal-based power plants, which accounted for around 30% of the country's power generation in 2017, is expected to create ample opportunity for the renewables to increase their share in the power mix. Similarly, Canada is expected to install 9 GW of renewable between 2017 and 2022, wind being major. Smart grid helps in integrating power from solar and wind to the grid, as the conventional grid has difficulty in accommodating variable sources of power, like solar and wind energy. As a result, the increasing renewable energy capacity is expected to drive the demand for the smart grid market.
Mexico a Potential Market for Smart Grid
Mexico is a steadily growing market for the smart grid in the region, due to its energy reforms in 2018. The Mexican government liberalized the electricity generation market ending the monopoly of state owned company CFE, which owned and operated nearly 100% of the nation's electric transmission and distribution grid. The country has already deployed more than a million smart meters in the past two years, and is planning to invest more than half a million in the next six to seven years to implement the smart grid. The United States is focused more on deploying smart grid solution throughout the country and not as much on power generation, as consumption trend has not changed much in the past few years. Further, Canada with 100% electrification rate has already installed smart meters in 70% of the country.
Key Developments in the Market
January 2018: Eaton launched a new series of reclosers to allow utilities to a support a smart and more reliable grid.
Major Players: ABB, Hitachi Ltd, Eaton, Honeywell International Inc., General Electric, Cisco Systems Inc., Oracle Corporation, Schneider Electric, Itron Inc., Siemens AG, among others.
Reasons to Purchase this Report
Current and future North America smart grid market outlook in the developed and emerging markets
Analyzing various perspectives of the market with the help of Porter's five forces analysis
The segment that is expected to dominate the market
Regions that are expected to witness the fastest growth during the forecast period
Identify the latest developments and strategies employed by the major market players
3 months analyst support, along with the Market Estimate sheet (in excel)
Customization of the Report
This report can be customized to meet your requirements. Please connect with our representative, who will ensure you to get a report that suits your needs.
1. Executive Summary
2. Research Methodology
3. Market Overview
3.1 Introduction
3.2 Market Size and Demand Forecast until 2023
3.3 Recent Trends and Developments
4. Market Dynamics
4.1 Drivers
4.2 Restraints
4.3 Opportunities
5. Supply Chain Analysis
6. Industry Attractiveness - Porter's Five Force Analysis
6.1 Bargaining Power of Suppliers
6.2 Bargaining Power of Consumers
6.3 Threat of New Entrants
6.4 Threat of Substitutes
6.5 Intensity of Competitive Rivalry
7. Market Segmentation and Analysis (Overview, Market Size, and Demand Forecast until 2023)
7.1 By Application
7.1 Transmission Upgrades
7.2 Demand Response
7.3 Advance Metering Infrastructure (AMI)
7.4 Others
8. Regional Market Analysis (Overview, Market Size, and Demand Forecast until 2023)
8.1 North America
8.1.1 United States
8.1.2 Canada
8.1.3 Mexico
9. Key Company Analysis* (Overview, Products & Services, Financials**, Recent Development, and Analyst View)
9.1 ABB
9.2 Hitachi Ltd
9.3 Eaton
9.4 Honeywell International Inc.
9.5 General Electric
9.6 Cisco Systems Inc.
9.7 Oracle Corporation
9.8 Schneider Electric
9.9 Itron Inc.
9.10 Siemens AG
10. Competitive Landscape
10.1 Mergers and Acquisitions
10.2 Joint Ventures, Collaborations, and Agreements
10.3 Strategies Adopted by Leading Players
11. Appendix
11.1 Contact Us
11.2 Disclaimer
*List not Exhaustive
**Subject to availability on public domain