The North America healthcare analytics market is expected to register a CAGR of 27.3% during forecast period. The United States holds the highest share in the healthcare analytics market. Most of the top global healthcare analytics market players are headquartered there and this tends to be a major advantage.
Government Healthcare Policies to Propel the Market Growth
Healthcare analytics continue to bring dramatic changes in the healthcare industry, across many countries. Many federal policies, programs, and actions are being initiated by the governments of developed and developing countries, to experience progress in healthcare services. For example, within the US, the federal government has been encouraging the use of its healthcare data through various policies and initiatives. Affordable Care Act (ACA), the most important healthcare legislation in the United States, has authorized the Department of Health and Human Services to release data that promotes transparency in the markets for healthcare and medical insurance. The government is offering incentive payments for healthcare providers to use EMRs and has taken necessary actions to liberate data (as part of a program to promote data release and accessibility) from agencies like Centers for Medicare and Medicaid Services, the Food and Drug Administration, and Centers for Disease Control. Thus, government healthcare policies are propelling the market growth of healthcare analytics.
Additionally, emergence of big data in the healthcare industry, progress in the outcome of clinical processes, increased focus on collection and analysis of data, technological advancements, and the impact of social media on healthcare industry, are accelerating the market growth in North America.
Lack of Proper Skilled Labor
The field of analytics is currently a niche segment in healthcare, when compared to the likes of finance, retail, banking, etc. The respective industries have their share of skilled data scientists in their organizations. There is currently a dearth of data scientists across the globe. There is a huge demand for data analysts, while the supply has been minimal. Both developed and developing countries are struggling to supply adequate numbers of trained, qualified healthcare professionals (especially physicians, medical laboratory professionals, nurses, paramedics, and technologists). Not until recently, organizations have not realized the potential of data analytics in the current market landscape. The lack of proper skilled labor is expected to continue for a limited time, as more and more data analysts are being trained on various aspects of data storage, prediction, and analysis. The demand is anticipated to be met in the near future.
Additionally, data integrity issues and cost and complexity of software, are hindering the market growth in North America.
The United States Dominates the Market
The United States holds the largest market share due to the factors like growing federal healthcare mandates, to curb rising healthcare costs and increasing patient quality care. The increasing regulatory requirements and growing EHR adoption are also contributing to its growth.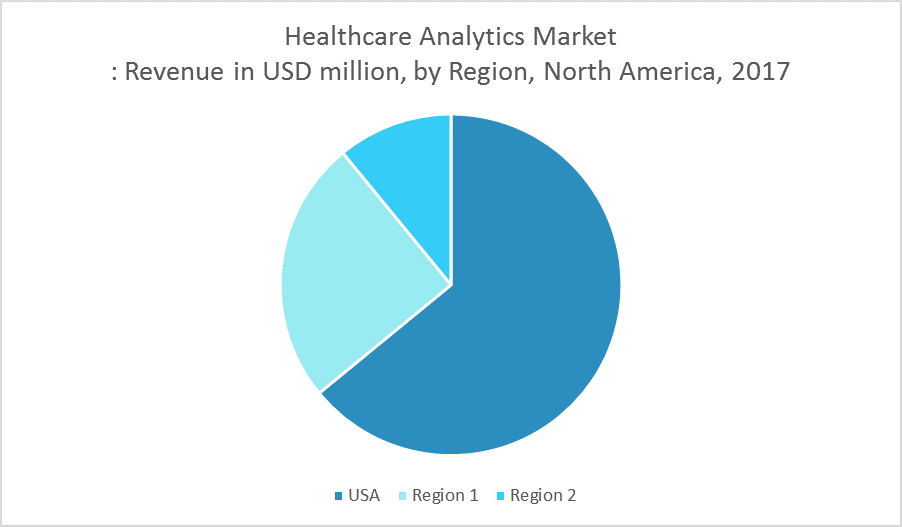 Key Developments in the Market
April 2017 - Philips introduces new teleICU enterprise software at ATA 2017, delivering seamless population health management technology to health systems.
Major players- 3M Company, Allscripts Healthcare Solutions, Cerner Corporation, Information Builders Inc., International Business Machines Corporation (IBM), Mckesson Corporation, Oracle Corporation, Philips Healthcare, Sas Institute Inc., and Scio Health Analytics
Reasons to Purchase the Report
Current and future market outlook for healthcare analytics in North America Various perspectives on the market, with the help of Porter's five forces analysis

The segment that is expected to dominate the market

The region that is expected to witness the fastest growth, during the forecast period

The latest developments, market shares, and strategies that are employed by the major market players

3-month analyst support, along with the market estimate sheet (in excel)
Customization of the Report
This report can be customized to meet your requirements. Please connect with our representative, who will ensure you to get a report that suits your needs.
1. Introduction
1.1 Market Definition
2. Research Methodology
3. Executive Summary
4. Key Inferences
5. Market Overview
5.1 Current Market Scenario
5.2 Porters Five Forces Analysis
5.2.1 Bargaining Power of Suppliers
5.2.2 Bargaining Power of Consumers
5.2.3 Threat of New Entrants
5.2.4 Threat of Substitute Products and Services
5.2.5 Competitive Rivalry within the Industry
6. Drivers, Restraints, Opportunities, and Challenges Analysis (DROC)
6.1 Market Driver
6.1.1 Government Healthcare Policies to Propel the Market Growth
6.1.2 Emergence of Big Data in the Healthcare Industry to Boost the Market Growth
6.1.3 Progress in the Outcome of Clinical Processes Boosting the Market Growth
6.1.4 Increased Focus on Collection and Analysis of Data from Different Sources for Better Customer Service
6.1.5 Technological Advancements Accelerating the Market Growth
6.1.6 Emergence of Social Media and its Impact on the Healthcare Industry Boosting the Market Growth
6.2 Market Restraints
6.2.1 Lack of Proper Skilled Labour
6.2.2 Data Integrity Issues
6.2.3 Cost and Complexity of Software Hindering the Market Growth
6.3 Opportunities
6.4 Key Challenges
7. Market Segmentation
7.1 By Technology Type
7.1.1 Predictive Analytics
7.1.2 Prescriptive Analytics
7.1.3 Descriptive Analytics
7.2 By Application
7.2.1 Clinical Data Analytics
7.2.1.1 Quality Healthcare
7.2.1.2 Client Relationship Management
7.2.1.3 Healthcare Workers Performance Evaluation
7.2.1.4 Hospital/Clinical Data Management and Curation
7.2.2 Financial Data Analytics
7.2.2.1 Financial Data Analytics
7.2.2.2 Revenue Generation Analytics
7.2.2.3 Insurance Claim Analytics
7.2.3 Administrative Data Analytics
7.2.3.1 Supply Chain Management Analytics
7.2.3.2 Hr Analytics
7.2.3.3 Strategy Analytics
7.2.3.4 Research Data Analytics
7.2.3.5 Other Applications
7.3 By Product
7.3.1 Hardware
7.3.2 Software
7.3.3 Service
7.4 By Mode of Delivery
7.4.1 On-Premise Model
7.4.2 Cloud-Based Model
7.5 By End-users
7.5.1 Healthcare Provider
7.5.2 Pharmaceutical Industry
7.5.3 Biotechnology Industry
7.5.4 Academic Organization
7.6 By Geography
7.6.1 North America
7.6.1.1 United States
7.6.1.2 Canada
7.6.1.3 Mexico
8. Competitive Landscape
8.1 Mergers and Acquisition Analysis
8.2 Agreements, Collaborations, and Partnerships
8.3 New Products Launches
9. Key Players
9.1 3M Company
9.2 Allscripts Healthcare Solutions
9.3 Cerner Corporation
9.4 Information Builders Inc.
9.5 International Business Machines Corporation (IBM)
9.6 Mckesson Corporation
9.7 Oracle Corporation
9.8 Philips Healthcare
9.9 Sas Institute Inc.
9.10 Scio Health Analytics
9.11 *List is not Exhaustive
10. Future of the Market