The market was valued at USD 36.02 billion in 2017 and is expected to reach a value of USD 43.72 billion by 2022 at a CAGR of 3.16% over the forecast period.
Increasing market demand for consumer-friendly packages and enhanced product protection is expected to propel flexible packaging as a viable and cost-effective alternative. Innovations in recent times have enabled the development of sustainable and customized flexible packaging solutions, and this has led to an unprecedented rise in the flexible packaging market.
Aluminum to Witness Greater Adoption
Though US exports of aluminum foil were up till 2013, the robust domestic demand for aluminum has caused an increase in aluminum foil import from China, whose foil shipments to the United States have increased almost 10-fold, accounting to around 265 million pounds, in the last decade. The growing urban population, coupled with the increasing number of households, has been instrumental in bolstering the growth in the usage of aluminum packaging for household care, personal care, and cosmetic market in the region.
The food industry accounts for around 5% of the country's GDP and is still growing, due to the greater demand for packaged food. With Food and Agriculture Organization of the United Nations (FAO)-specified guidelines for packaging of food products, aluminum finds its place in the list of approved materials or coatings that can be used safely. The US cheese shipments to China, South Korea, and Mexico increased by more than 25% each, and exports to Japan and Southeast Asia increased by 16% and 8%, respectively. Furthermore, the changing consumer lifestyles in the region, coupled with the growing demand for snack products, are driving the demand for aluminum-packaged food products that offer an extended shelf life and sterility.
United States to Hold the Largest Market Share
The United States consumer lifestyle trends are demanding convenience and portability of products, especially in the food sector. Flexible packaging companies in the United States need to comply with certain regulations like
The Food, Drug & Cosmetics Act (FD&C)
The Consumer Product Safety Improvement Act (CPSIA) & The Consumer Product Safety Act (CPSA)
The Federal Hazardous Substances Act (FHSA)
The Toxic Substances Control Act (TSCA)
As per flexible packaging association of United States, flexible packaging is the second-largest packaging segment in the country, with almost 20% share in the market. Flexible packaging is mainly used for food, which contributed to 60% of the shipments in total. The US flexible packaging industry is witnessing a healthy growth, as the industry was able to implement unique solutions for the many packaging challenges that surfaced. When considering the full life cycle of flexible packaging, it has been noted that it has superior sustainability attributes, including less usage of material, less energy, and creation of less GHG emissions and waste.
Amount of Plastic Storage Bags Used within 7 days, Region, 2015-2016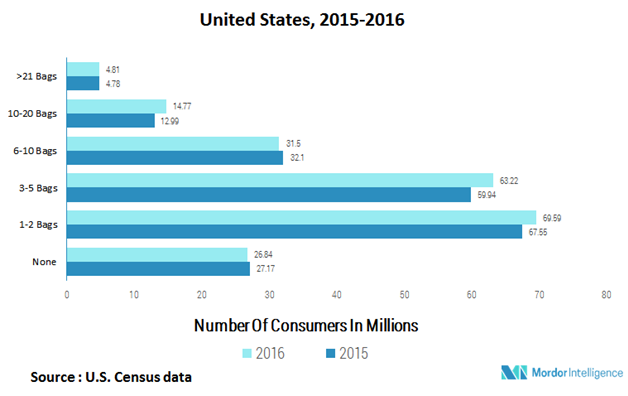 Increased Demand for Convenient Packaging
According to Flexible Packaging Association of the United States (FPA), an increasing number of brand owners are expected to shift to using flexible consumer packaging, for an increasing number of products compared to rigid packaging. Nearly one-third of the survey participants said that over the forecast period, they are likely to switch to a combination of mostly or entirely flexible packaging.
Flexible packaging is preferred by both consumers and producers, due to its advantages over rigid packaging. One of the significant benefits for the manufacturer and retailer is the reduced weight of the packaging, which results in reduced shipping and warehousing costs, while simultaneously creating more space on store shelves. For instance, in soups, new flexible options in tin cans reduce the weight to 4% compared to tin cans, which represent 40% of the total packaging of the product. As a result, it is expected that more products trend toward flexible packaging. Thus, driving manufacturers in the region to shift to flexible packaging, to cater to the consumer demand for convenient packaging.
Key Developments in the Market
Nov 2017: Berry Global Group acquired Clopay Plastic Products Company Inc., a subsidiary of Griffon Corporation for USD 475 million. The company aimed at expanding the Berry's footprint, by leveraging Clopay's markets across the globe, with locations in the United States, Germany, Brazil, and China.
Dec 2017: Novolex announced that it will acquire certain assets and business perations of Shields Bag and Printing Co., a leading manufacturer of custom engineered flexible packaging products. Shields' core focus is providing custom engineered products to a diverse group of customers across a range of end-market segments, including building and construction, food and consumer, banking and security, lawn and garden, chemicals and energy, and general industrial. The acquisition aims at complementing the Novolex's flexible packaging portfolio.
Jan 2018: Amcor has pledged to develop all its packaging to be recyclable or reusable by 2025. The company also plans to focus on significantly increasing its use of recycled materials, and driving consistently the recycling of packaging around the world. This commitment is aimed at establishing the company as a leader in recyclable packaging.
Major Players: Amcor Ltd, Mondi PLC, Transcontinental Inc., American Packaging Corporation, Sit Group SpA, Toppan Printing Co. Ltd, Printpack Inc.,Sigma Plastics Group Inc., Novolex Holdings Inc., Berry Global Inc., Bemis Company Inc., Sealed Air Corp., Tetra Pak International SA, Constantia Flexibles and Winpak Limited among others.
Reasons to Purchase this Report
Examine the impact of the growing demand for convenient packaging as a driver in the North American market scenario
Analyze various perspectives of the market with the help of Porter's five forces analysis
The solutions and end-user vertical that are expected to dominate the market
The regions that are expected to witness the fastest growth rate during the forecast period
Identify the latest developments, market shares, and strategies employed by the major market players
3 months analyst support, along with the Market Estimate sheet (in excel)
Customization of the Report
This report can be customized to meet your requirements. Please connect with our analyst, who will ensure you get a report that suits your needs.
1. Introduction
1.1 Scope of the Study
1.2 Study Deliverables
2. Research Methodology
2.1 Study Assumptions
2.2 Analysis Methodology
2.3 Research Phases
3. Executive Summary
4. Market Dynamics
4.1 Market Overview
4.2 Introduction to Market Dynamics
4.3 Factors Driving the Market
4.3.1 Increased Demand For Convenient Packaging
4.3.2 Changing Demographic And Lifestyle Factors
4.4 Factors Restraining the Market
4.4.1 Fluctuating Raw Material Prices and Government Regulations Associated With Plastic
4.5 Industry Value Chain Analysis
4.6 Industry Attractiveness - Porter's Five Force Analysis
4..1 Bargaining Power of Suppliers
4.65.2 Bargaining Power of Buyers
4.6.3 Threat of New Entrants
4.6.4 Threat of Substitute Products
4.6.5 Competitive Rivalry
5. Technology Snapshot
6. Global North America Flexible Packaging Market Segmentation
6.1 By Material Type
6.1.1 Plastic
6.1.2 Flexible Foam
6.1.3 Paper
6.1.4 Aluminum Foil
6.2 By Product Type
6.2.1 Pouch
6.2.2 Bag
6.2.3 Wrap
6.2.4 Others
6.3 By End-user Industry
6.3.1 Food
6.3.2 Beverage
6.3.3 Pharmaceutical & Medical
6.3.4 Household & Personal Care
6.3.5 Others
6.4 By Country
6.4.1 United States
6.4.2 Canada
7. Competitive Intelligence
6.1 Amcor Ltd
6.2 Mondi PLC
6.3 Transcontinental Inc.
6.4 American Packaging Corporation
6.5 Sit Group SpA
6.6 Toppan Printing Co. Ltd
6.7 Printpack Inc.
6.8 Sigma Plastics Group Inc.
6.9 Novolex Holdings Inc.
6.10 Berry Global Inc.
6.11 Bemis Company Inc.
6.12 Sealed Air Corp.
6.13 Tetra Pak International SA
6.14 Constantia Flexibles
6.15 Winpak Limited
7. Investment Analysis
8. Future of the North American Flexible Packaging Market