The North America epoxy powder coatings market is expected to register a moderate rate during the forecast period, 2018 to 2023. The United States is estimated to lead the market, owing to its rapid growth in the construction and automotive industries. Building & construction sector is expected to be the fastest-growing type, by end-user industry.
Soaring Demand for Eco-friendly Coatings
The construction industry is, by far, the largest consumer of epoxy powder coatings. With a rising number of building codes that promote eco-friendly and energy-efficient structures, home builders and consumers are gradually moving toward building strategies that deliver performance and energy savings in the long run. Growing infrastructure in the United States, which is one of the major consumers of epoxy powder coatings, is driving the market. In the United States, the overall construction market grew by 2.3% in Q4 of 2017 over Q4 2016, owing to the rise in new single-family house constructions. The U.S. Environmental Protection Agency (EPA); Architectural and Industrial Maintenance (AIM), a government initiative in North America, was adopted to improve human health and the environment from the risks that can be constituted by chemicals, while enhancing the competition in the North American chemicals industry. This is increasing the demand for coatings with low-VOC content, such as epoxy powder coatings.
Building & Construction - The Fastest Growing Type by End-user Industry
Epoxy powder coatings are extensively used in the building & construction sector as they are extremely resistant to abrasion, liquid penetration, heat, corrosion, de-icers, UV rays, and chemical attack. They are also economical and environment-friendly because these coatings do not contain solvents and emit virtually no hazardous air pollutants (HAPs) or volatile organic compounds (VOCs). The new residential construction in terms of annual rate for housing units started in the United States, recorded growth of 6.34% in 2016 over 2015. In the first 11 months of 2017, new residential construction recorded a growth of 2.49% when compared to the same time period in 2016. These factors are expected to increase the construction activity, which, in turn, is likely to increase the usage of epoxy powder coatings.
United States to Lead the Market in the North American Region
The United States is competing toward complete transformation of its diesel buses into zero-emission buses. As of 2016, the United States had over 300 individual zero-emission buses operating in transit fleets throughout the nation. Electrical buses are fast gaining importance and their production is set to grow rapidly in the coming years. Shifting trend toward electrical vehicles, due to rise in environmental regulations, is the major factor influencing the coatings. The residential house sales, in terms of annual rate for new single-family houses sold in United States, recorded growth of 11.61% in 2016 over 2015. In the first 11 months of 2017, the residential house sales recorded a growth of 9.44% when compared to the same time period in 2016. Increase in solar capacity by more than 90% in the past two years is set to drive the growth of the renewable energy sector in the United States. All these factors are expected to rapidly drive the market for epoxy powder coatings in the United States during the forecast period.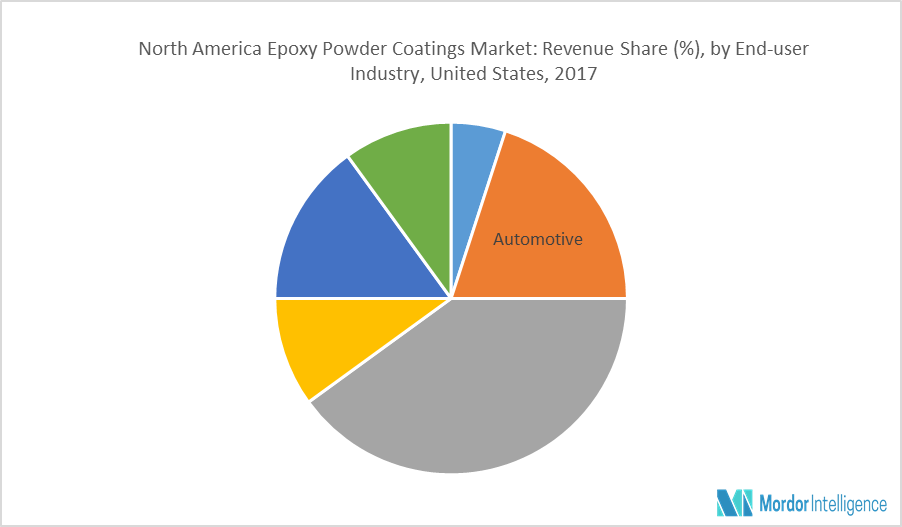 Notable Developments in the Market
February 2016: Akzo Nobel acquired BASF's Industrial Coatings business and became the number one supplier of coil coatings in the world.
Major Players: AkzoNobel, Axalta, 3M, PPG, Beckers Group, and BASF, among others.
Reasons to Purchase the Report
To understand the impact of end-user applications on the market
Analyzing various perspectives of the market with the help of Porter's five forces analysis
To understand the dominating technology in the market
Countries expected to witness the fastest growth during the forecast period
Identify the latest developments, market shares, and strategies employed by the major market players
3-month analyst support, along with the Market Estimate sheet (in excel)
Customization of the Report
This report can be customized to meet your requirements. Please connect with our representative, who will ensure you to get a report that suits your needs.
1. Introduction
1.1 Research Phases
1.2 Scope of the Market
1.3 Study Deliverables
2. Executive Summary
3. Market Insights
3.1 Industry Value Chain Analysis
3.2 Industry Attractiveness - Porter's Five Forces Analysis
3.2.1 Bargaining Power of Suppliers
3.2.2 Bargaining Power of Consumers
3.2.3 Threat of New Entrants
3.2.4 Threat of Substitute Products and Services
3.2.5 Degree of Competition
3.3 Price Analysis
4. Market Dynamics
4.1 Drivers
4.1.1 Rising Demand from the Building & Construction Industry
4.1.2 Soaring Demand for Eco-friendly Coatings
4.1.3 Rising Uses in the Pipeline Industry
4.2 Restraints
4.2.1 Regulations on the Usage of BisPhenol A
4.2.2 Other Restraints
4.3 Opportunities
4.3.1 Increasing Applications of Epoxy Powder Coatings
4.3.2 Other Opportunities
5. Market Segmentation and Analysis (Market Size, Growth, and Forecast)
5.1 By End-user Industry
5.1.1 Aerospace
5.1.2 Automotive
5.1.3 Building & Construction
5.1.4 Energy
5.1.5 Marine
5.1.6 Oil & Gas
5.2 By Coating Type
5.2.1 Protective Coatings
5.2.2 Others
6. Regional Market Analysis
6.1 North America
6.1.1 United States
6.1.2 Canada
6.1.3 Mexico
6.1.4 Rest of North America
7. Competitive Landscape
7.1 Mergers and Acquisitions, Joint Ventures, Collaborations and Agreements
7.2 Market Share Analysis**
7.3 Strategies Adopted by Leading Players
8. Company Profiles (Overview, Financials**, Products & Services and Recent Developments)
8.1 Akzo Nobel N.V
8.2 Axalta Coating Systems
8.3 BASF SE
8.4 Berger Paints
8.5 Carpoly
8.6 Diamond-Vogel
8.7 Evonik Industries AG
8.8 Hempel
8.9 Jotun A/S
8.10 NIPPON PAINT CO., Ltd
8.11 PPG Industries Inc.
8.12 The Sherwin Williams Company
8.13 SolEpoxy
8.14 Solvay SA
8.15 Wacker Chemie AG
*List Not Exhaustive
9. Disclaimer
**Subject to availability on public domain