The global naphthalene market is estimated to register a CAGR of 3.3% during the forecast period, 2018-2023. Asia-Pacific leads the market among other regions, supported by the high consumption from China, accounting for about 67% of the global naphthalene production capacity. Naphthalene sulfonates are expected to remain the largest application segment for the global naphthalene market.
Growing Use of NSF (Naphthalene Sulphonated Formaldehyde) in Concrete Admixtures
Naphthalene sulphonated formaldehyde (NSF) polymer is a major ingredient of superplasticizers. It takes part in neutralizing the surface charges on cement particles, in enhancing water tied up in the cement agglomerations, and thereafter, in reducing viscosity of the paste and concrete. Demand for NSF is the highest in Asia-Pacific, especially in China, due to the growing construction industry and real estate. New alternatives, like polycarboxylate superplasticizers, are expected to affect the market, but their high pricing makes them useful only in high-end constructions. NSF is still the primary feedstock in the superplasticizers market. The Middle East & African region is the next major consumer of NSF superplasticizers, due to high investments in construction, and growing population, coupled with demand.
Naphthalene Sulfonates to Continue to be the Major Application
Major part of the naphthalene produced is used in the production of naphthalene sulfonates. China is the largest market for naphthalene sulfonates. The usage of naphthalene sulfonates is increasing in the European region, which is expected to grow further
Asia-Pacific to Lead the Market with High Share
Asia-Pacific is the biggest market for naphthalene production across the globe, with China consuming around 65% of the total naphthalene consumption, globally. The market for naphthalene in the Asia-Pacific region is supported by the ongoing developments in the construction and agriculture industries. The approval of large construction projects, especially in India, China, Japan, and Malaysia, is expected to drive the market for naphthalene in the region. Asia-Pacific is to remain the largest market for global naphthalene market, followed by Europe and North America.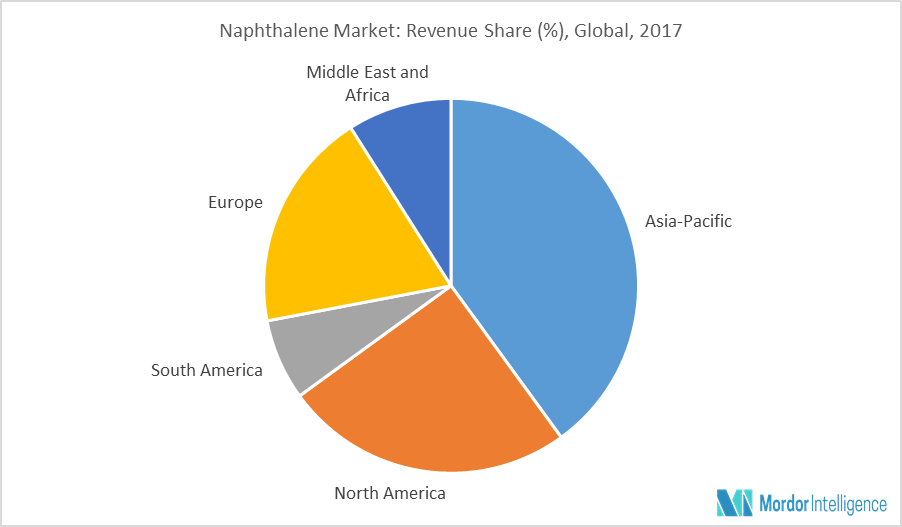 Notable Developments
January 2017: Koppers and ArcelorMittal entered into a long-term coal tar supply agreements till 2026.
Major Players: CarbonTech Group, Rutgers Group, JFE Chemical Corporatio, Epsilon Carbon, DEZA, and Koppers, Inc., among others.
Reasons to Purchase the Report
To understand the impact of increasing stringent regulations on the market.
Analyzing various perspectives of the market with the help of Porter's five forces analysis
To understand the dominating application in the market
Countries expected to witness the fastest growth during the forecast period
Identify the latest developments, market shares, and strategies employed by the major market players
3-month analyst support, along with the Market Estimate sheet (in Excel)
Customization of the Report
This report can be customized to meet your requirements. Please connect with our representative, who will ensure you to get a report that suits your needs.
1. Introduction
1.1 Research Phases
1.2 Study Deliverables
1.3 Scope of the Report
2. Executive Summary
3. Market Insights
3.1 Industry Value Chain Analysis
3.2 Industry Attractiveness – Porter's Five Forces Analysis
3.2.1 Bargaining Power of Suppliers
3.2.2 Bargaining Power of Consumers
3.2.3 Threat of New Entrants
3.2.4 Threat of Substitute Products and Services
3.2.5 Degree of Competition
3.3 Import & Export Trends
3.4 Regulatory Policy Analysis
4. Market Dynamics
4.1 Drivers
4.1.1 Growing Use as NSF in Concrete Admixtures
4.1.2 Growing Use in Textile Industry
4.2 Restraints
4.2.1 Environmental Concerns Regarding Use in Pesticides
4.2.2 Increasing Use of O-Xylene for Phthalic Anhydride Production
4.2.3 Availability of Alternate Materials
4.3 Opportunities
4.3.1 New Uses in the Construction Sector
4.3.2 Other Opportunities
5. Market Segmentation and Analysis
5.1 By Source
5.1.1 Coal Tar
5.1.2 Petroleum
5.2 By Application
5.2.1 Intermediate for Production of Organic Compounds
5.2.1.1 Phthalic Anhydride
5.2.1.2 Naphthalene Sulfonates
5.2.2 Low-volatility Solvents
5.2.3 Moth Repellent
5.2.4 Wetting Agent and Surfactant
5.2.5 Others
6. Regional Market Analysis- (Market size, Growth, and Forecast)
6.1 Asia-Pacific
6.1.1 China
6.1.2 India
6.1.3 Japan
6.1.4 South Korea
6.1.5 Rest of Asia-Pacific
6.2 North America
6.2.1 United States
6.2.2 Canada
6.2.3 Mexico
6.2.4 Rest of North America
6.3 Europe
6.3.1 Germany
6.3.2 United Kingdom
6.3.3 Italy
6.3.4 France
6.3.5 Rest of Europe
6.4 South America
6.4.1 Brazil
6.4.2 Argentina
6.4.3 Rest of South America
6.5 Middle East & Africa
6.5.1 Saudi Arabia
6.5.2 South Africa
6.5.3 Rest of Middle East & Africa
7. Future of the Market
8. Competitive Landscape
8.1 Mergers & Acquisitions, Joint Ventures, Collaborations, and Agreements
8.2 Market Share Analysis**
8.3 Strategies Adopted by Leading Players
9. Company Profiles* (Overview, Products & Services, Financials**, and Recent Developments)
9.1 CarbonTech Group
9.2 Compro Shijiazhuang Fine Chemical Co. Ltd
9.3 DEZA, a. s
9.4 Epsilon Carbon
9.5 Industrial Química del Nalón, S.A.
9.6 JFE Chemical Corporation
9.7 Koppers, Inc.
9.8 Merck Millipore
9.9 PCC Rokita SA
9.10 Wuxi Kingchan Bio-medical and Chemical Inc.
9.11 Rütgers Group
9.12 Exxon Mobil Corporation
*List Not Exhaustive
10. Disclaimer
**Subject to Availability on Public Domain