Millimeter Wave Technology Market Size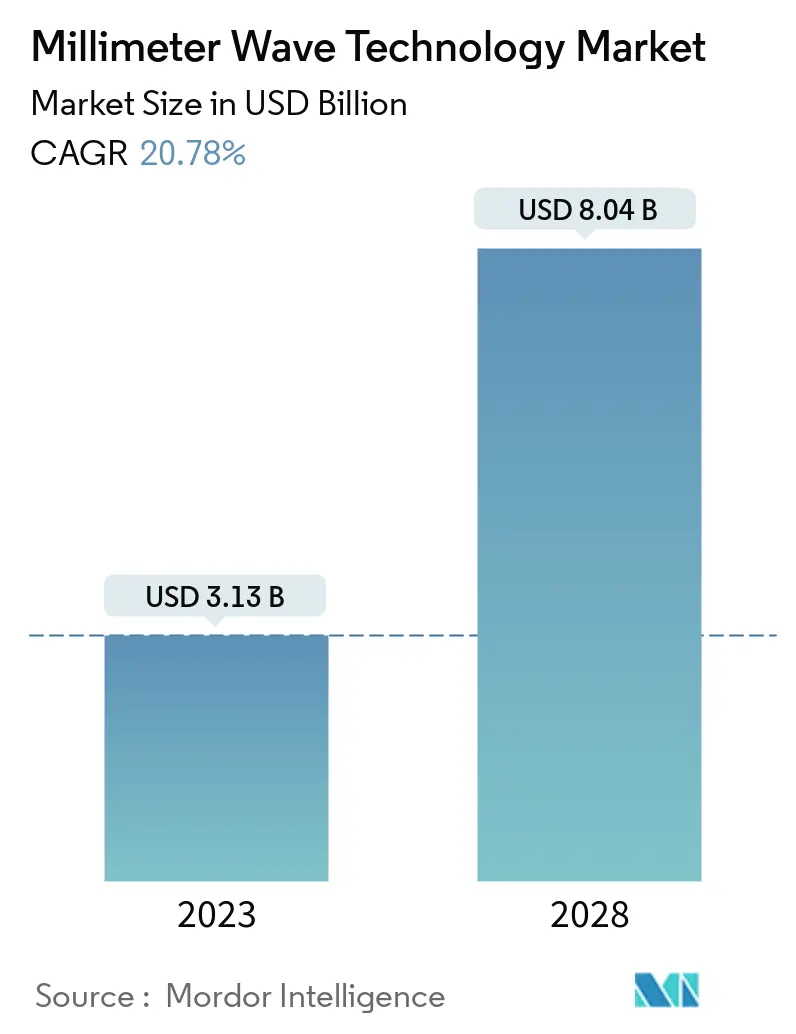 Study Period:
2018 - 2028
Fastest Growing Market:
Asia Pacific
Largest Market:
North America
CAGR:
34.56 %

Major Players

*Disclaimer: Major Players sorted in no particular order
Need a report that reflects how COVID-19 has impacted this market and it's growth?
Millimeter Wave Technology Market Analysis
The millimeter wave technology market is expected to register a CAGR of 34.56% over the forecast period.
Millimeter wave technology accommodates a massive increase in data demands from connected homes, augmented reality/virtual reality (AR/VR) devices, cloud gaming systems, self-driving vehicles, IoT sensors, and other cloud-connected devices.
The possibility of such high-speed communication was demonstrated in 2016 with the then-latest 802.11ad Wi-Fi standard, which operated at 60 GHz. It is currently being considered by standard-setting organizations, like the Federal Communications Commission (FCC) and others, as the way to bring "5G" into the mass market by allocating more bandwidth to deliver faster, higher-quality video and multimedia content and services. With the current market scenario changed, owing to the development and evolution of new technologies, the millimeter wave is on the brink of being an integral part of the next-generation network.​
According to Ericsson, 5G subscriptions are expected to surge globally between 2019 and 2027, rising from over 12 million to over 4 billion. Subscriptions are predicted to be highest in South East Asia, North East Asia, India, Nepal, and Bhutan.
Millimeter-wave, also known as very high frequency (VHF) or extremely high frequency (EHF) by the International Telecommunications Union (ITU), is extensively preferred for high-speed wireless broadband communications.​ Many countries are not waiting for 5G regulations and specifications to be finalized at the WRC-19; they are already taking steps toward commercial 5G New Radio (NR), with a particular focus on the spectrum range 26.5 to 29.5GHz (the 28GHz band).​
The initial adoption of millimeter wave is expected to be more in North America and the European region, as the standards are more defined. Multiple types of research are happening in this market domain. ​ Across Asia, Singapore, Japan, Taiwan, and South Korea are expected to adopt mmWave 5G in the near term. In contrast, European counterparts such as Denmark, Malta, and France have already adopted the technology.
Several telecom providers announced the continuing and addition of 5G deployment projects amid the worldwide COVID-19 outbreak. For example, Baicells, a leading supplier of turnkey long-term evolution (LTE) and 5G solutions for carriers, companies, and communities, and Helium Deploy, a supplier of Helium 5G Solution packages, announced a collaboration in October 2022 to offer the Helium Network possibility to the international community. Helium Deploy will spend USD 9.5 million on Baicells Nova430H DeWi radios as part of the cooperation to address worldwide demand.
Millimeter Wave Technology Industry Segmentation
Millimeter waves are also known as extremely high frequency (EHF). It's a radio frequency that would allow transmission frequencies between 30 GHz and 300 GHz, compared to 5 GHz frequencies used by previous mobile devices. The abundant spectrum available at millimeter wave (mmWave) frequency bands above 24 GHz can deliver extreme capacity, ultra-high throughput, and ultra-low latency.
The millimeter wave technology market is segmented by type of component (antennas & transceiver, communications & networking components, interface, frequency, and related components, imaging, others), licensing model (fully/partly licensed​, unlicensed), and geography (North America, Europe, Asia Pacific, Latin America, and Middle East and Africa).
The market sizes and forecasts are provided in terms of value (USD million) for all the above segments.
By Type of Component
Antennas & Transceiver
Communications and Networking
Interface
Frequency and Related Components
Imaging
Other Components
By Licensing Model
Fully/Partly Licensed
Unlicensed
By Geography

North America
United States
Canada

Europe
United Kingdom
Germany
France
Rest of Europe

Asia-Pacific
China
Japan
India
South Korea
Rest of Asia Pacific

Middle-East and Africa
Latin America
Millimeter Wave Technology Market Trends
Antennas & Transceiver Hold Significant Market Share
The millimeter waves operate at very high frequencies and tend to cover a range of 1mm to 10mm; hence, they do not travel far. With shorter wavelengths, the 71-76 GHz, 81-86 GHz, and 92-95 GHz (70/80/90 GHz) bands are permitted to use smaller antennas, compared to similar circumstances for the lower bands. This also gives directivity and high gain.​
With these antennas susceptible to easy blockage, usage of boosters and multiple mm-based antennas has been among the potential solution. Additionally, market players are developing antennas for millimeter wave to gain a competitive edge.
For example, AGC Inc. (AGC), a world-leading manufacturer of glass, chemicals, and high-tech materials developed a transparent antenna for fixed wireless access - customer premises equipment (FWA-CPE) that can be installed on indoor window glass for the improvement of indoor communication areas in the 5G millimeter wave (28GHz) band. AGC will continue optimizing performance and confirming reliability, aiming to commercialize the antenna in 2024.
Pharrowtech, a leader in designing and developing millimeter wave (mmWave) hardware and software for next-generation wireless applications, raised USD 18.40 million Series A funding round to continue developing next-generation 60 GHz wireless RF transceivers and antenna technology. The funding will enable Pharrowtech to accelerate the deployment of its recently launched 60 GHz CMOS radio-frequency integrated circuit (RFIC) PTR1060 and phased array antenna radio-frequency module (RFM) PTM1060 for 5G unlicensed fixed wireless access, wireless infrastructure, and consumer applications. The capital raised will also be used to ensure best-in-class customer support, expand Pharrowtech's operations in the United States, and grow its engineering and business teams to drive the product roadmap and fuel further growth.
Millimeter wave technology has profoundly impacted the radar sensors' evolution and offered significant capabilities and efficiency improvements. The automobile industry is expected to benefit from this development. The increasing automatic emergency braking (AEB) applications in the 77 GHz radar market indicate the opportunities held in the market. In collaboration with end-users of the market, innovation is expected to lead to the adoption of advanced products, to reduce the development to the market time of these millimeter wave antennas.​
Due to the widespread implementation of the devices in industries such as security and telecommunications, the segment will likely continue its dominance during the projection. Both the telecommunications and defense industries are growing globally, and demand from both industries is expected to rise dramatically in the future.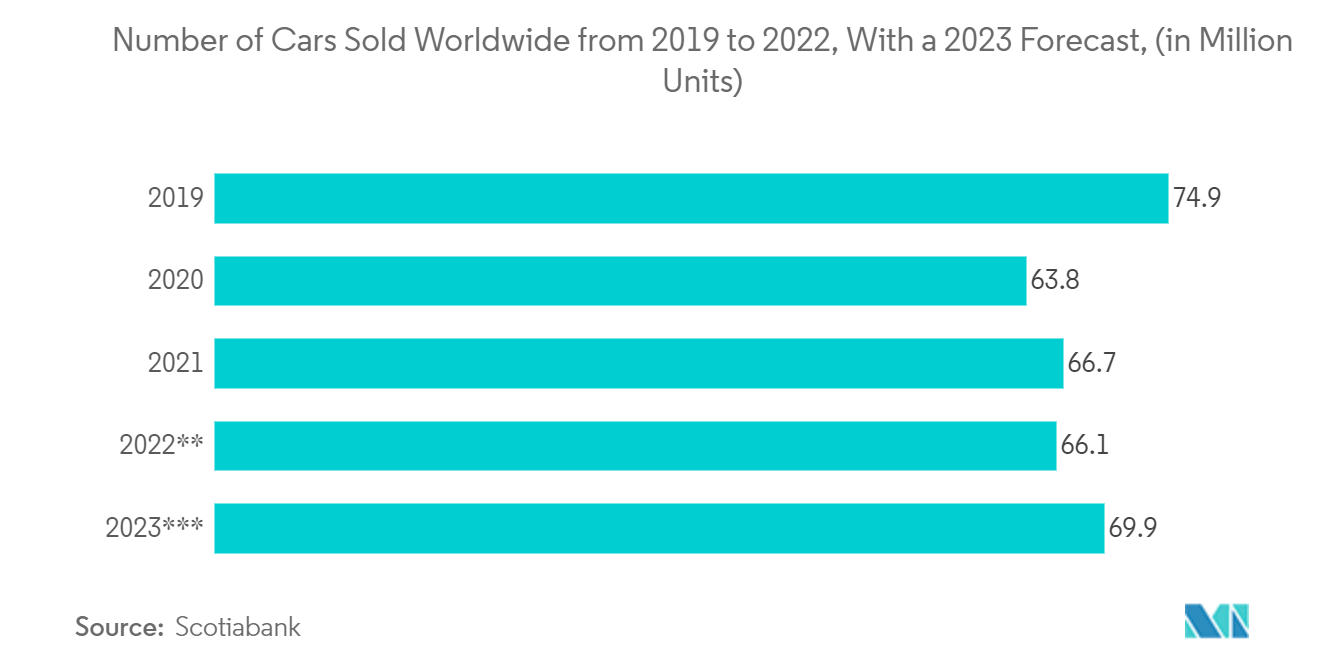 To understand key trends, Download Sample Report
North America is Expected to Hold Major Market Share
In the North American region, the telecom services providers, such as AT&T and Verizon, have been tapping into the millimeter wave frequencies to roll out commercial 5G services. The adoption needs the impetus from the standard-setting organizations to support further development of 5G. The US Federal Communications Commission (USFCC) has been directing the same by spectrum launch as it gains momentum, and innovation is further witnessed across 5G and cellular antennas.​
Mobile operators have started to focus on active antennas and millimeter wave. At the same time, multiple startups in the region are expected to grow, with Airways, Lightpointe, and Fractal Antennas being such instances. Vendor-related activity is likely to spur across millimeter wave 5G networks in terms of intellectual property.​
Businesses in the region are pursuing a variety of techniques to achieve a competitive advantage. For example, Keysight Technologies, Inc., a leading technology company that delivers advanced design and validation solutions to help accelerate innovation to connect and secure the world, signed a three-party agreement with NTT DOCOMO, Inc., and NTT to advance the development of key technologies expected to drive the innovation necessary for 6G. With 5G deployment underway, research on enabling technologies for 6G – the next generation of wireless communications – is gaining momentum.
Verana Networks, a developer of innovative 5G radio-access networks (RAN) solutions for mmWave spectrum, announced it would conduct field trials of its ground-breaking 5G mmWave integrated access and backhaul (IAB) solution with Verizon. Verana's mmWave 5G small cells can provide wireless backhaul to other Verana 5G small cells while providing 5G access to smartphones and fixed wireless access (FWA) devices. Verana's scalable, multi-hop IAB solution reduces the number of fiber backhaul links required to build a mmWave 5G network by more than 90% – reducing CapEx and OpEx, while increasing flexibility in site selection and the speed of network rollout.
The adoption of augmented reality (AR), virtual reality (VR), and high definition (HD) resolutions has led to colossal-sized content generation and is expected to motivate further the service providers and the stakeholders in the market to upgrade their communication infrastructure. Additionally, investments in the self-driving car market, the automobile industry for connected cars' future, and industry 4.0 are expected to drive millimeter wave technology in the supporting infrastructure across North America.​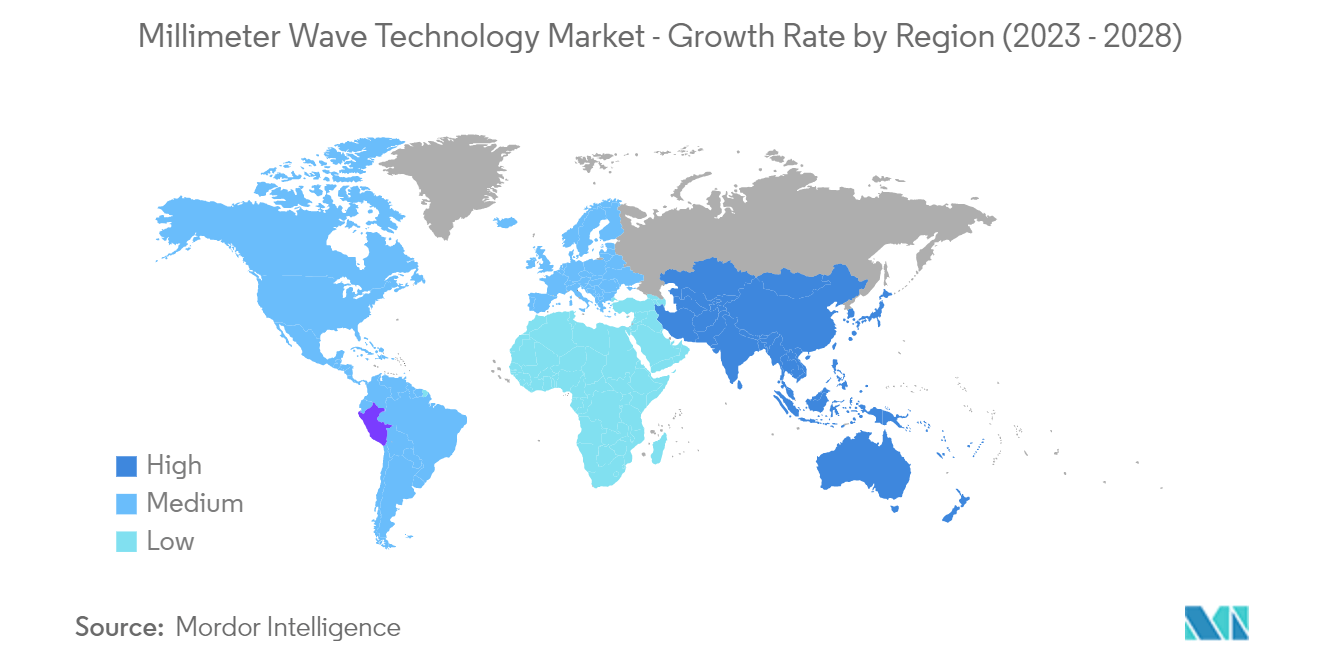 To understand geography trends, Download Sample Report
Millimeter Wave Technology Overview
The millimeter wave technology market is competitive. With the proliferation of 5G, the market is expected to expand and attract more significant players, including Siklu Communication, Ltd, E-band communications LLC (Axxcss Wireless Solutions, Inc.), Millimeter Wave Products Inc., Ducommun Incorporated, and ​NEC Corporation, among others. The landscape is expected to experience several collaborations in the near future among telecom service providers and companies producing millimeter wave products. Some of the key developments in the market are mentioned below.
In May 2022, Singtel was appointed by Micron Technology to deploy its 5G millimeter wave solutions with localized edge core at the semiconductor manufacturer's 3D NAND flash memory fabrication plant in Singapore. Micron is the first company in Singapore to pilot 5G by deploying a millimeter wave campus solution with edge core on-premises for industry 4.0 manufacturing applications. The customized solutions will be deployed at Micron's cleanroom to support the development of a variety of digitally enabled and enhanced applications – from automated visual inspections of individual chips to augmented reality (AR) for operations and maintenance.
Moreover, in August 2022, HFCL Limited entered into an agreement with Qualcomm Technologies, Inc. for HFCL's design and development of 5G millimeter wave fixed wireless access (FPA) customer premise equipment (CPE) products. In continuation with its 5G product strategy, HFCL is expanding its 5G product portfolio by launching product development of 5G mmWave FWA CPE products for India and global markets.
Millimeter Wave Technology Market Leaders
Siklu Communication, Ltd

E-band communications LLC (Axxcss Wireless Solutions, Inc.)

Millimeter Wave Products Inc.

Ducommun Incorporated​

NEC Corporation
*Disclaimer: Major Players sorted in no particular order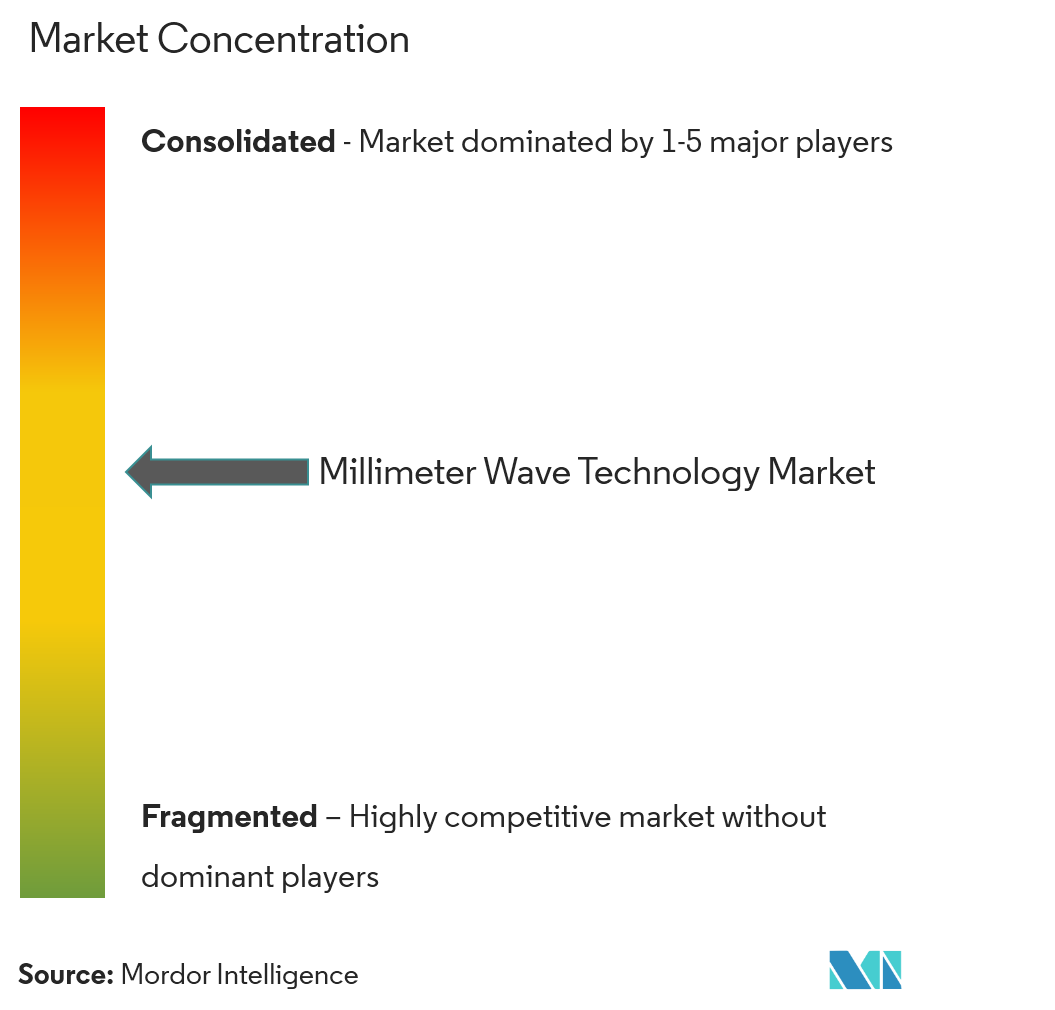 Millimeter Wave Technology Market News
January 2023: SMK Electronics Corporation introduced a new MilwebTM millimeter wave sensor technology and solution. Utilizing the company's proprietary algorithms, the Milweb Wave Sensor can identify objects, surfaces, up-coming terrain, and even, at a close range, an individual's heart rate and respiration. This versatile new sensor technology has applications in home automation, automotive manufacturing, healthcare, and safety products.
October 2022: Movandi, a pioneer in novel 5G RF and millimeter-wave software and technologies, partnered with Rakuten mobile to increase 5G outdoor and indoor millimeter wave network availability and bandwidth in Japan through the use of Movandi's intelligent repeater and BeamXR Open-RAN technology.
February 2022: Fastweb, one of Italy's largest telecommunications companies, and Qualcomm Technologies, Inc. announced strategies to market 5G standalone (SA) millimeter wave on the Qualcomm 5G mobile broadband wireless access platform Gen 2 with Snapdragon X62 and X65 5G Modem-RF Devices for fixed wireless access (FWA). The collaborative efforts are designed to allow Fastweb to rapidly increase the reach of its FWA installations, assisting in bringing the maximum potential of 5G to approximately twelve million households and companies in Italy by the end of 2025.
Millimeter Wave Technology Market Report - Table of Contents
1. INTRODUCTION

1.1 Study Assumptions and Market Definition

1.2 Scope of the Study

2. RESEARCH METHODOLOGY

3. EXECUTIVE SUMMARY

4. MARKET INSIGHT

4.1 Market Overview

4.2 Industry Attractiveness - Porter's Five Forces Analysis

4.2.1 Bargaining Power of Suppliers

4.2.2 Bargaining Power of Buyers/Consumers

4.2.3 Threat of New Entrants

4.2.4 Threat of Substitute Products

4.2.5 Intensity of Competitive Rivalry

4.3 Assessment of Impact of COVID-19 on the Industry

4.4 Significance of GaN across mmWave Applications (To include extensive coverage on current launch, near-term potential (based on patent filing), advantages, and substrate-level developments, among others.)

4.5 mmWave Substrate Landscape (To include coverage on mmWave substrates such as LCP, PI, and PTFE, along with their impact on 5G infrastructure, including base stations, phones, and peripherals)

5. MARKET DYNAMICS

5.1 Market Drivers

5.1.1 Proliferation of Wireless Backhaul of Base Stations

5.1.2 Evolution of 5G is Expected to Drive the Market

5.2 Market Restraints

5.2.1 Need for Manufacturing of Compatible Components and Rising Cost of Components

5.2.2 Technological Vulnerabilities Leading To Reduced Wave Strength

6. MARKET SEGMENTATION

6.1 By Type of Component

6.1.1 Antennas & Transceiver

6.1.2 Communications and Networking

6.1.3 Interface

6.1.4 Frequency and Related Components

6.1.5 Imaging

6.1.6 Other Components

6.2 By Licensing Model

6.2.1 Fully/Partly Licensed

6.2.2 Unlicensed

6.3 By Geography

6.3.1 North America

6.3.1.1 United States

6.3.1.2 Canada

6.3.2 Europe

6.3.2.1 United Kingdom

6.3.2.2 Germany

6.3.2.3 France

6.3.2.4 Rest of Europe

6.3.3 Asia-Pacific

6.3.3.1 China

6.3.3.2 Japan

6.3.3.3 India

6.3.3.4 South Korea

6.3.3.5 Rest of Asia Pacific

6.3.4 Middle-East and Africa

6.3.5 Latin America

7. COMPETITIVE INTELLIGENCE

7.1 Company Profiles

7.1.1 Siklu Communication, Ltd

7.1.2 Bridgewave Communications Inc. (Remec Broadband Wireless International)

7.1.3 E-band Communications LLC (Axxcss Wireless Solutions Inc.)

7.1.4 Millimeter Wave Products Inc.

7.1.5 Ducommun Incorporated

7.1.6 SAGE Millimeter, Inc.

7.1.7 Keysight Technologies, Inc.

7.1.8 Farran Technology Ltd

7.1.9 LightPointe Communications, Inc.

7.1.10 NEC Corporation

7.1.11 L3Harris Technologies Inc.

*List Not Exhaustive

8. INVESTMENT ANALYSIS

9. MARKET OPPORTUNITIES AND FUTURE TRENDS
**Subject to Availability
Millimeter Wave Technology Market Research FAQs
What is the study period of this market?
The Millimeter Wave Technology Market is studied from 2018 - 2028.
What is the growth rate of Millimeter Wave Technology Market?
The Millimeter Wave Technology Market is growing at a CAGR of 34.56% over the next 5 years.
Which region has highest growth rate in Millimeter Wave Technology Market?
Asia Pacific is growing at the highest CAGR over 2021 - 2026.
Which region has largest share in Millimeter Wave Technology Market?
North America holds highest share in 2022.
Who are the key players in Millimeter Wave Technology Market?
Siklu Communication, Ltd, E-band communications LLC (Axxcss Wireless Solutions, Inc.), Millimeter Wave Products Inc., Ducommun Incorporated​, NEC Corporation are the major companies operating in Millimeter Wave Technology Market.
Millimeter Wave Technology Industry Report
Statistics for the 2023 Millimeter Wave Technology market share, size and revenue growth rate, created by Mordor Intelligence™ Industry Reports. Millimeter Wave Technology analysis includes a market forecast outlook to for 2023 to 2028 and historical overview. Get a sample of this industry analysis as a free report PDF download.
80%

of our clients seek made-to-order reports. How do you want us to tailor yours?