Middle East And North Africa DOOH Market Size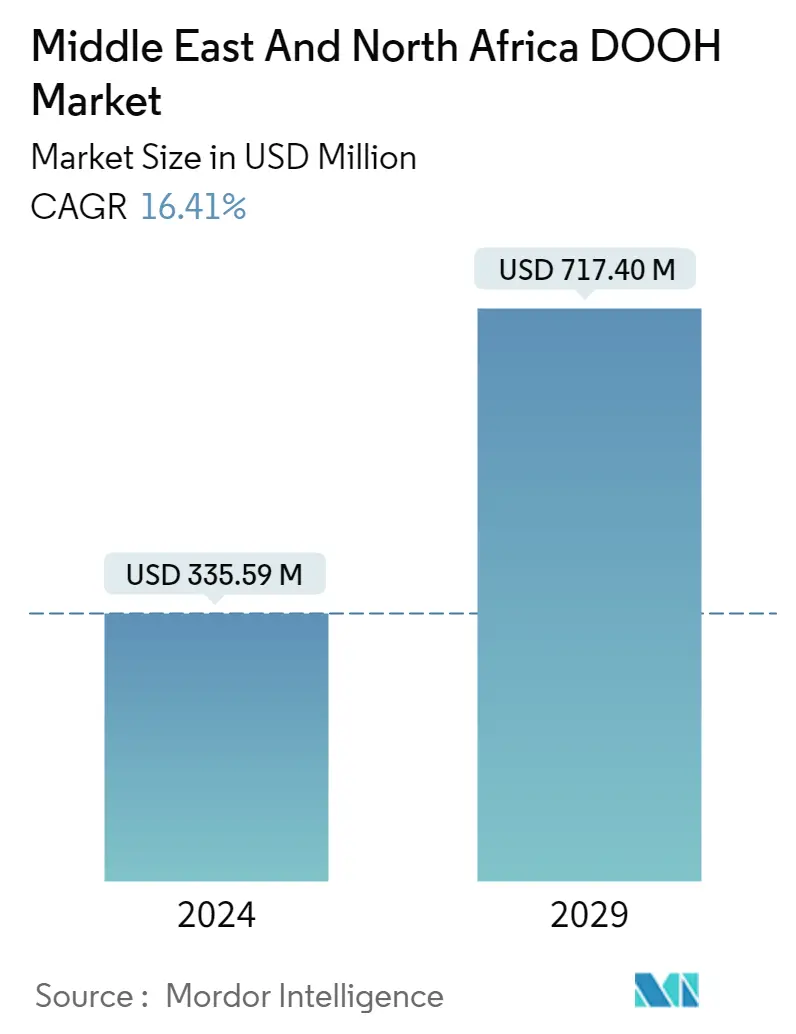 Study Period
2018 - 2028
Base Year For Estimation
2022
Market Size (2023)
USD 288.28 Million
Market Size (2028)
USD 616.27 Million
CAGR (2023 - 2028)
16.41 %
Market Concentration
Low

Major Players

*Disclaimer: Major Players sorted in no particular order
Need a report that reflects how COVID-19 has impacted this market and its growth?
Middle East And North Africa DOOH Market Analysis
The Middle East And North Africa DOOH Market size is estimated at USD 288.28 million in 2023, and is expected to reach USD 616.27 million by 2028, growing at a CAGR of 16.41% during the forecast period (2023-2028).
With the increasing complexity of online advertising, coupled with the premium pricing charged for ad blockers, marketing, and advertising, companies are looking for alternative solutions that will enable them to display their advertisements or messages. This presents the DOOH market with a lucrative opportunity, which may boost its adoption over the forecast period.
Digital out-of-home (DOOH) marketing hugely impacts the Middle East and Africa markets, and companies are experiencing considerable growth in this industry sector. Numerous advertisers are entering this market to increase awareness of their brands and products, and they are doing it by enticing their target audience in brand-new ways. Being present on a little screen is insufficient today; spreading messages far and wide is more crucial than ever. It entails creating 360-degree ads featuring a presence "IRL" ( in real life).
The Saudi market has the chance to advance this facet of marketing in line with the kingdom's 2030 Vision by keeping up with emerging technologies and implementing them in new settings. This entails switching out print-based billboards for digital ones to protect the environment. As a result, the existing industry will develop into a vibrant media sector that blends in naturally with cities and society, is more ecologically friendly, and appeals to the audience's sense of aesthetics.
One of the top market trends is the rise of automation and programmatic platforms since they drive growth in OOH wallet share by reducing campaign purchasing friction. They replace the inefficient buying procedure of RFPs, human negotiation, and manual orders. In the future, artificial intelligence-based algorithms are expected to enable "smart advertisements," which can adapt and improve according to the preferences of target audiences over time. Also, digital screens will track purchase behavior and leverage sensor technology to detect passersby demographic features and track facial expressions and use these sources as inputs for artificially intelligent advertisements.
Among various transit environments, airports have proven to be an ideal environment for advertising, particularly for top-tier and luxury brands. Airports are under pressure to figure out ways to generate more and more revenue. Converting static displays like posters to digital displays allow airports to utilize the same space to sell to multiple advertisers instead of just one. That multiplies the amount of revenue exponentially. Also, airports can share the cost burden of upgrading to new advertising technologies by bringing in advertising partners. Airport Ads has significantly invested in various international airports, including Sharjah (UAE) and Kenneth Kaunda (Zambia), in developing DOOH solutions and experiences that integrate innovative ideas and executions.
To expand their presence in the different regions and enhance their product portfolio, the companies are collaborating. For instance, in May 2022, Commercial and technological cooperation was established between Pikasso, the provider of out-of-home advertising (OOH) in the Caucasus, North and West Africa, and the Levant, and Pladway, the top digital out-of-home (DOOH) programmatic company in Italy.
Organizations and digital marketing companies were forced to follow the digital trend suddenly. This has given digital marketing companies more room to test customer ideas. The pandemic, for example, has changed the way firms work. More and more businesses are adopting a digital work structure. Despite the bleak environment, digital marketing businesses have the required edge to function. The lockout has given agencies the chance to identify and rethink their various digital job tasks in the absence of a physical office.
Middle East And North Africa DOOH Market Trends
Transit to be Fastest Growing Application
Transit advertising, often known as "advertising on transportation," is the placement of commercials on or within any form of transportation, including buses, taxis, trains, trams, etc.
The region mostly finds its transit applications across public transportation vehicles (such as taxis, buses, and underground trains), airports, bus stops, train stations, and bus stops. The citizens' growing utilization of public transit drives the market players to incorporate DooH transit along the transit areas identified as essential installation sites.
For instance, the Roads and Transport Authority (RTA) reported that in Dubai, ridership of public transportation, shared mobility, and taxis recorded around 621.4 million in 2022, a 35% rise year-on-year. The average daily ridership of public transportation, shared mobility, and taxis was 1.7 million in 2022, up from 1.3 million in 2021. Such considerable growth in utilization and ridership in public transit may significantly benefit transit DOOH firms installing digital advertising screens across various public transit modes, thereby gaining potential market growth.
Moreover, various firms recognize the significant benefits of transit DOOH solutions, substantially driving market growth. For instance, there is a chance to profit from portable digital advertisements displayed on the top of cars, where users, including drivers, passengers, and pedestrians, can read the content. Override, a KSA-based digital billboard business, is taking the plunge into this possibility by offering an even more important feature: data and hyper-targeted geofenced ads.
Moreover, various government initiatives are significantly supporting the installation of digital billboards on public transport, thereby considerably contributing to market growth. For instance, in October 2022, Dubai cabs were expected to be digitalized as the RTA introduced new features. According to Dubai Taxi Corporation in RTA, the recent rollout would be part of keeping up with the latest technology and tackling the issues of the taxi sector's introduction of package initiatives. Taxi advertisements will be a step forward. Traditional automobile stickers will be replaced with digital advertisements. A digital billboard will likely be mounted on the vehicle's back windshield, which will be visible to commuters on the road.
Overall, the market had considerable adoption rates during the year, with firms invested in digital displays significantly generating profitable earnings. Further, vehicles with traditional displays are anticipated to be replaced by digital displays to enhance brand promotion.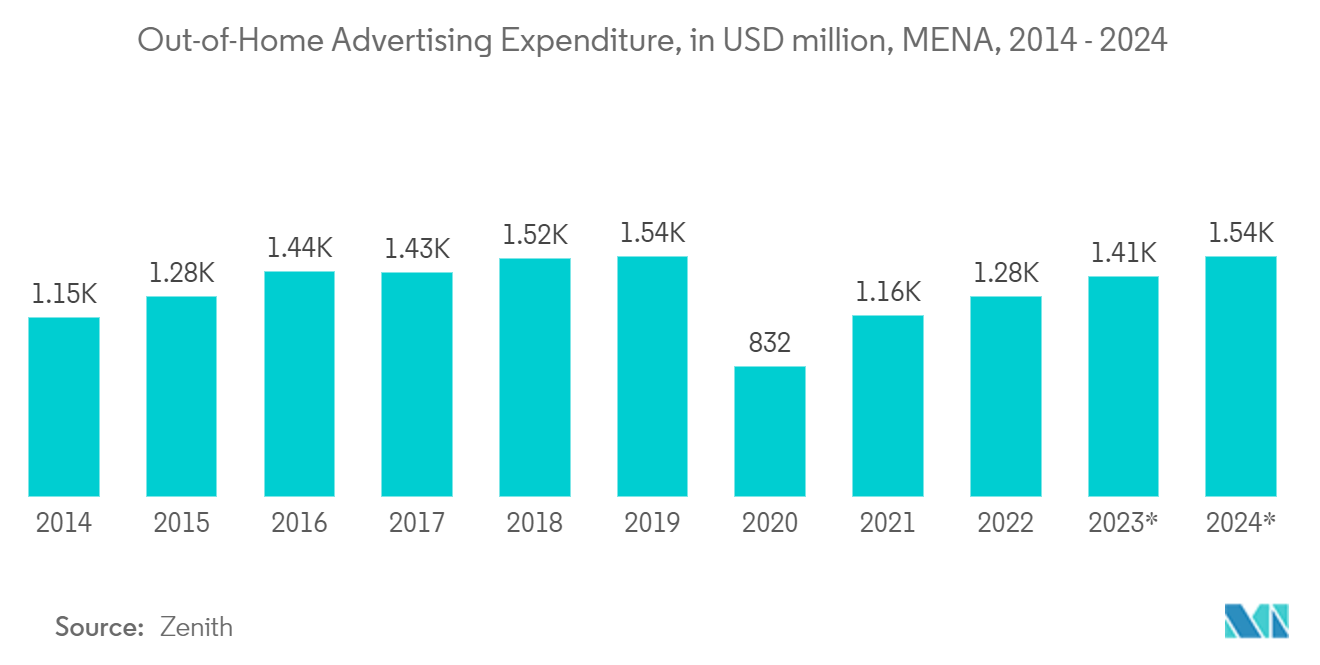 To understand key trends, Download Sample Report
Saudi Arabia to Hold Significant Market Share
Despite the existence of alternative media, such as TV, the Internet, etc., the outdoor advertising sector in Saudi Arabia is one of the most significant and primary sectors for advertising firms and organizations looking to advertise their products. When commercials cannot be made on other channels or videos, outdoor advertisements remain the most significant medium. Moreover, outdoor advertising is the ideal and first choice in the market, as it delivers a full-fledged set of interactive digital solutions to the public, ensuring access to a vast number of viewers in a much shorter period compared to other advertising mediums. A significant shift has occurred everywhere due to Vision 2030, and Saudi Arabia, which is booming economically and socially, has made significant changes.
According to a report by the World Bank, in 2022, 30.36 million people were expected to live in urban areas. Most urban settlers settled in prominent Saudi Arabian cities like Riyadh, Dammam, Mecca, and Jeddah. According to the UNDP and UN DESA, by 2030, the cities of Riyadh and Jeddah are expected to be populated by 7.9 million and 5 million people, respectively.
Further, in 2022, Saudi Arabia recorded a per capita income of USD 27,941, which was USD 23,186 in 2021. With the rise in urban population and GDP per capita, shopping complexes and malls across the country are also rising steadily, as urban people prefer to shop and spend leisure time in business zones, entertainment centers, cinemas, and international dining experiences. This factor creates opportunities for advertising agencies to market their products and services on digital billboards and street furniture. Further, due to organizations like Saudi Signs Media (SSM), one of the leading OOH providers in Saudi Arabia, the OOH media market in the country is currently in a strong position as it continues to develop.
With the introduction of new companies and increased competition, Saudi Arabia's robust economy has paved the way for the rise of the private sector. The nation has also seen an active forward movement in communication from official agencies. The increase in outdoor spending compared to prior years has also been attributed to increased awareness of and promotion of new and exciting social activities, regional events, and destination tourism, among other factors.
The digitalization of formats and their advantages have been crucial in terms of hardware. They are difficult to ignore because of their dimensions, positioning, network distribution, and line-of-sight exposure to audiences. They also leave a lasting, actionable impression that is in high demand.
The Saudi Arabian OOH industry and the numerous formats are quite advantageous for advertisers. For instance, companies like pure online players (both local and foreign) heavily invest in the media since they have seen its advantages for their businesses. There is no shortage of interest and repeat queries, highlighting that OOH continues to be crucial for raising awareness and boosting sales.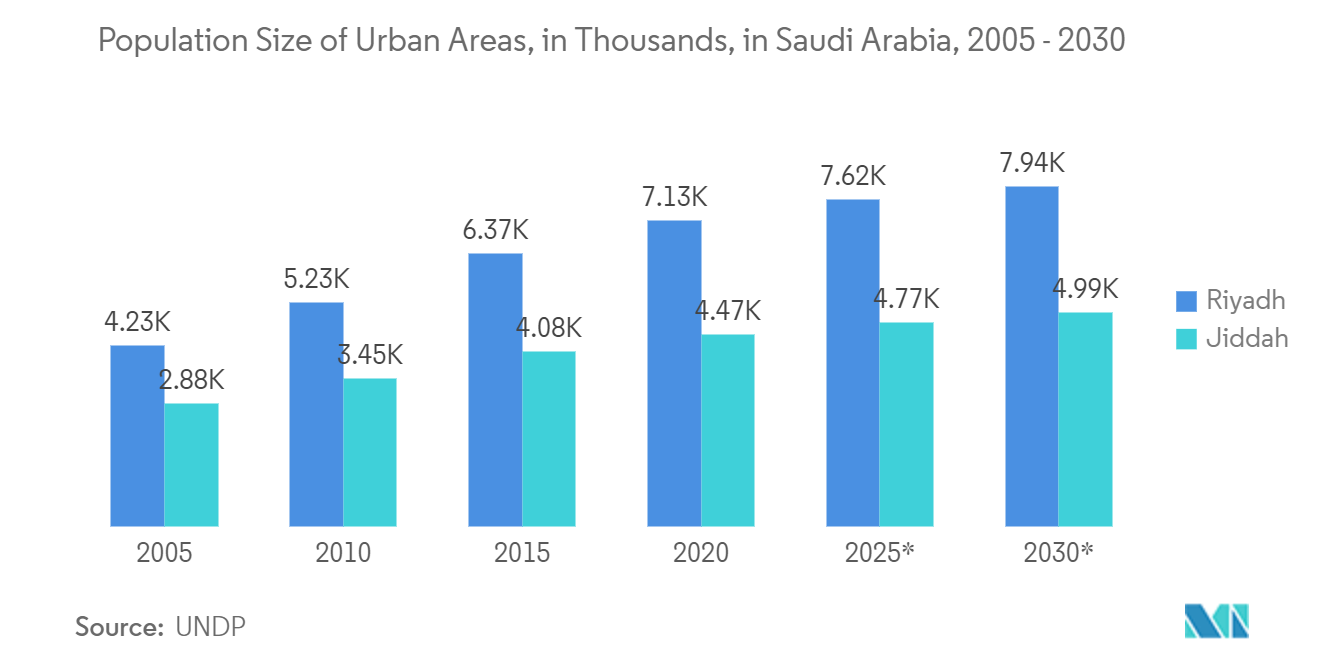 To understand geography trends, Download Sample Report
Middle East And North Africa DOOH Industry Overview
The Middle East and North Africa digital out-of-home (DOOH) market is fragmented, with the presence of major players like ELAN Group, EyeMedia, HyperMedia FZ LLC, Backlite Media, and Abu Dhabi Media. Players in the market are adopting strategies such as partnerships and acquisitions to enhance their product offerings and gain a sustainable competitive advantage.
In April 2023, Backlite Media partnered with Al Qana to gain exclusive advertising rights to this unique and renowned waterfront venue in the heart of Abu Dhabi. In collaboration with Al Qana's management, the company built "The Curve," one of Abu Dhabi's largest and most impactful digital screens, to commemorate this strategic relationship.
In July 2022, JCDecaux SA announced the signing of a strategic partnership with Displayce, the industry player in DSP (Demand Side Platform), which specializes in procuring and optimizing digital outdoor advertising (DOOH). The agreement with JCDecaux aimed to considerably speed up Displayce's development so that it became the industry standard DSP in the outdoor advertising market while continuing to provide full and direct access for advertisers and media agencies to all DOOH media.
Middle East And North Africa DOOH Market Leaders
ELAN Group

EyeMedia

HyperMedia FZ LLC

Backlite Media

Abu Dhabi Media
*Disclaimer: Major Players sorted in no particular order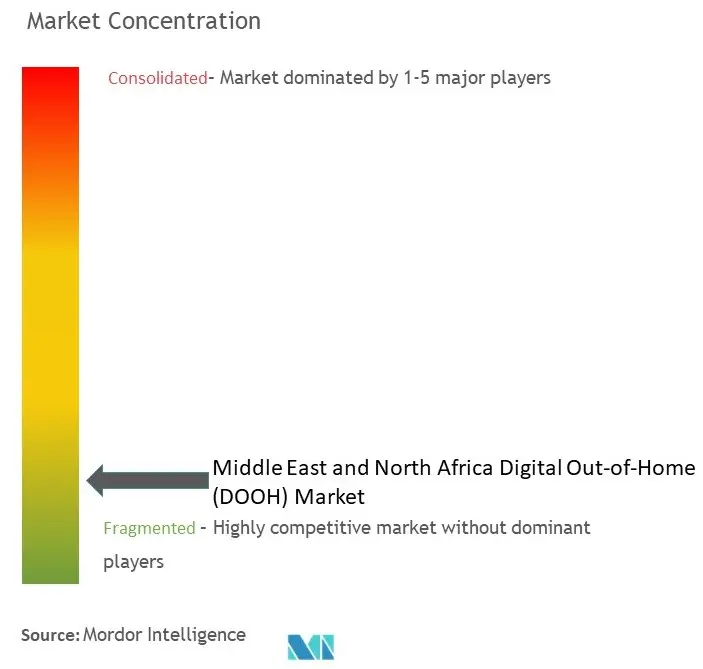 Middle East And North Africa DOOH Market News
February 2023: Location Media Xchange (LMX), the supply-side arm of Moving Walls Group, announced a partnership with Pyxis that is expected to result in an innovative new retail DOOH screen network outfitted with best-in-class content management technology. The agreement combines the strengths of all three companies to provide a comprehensive content delivery platform for the massive DOOH network, which will soon be available on hundreds of sites across the United Arab Emirates.
January 2023: Phi Advertising, a Naif Alrajhi investment group company and the UAE's premier high-impact network of digital billboards collaborated with Lemma to make Phi's vast screen inventory available for programmatic purchasing on Lemma's DOOH SSP. To expand its audience and reach across premium locations in the United Arab Emirates, Phi Advertising will use Lemma's supply-side platform to make its highly visited roadside inventory available to its worldwide demand partners.
MENA Digital Out-of-Home (DOOH) Market Report - Table of Contents
1. INTRODUCTION

1.1 Study Assumptions and Market Definition

1.2 Scope of the Study

2. RESEARCH METHODOLOGY

3. EXECUTIVE SUMMARY

4. MARKET INSIGHTS

4.1 Market Overview

4.2 Industry Attractiveness - Porter's Five Forces Analysis

4.2.1 Bargaining Power of Suppliers

4.2.2 Bargaining Power of Buyers

4.2.3 Threat of New Entrants

4.2.4 Threat of Substitute Products and Substitutes

4.2.5 Intensity of Competitive Rivalry

4.3 Industry Value Chain Analysis

4.4 Assessment of the Impact of COVID-19 on the Market

5. MARKET DYNAMICS

5.1 Market Drivers

5.1.1 Ongoing Shift Toward Digital Advertising

5.1.2 Increase in Public Transit Infrastructure

5.1.3 Adoption of Global Cues such as Programmatic Advertising

5.2 Market Restraints

5.2.1 Stringent Regulations in the Middle East Have Been a Challenge for Vendors

5.2.2 Traditional Forms of Advertising Continue to Dominate in a Few Countries

6. MARKET SEGMENTATION

6.1 By Location

6.1.1 Indoor

6.1.2 Outdoor

6.2 By Application

6.2.1 Billboard

6.2.2 Transit

6.2.3 Street Furniture

6.2.4 Other Applications

6.3 By End-User

6.3.1 Commercial

6.3.2 Institutional

6.3.3 Infrastructural

6.4 By Country***

6.4.1 Saudi Arabia

6.4.2 United Arab Emirates

6.4.3 Kuwait

6.4.4 Qatar

6.4.5 Morocco

6.4.6 Egypt

6.4.7 Rest of Middle East and North Africa

7. COMPETITIVE LANDSCAPE

7.1 Company Profiles

7.1.1 ELAN Group

7.1.2 EyeMedia

7.1.3 HyperMedia FZ LLC

7.1.4 Backlite Media

7.1.5 Abu Dhabi Media

7.1.6 Dooha Media (Madaeen Al Doha Group)

7.1.7 Lemma Technologies Ltd

7.1.8 JCDecaux Group

*List Not Exhaustive

7.2 Company Ranking

8. INVESTMENT ANALYSIS

9. FUTURE OF THE MARKET
**Subject to Availability
***Countries are further segmented into Middle East and North Africa in the final report.
Middle East And North Africa DOOH Industry Segmentation
Advertising dynamically and digitally in indoor and outdoor public spaces is known as digital out-of-home (DOOH) advertising. The Middle East and North Africa digital out-of-home (DooH) market for the study defines the revenues generated from the digital-connected out-of-home advertisements used by various end users, such as commercial, institutional, and infrastructural, across the Middle East and North Africa region. The study also analyzes the overall impact of the COVID-19 pandemic on the ecosystem. The study includes qualitative coverage of the most adopted strategies and an analysis of the key base indicators in emerging markets.
The study is segmented by location (indoor and outdoor), application (billboard, transit, street furniture, and other applications), end user (commercial, institutional, and infrastructural), and geography (Middle East (Saudi Arabia, the United Arab Emirates, Kuwait, Qatar, and the Rest of the Middle East) and North Africa (Morocco, Egypt, and the Rest of North Africa)). The market sizes and forecasts are provided in terms of value in USD for all the segments. The analysis is based on the market insights captured through secondary research and the primaries. The report tracks the key market parameters, the underlying growth influencers, and the major vendors operating in the industry, which supports the market estimations and growth rates over the forecast period.
By Location
Indoor
Outdoor
By Application
Billboard
Transit
Street Furniture
Other Applications
By End-User
Commercial
Institutional
Infrastructural
By Country***
Saudi Arabia
United Arab Emirates
Kuwait
Qatar
Morocco
Egypt
Rest of Middle East and North Africa
MENA Digital Out-of-Home (DOOH) Market Research FAQs
How big is the Middle East And North Africa DOOH Market?
The Middle East And North Africa DOOH Market size is expected to reach USD 288.28 million in 2023 and grow at a CAGR of 16.41% to reach USD 616.27 million by 2028.
What is the current Middle East And North Africa DOOH Market size?
In 2023, the Middle East And North Africa DOOH Market size is expected to reach USD 288.28 million.
Who are the key players in Middle East And North Africa DOOH Market?
ELAN Group, EyeMedia, HyperMedia FZ LLC, Backlite Media and Abu Dhabi Media are the major companies operating in the Middle East And North Africa DOOH Market.
Middle East And North Africa DOOH Industry Report
Statistics for the 2023 Middle East And North Africa DOOH market share, size and revenue growth rate, created by Mordor Intelligence™ Industry Reports. Middle East And North Africa DOOH analysis includes a market forecast outlook to for 2023 to 2028 and historical overview. Get a sample of this industry analysis as a free report PDF download.
Middle East And North Africa DOOH Market Report Snapshots
80%

of our clients seek made-to-order reports. How do you want us to tailor yours?