Medical Waste Management Market
The medical waste management market is expected to register a CAGR of about 5% during 2018-2023 (the forecast period). Medical waste management refers to the proper processing of the waste materials that are generated by hospitals or healthcare institutions.
Increasing Initiatives by the Government Authorities
Medical waste is usually generated during the process of diagnosis, treatment (surgeries), and prevention of diseases. Pathogens and hazardous chemicals released, through healthcare activities, generally, reside in the wastes that are generated in the process. Moreover, the growing population across the globe results in an increase in the number of patients, in turn, giving rise to the volume of medical waste. Thus, with the rising volume of medical waste, the governments, worldwide, are taking several initiatives for the management of medical waste. For example, in India, the Ministry of Environment and Forests (MoEF), Government of India, has notified Medical Waste Management and Handling Rules, 1998 and The Bio-Medical Waste (Management and Handling) (Amendment) Rules, 2003, to provide statutory and obligatory guidelines for healthcare waste management. Central Pollution Control Board has also issued guidelines on Central Bio-medical Waste Treatment Facilities (CBWTF). The increasing number of initiatives by the government authorities is driving the medical waste management market. The other factors, like rising awareness regarding medical waste, are also driving the market growth.
High Capital Investments
The medical waste management market has been growing at a tremendous rate, over the past few years. Though, certain factors are likely to hinder the market growth for medical waste management. Among all, the requirement for huge capital investments, because of the need for high-value machinery and new technology equipment, is a major restraining factor for the medical waste management market growth.
The US to Lead the Market in North America
In 2017, the US medical waste management market held the largest market share in North America. This can be attributed to the presence of highly developed healthcare sector, along with the rising prevalence of infectious and chronic disease, which require advanced medical and surgical aids, and the treatment for these diseases producing a large number of by-products and residues. In the near future, Asia-Pacific is also expected to witness the highest growth rate, due to the rising social awareness and establishment of stringent regulations for the proper disposal of medical residues and by-products.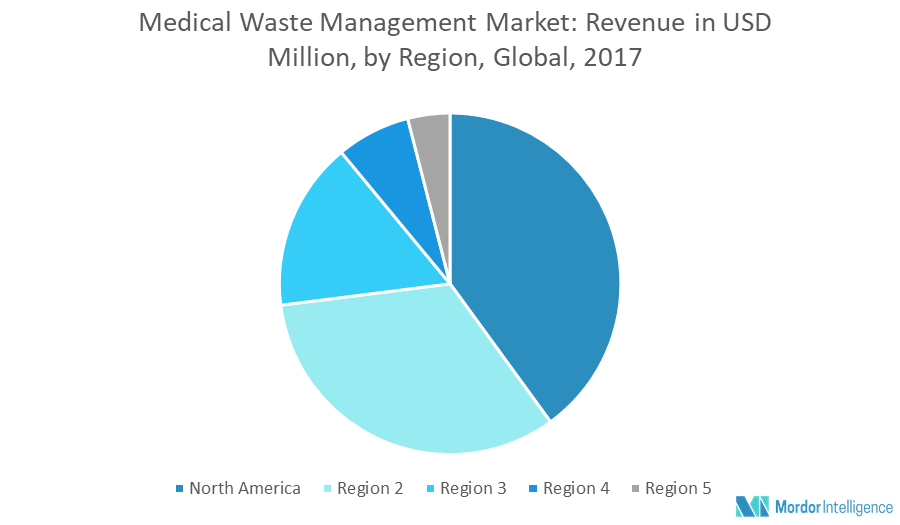 Key Developments in the Medical Waste Management Market:
February 2018 - Environment and Climate Change Canada (ECCC) planned to launch its new notice processing system (i.e., WIETS equivalent system) on June 5, 2018.
Medical Waste Management Market Major Players:
Clean Harbors, Inc.
Republic Services, Inc.
Stericycle, Inc.
Suez Environmental Services.
US Ecology, Inc.
Veolia Environmental Services.
Waste Management, Inc.
Biomedical Waste Solutions, LLC.
and Daniels Sharpsmart Inc.
Reasons to Purchase Medical Waste Management MarketReport
Current and future of global medical waste management market outlook in the developed and emerging markets
Various perspectives of the market with the help of Porter's five forces analysis
The segment that is expected to dominate the market
Regions that are expected to witness the fastest growth rates during the forecast period
The latest developments, market shares, and strategies that are employed by the major market players
3-month analyst support, along with the Market Estimate sheet (in Excel)
Customize Medical Waste Management Market Report
This report can be customized to meet your requirements. Please connect with our representative, who will ensure you to get a report that suits your needs.
1. Introduction
1.1 Market Definition
2. Research Methodology
3. Executive Summary
4. Key Inferences
5. Market Overview
5.1 Current Market Scenario
5.2 Porter's Five Forces Analysis
5.2.1 Bargaining Power of Suppliers
5.2.2 Bargaining Power of Consumers
5.2.3 Threat of New Entrants
5.2.4 Threat of Substitute Product and Services
5.2.5 Competitive Rivalry within the Industry
6. Drivers, Restraints, Opportunities, and Challenges Analysis (DROC)
6.1 Market Drivers
6.1.1 Increasing Initiatives by Government Authorities
6.1.2 Increasing Awareness of Medical Waste
6.1.3 Increasing Medical Waste
6.2 Market Restraints
6.2.1 High-capital Investments
6.2.2 Technological Advancements
6.3 Opportunities
6.4 Key Challenges
7. Market Segmentation
7.1 By Type of Waste
7.1.1 Non-hazardous Waste
7.1.2 Hazardous Waste
7.2 By Treatment
7.2.1 Incineration
7.2.2 Autoclaving
7.2.3 Chemical Treatment
7.2.4 Other Treatments
7.3 By Service
7.3.1 Collection, Transportation, and Storage
7.3.2 Treatment and Disposal
7.3.3 Recycling
7.3.4 Others
7.4 By Treatment Site
7.4.1 Offsite Treatment
7.4.2 Onsite Treatment
7.5 By Geography
7.5.1 North America
7.5.1.1 United States
7.5.1.2 Canada
7.5.1.3 Mexico
7.5.2 Europe
7.5.2.1 France
7.5.2.2 Germany
7.5.2.3 United Kingdom
7.5.2.4 Italy
7.5.2.5 Spain
7.5.2.6 Rest of Europe
7.5.3 Asia-Pacific
7.5.3.1 China
7.5.3.2 Japan
7.5.3.3 India
7.5.3.4 Australia & New Zealand
7.5.3.5 South Korea
7.5.3.6 Rest of Asia-Pacific
7.5.4 Middle East & Africa
7.5.4.1 GCC
7.5.4.2 South Africa
7.5.4.3 Rest of the Middle East & Africa
7.5.5 South America
7.5.5.1 Brazil
7.5.5.2 Argentina
7.5.5.3 Rest of South America
8. Competitive Landscape
8.1 Mergers & Acquisition Analysis
8.2 Agreements, Collaborations, and Partnerships
8.3 New Products Launches
9. Key Players
9.1 Biomedical Waste Solutions, LLC.
9.2 Clean Harbors, Inc.
9.3 Daniels Sharpsmart Inc.
9.4 Republic Services, Inc.
9.5 Stericycle, Inc.
9.6 Suez Environmental Services
9.7 US Ecology, Inc.
9.8 Veolia Environnmental Services
9.9 Waste Management, Inc.
*List not Exhaustive
10. Future of the Market