The global low VOC paint market was valued at USD 6,719.72 million in 2017, and is expected to register a CAGR of 6.45% during the forecast period of 2018-2023. The water-borne segment dominated the global low VOC paint market with a share of about 61%, whereas, the powder segment was estimated to register the highest CAGR over the forecast period.
High Demand for Architecture and Decorative Paints
Decorative paints help protect the surface from the impacts of weather, make the surface waterproof, protect the surface from the termite attacks, and increase the surface durability, in addition to providing an aesthetic appeal to the building. In addition, they offer protection from corrosion, bacteria, UV radiation, fungus, water seepage, and algae and enhance the life of the structure. The global low VOC paint market is dominated by application in architecture and decorative. The segment is expected to register the highest growth over the forecast period, registering a CAGR of 6.59% during the forecast period.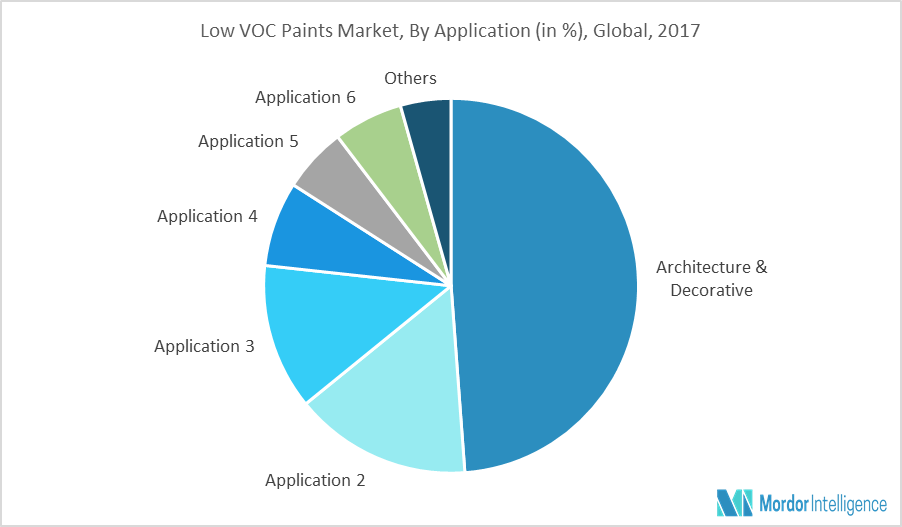 Low VOC paints are majorly employed as interior and exterior house paints, primers, and sealers. The global market for decorative paints and coatings is primarily driven by their growing demand in the construction industry. With the rising urbanization, infrastructure, and purchasing power levels in emerging countries, the construction sector is expected to flourish over the forecast period. Furthermore, the increasing construction of green buildings and shifting focus toward the adoption of environmental-friendly chemicals are anticipated to offer numerous opportunities for the growth of the market.
Asia-Pacific Dominates the Market
Asia-Pacific has the largest share, accounting for nearly 39% of the global market, in 2017. The Asia-Pacific market is primarily driven by the enactment of stringent environmental regulations regarding VOC emissions, in turn propelling the demand for low VOC or zero VOC paint in the region.
China is the Largest Consumer
China is one of the fastest growing economies in the region, and its construction industry has witnessed a steady growth. Despite volatile growth in the real estate sector, the significant development of rail & road infrastructure by the Chinese government, to cater to the growing industrial and service sectors, has resulted in a significant growth of the Chinese construction industry. Additionally, the rising government investments in the transport infrastructure and water conversation sectors are expected to maintain the growth rates of the construction sector in the country. In addition, the approval of the 'Green building evaluation standard' by the government is expected to boost the green building market. Additionally, the Chinese aerospace market is on an upward trend, with the commercial aviation segment demonstrating significant growth. The growing construction and transportation industries in the country are expected to boost the demand for low VOC and no VOC paint market.
Key Developments
Major Players: The Sherwin-Williams Co., PPG Industries, AkzoNobel NV, The Valspar Corp., and Nipsea Group (Nippon Paint Co. Ltd), amongst others.
Reasons to Purchase this Report
Market definition, along with the identification of factors instrumental in changing the market scenario and prospective opportunities.
Various market perspectives, with the help of Porter's five forces analysis.
The regions or countries that are expected to witness the fastest growth during the forecast period.
The product segment that is expected to dominate the market over the forecast period.
The latest developments, market shares, and strategies that are employed by the major market players.
3 months analyst support along with the Market Estimation sheet (in excel).
Customization of the Report
This report can be customized to meet your requirements. Please connect with our analyst, who will ensure you get a report that suits your needs.
1. Introduction
1.1 Research Phases
1.2 Study Deliverables
1.3 Scope of the Report
2. Executive Summary
3. Market Insights
3.1 Industry Value-Chain Analysis
3.2 Industry Attractiveness – Porter's Five Forces Analysis
3.2.1 Bargaining Power of Suppliers
3.2.2 Bargaining Power of Consumers
3.2.3 Threat of New Entrants
3.2.4 Threat of Substitute Products and Services
3.2.5 Degree of Competition
3.3 Regulations & Policies
4. Market Dynamics
4.1 Drivers
4.1.1 Growing Awareness About Harmful Effects From Conventional Paint
4.1.2 Safe Disposal of Waste Products and Excess Paint
4.2 Restraints
4.2.1 High Cost When Compared to Conventional Paint
4.3 Opportunity
4.3.1 Increasing Construction of Green Buildings (Leed Ratings)
4.3.2 Shift Towards Environment-Friendly Chemicals
4.3.3 Recycling of Low VOC Paints
5. Market Segmentation and Analysis
5.1 By Type
5.1.1 Low-VOC
5.1.2 No or Zero VOC
5.1.3 Natural
5.2 By Formulation Type
5.2.1 Water-Borne
5.2.2 Solvent-Borne
5.2.3 Powder
5.3 By Application
5.3.1 Architecture & Decorative
5.3.2 General Industrial
5.3.3 Automotive OEM
5.3.4 Automotive Refinish
5.3.5 Marine
5.3.6 Consumer Durables
5.3.7 Others
6. Regional Market Analysis
6.1 Asia-Pacific
6.1.1 China
6.1.2 India
6.1.3 Japan
6.1.4 South Korea
6.1.5 ASEAN Countries
6.1.6 Rest of Asia-Pacific
6.2 North America
6.2.1 United States
6.2.2 Canada
6.2.3 Mexico
6.2.4 Rest of North America
6.3 Europe
6.3.1 Germany
6.3.2 United Kingdom
6.3.3 Italy
6.3.4 France
6.3.5 Spain
6.3.6 Nordic Countries
6.3.7 Turkey
6.3.8 Rest of Europe
6.4 South America
6.4.1 Brazil
6.4.2 Argentina
6.4.3 Colombia
6.4.4 Rest of South America
6.5 Middle East & Africa
6.5.1 Saudi Arabia
6.5.2 Qatar
6.5.3 UAE
6.5.4 South Africa
6.5.5 Rest of Middle East & Africa
7. Future of the Market
8. Competitive Landscape
8.1 Mergers & Acquisitions, Joint Ventures, Collaborations, and Agreements
8.2 Market Share Analysis**
8.3 Strategies Adopted by Leading Players
9. Company Profiles (Overview, Financials**, Products & Services, Recent Developments)
9.1 Akzo Nobel N.V.
9.2 American Formulating & Manufacturing
9.3 Asian Paints Ltd
9.4 Auro Pflanzenchemie AG
9.5 Axalta Coating Systems LLC
9.6 BASF SE
9.7 Benjamin Moore & Co.
9.8 Berger Paints India Limited
9.9 Bioshield Paint - Eco Design Co.
9.10 Cloverdale Paint Inc.
9.11 Eco Safety Products
9.12 Fine Paints of Europe
9.13 Jotun
9.14 Kalekim Chemicals Co. Inc
9.15 Kansai Paint Co. Ltd
9.16 Nipsea Group (Nippon Paint Co. Ltd.)
9.17 Porter's Paints
9.18 PPG Industries Inc.
9.19 The Sherwin-Williams Company
*List not exhaustive
10. Disclaimer
**Subject to availability on public domain