Lithium Market Size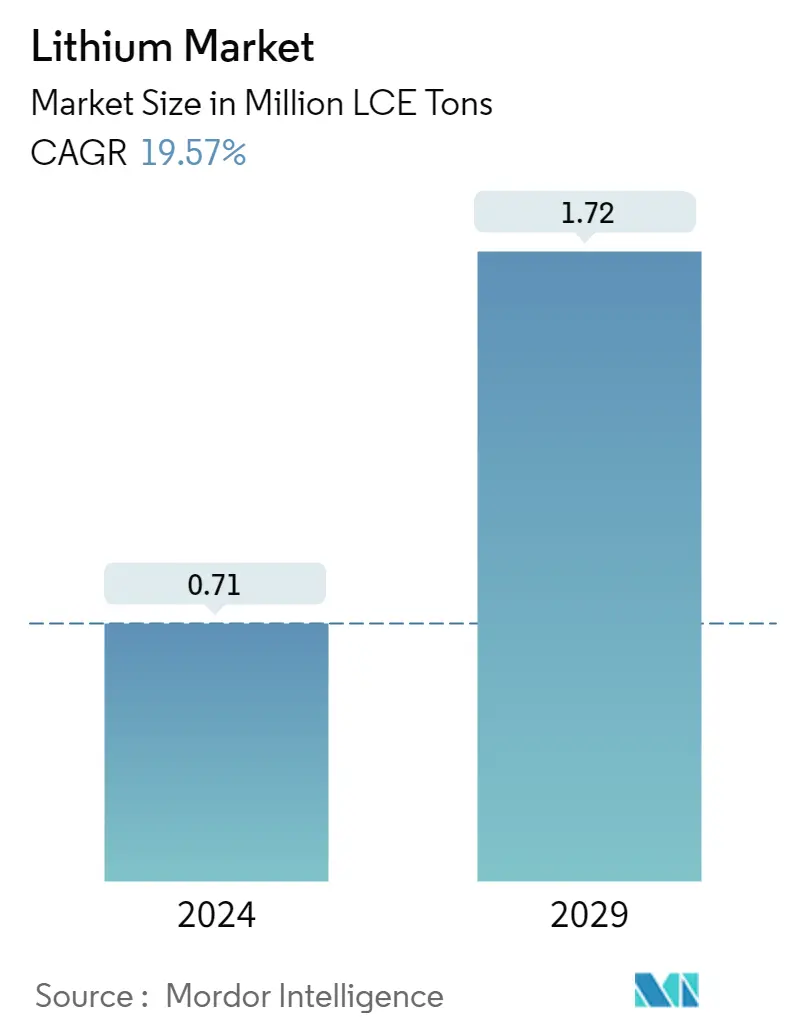 Study Period
2018 - 2028
Market Volume (2023)
0.59 Million LCE tons
Market Volume (2028)
1.44 Million LCE tons
CAGR (2023 - 2028)
19.57 %
Fastest Growing Market
Europe
Largest Market
Asia-Pacific

Major Players

*Disclaimer: Major Players sorted in no particular order
Need a report that reflects how COVID-19 has impacted this market and its growth?
Lithium Market Analysis
The Global Lithium Market size is expected to grow from 0.59 million LCE tons in 2023 to 1.44 million LCE tons by 2028, at a CAGR of 19.57% during the forecast period (2023-2028).
The market was negatively impacted by COVID-19 in 2020, as the first half of the year was affected by the lockdowns, causing unprecedented declines in monthly vehicle sales from February. Presently the market has reached pre-pandemic levels.
Over the short term, the major factors driving the market studied are the accelerating demand for electric vehicles​ and increasing usage and demand for portable consumer electronics​.​
However, rising concern over the demand-supply gap in the lithium market may hamper the market growth. ​
Nevertheless, the growing adoption of smart grid electricity is likely to be a major opportunity in the global lithium market over the forecast period.​
Asia-Pacific dominates the market across the world, with the most substantial consumption from countries like China, South Korea, and Japan.
Lithium Market Trends
This section covers the major market trends shaping the Lithium Market according to our research experts:
The Battery Application Segment to Dominate the Market
Lithium is majorly used for the production of lithium batteries. The battery application segment accounted for the largest share of the global lithium market.
Lithium batteries can be categorized into two segments, namely, disposable and rechargeable. Disposable lithium batteries use lithium in the metallic form as an anode. These batteries have a longer life and higher charge density when compared to other standard batteries. These batteries find applications in critical devices, such as pacemakers and other electronic medical devices intended for long-term use.
Rechargeable lithium batteries are of two types, i.e., lithium-ion batteries and lithium-ion polymer batteries. Li-ion battery is packed in a rigid case, whereas the Li-po battery comes in a flexible polymer casing. Also, a Li-po battery has a slightly higher specific energy when compared to a Li-ion battery. The Li-po battery uses a polymer as an electrolyte instead of the standard liquid electrolyte used in a Li-ion battery.
In the case of a Li-ion battery, the metal lithium forms the cathode, and it is the chemical reactions of lithium upon contact with the electrolyte that makes these batteries characteristic. However, elemental lithium is highly unstable when used inside a battery's apparatus. Hence, a combination of lithium and oxygen together, called lithium oxide, is used as the cathode for practical purposes. Thereby, lithium oxide is a much more stable compound as opposed to elemental lithium.
Lithium-ion batteries are employed in several applications, including telecommunication devices and consumer electronics. The light weight of lithium-ion batteries, coupled with their high energy density and rechargeability, makes them a good fit for portable electronics. Due to their energy density and lack of "memory effect," lithium-ion and lithium-polymer rechargeable batteries are the most efficient power sources for cell phones, laptops, and other portable electronic devices.
These batteries are in great demand in products such as electric vehicles (EVs), cell phones, laptops, power backups/UPS, tablets, power tools, video games, toys, and e-bikes. Apart from these, lithium-based batteries find one of their applications in energy storage systems, and the demand for lithium-ion battery-based energy storage systems is growing at a significant pace, considering the growth in various renewable energy sectors, including wind and others.
Li-ion batteries are gaining more popularity compared to other battery types, majorly due to their favorable capacity-to-weight ratio. The other factors that contribute to its adoption include its better performance (long life and low maintenance) and decreasing price.
Some of the key global lithium-ion battery manufacturers include LG Chem, Contemporary Amperex Technology Co., Limited (CATL), Panasonic, Samsung SDI, and BYD, among other companies.
All the above-said factors are expected to increase the demand for lithium in the battery application segment.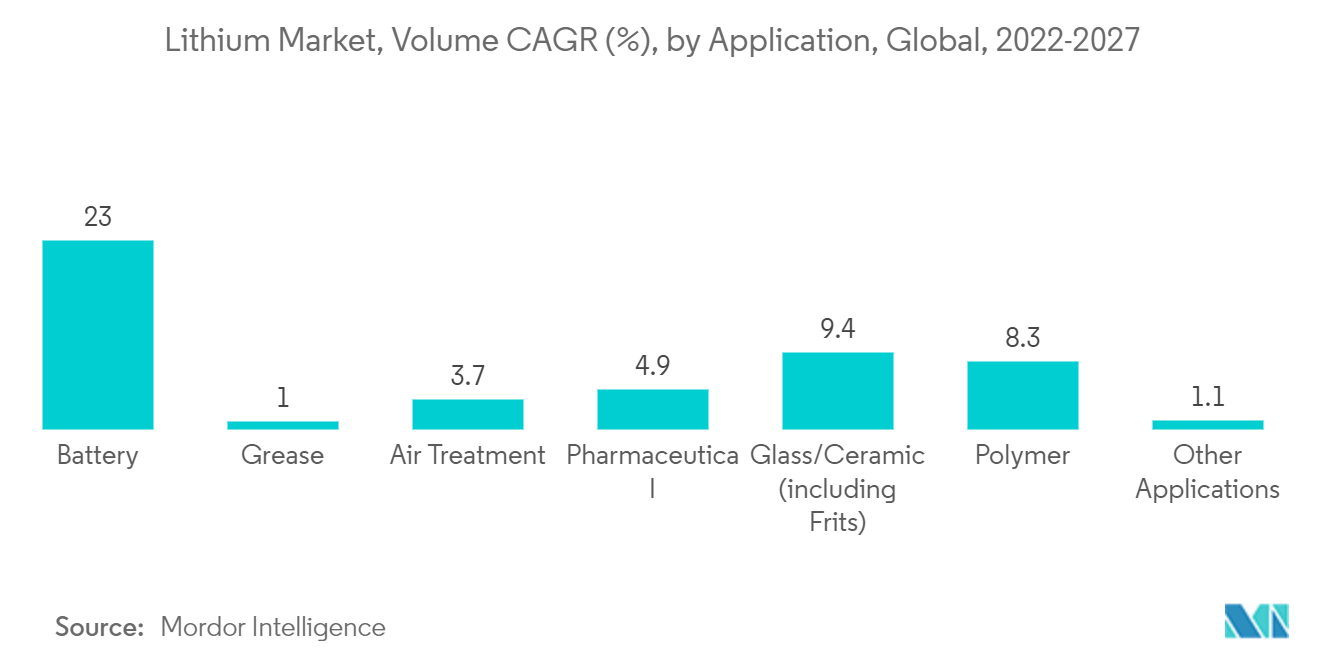 To understand key trends, Download Sample Report
Asia-Pacific Region to Dominate the Market
Asia-Pacific was found to be the major market for the consumption of lithium, owing to increasing consumption from countries such as China, South Korea, and Japan.
The automobile industry in the country is witnessing switching trends as the consumer inclination toward battery-operated vehicles is on the higher side. Electric vehicles, including scooters, passenger cars, and light commercial vehicles like buses, are gaining popularity in the country. According to the China Passenger Car Association (CPCA), the country sold over 3.3 million units in 2021, indicating an increase of about 169% compared to 2020.
The government of China estimates a 20% penetration rate of electric vehicle production over the next five years. Hence, this is anticipated to increase the production and consumption of batteries for vehicles. Chinese battery maker CATL controls over 30% of the world's EV battery market. The cobalt specialist supplier, Darton Commodities, estimated that Chinese refineries supplied 85% of the world's battery-ready cobalt, a mineral that helps in improving the stability of lithium-ion batteries.
According to the National Blueprint for Lithium Batteries, China is projected to have 1,811 GWh of lithium cell production by 2025. China is the largest global EV market and dominates the supply chain for the manufacture of lithium-ion batteries, including the processing of minerals and raw materials.
South Korea's largest industries are electronics, automobiles, telecommunications, shipbuilding, chemicals, and steel. The country is among the largest manufacturers of electronic goods as well as semiconductors, with globally popular brands, such as Samsung Electronics Co. Ltd and Hynix Semiconductor.
According to the data collected by the Korea Automotive Technology Institute (KAII), the sales of electric vehicles in the country surged by 96% to 71,006 units in the first nine months of 2021.
Electric vehicle sales in Japan are likely to ascend in the future with rising consumer demand for alternate fuel technology. However, ICE-based automobile sales in the country dropped by over 3% to 4,448,340 units in 2021. The Japan Automobile Dealers Association reported that sales of new vehicles larger than 660 CC slipped by 2.9% to 2,795,818 units. The Japan Light Motor Vehicle and Motorcycle Association reported that sales of mini-vehicles fell by 3.8% to 1,652,522 units in the same year.
All these factors are expected to facilitate the growth of the lithium market over the forecast years.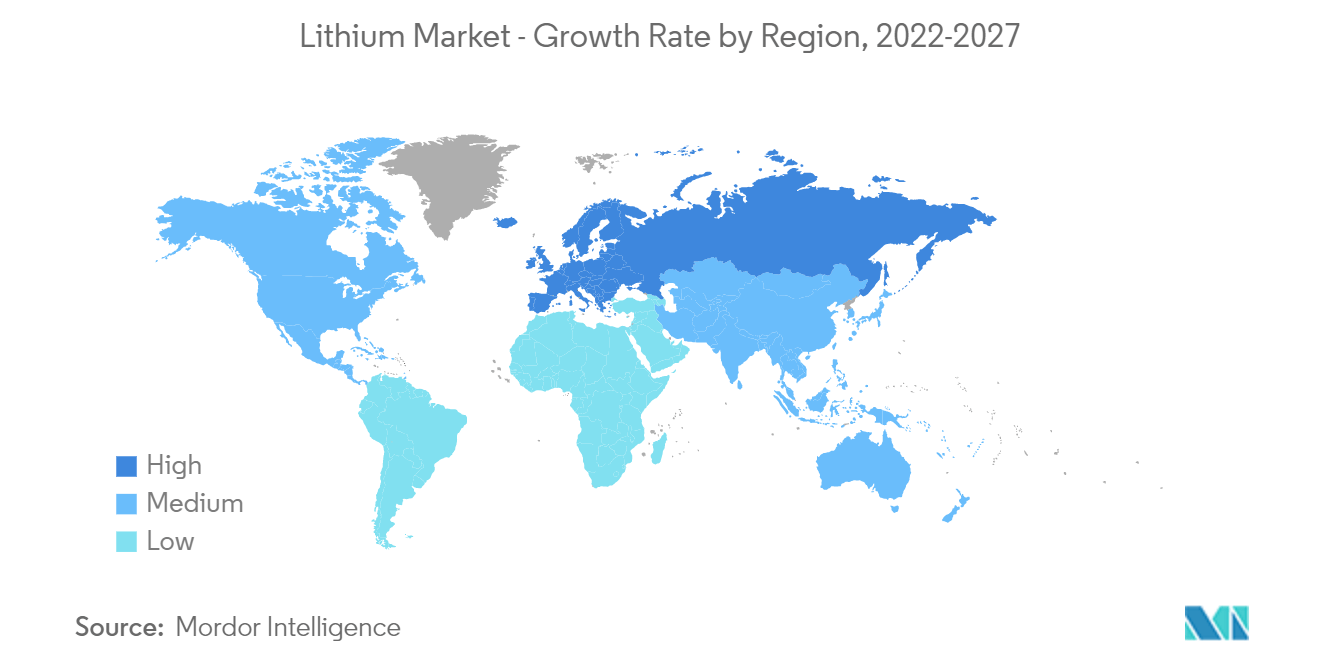 To understand geography trends, Download Sample Report
Lithium Industry Overview
The global lithium market is consolidated in nature, with the top five players holding more than 80% share of the global production outputs. Some of the major players in the market include (not in any particular order) Albemarle Corporation, SQM SA, Tianqi Lithium, Livent, and Allkem Limited, among other companies.
Lithium Market Leaders
Albemarle Corporation

SQM S.A.

Tianqi Lithium

Livent

Allkem Limited
*Disclaimer: Major Players sorted in no particular order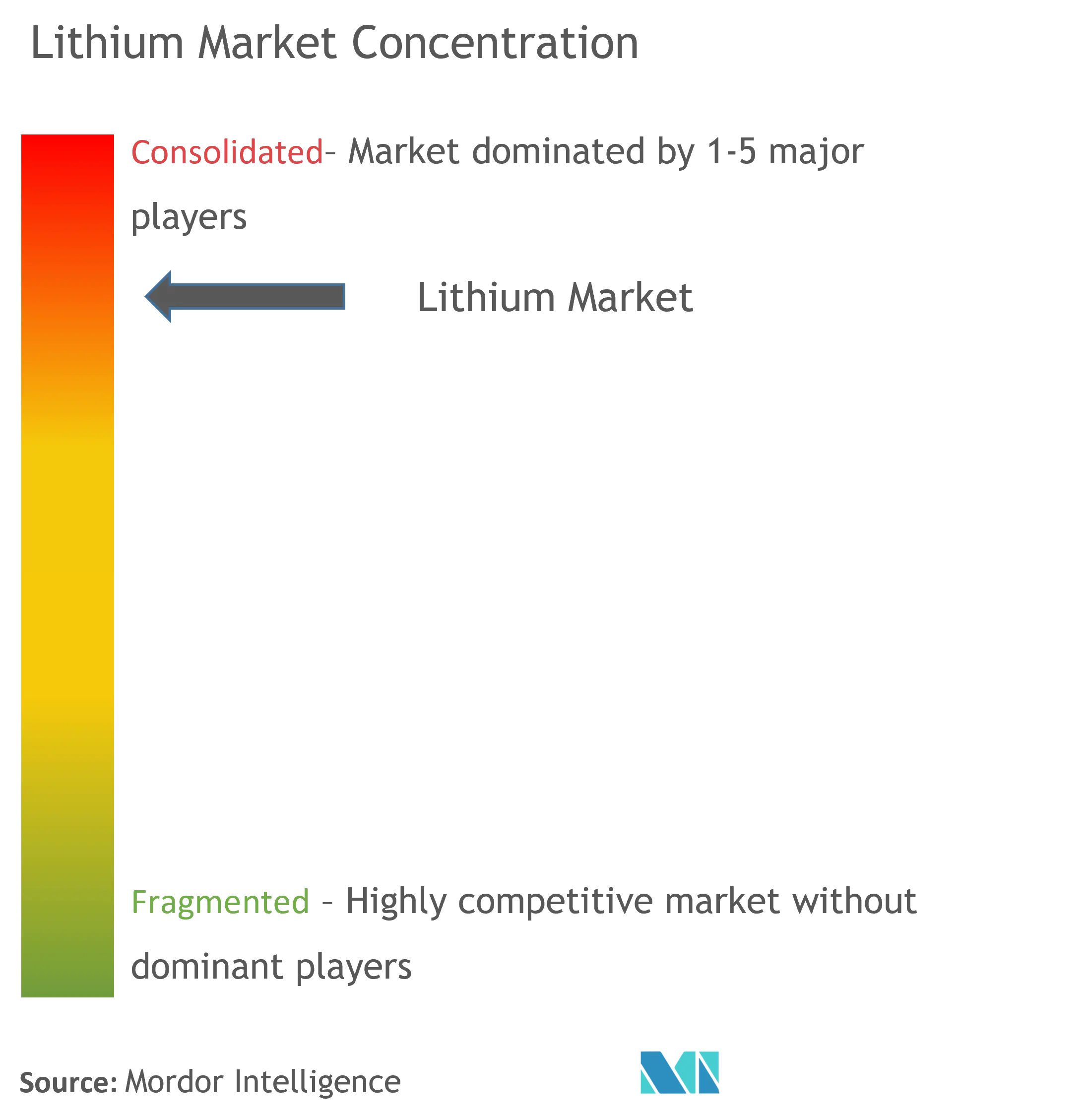 Lithium Market News
May 2022: Mineral Resources marked a significant milestone in its lithium growth strategy with the first new spodumene concentrate delivered at the Wodgina Lithium Project in the Pilbara region of Western Australia.
April 2022: SQM SA planned to invest USD 900 million in 2022 as part of its plan to increase lithium carbonate and hydroxide production capacity. The company has plans to enhance lithium carbonate production capacity to 180,000 metric ton per annum in the future. Furthermore, the capacity is likely to reach 210,000 tons by early 2023.
April 2022: Avalon Advanced Materials Inc. signed an agreement with RenJoules International Ltd, an Essar Company, to become a strategic partner and co-developer in support of Avalon's plans to establish a regional lithium battery materials supply chain. This agreement may fulfill the needs of upcoming electric vehicle and battery manufacturers in Ontario and other regions.
Lithium Market Report - Table of Contents
1. INTRODUCTION

1.1 Study Assumptions

1.2 Scope of the Study

2. RESEARCH METHODOLOGY

3. EXECUTIVE SUMMARY

4. MARKET DYNAMICS

4.1 Drivers

4.1.1 Accelerating Demand for Electric Vehicles

4.1.2 Increasing Usage and Demand by Portable Consumer Electronics

4.1.3 Other Drivers

4.2 Restraints

4.2.1 Demand-supply Gap in the Lithium Market

4.2.2 Other Restraints

4.3 Industry Value Chain Analysis

4.4 Porter's Five Forces Analysis

4.4.1 Bargaining Power of Suppliers

4.4.2 Bargaining Power of Buyers

4.4.3 Threat of New Entrants

4.4.4 Threat of Substitute Products and Services

4.4.5 Degree of Competition

4.5 Pricing Analysis

4.6 Technological Snapshot

5. MARKET SEGMENTATION

5.1 Type

5.1.1 Metal

5.1.2 Compound

5.1.2.1 Carbonate

5.1.2.2 Chloride

5.1.2.3 Hydroxide

5.1.3 Alloy

5.2 Application

5.2.1 Battery

5.2.2 Grease

5.2.3 Air Treatment

5.2.4 Pharmaceuticals

5.2.5 Glass/Ceramic (Including Frits)

5.2.6 Polymer

5.2.7 Other Applications

5.3 End-user Industry

5.3.1 Industrial

5.3.2 Consumer Electronics

5.3.3 Energy Storage

5.3.4 Medical

5.3.5 Automotive

5.3.6 Other End-user Industries

5.4 Geography

5.4.1 Production and Reserve Analysis

5.4.1.1 Australia

5.4.1.2 Chile

5.4.1.3 China

5.4.1.4 Argentina

5.4.1.5 Zimbabwe

5.4.1.6 United States

5.4.1.7 Other Regions

5.4.2 Consumption Analysis

5.4.2.1 Asia-Pacific

5.4.2.1.1 China

5.4.2.1.2 India

5.4.2.1.3 Japan

5.4.2.1.4 South Korea

5.4.2.1.5 Australia & New Zealand

5.4.2.1.6 Rest of Asia-Pacific

5.4.2.2 North America

5.4.2.2.1 United States

5.4.2.2.2 Canada

5.4.2.2.3 Mexico

5.4.2.3 Europe

5.4.2.3.1 Germany

5.4.2.3.2 United Kingdom

5.4.2.3.3 France

5.4.2.3.4 Italy

5.4.2.3.5 Nordic Countries

5.4.2.3.6 Rest of Europe

5.4.2.4 South America

5.4.2.4.1 Brazil

5.4.2.4.2 Argentina

5.4.2.4.3 Rest of South America

5.4.2.5 Middle East and Africa

5.4.2.5.1 Saudi Arabia

5.4.2.5.2 South Africa

5.4.2.5.3 Rest of Middle East and Africa

6. COMPETITIVE LANDSCAPE

6.1 Mergers and Acquisitions, Joint Ventures, Collaborations, and Agreements

6.2 Market Share (%) Analysis

6.3 Strategies Adopted by Leading Players

6.4 Company Profiles (Overview, Financials, Products and Services, and Recent Developments)

6.4.1 Albemarle Corporation

6.4.2 Allkem Limited

6.4.3 Ganfeng Lithium Co. Ltd

6.4.4 Lithium Australia NL

6.4.5 Livent

6.4.6 Mineral Resources

6.4.7 Morella Corporation Limited

6.4.8 Sichuan Yahua Industrial Group Co. Ltd

6.4.9 SQM SA

6.4.10 Tianqi Lithium

6.4.11 Avalon Advanced Materials Inc.

6.4.12 Pilbara Minerals

7. MARKET OPPORTUNITIES AND FUTURE TRENDS

7.1 Growing Adoption in Smart Grid Electricity

7.2 Other Opportunities
**Subject to Availability
Lithium Industry Segmentation
Lithium is a soft, silvery-white alkali metal with atomic number three and the symbol Li. The main sources of lithium are underground lithium-containing brine reservoirs and lithium-containing rocks, such as spodumene. The lithium market is segmented by type, application, end-user industry, and geography. By type, the market is segmented into metal, compound, and alloy. By application, the market is segmented into battery, grease, air treatment, pharmaceuticals, glass/ceramic (including frits), polymer, and other applications. By end-user industry, the market is segmented into industrial, consumer electronics, energy storage, medical, automotive, and other end-user industries. The report also covers the market size and forecasts for the lithium market in 16 countries across major regions. For each segment, the market sizing and forecasts have been carried out on the basis of volume (lithium carbonate equivalent (LCE) kilotons).
Type
Metal

Compound
Carbonate
Chloride
Hydroxide

Alloy
Application
Battery
Grease
Air Treatment
Pharmaceuticals
Glass/Ceramic (Including Frits)
Polymer
Other Applications
End-user Industry
Industrial
Consumer Electronics
Energy Storage
Medical
Automotive
Other End-user Industries
Geography

Production and Reserve Analysis
Australia
Chile
China
Argentina
Zimbabwe
United States
Other Regions

Consumption Analysis

Asia-Pacific
China
India
Japan
South Korea
Australia & New Zealand
Rest of Asia-Pacific

North America
United States
Canada
Mexico

Europe
Germany
United Kingdom
France
Italy
Nordic Countries
Rest of Europe

South America
Brazil
Argentina
Rest of South America

Middle East and Africa
Saudi Arabia
South Africa
Rest of Middle East and Africa
Lithium Market Research FAQs
How big is the Lithium Market?
The Lithium Market size is expected to reach 0.59 million LCE tons in 2023 and grow at a CAGR of 19.57% to reach 1.44 million LCE tons by 2028.
What is the current Lithium Market size?
In 2023, the Lithium Market size is expected to reach 0.59 million LCE tons.
Who are the key players in Lithium Market?
Albemarle Corporation, SQM S.A., Tianqi Lithium, Livent and Allkem Limited are the major companies operating in the Lithium Market.
Which is the fastest growing region in Lithium Market?
Europe is estimated to grow at the highest CAGR over the forecast period (2023-2028).
Which region has the biggest share in Lithium Market?
In 2023, the Asia-Pacific accounts for the largest market share in the Lithium Market.
Lithium Industry Report
Statistics for the 2023 Lithium market share, size and revenue growth rate, created by Mordor Intelligence™ Industry Reports. Lithium analysis includes a market forecast outlook to 2028 and historical overview. Get a sample of this industry analysis as a free report PDF download.
Lithium Market Report Snapshots
80%

of our clients seek made-to-order reports. How do you want us to tailor yours?