The Latin American general surgical devices market is expected to register a CAGR of 7.5% during the forecast period 2018 to 2023. Brazil dominates the market due to growing healthcare expenditure in the region.
Increasing Healthcare Expenditures in Latin America
Latin America spends a higher share of its GDP on healthcare expenditure. For instance, in 2016, Mexico's healthcare expenditure as a percentage of GDP was 6.5%, Brazil accounting for 8.5%, Chile spending 8.3%, and Argentina's accounting for 4.2%. Latin America's total healthcare expenditure is expected to grow during the forecast period. In 2016, total healthcare expenditure spend in Mexico was EUR 60.52 billion, out of which 47.7% was sourced privately and 52.3% was sourced publically. Rising incomes and growing government initiatives in the healthcare sector, particularly in Brazil, Mexico, Chile, and Argentina, will likely continue to fuel the expansion of healthcare markets in Latin America. This rise in the healthcare expenditure is anticipated to pace the medical infrastructural development, which is likely to fuel the growth of the surgical devices market in the region. Additionally, growing demand for low-cost minimally invasive surgeries, a growing medical tourism industry in Latin America, and rising number of surgeries in the region are anticipated to drive the market for general surgical devices market in Latin America.
Lack of Physicians and Surgeons
The lack of surgical workforce has been the major restraining factors in many countries of Latin America. With an increasing aging population and a rise in medical tourism, the demand for physicians has increased in the region. A lack of trained surgeons and physicians is the most significant barrier for surgical care in Latin America. The medical conditions require surgical treatment and the shortage of surgeons is an important cause of the unmet need for surgical care. For instance, In Brazil, in 2013, 1.8 physicians per 1000 populations were reported. The lack of physician and surgeons and the high cost of new and technologically advanced surgical procedures are the factors restricting the growth of general surgical devices market in Latin America.
Brazil to Dominate the Market
Brazil was the second largest market for surgical procedures in terms of volume in 2014. Brazil has approximately 6,800 public and private hospitals, 195,000 service units, and 500,000 hospital beds. Mexico is expected to be the fastest growing market in the region owing to a growing number of cosmetics and plastic surgeries in Mexico.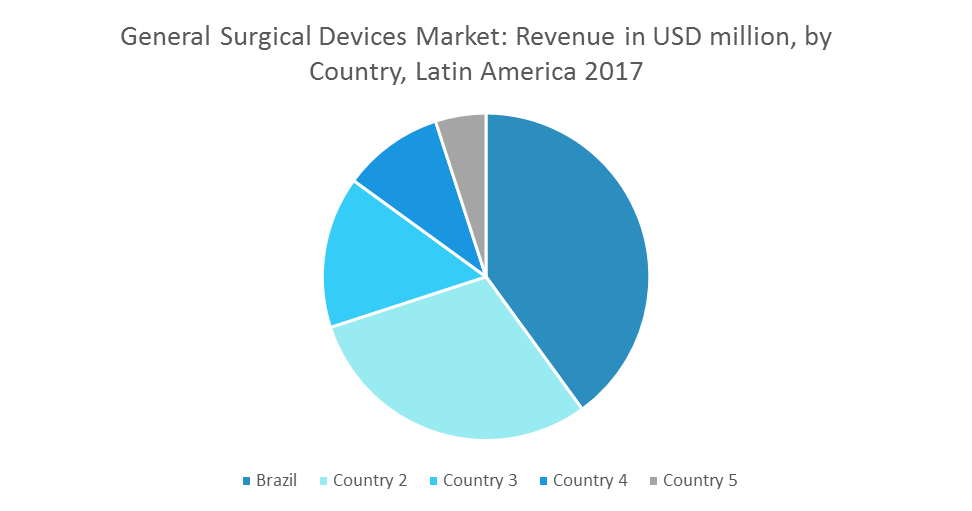 Key Developments in the Market
November 2016: BR Surgical announced New Latin America Sales and Distribution Agreement with Dorian Drake International for Surgical Instruments and related medical devices
October 2017: Johnson & Johnson acquired German software company, Surgical Process Institute (SPI), for the digitalization and standardization of surgical workflows in the operating theatre.
Major Players: B. Braun Melsungen AG, Teleflex Incorporated., Boston Scientific Corporation, Cadence Inc. Integer Holdings Corporation, Genicon Inc., Medtronic, Conmed Corporation, Olympus Corporations, Stryker Corporation, and Johnson & Johnson, amongst others.
Reasons to Purchase this Report
Current and future Latin American general surgical devices market outlook in the developed and emerging markets
Analyzing various perspectives of the market with the help of Porter's five forces analysis
The segment that is expected to dominate the market
Regions that are expected to witness fastest growth during the forecast period
Identify the latest developments, market shares and strategies employed by the major market players
3 months analyst support along with the Market Estimate sheet (in excel)
Customization of the Report
This report can be customized to meet your requirements. Please connect with our representative, who will ensure you to get a report that suits your needs.
1. Introduction
1.1 Market Definition
2. Research Methodology
3. Executive Summary
4. Key Inferences
5. Market Overview
5.1 Current Market Scenario
5.2 Porter's Five Forces Analysis
5.2.1 Bargaining Power of Suppliers
5.2.2 Bargaining Power of Consumers
5.2.3 Threats of New Entrants
5.2.4 Threat of Substitute Products and Services
5.2.5 Competitive Rivalry within the Industry
6. Drivers, Restraints, Opportunities and Challenges Analysis (DROC)
6.1 Market Drivers
6.1.1 Increasing Healthcare Expenditure
6.1.2 Growing Medical Tourism Industry in Latin America
6.1.3 Rising Demand for Minimally Invasive Devices
6.1.4 Increasing Healthcare Expenditures in Emerging Economies
6.2 Market Restraints
6.2.1 High Cost of New and Highly Technical Surgical Procedures
6.2.2 Lack of Physicians and Surgeons
6.3 Opportunities
6.4 Key Challenges
6.5 Segmentation -by Products
6.5.1 Handheld Surgical Devices
6.5.2 Laproscopic Devices
6.5.3 Electro Surgical Devices
6.5.4 Wound Closure Devices
6.5.5 Trocars & Access Devices
6.5.6 Others
6.6 Segmentation -by Applications
6.6.1 Gynecology & Urology
6.6.2 Cardiology
6.6.3 Orthopaedic
6.6.4 Neurology
6.6.5 Others
6.7 Segmentation - by Geography
6.7.1 South America
6.7.1.1 Brazil
6.7.1.2 Argentina
6.7.1.3 Mexico
6.7.1.4 Rest of Latin America
7. Competitive Landscape
7.1 Mergers & Acquisition Analysis
7.2 Agreements, Collaborations, and Partnerships
7.3 New Products Launches
8. Key Players
8.1 B. Braun Melsungen AG
8.2 Boston Scientific Corporation,
8.3 Teleflex Incorporated.
8.4 Integer Holdings Corporation
8.5 Johnson & Johnson
8.6 Genicon, Inc.
8.7 Medtronic
8.8 Novartis
8.9 Olympus Corporations
8.10 Stryker Corporation
8.11 Others
9. Future of the Market