Brazil minimally invasive surgery devices market was valued at USD 905.28 million in 2016. It is projected to reach USD 1366.3 million by 2022, at a CAGR of 8.6% over the forecast period. Mexico and Brazil have, collectively, occupied more than 50% of the total Latin American minimally invasive surgery market.
Increasing Number of Surgeries among the Aging Population
There are numerous imaging technologies and new devices that are being used for the heart and other chronic diseases surgeries, and these surgeries are being performed using the minimally invasive devices and equipment. Minimally invasive procedures also provide better quality of life and with less medical restrictions and associated risks. According to a study, there are around 211 million people in Brazil, out of which, 17.724 million are above 65 and 2.34 million are 80 years and above. The growing prevalence of cardiac diseases, especially among the elderly, has increased the adoption of minimally invasive procedures in Brazil.
However, the growing GDP of the region has resulted in growth in the disposable income, which will drive the minimally invasive surgery market in the future. It is also expected that the growth of geriatric population in Latin America, as healthcare services become affordable and effective, will also drive the minimally invasive surgery market.
Costly Minimally Invasive Surgery Procedures
Minimally invasive procedures are less adopted in Brazil as they are costly. The low- and middle-class people cannot bear the high expenses, which is posing a challenge to improve the quality of treatment through advanced minimally invasive procedures. Robotic surgeries involved in cardiac problems and spinal fusion are some of the high-end minimally invasive treatments, which require high amount of capital. According to a research, advanced laparoscopic and endoscopic approaches leads to increased cost of instrumentation and higher operating costs. Therefore, due to the high costs of these procedures, only 50 hospitals in Brazil are currently providing the minimally invasive treatments. Owing to these factors, minimally invasive surgery procedures are facing challenges in Brazil. The shortage of proper skilled labor and stringent regulatory frameworks are also the major challenges faced by the minimally invasive device market.
Brazil to Report Fastest Growth in the Minimally Invasive Surgery Devices Market
Mexico and Brazil, collectively, occupied more than 50% of the total Latin American minimally invasive surgery market in 2013. In addition, during the period of 2014 to 2020, Mexico is expected to show the fastest growth in the minimally invasive surgery market across Latin America. However, the Brazil market is not to be left behind. According to the International Society of Aesthetic Plastic Surgery, Brazil surpassed the US in 2013 in the number of cosmetic surgeries performed in the country, annually; between 2009 and 2012, the number of plastic surgery procedures rose by 120% in Brazil.
Key Developments in the Market
March, 2017: Boston Scientific had announced an agreement to acquire Symetis, which will expand treatments for patients with Valvular heart disease and strengthen the company's position in structural heart, globally.
January, 2017: Johnson & Johnson and Actelion Ltd hosted a conference call for investors to announce that they have entered into a definitive agreement for Johnson & Johnson to acquire Actelion Ltd for USD 30 billion, with a spin out of a new R&D company.
January, 2017: Ethicon Endo-Surgery, Inc. (Subsidiary of Johnson & Johnson) announced that it had acquired Megadyne Medical Products, Inc., a privately held medical device company that develops, manufactures, and markets electrosurgical tools used in operating rooms, worldwide.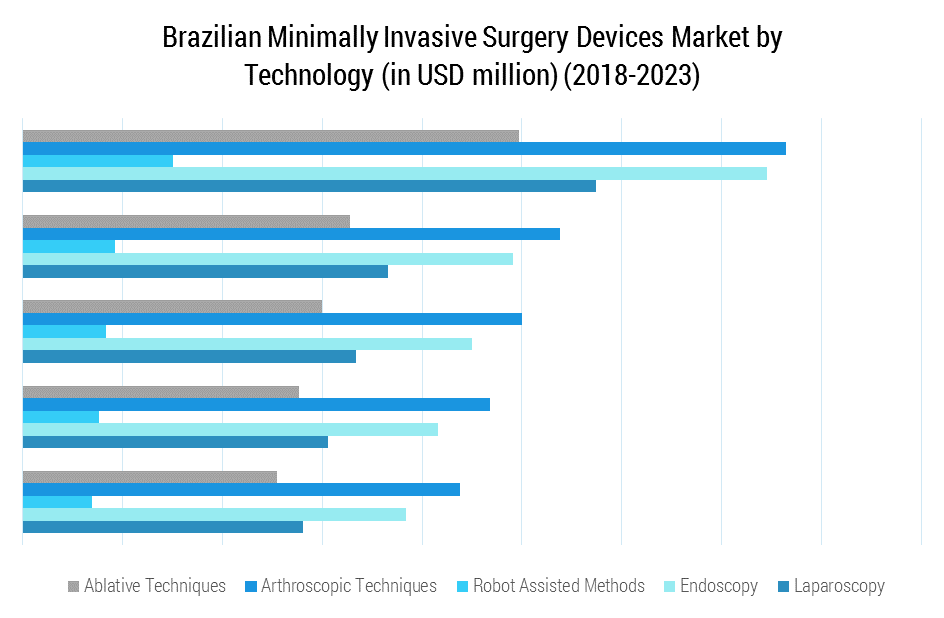 Major Players: Abbott Laboratories, Boston Scientific Corporation, Intuitive Surgical Inc.
Johnson & Johnson, Karl Storz Gmbh & Co. Kg, Medtronic, Novatract Surgical Inc., Smith & Nephew Plc, Stryker Corporation, Zimmer Inc Amongst Others.
Reasons to Purchase this Report
Current and future minimally invasive surgery devices market outlook in the developed and emerging markets
Analyzing various perspectives of the market with the help of Porter's five forces analysis
The segment that is expected to dominate the market
Regions that are expected to witness fastest growth during the forecast period
Identify the latest developments, market shares, and strategies employed by the major market players.
3 months analyst support, along with the Market Estimate sheet (in excel)
Customization of the Report
This report can be customized to meet your requirements. Please connect with our analyst, who will ensure you get a report that suits your needs.
1. Introduction
1.1 Market Definition
2. Research Methodology
3. Executive Summary
4. Key Inferences
5. Market Overview
5.1 Current Market Scenario
5.2 Porters Five Forces
5.2.1 Bargaining Power of Suppliers
5.2.2 Bargaining Power of Consumers
5.2.3 Threats of New Entrants
5.2.4 Threat of Substitute Product and Services
5.2.5 Competitive Rivalry within the Industry
6. Drivers, Restraints, Opportunities, and Challenges Analysis (DROC)
6.1 Market Drivers
6.1.1 Higher Acceptance Rate of Minimally Invasive Procedures over Traditional Procedures
6.1.2 Improved Patient Quality Of Life and Increasing Number of Surgeries among the Aging Population
6.1.3 Technological Advancements Leading To Increased Adoption of MIS Procedures
6.1.4 Minimally Invasive Surgeries Help Reduce Healthcare Costs and Time
6.2 Market Restraints
6.2.1 Stringent Regulatory Concerns for Primary Diagnosis
6.2.2 Lack of Standard Guidelines for Digital Pathology
7. Market Segmentation
7.1 By Product Type
7.1.1 Surgical Equipment
7.1.1.1 Needles
7.1.1.2 Retractors
7.1.1.3 Trocars
7.1.1.4 Forceps
7.1.1.5 Staplers
7.1.1.6 Others
7.1.2 Monitoring & Visualization Equipment
7.1.2.1 MRI Scanners
7.1.2.2 CT Scanners
7.1.2.3 X-Ray Equipment
7.1.2.4 Ultrasound Equipment
7.1.3 Robotic-Assisted Surgical Systems
7.1.3.1 Da Vinci Systems
7.1.3.2 Zeus Robotic Surgical Systems
7.1.4 Electrosurgical Systems
7.1.4.1 Pencils
7.1.4.2 Electrodes
7.1.4.3 Bipolar Forceps
7.1.4.4 Others
7.2 By Technology
7.2.1 Laparoscopy
7.2.2 Endoscopy
7.2.3 Robot-Assisted Methods
7.2.4 Arthroscopic Techniques
7.2.5 Ablative Techniques
7.3 By Application
7.3.1 Cardiac Surgery
7.3.2 Colorectal Surgery
7.3.3 Dermatological Surgery
7.3.4 ENT Surgery
7.3.5 Gastrointestinal Surgery
7.3.6 Gynecologic Surgery
7.3.7 Lung & Respiratory Care
7.3.8 Neurosurgery
7.3.9 Ophthalmology
7.3.10 Orthopedic
7.3.11 Weight Loss
7.3.12 Urology
8. Competitive Landscape
8.1 Mergers and Acquisition Analysis
8.2 Agreements, Collaboration & Partnerships
8.3 New Product Launches
9. Company Profiles
9.1 Abbott Laboratories
9.2 Boston Scientific Corporation
9.3 Intuitive Surgical Inc
9.4 Johnson & Johnson
9.5 Karl Storz Gmbh & Co. Kg
9.6 Medtronic
9.7 Novatract Surgical, Inc.
9.8 Smith & Nephew Plc
9.9 Stryker Corporation
9.10 Zimmer Inc.
10. Future of the Market