IoT Security Market
The global IoT Security Market was valued at USD 4,270 million. It is expected to reach a value of USD 18,267.2 million by 2023, registering a CAGR of about 27.85% over 2018-2023 (the forecast period). Internet of Things encompasses scenarios where network connectivity and computing ability extends to objects, sensors, and items not normally considered computers, which allow devices to generate, trade-off, and consume data with minimal human intervention. The major concern for this market is security, as businesses are constantly under threat. IoT security relates to safeguarding connected devices and networks in the Internet-of-Things. One of the factors driving the IoT security market is effective communication architecture to end users. The major factors hampering the growth of the market are lack of technical expertise about infrastructure handling and a low budget for strategic implementations.
North America is a major contributor to the IoT security market. The Asia-Pacific region is expected to witness the fastest growth during the forecast period. Cloud security is witnessing substantial growth across different verticals. IAM (Identity Access Management) is poised to be the most favorable solution segment during forecast period, as it provides advanced authentication over other solutions and enhances the enterprise mobility. BFSI is another major contributor to the IoT security market, with a rising adoption in mobile applications.
Increase in Data Breaches is Driving the IoT Security Market
In 2017, the number of virtual security breaches increased. The attacks were categorized as 'outsider attacks,' 'insider attacks,' 'unintended loss', and 'others'. Outsider attacks accounted for over 68% and exposed over 1 billion records. Unintended losses accounted for over 18% and exposed over 2.9 million records. The industries that were subjected to such security breaches were healthcare, government, BFSI, and others. Approximately 43% of all global companies were subjected to data breaches at various levels. Enterprises thrive on data security and are becoming increasingly wary of adopting these software solutions. However, software vendors have swiftly responded to these threats by increasing their R&D expenditure and revamping their existing cloud infrastructure.
Endpoint Security is the Fastest Growing Sector
Many firms across the world begin with advanced prevention products and then ease their way into detection and response. Organizations opt for extensive next-generation endpoint security suites which are far from certain as they are highly influenced by cyber security resources. Organizations with resource constraints choose advanced prevention, while those with sufficient resources and strong security analytics skills lean toward advanced detection and response. Consumerization of information technology and mobility have only increased the threat of security breaches. These attacks, which are increasing year-on-year, are sophisticated and can breach the existing security systems. According to the Center for Strategic and International Studies (CSIS), a United States based think tank, cybercrimes lead to an annual loss of USD 445 billion globally. Some of the other major statistics from the same think tank state that 40 million citizens in the United States lost their personal data to hackers, 54 million people were affected by the same in Turkey, 16 million in Germany, and more than 20 million in China. These cyber-attacks have pushed endpoint security vendors to come up with newer perspectives to deal with increasing security threats.
North America Occupies the Largest Share in IoT Security Market
Manufacturing has made impressive progress in North America in the form of connected devices and data flow. Analytics and IoT technologies are being considered by manufacturers as a part of their business. Smart sensors are being used by manufacturers in the United States as a form of collecting and using data to enhance their operating processes and strengthening the security. Many other verticals are beginning to deploy devices to gain a greater situational awareness of their operations. Cloud security is the focus for the North American IoT security market. This trend is predicted to continue leveraging security solutions and service providers to offer more innovative solutions, thus catering to the need for cloud security in various sectors.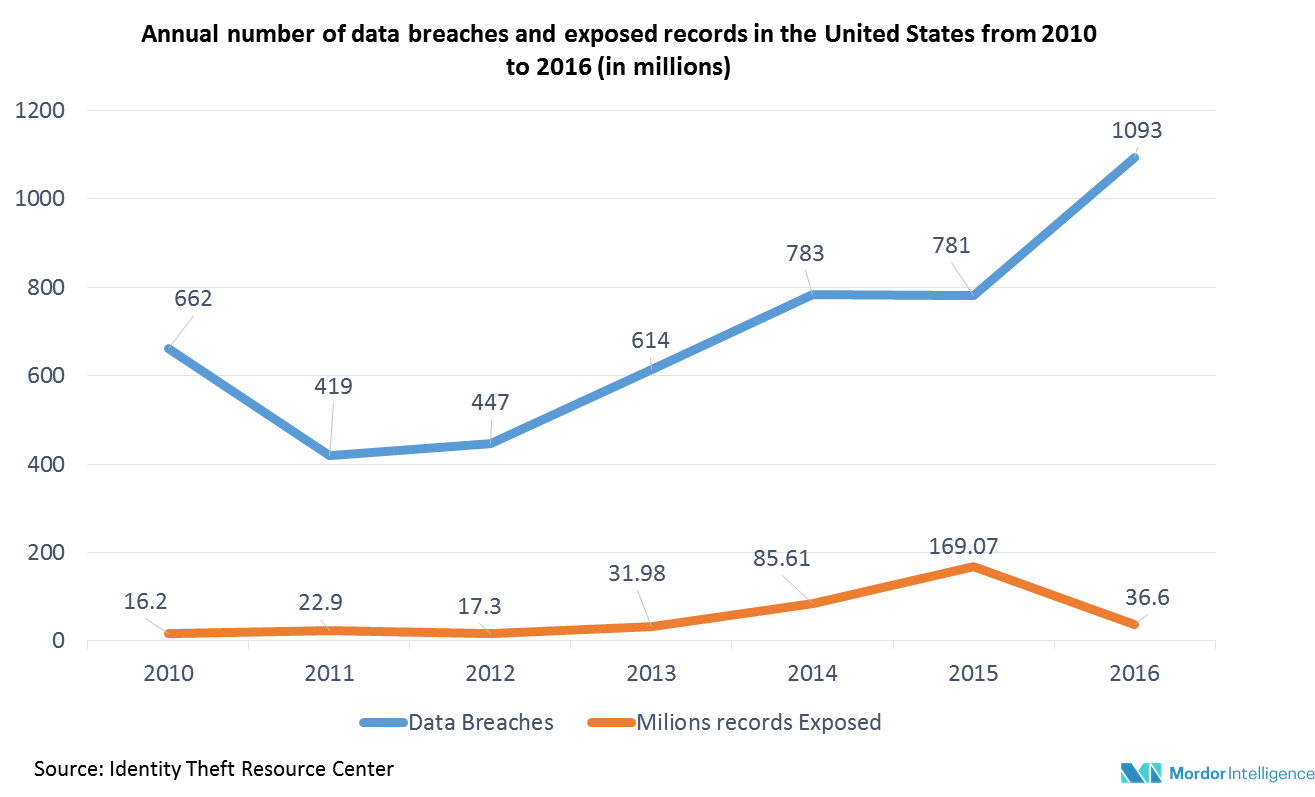 Major Players: Symantec Corporation, IBM Corporation, Check Point Software Technologies, Intel Corporation, HP Enterprise Company, FireEye Inc., Infineon Technologies AG, Trustwave Holdings, Gemalto NV, AT&T Inc., Palo Alto Networks Inc. among others.
Key Developments in the IoT Security Market
January 2018 – IBM partnered with Maersk global logistics, a transport leader, to use blockchain technology to create a digitized global trade platform, and a more efficient and secure process for conducting global trade. The companies also aimed at tapping artificial intelligence (AI), Internet of Things (IoT), and analytics technologies to enhance the movement and tracking of goods digitally across the world. Through this partnership, IBM aims to develop and strengthen its position and product portfolio in the transportation and logistics sector.
November 2017 - IBM acquired Agile 3 Solutions, a San Francisco-based company, which develops software used by C-Suite and senior executives, to better visualize, understand, and manage risks associated with the protection of sensitive data. The acquisition is aimed at complementing the company's security solutions across cloud and IoT platforms.
August 2017 - Cisco acquired Observable Networks. This acquisition was aimed at diversifying Cisco's security portfolio in cloud security capabilities, and providing security support and compliance for applications deployed on public cloud platforms, such as Amazon Web Services (AMZN) and Microsoft (MSFT) Azure.
Reasons to Purchase the IoT Security Market
Growing number of security breaches and its effects on the market scenario
Analyzing various perspectives of the market with the help of Porter's five forces analysis
The end user expected to witness the highest adoption of these security solutions
The region expected to witness fastest growth during the forecast period
Identify the latest developments, market shares, and strategies employed by the major market players
3 month analyst support, along with the Market Estimate sheet (in excel)
Customization of the IoT Security Market Report
This report can be customized to meet your requirements. Please connect with our representative, who will ensure you get a report that suits your needs.
1. Introduction
1.1 Scope of the Study Deliverables
1.2 Study Deliverables
2. Research Approach and Methodology
2.1 Study Assumptions
2.2 Analysis Methodology
2.3 Research Phases
3. Executive Summary
4. Market Dynamics
4.1 Market Overview
4.2 Introduction
4.3 Market Drivers
4.3.1 Increasing Number of Data Breaches
4.3.2 Emergence of Smart Cities
4.4 Market Challenges
4.4.1 Growing Complexity among Devices, Coupled with the Lack of Ubiquitous Legislation
4.5 Industry Value Chain Analysis
4.6 Porter's Five Forces Analysis
5. Technology Overview
6. Global IoT Testing System Segmentation By Type of Security
6.1 Network Security
6.2 End-point Security
6.3 Application Security
6.4 Cloud Security
6.5 Others
7. Global IoT Testing System Segmentation By Type of Solution
7.1 Software
7.2 Services
8. Global IoT Testing System Segmentation By End-User Vertical
8.1 Automotive
8.2 Healthcare
8.3 Government
8.4 Manufacturing
8.5 Energy & power
8.6 Retail
8.7 Others
9. Global IoT Testing System Segmentation By Region
9.1 North America
9.2 Europe
9.3 Asia-Pacific
9.4 Latin America
9.5 Middle East & Africa
10. Competitive Intelligence - Company Profiles
10.1 Symantec Corporation
10.2 IBM Corporation
10.3 Check Point Software Technologies
10.4 Intel Corporation
10.5 HP Enterprise Company
10.6 FireEye Inc.
10.7 Infineon Technologies AG
10.8 Trustwave Holdings
10.9 Gemalto NV
10.10 AT&T Inc.
10.11 Palo Alto Networks Inc.
11. Investment Analysis of IoT Security Market
12. Future of the IoT Security Market